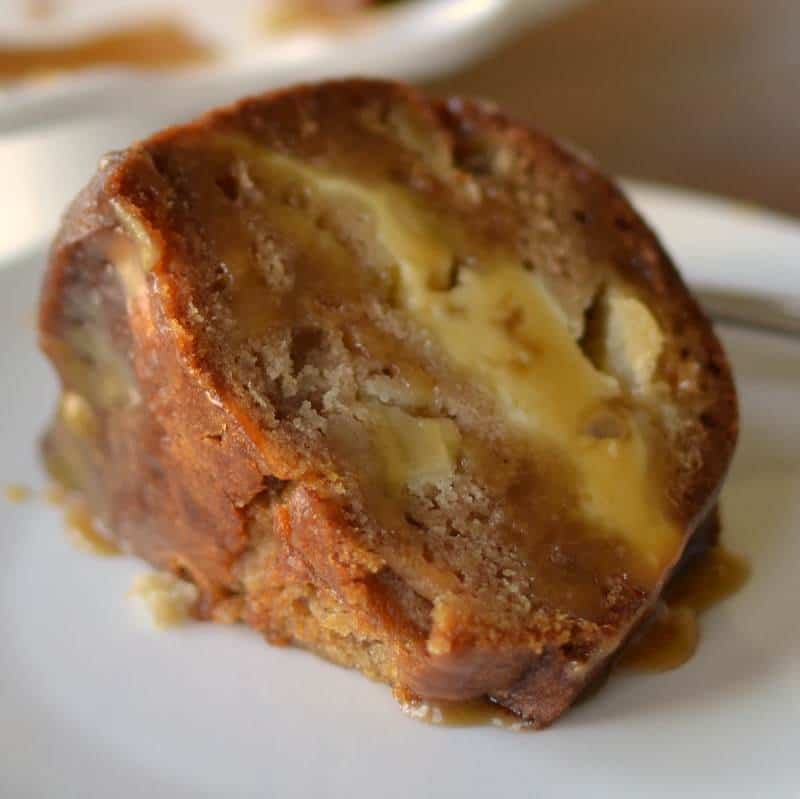 So yesterday my beautiful daughter turned thirteen years old. What's a birthday without a cake?  Wow!  Where did the time go?  It seems like just yesterday that I was taking her to kindergarten.  I am so proud of the young lady that she has become but also wise enough to know that teenagers are a handful.  As I have often said raising teenagers is like being pecked to death by chickens.
I love apple cakes.  There is just something so comforting and wonderful about zippy tart apples wrapped up in a moist cake with a hint of cinnamon. This Apple Caramel Cream Cheese Bundt Cake takes me back to such good times with my family.  Now this recipe takes apple cakes to the ultimate perfection by slipping in a layer of cheesecake and a drizzle of sweet caramel sauce.   I love to use Pink Lady Apples with this cake but it also play wells with Honeycrsip, Jonagold and Braeburn apples.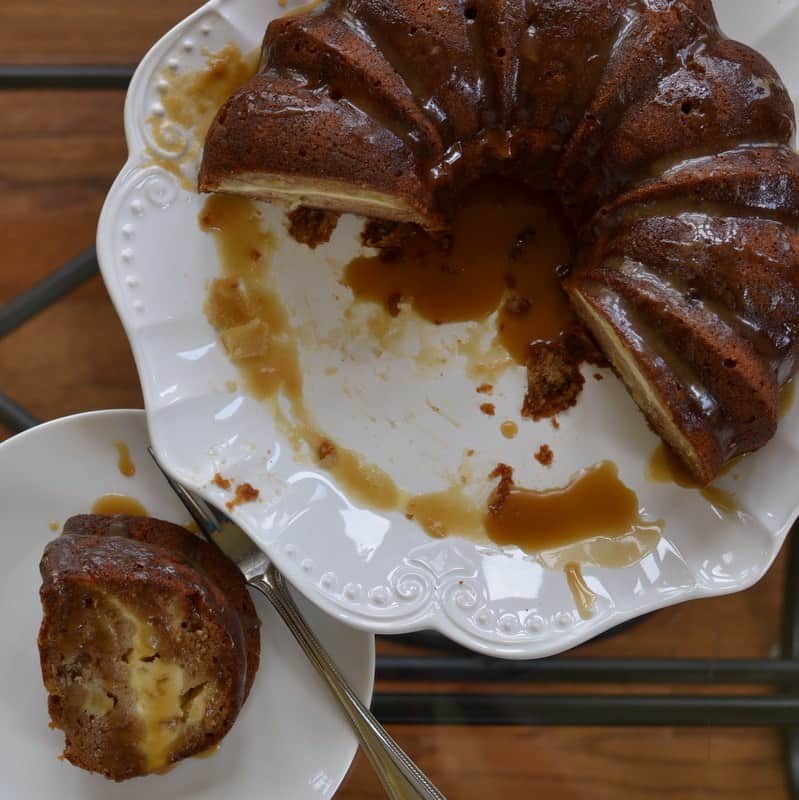 Have you ever made or had a cake that tastes better the day after it has baked?  This Apple Caramel Cream Cheese Bundt Cake is one of those cakes.  It seems to get more moist the second day.  Strange isn't it?  My Golden Rum Cake is just like that…tastes so moist the next day.  So plan ahead and make this a day in advance!
I love bundt cakes too.  They are so easy and they aren't frosted…they are drizzled.  It does not get much easier than that!   They present so well and can have all kinds of wonderful goodies stuffed in them.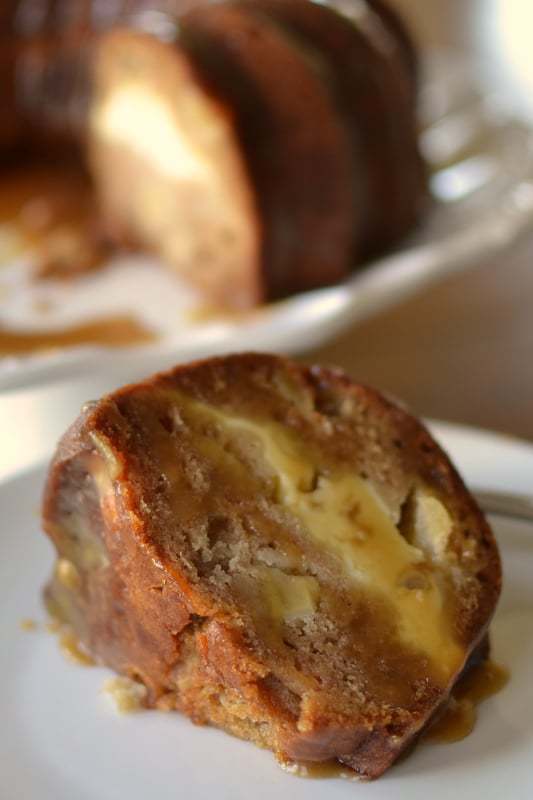 So put this delicious moist Apple Caramel Cream Cheese Bundt Cake on your to try list.  Better yet just go to the store today and pick up the ingredients today.  You will be very happy that you did.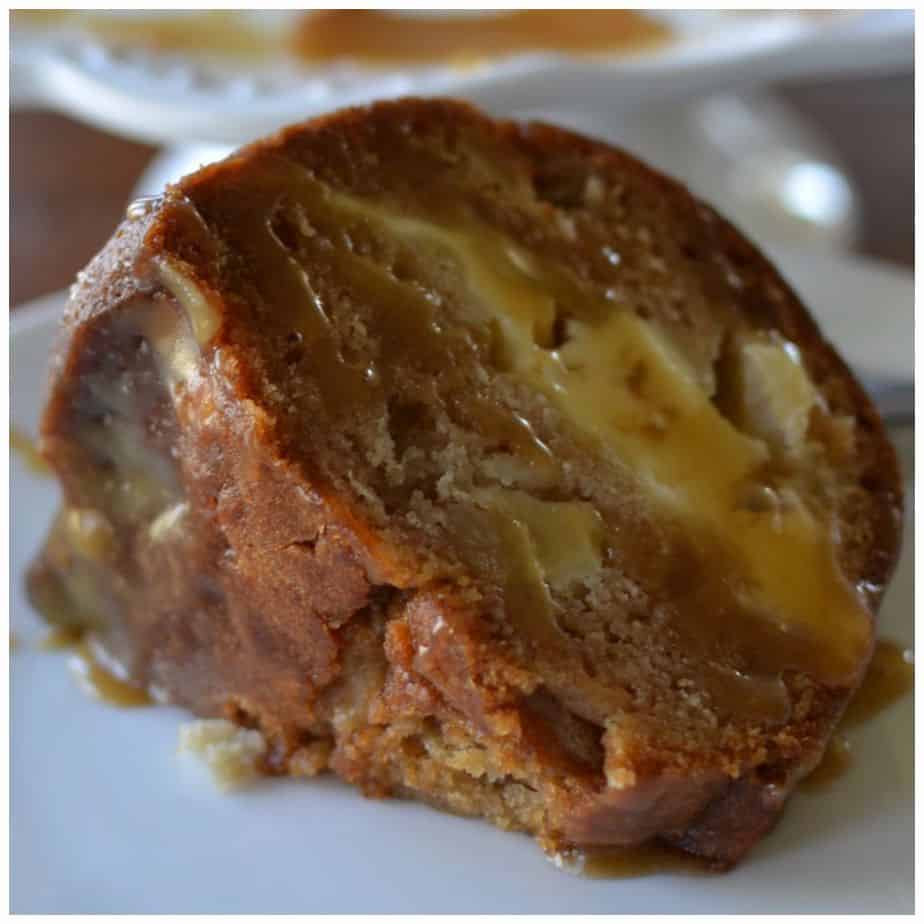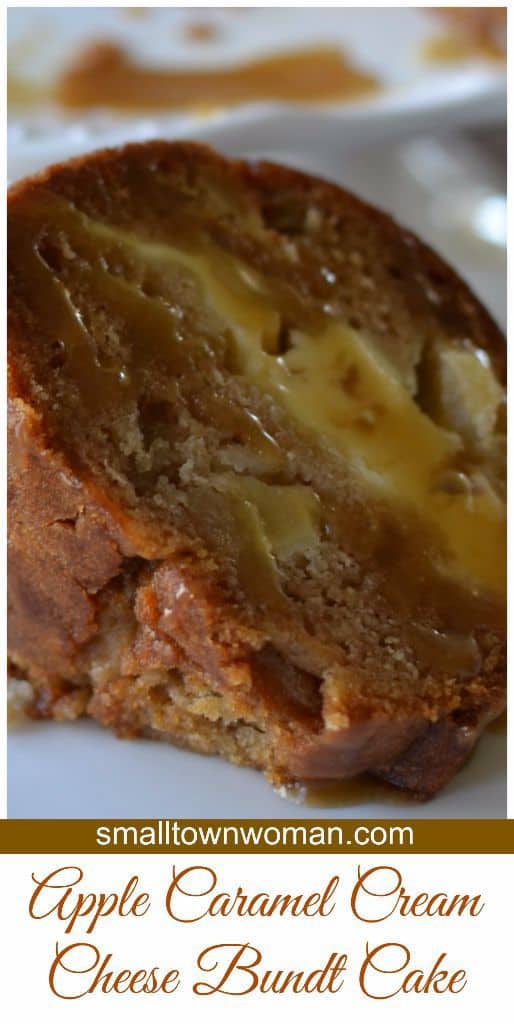 Apple Caramel Cream Cheese Bundt Cake
This delicious apple and caramel cream cheese bundt cake is the perfect sweet treat to pair with a cup of coffee or tea in the morning.
Author:
Prep Time: 45 minutes
Cook Time: 70 minutes
Total Time: 1 hour 55 minutes
Yield: 8 servings 1x
Category: Dessert
Method: Bake
Cuisine: American
3 cups flour
1 teaspoon baking soda
3/4 teaspoon salt
1 teaspoon ground cinnamon
1 (8 ounce) box cream cheese
2 tablespoons sugar
1 egg
1 cup sugar
1/2 cup brown sugar
1 cup vegetable oil
1/2 cup applesauce
1 teaspoon vanilla extract
3 eggs
2 large Pink Lady apple cored peeled and chopped
1/2 cup brown sugar
2 tablespoons butter
1/2 teaspoon vanilla
1/4 cup half n half
Instructions
Preheat oven to 325 degrees. Coat a 9 inch bundt pan with nonstick baking spray.
In medium bowl mix flour, baking soda, salt and cinnamon. Set aside.
In stand mixer using paddle attachment beat cream cheese and 2 tablespoons sugar until smooth and creamy; scraping down the sides and beater. Add 1 egg and beat just until incorporated. Set aside.
In large bowl with spoon mix 1 cup sugar, 1/2 cup brown sugar, vegetable oil, applesauce, 1 teaspoon vanilla extract and 3 eggs. Add the flour mixture to the egg/vegetable oil mixture 1/3 at a time; mixing just until incorporated. Fold in chopped apples. Pour 1/2 of the batter into the bundt pan. Spoon the cream cheese mixture one spoonful at a time making a ring around the cake trying to avoid the outside and the inside of the pan. Gently spoon the rest of the apple batter into the cake pan covering up the cream cheese and being careful to seal the cream cheese in.
Bake for 70 minutes. Allow to cool for 15-20 minutes before inverting on to a platter.
Combine 1/2 cup brown sugar, 2 tablespoons butter, 1/2 teaspoon vanilla and half n half in saucepan over medium heat. Cook for 5-7 minutes whisking constantly. Cool slightly before drizzling over cooled cake.
Notes
Honeycrsip, Jonagold and Braeburn apples also work well.
You want to cool the caramel sauce to drizzling consistency. Just practice to see if it is ready. .
Keywords: caramel apple bundt cake, apple caramel cream cheese bundt cake, apple bundt cake, apple and caramel bundt cake
Other apple recipes you will love!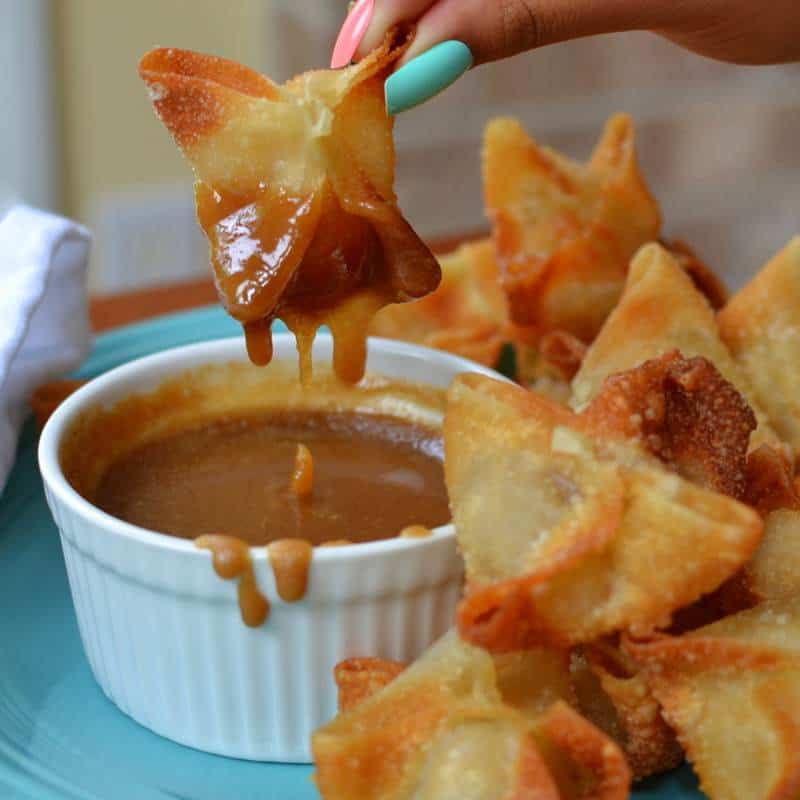 Apple Wontons with Caramel Dipping Sauce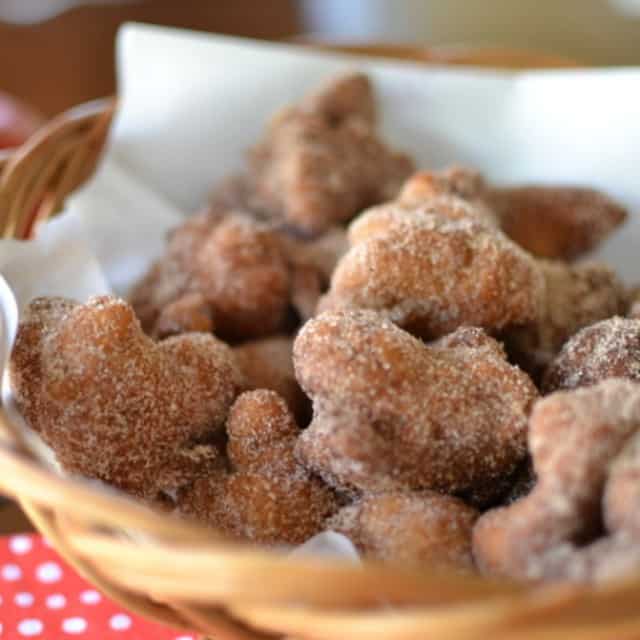 https://www.smalltownwoman.com/wp-content/uploads/2019/05/Beth-1.pdf