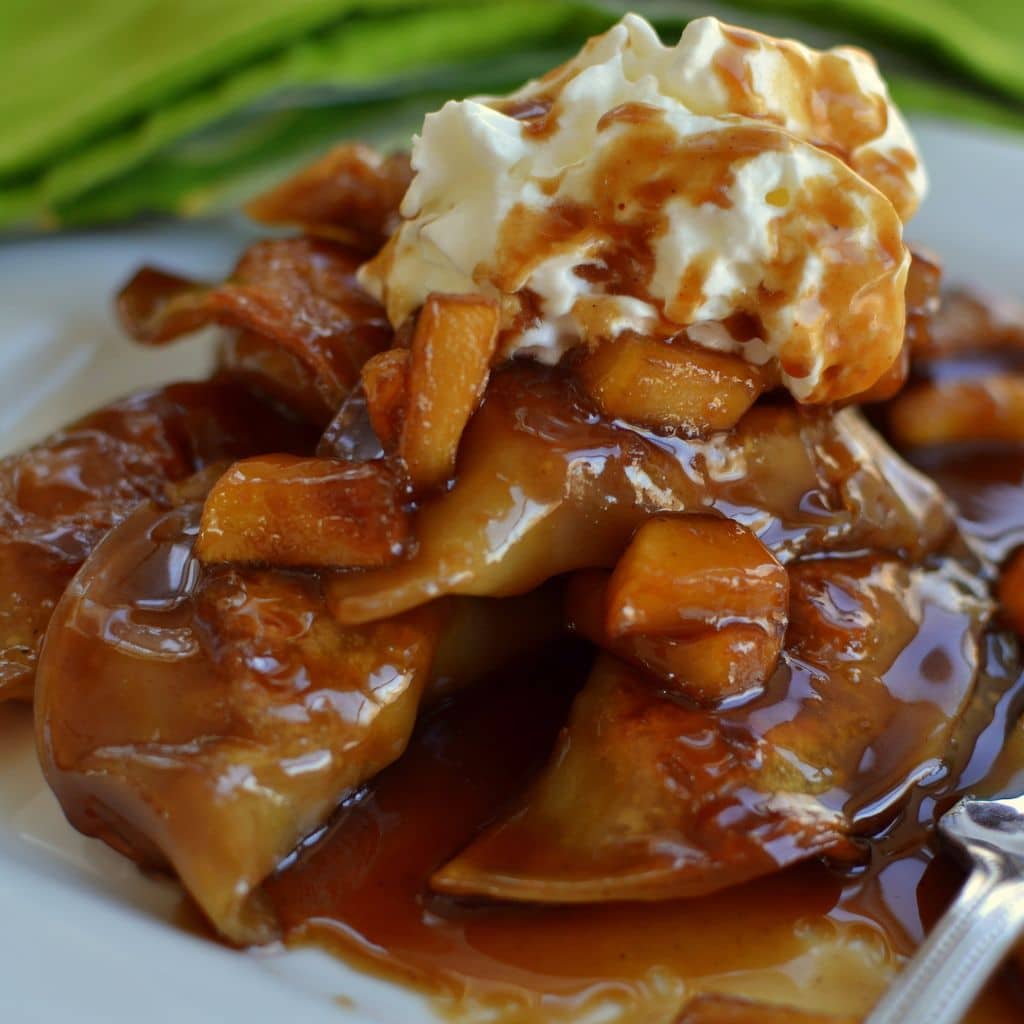 These delectable treats are as good as they look.  They take a little bit of time but they are definitely worth the effort!  You will be so pleased with the results.  I mean who doesn't love caramel and apple?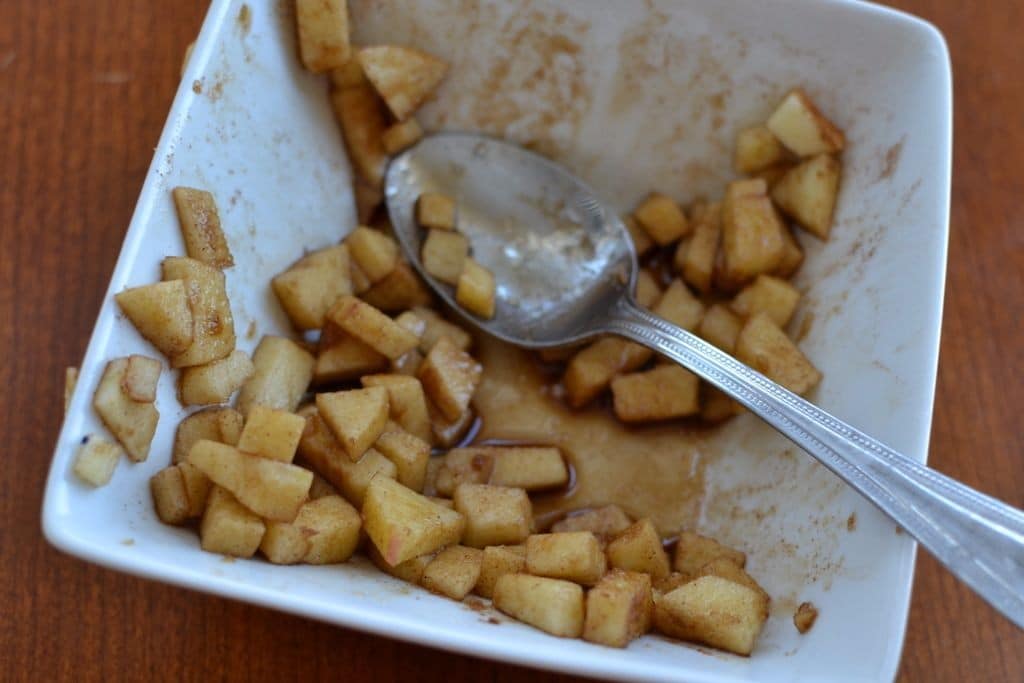 Now these little delectable dumplings are stuffed with apples sweetened with brown sugar and cinnamon!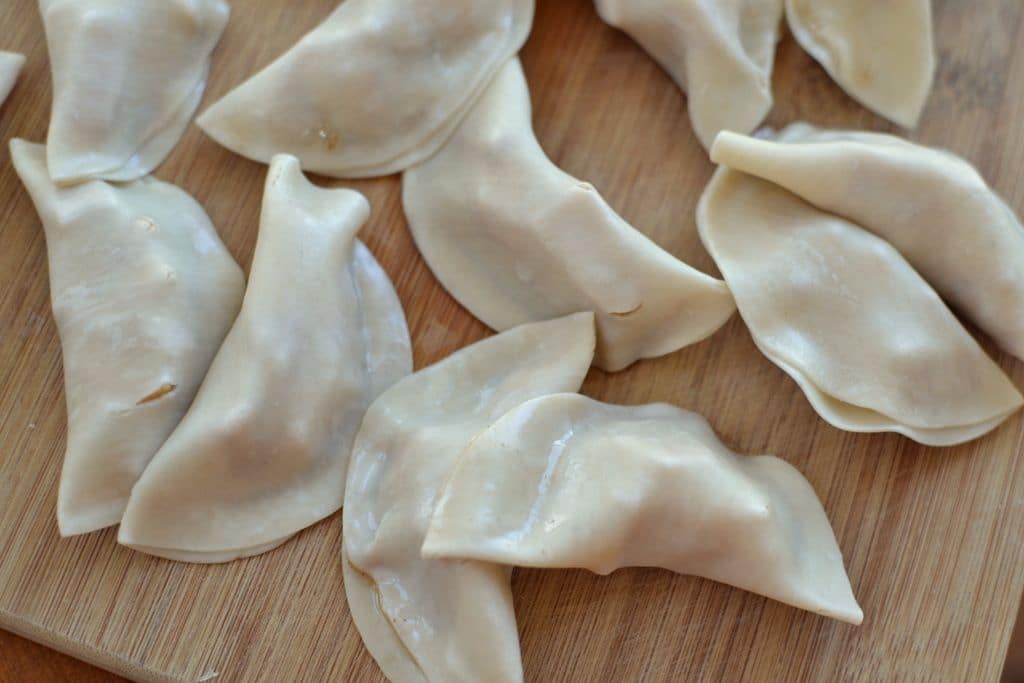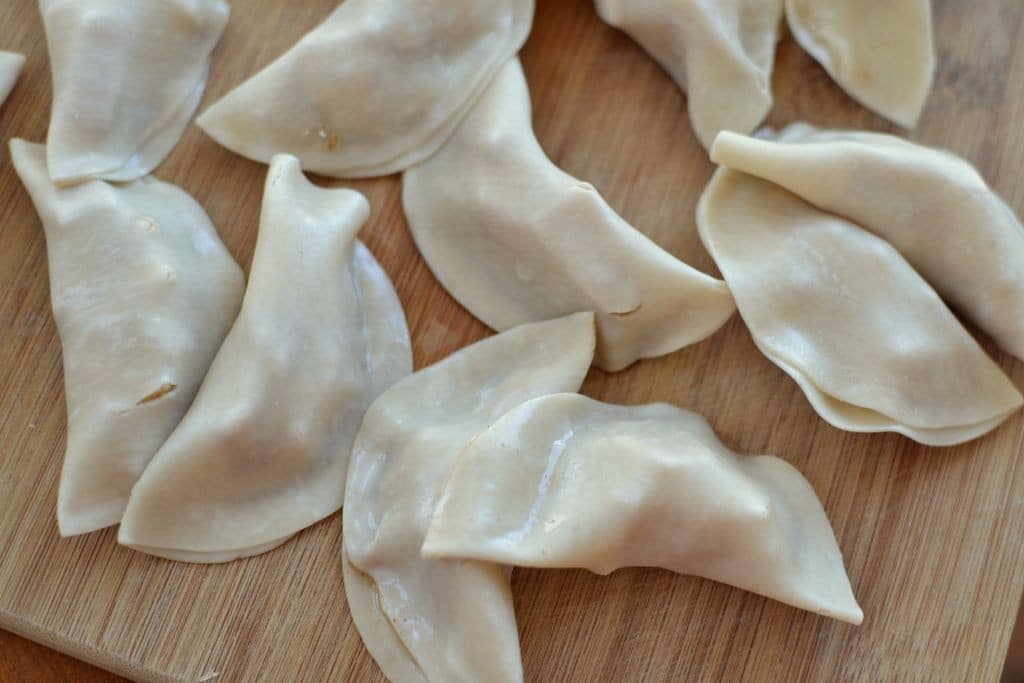 Then they are folded in easy little potsticker skins and cooked to perfection.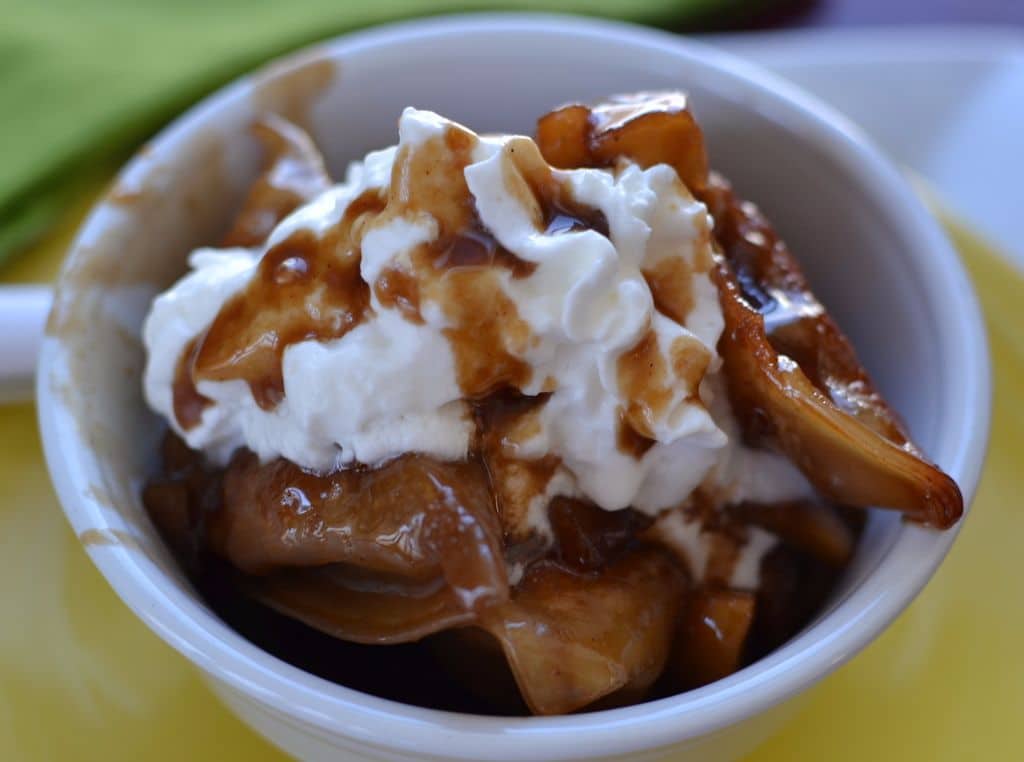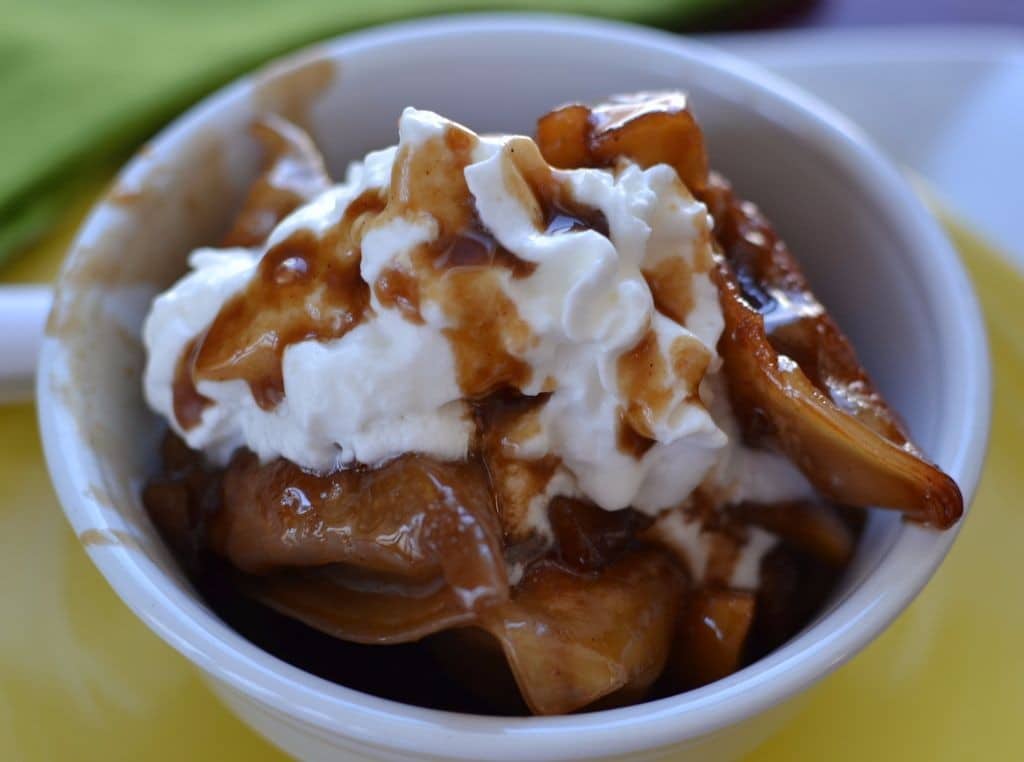 You can top with whipped cream or ice cream.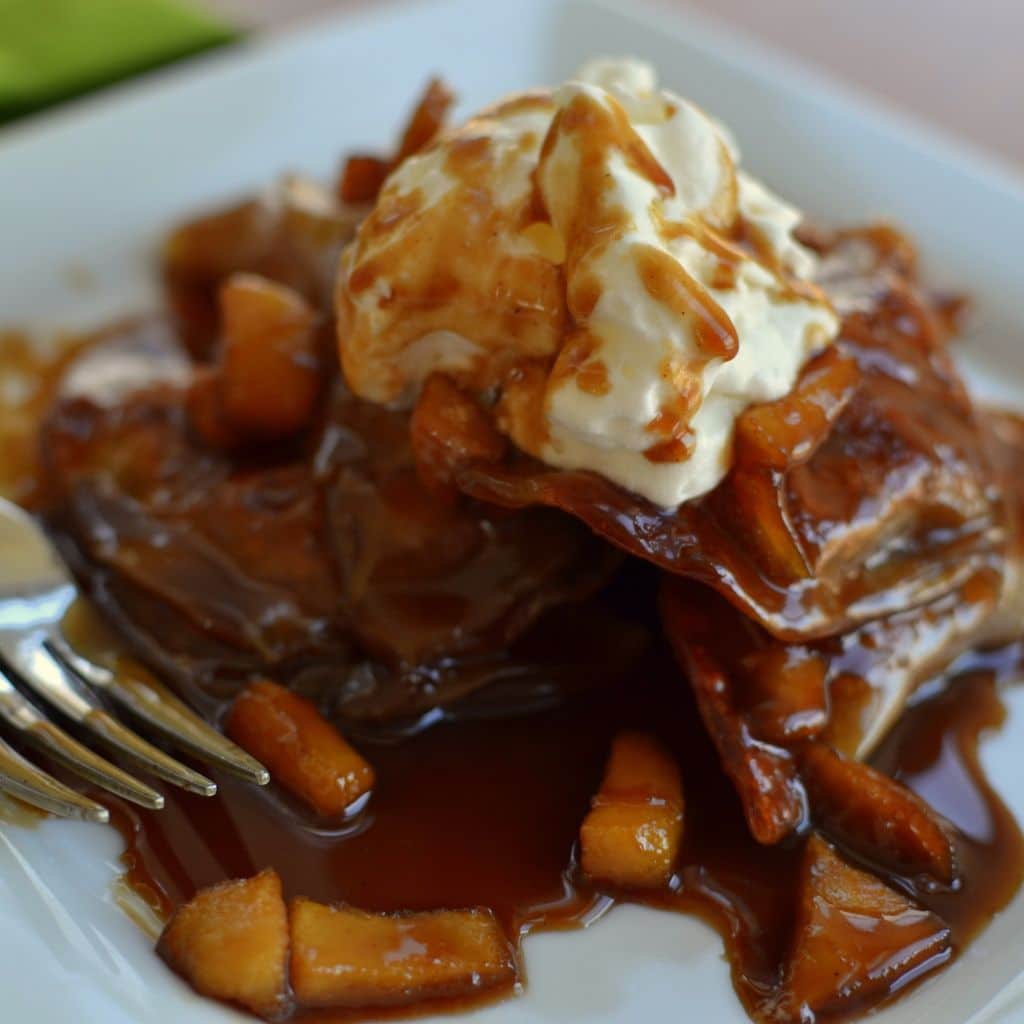 Mouth watering goodness!   What more can I say?
Print
Apple Dumplings in Caramel Sauce
Scale
Ingredients
2 large baking apples peeled cored and very finely chopped
1/4 cup brown sugar
1/2 teaspoon cinnamon
6 tablespoons butter
30 pot sticker wraps
1/4 cup whipping cream
1/2 cup brown sugar
1/2 teaspoon vanilla
Instructions
In small bowl combine apples, 1/4 cup brown sugar and cinnamon.
When working with the wraps cover non-stuffed and stuffed ones with cold wet paper towels to keep them from drying out. Holding the wrapper in one hand, dip your index finger on your free hand in cold water. Moisten 1/2 of the wrap with that finger making a 180 degree circle around the edge of the wrap that is furthest from you. Now place a rounded teaspoonful of the apple mixture in the middle. Fold over and gently seal one end to the other; pressing the wrap together to close tightly. Repeat until apple mixture is gone; placing them on a cutting board and covering with moistened paper towels.
Add 2 tablespoons butter to large skillet over medium heat. Add a batch of the dumplings and cooked until browned on one side; approximately 3-5 minutes. Add 2/3 cup of water to the skillet, cover and cook for 3 minutes. Uncover the pan flip the dumplings and cook until the water is gone and other side of the dumpling has browned; approximately 8-10 minutes.Remove from pan and repeat with second batch. Remove those from pan.
Add 2 tablespoons butter, whipping cream, 1/2 cup brown sugar and vanilla to skillet over low heat. Cook until brown sugar is dissolved and sauce is combined & warm. Add apple dumplings back to pan and simmer for 5 minutes.
Top with whipped cream or ice cream.
https://www.smalltownwoman.com/wp-content/uploads/2019/05/Beth-1.pdf
Reader Interactions