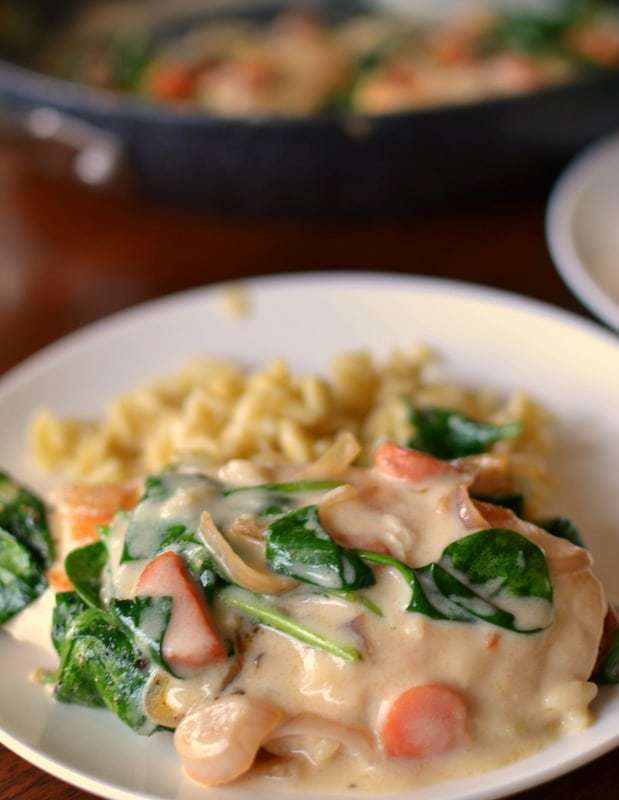 Did you know that over 80 pounds of chicken is consumed by an average American every year.  I would say you can double that for my house.  American's favorite bird is so versatile and economical that is easy to understand. With 25 billion chickens in the world, there are more of them than any other bird species which leads to lots of wonderful chicken recipes. This Asiago Chicken with Spinach Shallots Carrots is lightly browned chicken in a perfectly seasoned Asiago cheese cream sauce.  It is served with sauteed spinach, shallots, sweet carrots and fresh garlic.
An average dish of cooked chicken weighs about 1/4 of a lb. and contains 337 calories. If you fry it, then the calories almost double. Chicken meat is rich in vitamins B12, B6, B3 as well as  the minerals phosphorus, and zinc.  So many great recipes to make with this awesome bird.  The possibilities are only limited by your imagination.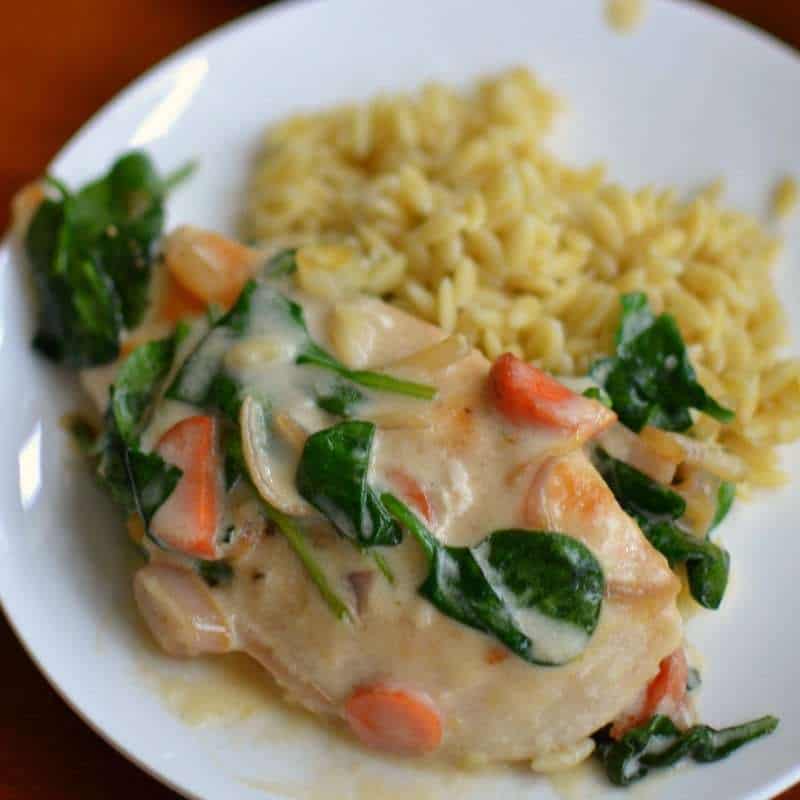 Have you tried any of my other chicken recipes like Easy Creamy Chicken Mushroom Asparagus Skillet or One Skillet Savory Chicken and Orzo? So many great chicken recipes so little time!
Did you know chickens are the closest living relative of the tyrannosaur? Do you remember that guy from Jurassic Park?  I think I will just deal with the chicken.  LOL!!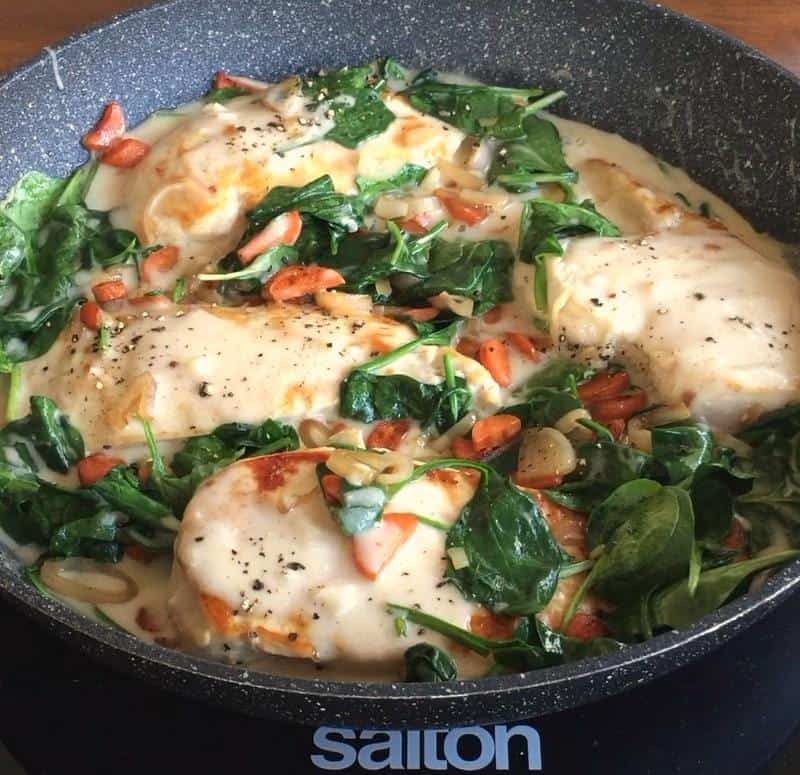 This Asiago Chicken with Spinach Shallots Carrots is prepared in less that 30 minutes and can be served over orzo, rice, angel hair pasta or even mashed potatoes if that is what you dig.  So if you love chicken as much as we do put this on the list and let me know what you think!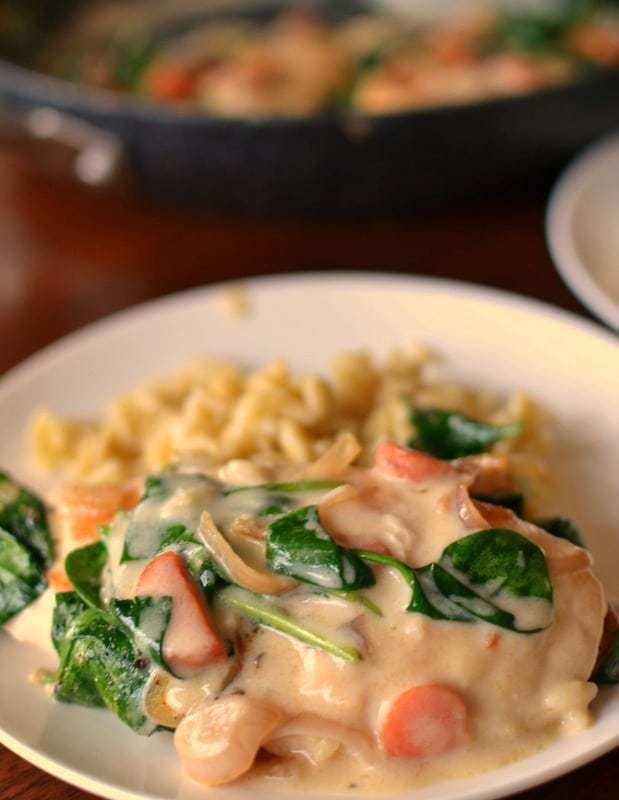 Print
Asiago Chicken with Spinach Shallots Carrots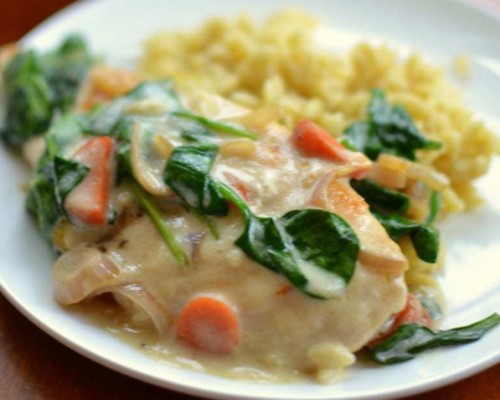 This Asiago Chicken with Spinach Shallots Carrots is lightly browned chicken in a perfectly seasoned Asiago cream sauce with sauteed spinach and carrots.
Author:
Prep Time: 10
Cook Time: 20
Total Time: 30 minutes
Yield: 4 servings 1x
Category: main meal chicken
Method: stove top
Cuisine: American
Scale
Ingredients
1 tablespoon olive oil
2 large chicken breasts sliced in half lengthwise to create 4 thinner breast
1 tablespoon butter
2 carrots sliced in thin half moons
1 large shallot chopped
6 cups baby spinach
1 tablespoon butter
3 cloves garlic minced
1 tablespoon flour
1 cup chicken broth
1/4 cup heavy cream
Pinch of ground cayenne
1/4 teaspoon onion powder
2/3 cup Asiago cheese shredded
Orzo (optional)
Instructions
Heat 1 tablespoon of olive oil over medium high heat. Add chicken and cook 4-5 minutes on each side. Remove and place on plate.
Reduce heat to medium low. Melt 1 tablespoon butter in skillet and cook carrots 2-3 minutes. Add shallots and cook 1 minute. Add spinach and cook just long enough for it to start wilting; approximately 1 minute. Remove vegetables from skillet and plate.
Melt 1 tablespoon butter in skillet. Add garlic and cook 1 minute. Sprinkle flour over garlic and whisk over heat for 90 seconds. Whisk in chicken broth and cook for 2-3 minutes. Whisk in cream and allow to simmer for 2-3 minutes; stirring frequently. Whisk in ground cayenne and onion powder. Add Asiago cheese a few pinches at a time; whisking after each time until it is fully melted
Return chicken and vegetables to pan and simmer for 1-2 minutes or until warm.
Keywords: Asiago chicken, chicken, one skillet chicken, creamy Asiago chicken, chicken recipe
Other chicken recipes you will love!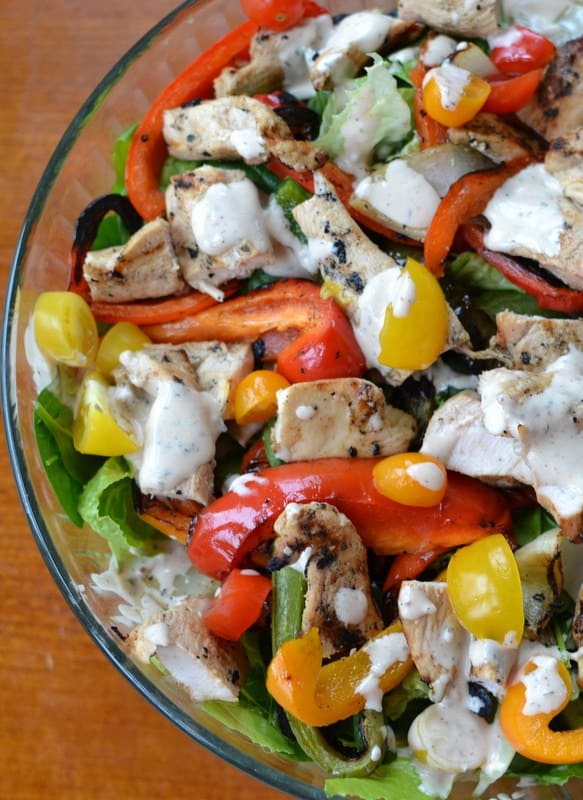 Chicken Fajita Salad with Chipotle Ranch
Easy Chicken Caesar Pasta Salad
https://www.smalltownwoman.com/wp-content/uploads/2019/05/Beth-1.pdf