Summer is still in full force here and the fresh produce coming in is still amazing! I know we will miss all the wonders of natures summer bounty over the winter but there it still plenty of time to take full advantage of it. The fresh tomatoes have been sun kissed and the green beans are tasty, crisp and allowed to ripen to a beautiful shade of green.
Well school starts up in just a little over a week and chaos is about to ensue. The breakfast and dinner hour are my busiest times. I always say there could be two of me and it still would not be enough. This Bacon Egg Green Bean Potato Salad could come in handy during the mayhem that is about to go down. This gorgeous tasty salad can be made ahead of time and and the leftovers are good up to several days in the fridge making it perfect for two meals. It can be served with some grilled chicken, a quick turkey sandwich or just by itself. It is perfect as a complete meal and really steps up to the plate (no pun intended) on those hot summer days.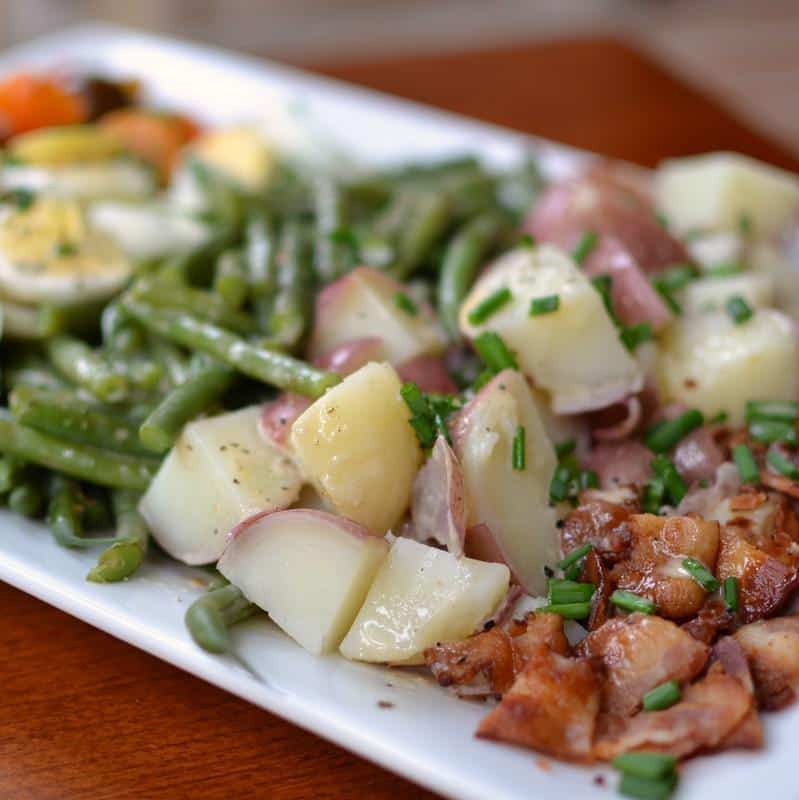 Bacon Egg Green Bean Potato Salad is so easy to prepare and is drizzled with a delectable tangy creamy oil and vinegar. You can prepare the hard boiled eggs ahead of time and tuck a few away in the fridge for those on the run breakfasts. The red potatoes and green beans can be cooked in the same pot and can also be prepared ahead of time. You can cook extras and tuck them away as well for some of my other recipes like Creamy Potato and Green Bean Salad, Green Bean Bacon Bundles or Cream Cheese and Chive Stuffed Red Potatoes.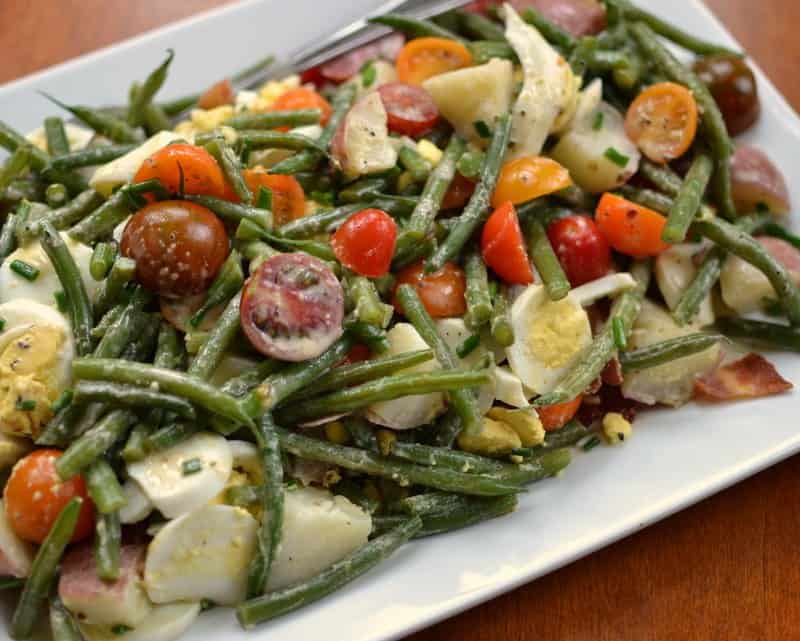 Boy the lazy leisurely days of summer are about to become a thing of the past. Don't fret too much. I will try to keep it covered with easy simple recipes like this delectable Bacon Egg Green Bean Potato Salad!!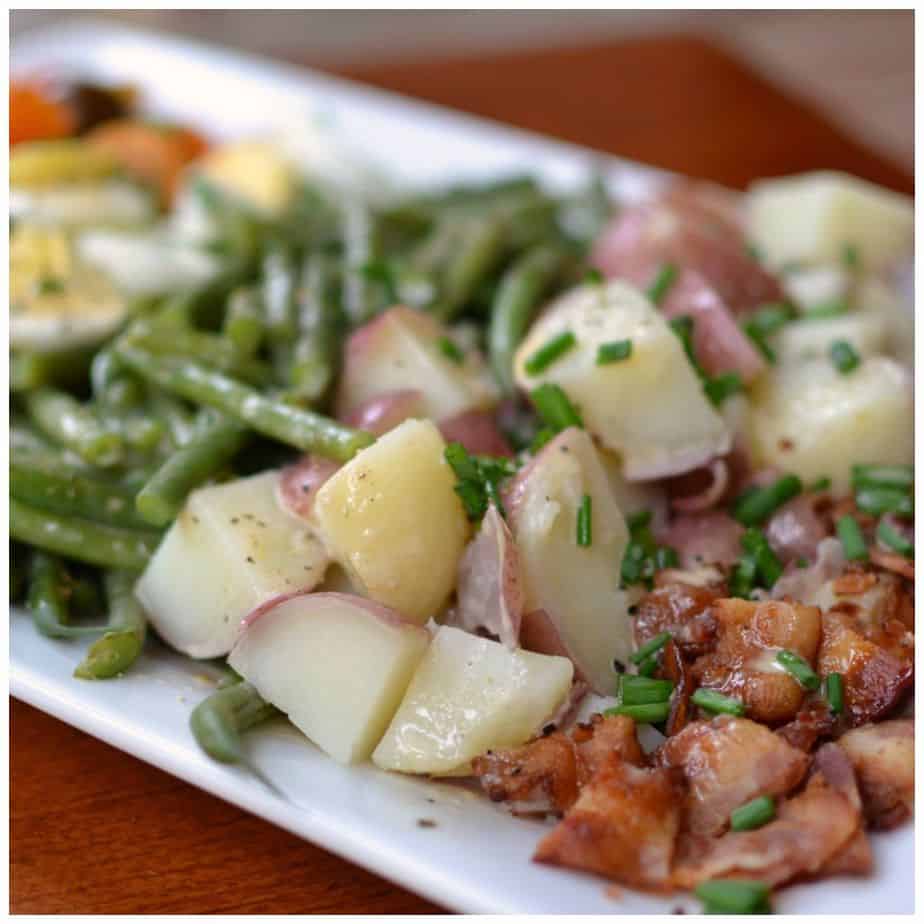 Bacon Egg Green Bean Potato Salad
Ingredients
1 1/2 lbs small red potatoes
1 1/2 lbs haricots verts (french style green beans)
6 slices crispy cooked bacon
4 large hard-boiled eggs peeled and sliced
3 cups grape tomatoes halved (heirloom are even better)
1/4 cup chopped fresh chives

Dressing

1/3 cup olive oil
2 tablespoons red wine vinegar
2 tablespoons mayo
1/4 teaspoon garlic powder
1/4 teaspoon dried oregano
1/4 teaspoon dried basil
Salt & Pepper to taste
Instructions
In large stock pot filled with water boil red potatoes until almost fork tender about 11 minutes. Add beans to the same pot and cook for an additional 4-5 minutes. Plunge into cold ice water to stop the cooking process. Cut beans in half and chunk potatoes into bite size pieces.
On large platter arrange green beans, potatoes, bacon, eggs and grape tomatoes. Sprinkle with cut chives.
In small bowl whisk together olive oil, red wine vinegar, mayo, garlic powder, oregano, basil. salt and pepper to taste.
Drizzle dressing over salad.
https://www.smalltownwoman.com/bacon-egg-green-bean-potato-salad/
Other delicious side recipes you will love!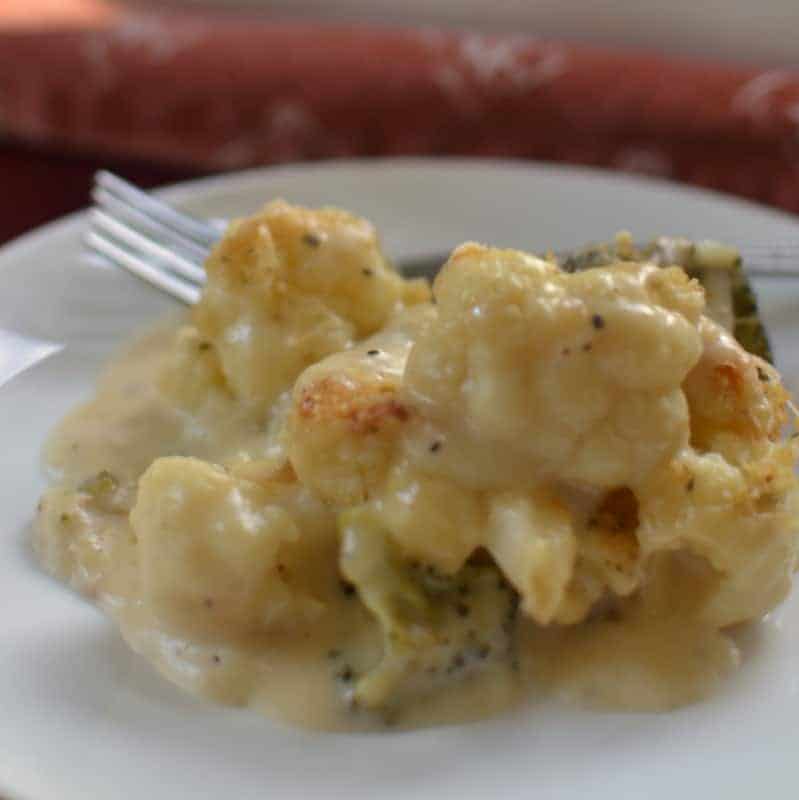 Broccoli and Cauliflower Au Gratin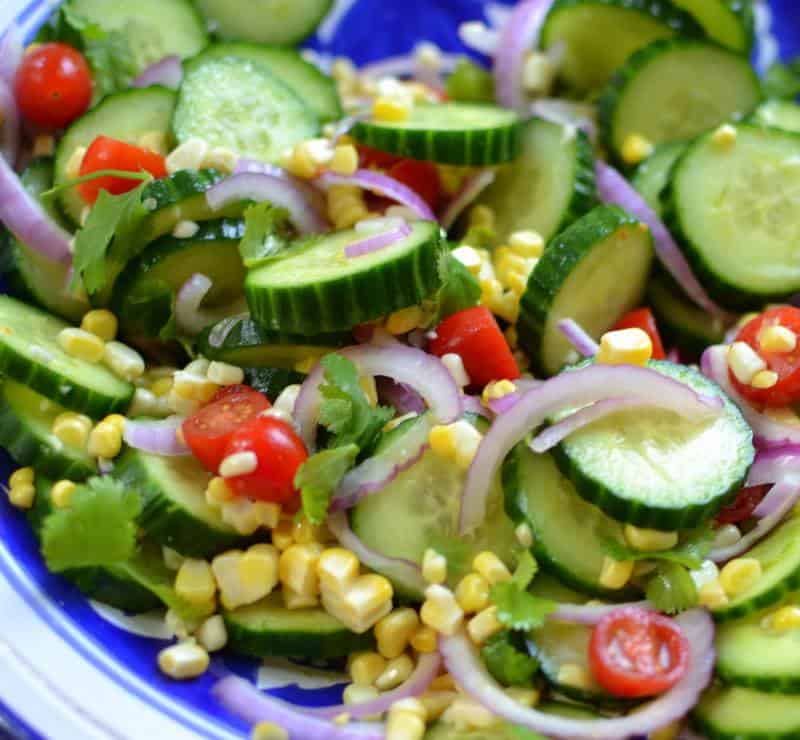 Cucumber Salad with Lime Vinaigrette