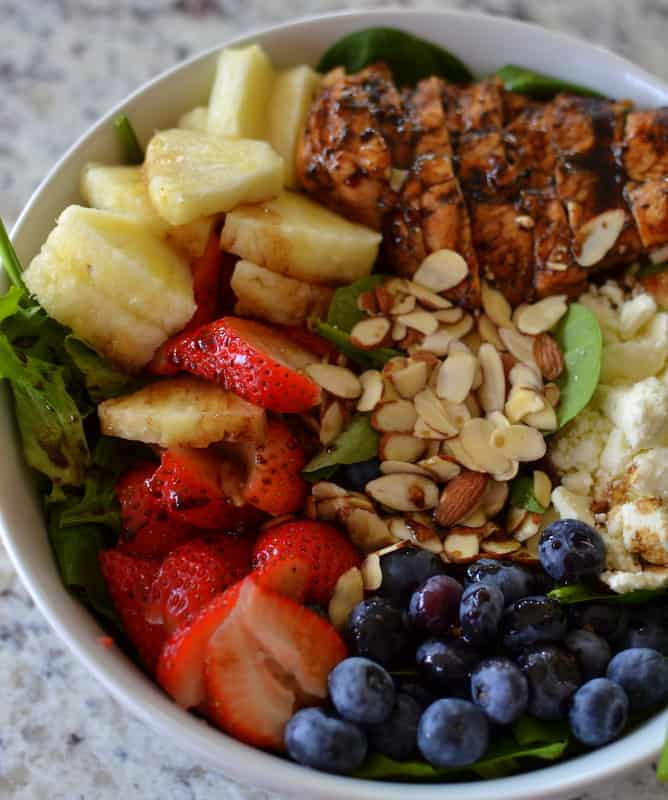 I just got back from the grocery store.  It is the most romantic holiday of the year and I needed to get hubby a card.  I was the only female in a sea of men in the Valentine's Day card section.  I wanted to shout out am I the only female procrastinator in this town but instead I held my tongue. Or at least I did for the most part.  There were a few giggles as I read some of the funny cards.  You will always find me in the humor section as those sappy cards are a little too much for me!
While I was at the store I had to get the blueberries, strawberries and other ingredients for this gorgeous salad. Spring is right on the horizon and with it comes some of the most gorgeous flavorful salads ever.  This Balsamic Chicken Berry Salad is bursting with flavor!  It starts with a balsamic vinaigrette that doubles as a marinade/dressing.  The chicken is marinated, grilled and placed upon a bed of lettuce topped with fresh blueberries, strawberries, pineapple, sliced almonds and feta cheese.  This amazing combination is a tantalizing taste experience and one you can feel great about feeding your friends and family!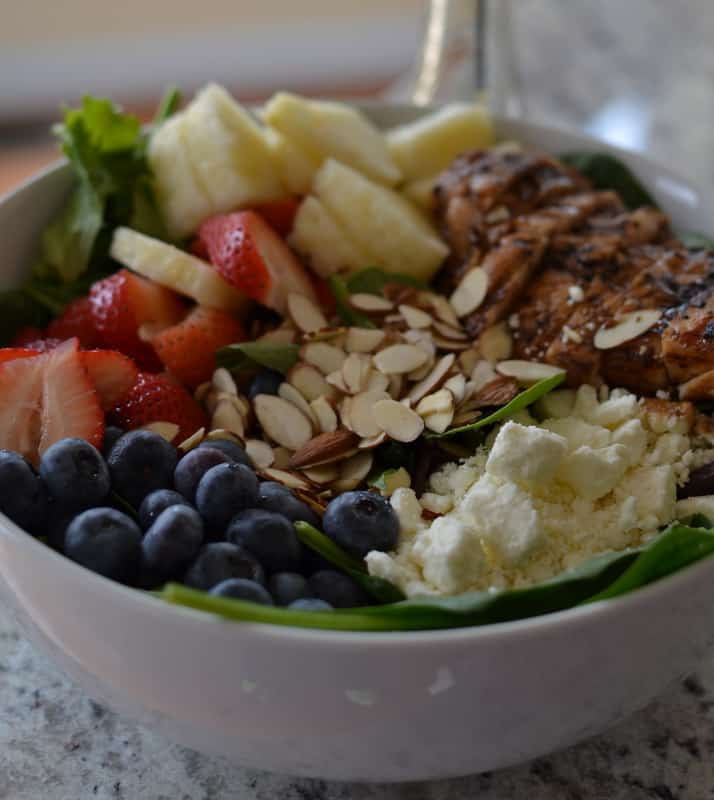 Have you tried any of my other salads?  Spinach Salad with Warm Bacon Honey Mustard Vinaigrette, Roasted Vegetable Salad with Lemon Vinaigrette and Honey Mustard Chicken Snap Pea Salad are just a few of my personal favorites.  This Antipasto Salad from Dinner at the Zoo is amazing and a family favorite.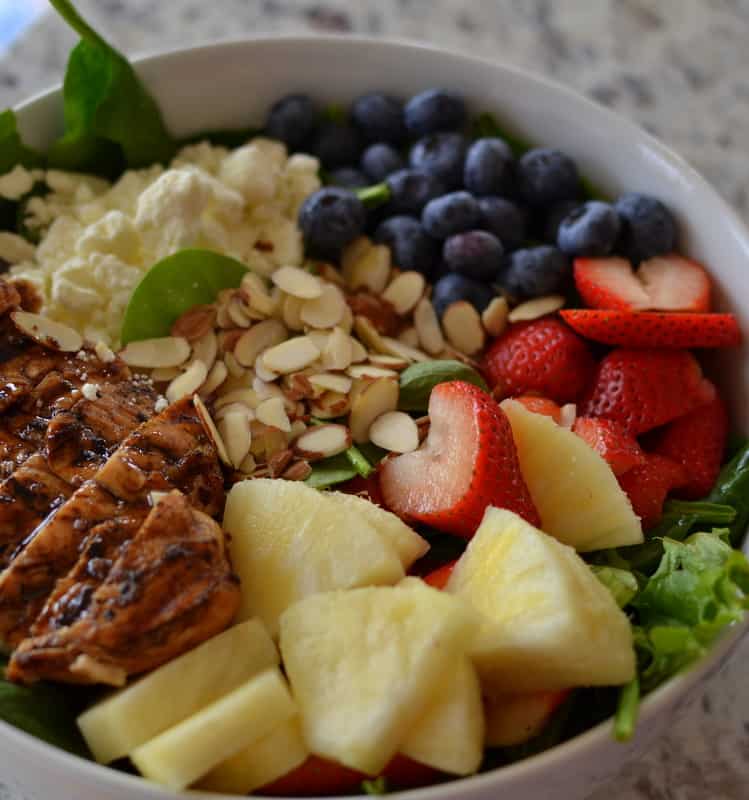 So if you love AMAZING salads that are bursting with tons of flavor than this Balsamic Chicken Berry Salad has your name written all over it.  Put the ingredients on your shopping list today and be prepared to be wowed!!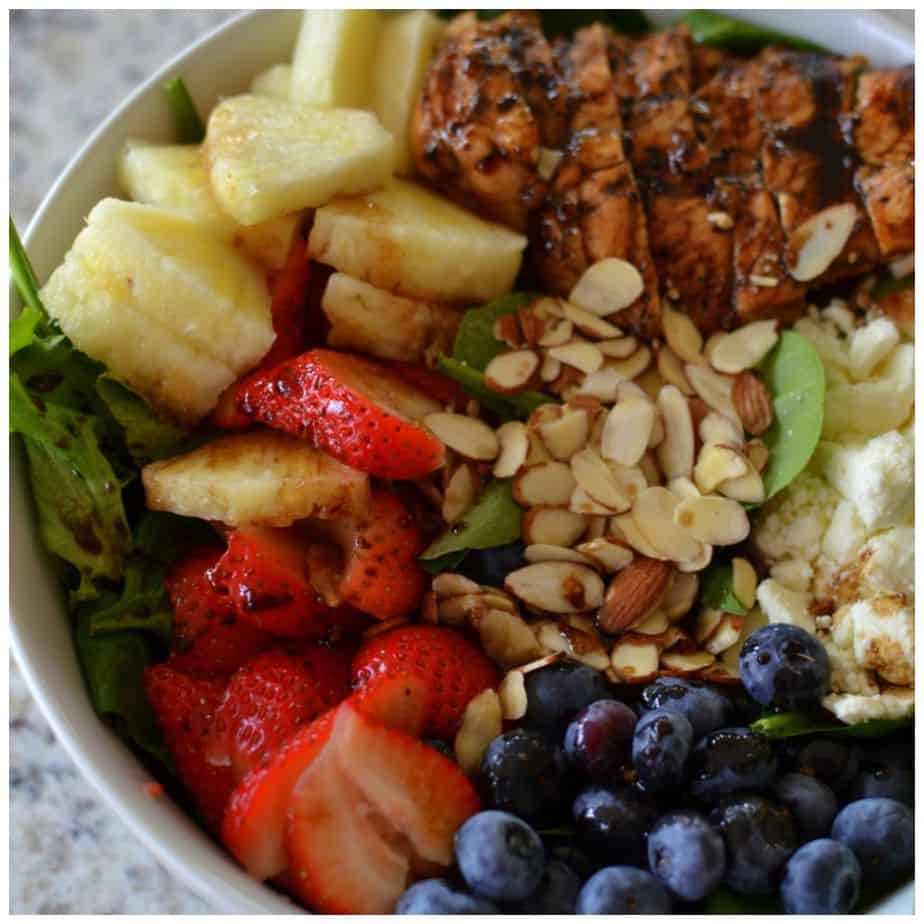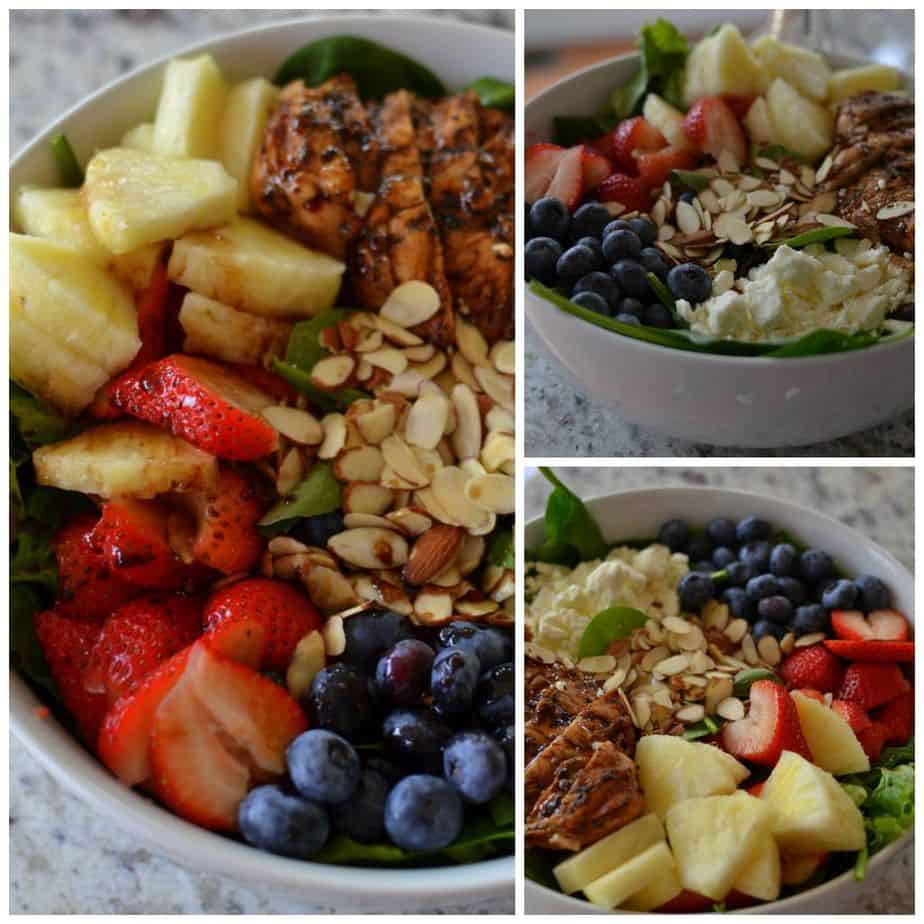 Balsamic Chicken Berry Salad
Scale
Ingredients
Balsamic Vinaigrette
1/3 cup balsamic vinegar
3 tablespoons sugar
2 cloves garlic crushed
1/4 teaspoon fresh ground black pepper
2/3 cup olive oil
Chicken Berry Salad
2 chicken breast
6–8 cups mixed greens (spinach or spring greens)
1 cup fresh blueberries
1 cup fresh sliced pineapple
1 1/2 cups sliced fresh strawberries
1/2 sliced almonds
1/2 cup feta cheese crumbles
Instructions
In medium microwavable mixing bowl whisk together balsamic vinegar and sugar. Microwave on high for 20-30 seconds to get the sugar to dissolve. Add crushed garlic and pepper. Slowly whisk in olive oil. Remove one cup of the vinaigrette and add to large Ziploc bag. Add chicken and marinate for 20 minutes; turning the bag once. Set the rest of the dressing aside.
Preheat grill and cook chicken 5-6 minutes per side or to an internal temperature of 160 to 165 degrees. Cover and let rest while you prepare the rest of the salad.
Arrange greens in large salad bowl. Add blueberries, pineapple, strawberries, almonds and feta cheese. Slice chicken and add to bowl. Drizzle with remaining balsamic vinaigrette and toss to coat.
Notes
You may not want to add all the dressing. My husband likes a lot and I like it light.
Other strawberry recipes you will love!