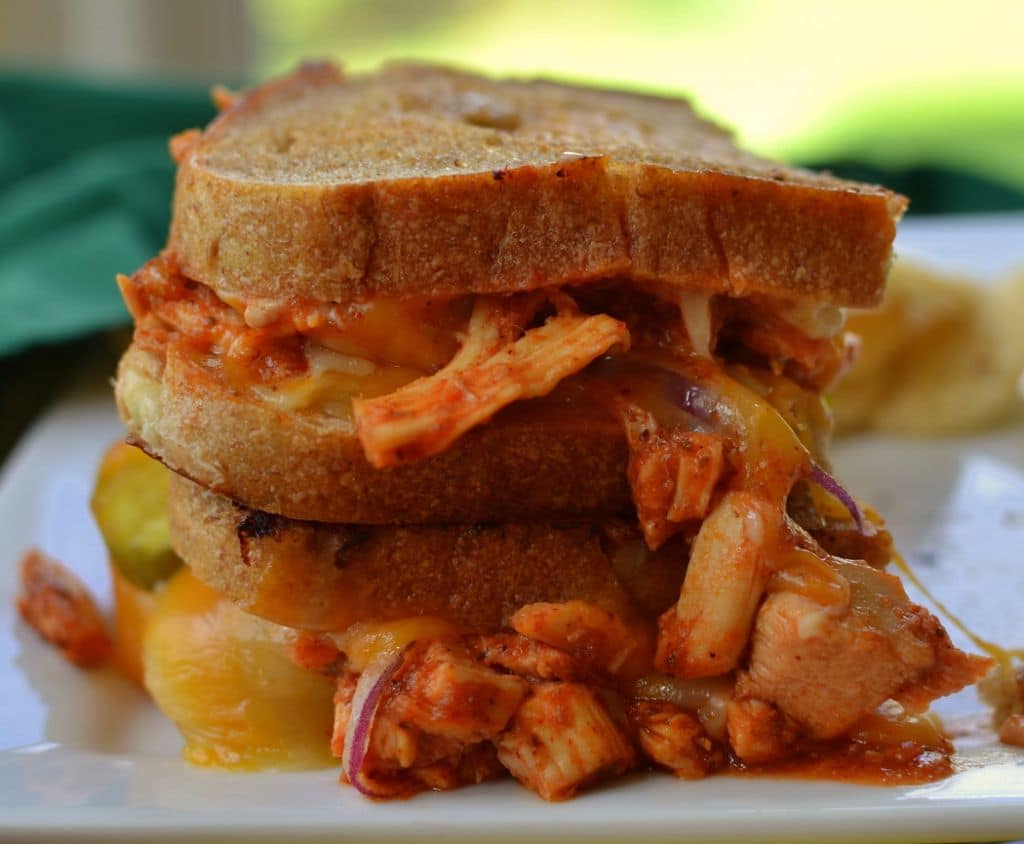 This easy and oh so delicious Barbecue Chicken Grilled Cheese is sure to become one of your favorites.  This recipe takes full advantage of already cooked rotisserie chicken and your favorite bottled barbecue sauce.  Some recipes are just there to make your life easy and scrumptious!  This one will certainly fill that bill.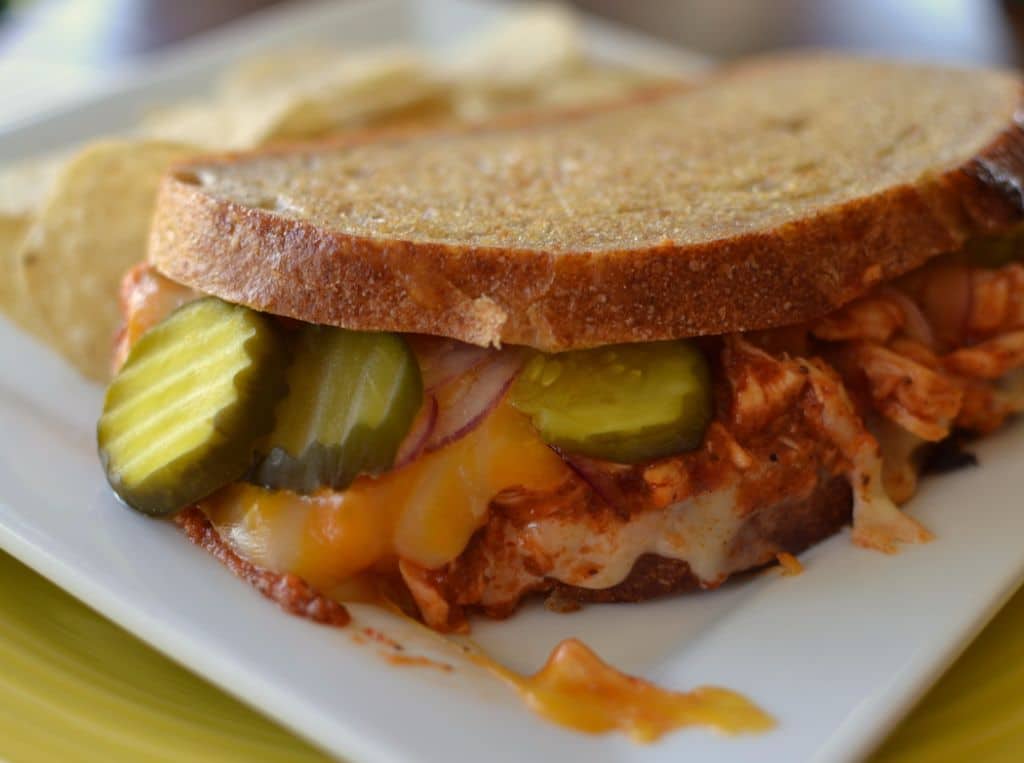 I use the Kansas City style barbecue sauce which is not sweet but spicy and full of flavor. But by all means if you love the sweet stuff use it.  This Barbecue Chicken Grilled Cheese can be prepared in less than 15 minutes.  I add onions and pickles but if you don't like them leave them off or substitute peppers and tomatoes.  There is always something to put on a sandwich to make it divine.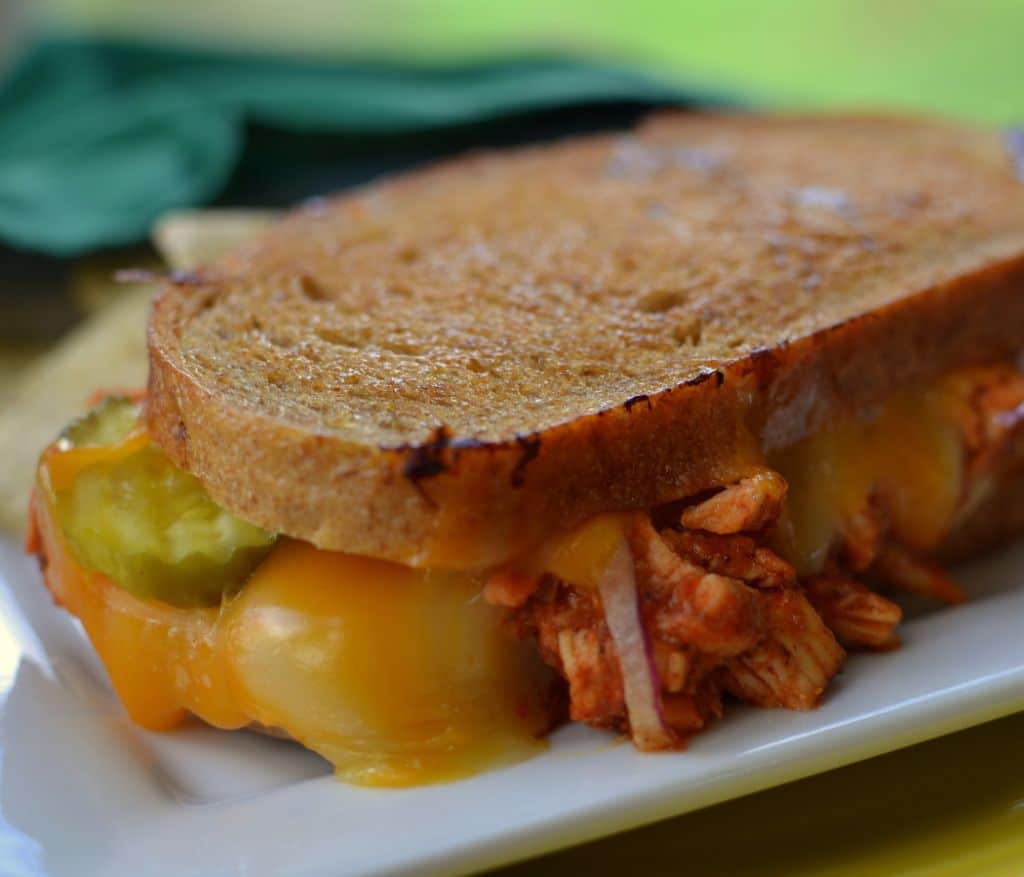 I always use good quality bread for my sandwiches.  This one was a European Wheat Loaf and boy did it grill up nice.
Print
Barbecue Chicken Grilled Cheese
Scale
Ingredients
2 cups bite size pieces of rotisserie chicken
1/4 cup Kansas City style barbecue sauce
4 slices bakery style wheat bread
4 slices deli style Colby Jack cheese
4 slices deli style white American cheese
1/4 cup sliced red onions
Dill pickle slices
2 tablespoon softened butter
Instructions
Combine chicken and barbecue sauce. If chicken is cold heat up chicken and barbecue sauce in skillet on low.
Layer one slice of bread with 2 slices of white American. Add one cup of chicken with barbecue sauce. Add 1/2 the onions and some pickles. Add 2 slices of Colby Jack. Top with second slice of bread. Repeat process to create second sandwich.
Heat skillet over medium low heat. Spread 1/4 of the butter on top of each sandwich. Place sandwich butter down in skillet. Spread 1/4 of the butter on the top of each sandwich. Cover pan loosely with foil and grill until golden brown flip and grill the other side until golden brown; approximately 3-5 minutes per side.
https://www.smalltownwoman.com/wp-content/uploads/2019/05/Beth-1.pdf
Reader Interactions