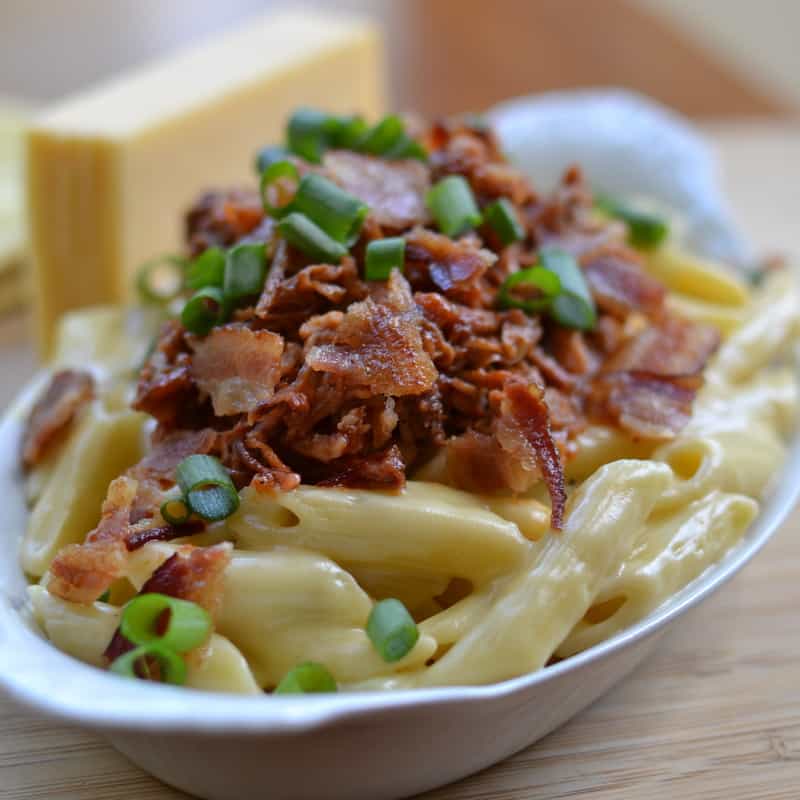 Sometimes blogging can be the most rewarding job on the planet and sometimes it can be the most challenging job on the planet. Today was one of those challenging days. I prepared this amazing dish and I had to spend countless minutes taking photographs of it. There was absolutely no partaking until the mission was accomplished. There was not one minute to spare sampling what was left in the kitchen. When photographing dishes like Barbecue Pork Topped Gouda Mac N Cheese every minute the dish gets cooler is a chance that you will not get the fabulous pictures that you want. Let me tell you that part of my job is pure torture. Don't believe me? You try it and see how well you hold out.
Have you tried any of my other pasta recipes? Bacon Asparagus Cajun Pasta, Pasta Milano and Bacon Chicken Sausage Macaroni and Cheese are all fabulous. I once had a reader on Facebook tell me to knock it off with the cheese. Now being a blogger you just can't say the first thing that pops into your mind. You have to turn your filter on and use it. So I politely said (Mom would be proud) "I can't because I LOVE CHEESE." Needless to say I think that reader moved on but I will never move on from my love of cheese.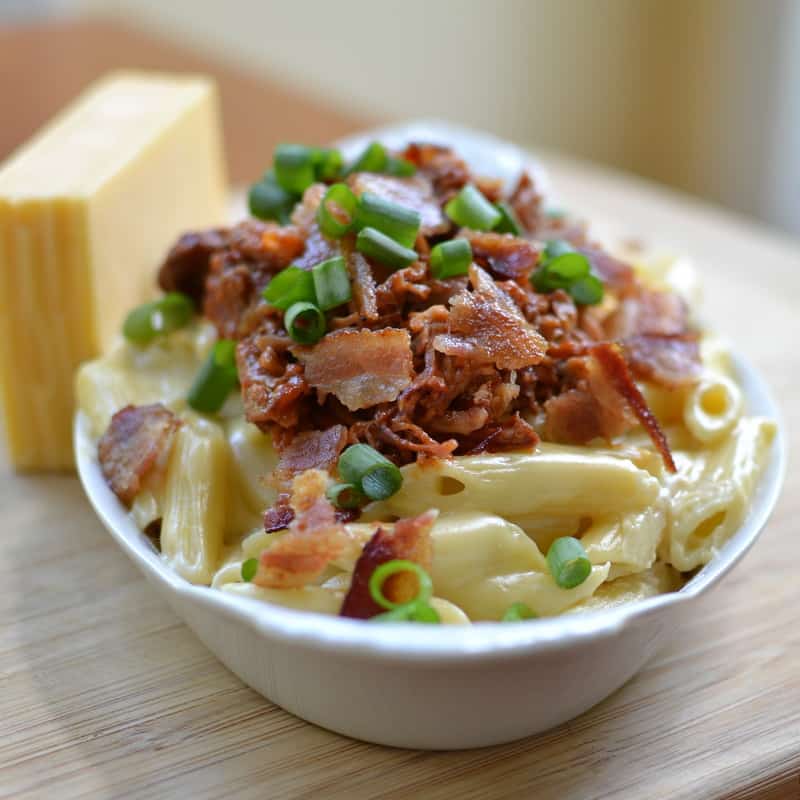 This Barbecue Pork Topped Gouda Mac N Cheese is the ultimate comfort food. It combines creamy Gouda cheese sauce with penne pasta, already smoked pulled pork, Kansas City barbecue sauce, chili paste, crisp bacon and fresh scallions. It is amazingly deeeeeeeeeeeeeelish and kid friendly (though they may request that you leave off the green part). A lot of the stores have already smoked pulled pork or maybe it is a regular at your house and leftovers are the perfect match for this Barbecue Pork Topped Gouda Mac N Cheese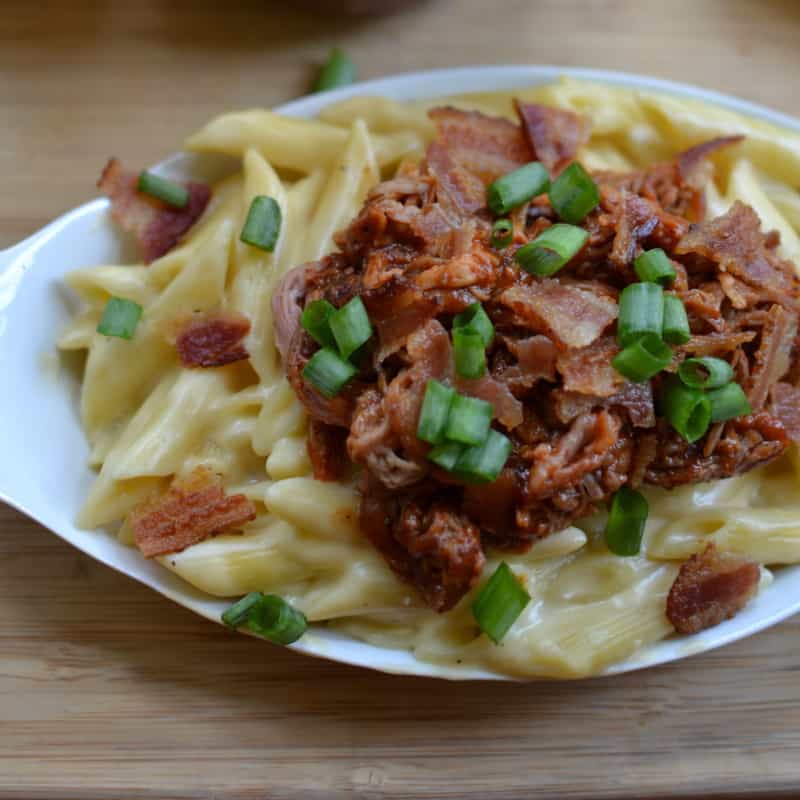 So if you are hankering for a terrific country style comfort meal I got your ticket right here.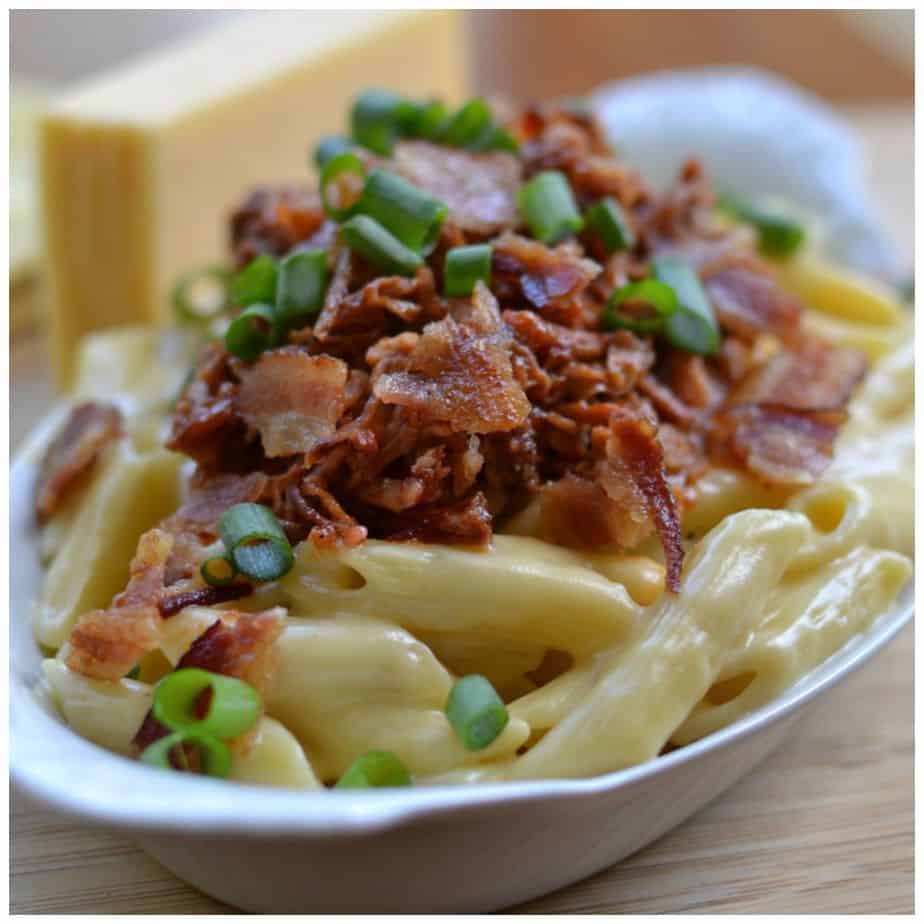 Barbecue Pork Topped Gouda Mac N Cheese
2 cups uncooked penne pasta
3 tablespoons butter
3 tablespoons all purpose
2 cups milk
2 cups Gouda shredded
4 slices American cheese chopped (white or yellow)
1 lb smoked pulled pork
1 cup Kansas City style barbecue sauce
1 tablespoon ground fresh chili paste (sambal oelek) more or less depending on taste
4 slices crisp cooked bacon crumbled
1–2 chopped green onions
Instructions
Cook pasta according to box instructions. Drain well.
In large saucepan over low heat melt butter, whisk in flour and cook for 90 seconds whisking continuously. Slowly whisk in milk and continue cooking over low heat whisking very frequently until slightly thickened; approximately 2-3 minutes. Whisk in cheese until completely melted. Add pasta to pan, cover, turn off and remove from heat.
In bowl combine pork, barbecue sauce and chili paste and heat in microwave at reduced power if cold.
Divide mac n cheese in bowls, top with equally divided portions of barbecue pulled pork, bacon and green onions. Serve immediately.
Other pork recipes you will love!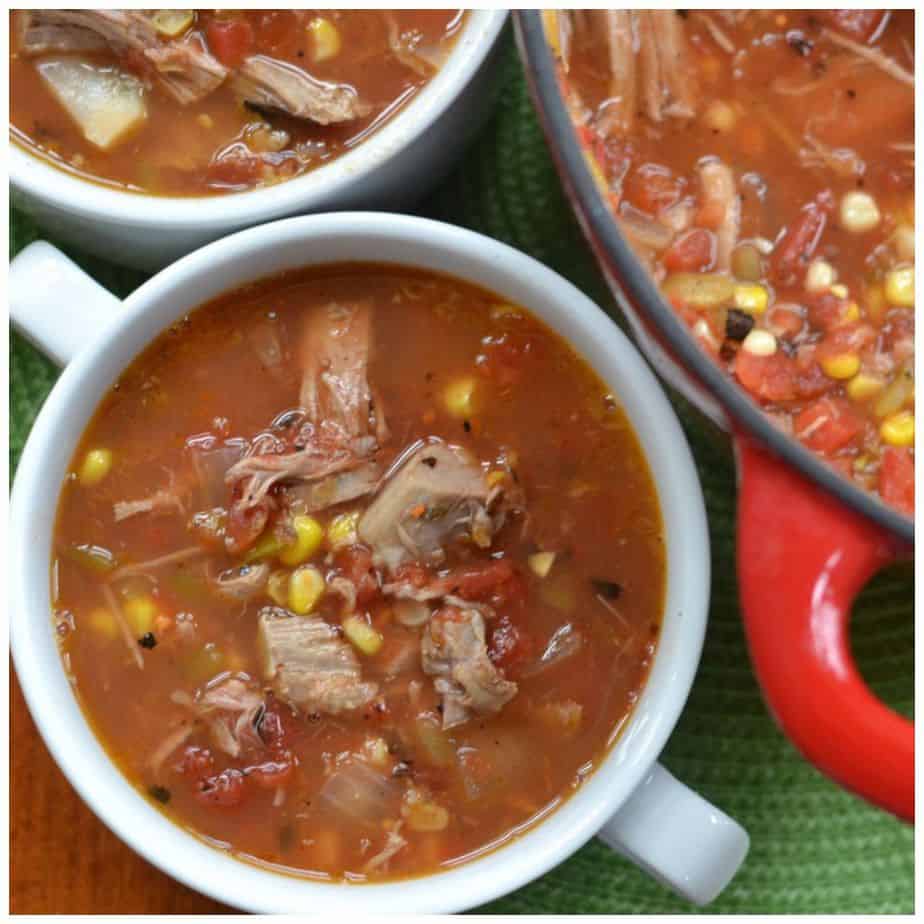 Blackened Corn and Smoked Pork Soup