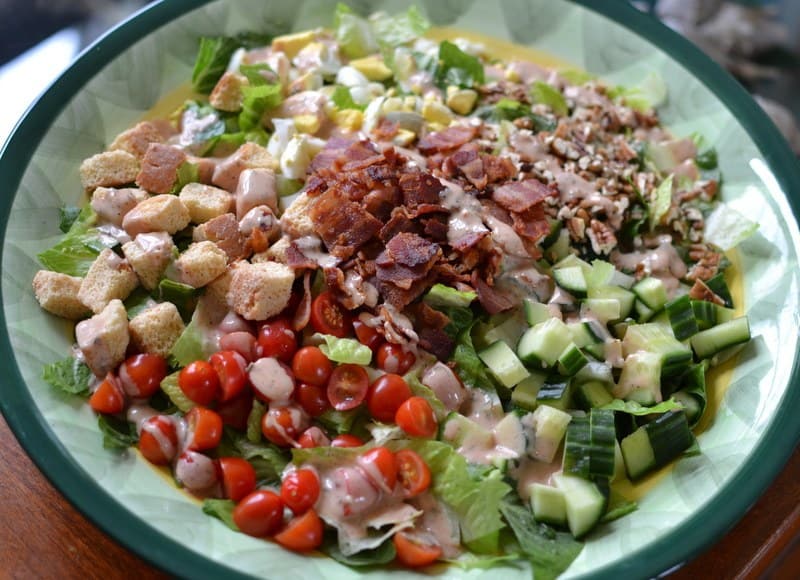 I love a good salad. I think I love them more than french fries and potato chips! I think I love them more than french fries smothered with chili and cheese! I mean really who wouldn't? Natures bounty has so many great and glorious flavors to savor. It does not mean that you can't put a few goodies on your salad like bacon and croutons! That way you can still get plenty of flavor and your nutrition at the same time in this Barbecue Ranch Bacon Tomato Egg Salad.
This Barbecue Ranch Bacon Tomato Egg Salad is packed full of delectable crispy cooked bacon, tomatoes, eggs, pecans, and cucumbers all topped with a super easy barbecue ranch dressing. It is the perfect weekend lunch or weeknight meal. Because of its simplicity it comes together so quickly and it is even enjoyed by teenagers. Gosh knows that is a major accomplishment!!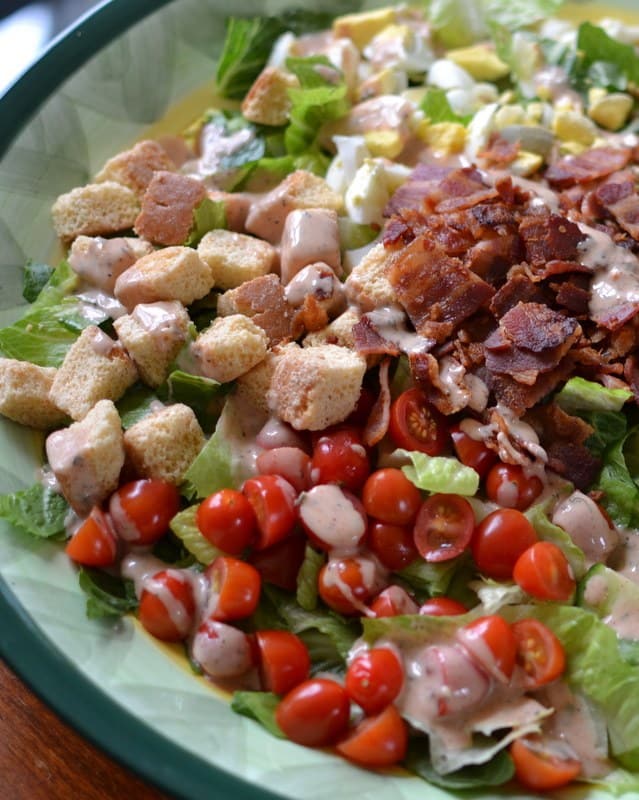 Has spring sprung in your neck of the woods? My Mother used to say that if March came in like a lion then it went out like a lamb. Tomorrow is the last day of February and it looks like it is coming in like a lamb so according to my very superstitious Mom it will go out like a lion! I sure do miss my Mom and all her crazy sayings and superstitions. When I was growing up I swore I would never use her crazy sayings but low and behold I find myself using them more and more.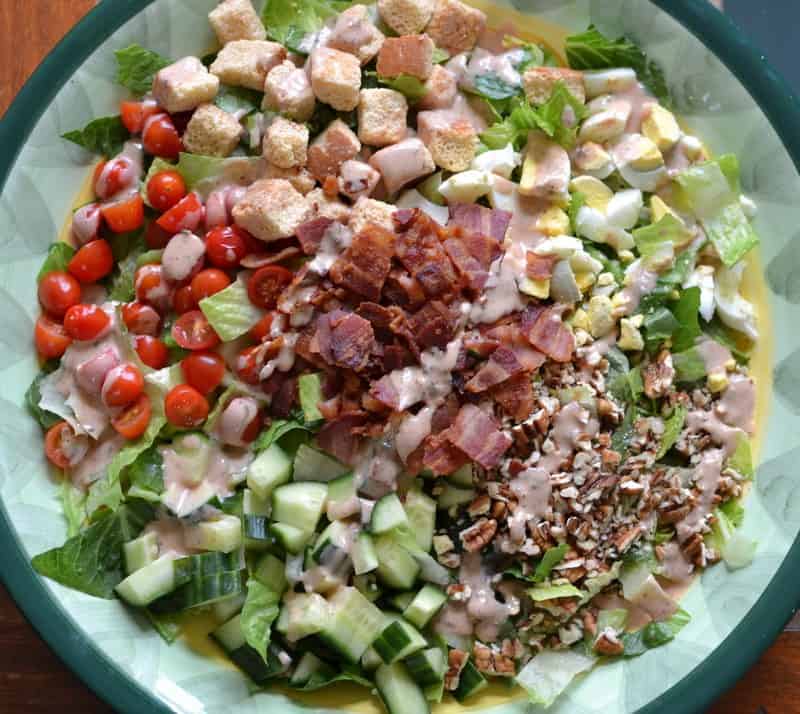 Treat your loved ones to this beautiful and delectable power packed salad. It is always a great day when you can feel peachy about the foods that you eat and feed your family. Grocery stores are starting to offer nitrate free bacon and turkey bacon. They also offer eggs from cage free chickens and organic vegetables.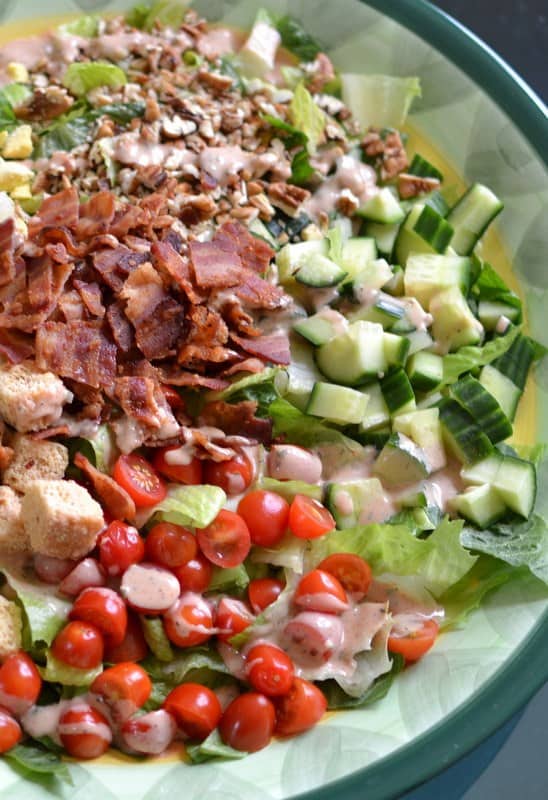 So give this Barbecue Ranch Bacon Tomato Egg Salad a whirl and leave a comment and let me know what you think. If you made changes or additions let us know how that turned out!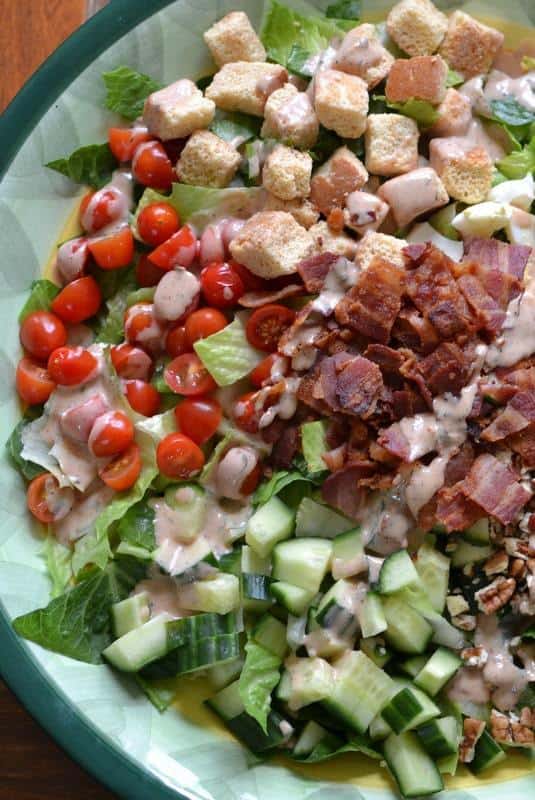 Barbecue Ranch Bacon Tomato Egg Salad
Scale
Ingredients
2/3 cup favorite ranch dressing
2/3 cup Kansas City style barbecue sauce
10–12 cups chopped romaine lettuce (2 small heads)
1 1/2 cups sliced grape tomatoes
1 1/2 cups chopped English cucumbers
1/2 cup chopped pecans
1 1/2 cups seasoned croutons
6 slices crispy cooked bacon coarsely chopped
3 hard boiled eggs peeled and chopped
Instructions
In small bowl combine ranch dressing and barbecue sauce. Set aside.
In large bowl add lettuce, grape tomatoes, cucumbers, pecans, croutons, bacon and eggs.
Drizzle with ranch barbecue dressing and toss.
Other recipes you will love!!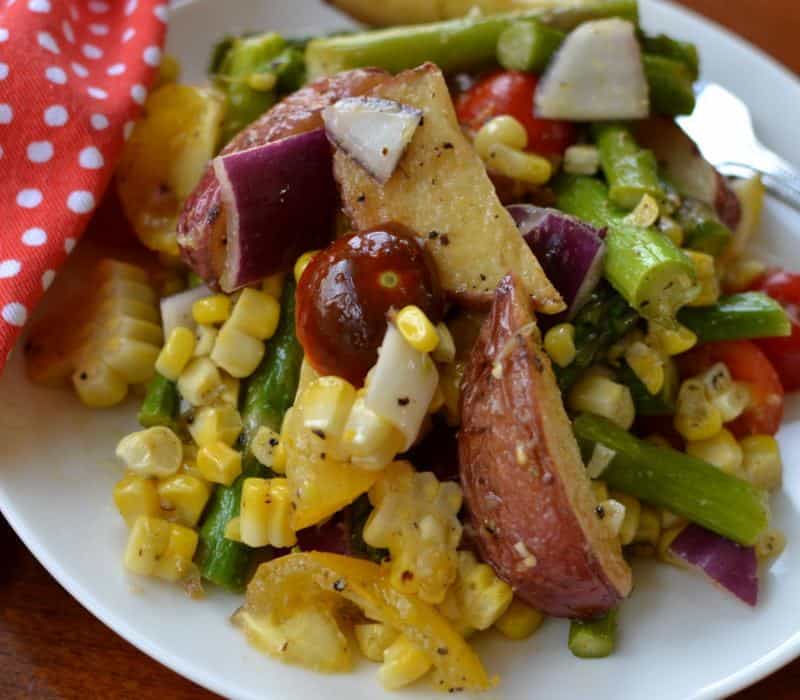 Roasted Vegetable Salad with Lemon Vinaigrette