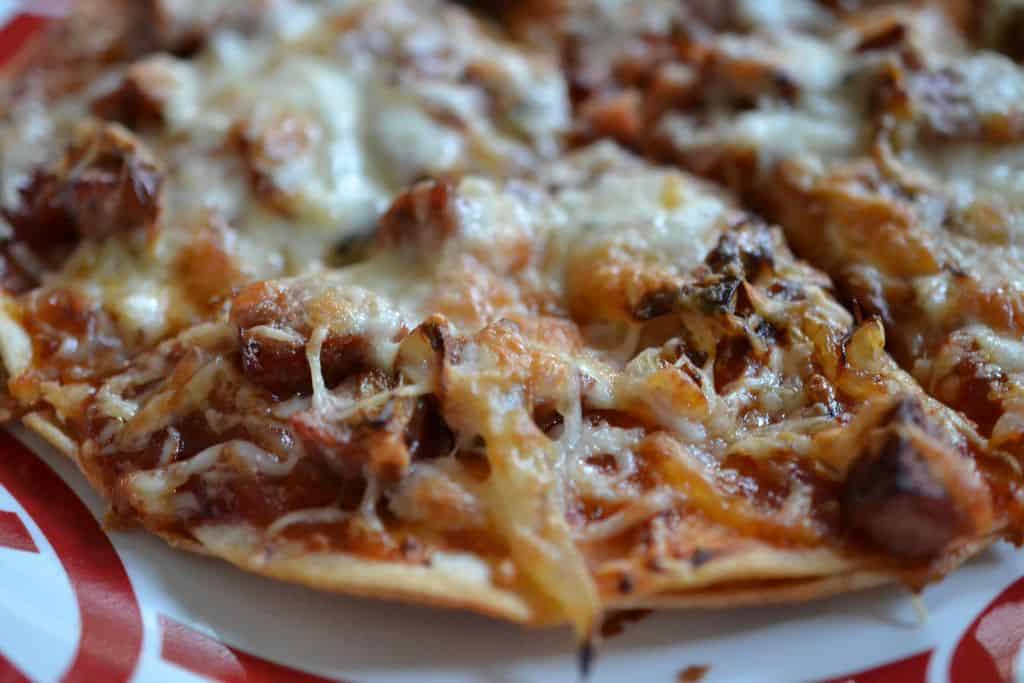 Pizza has to be one of my absolute favorite foods in the whole wide world. These pizzas are super easy to make and fantastically delicious!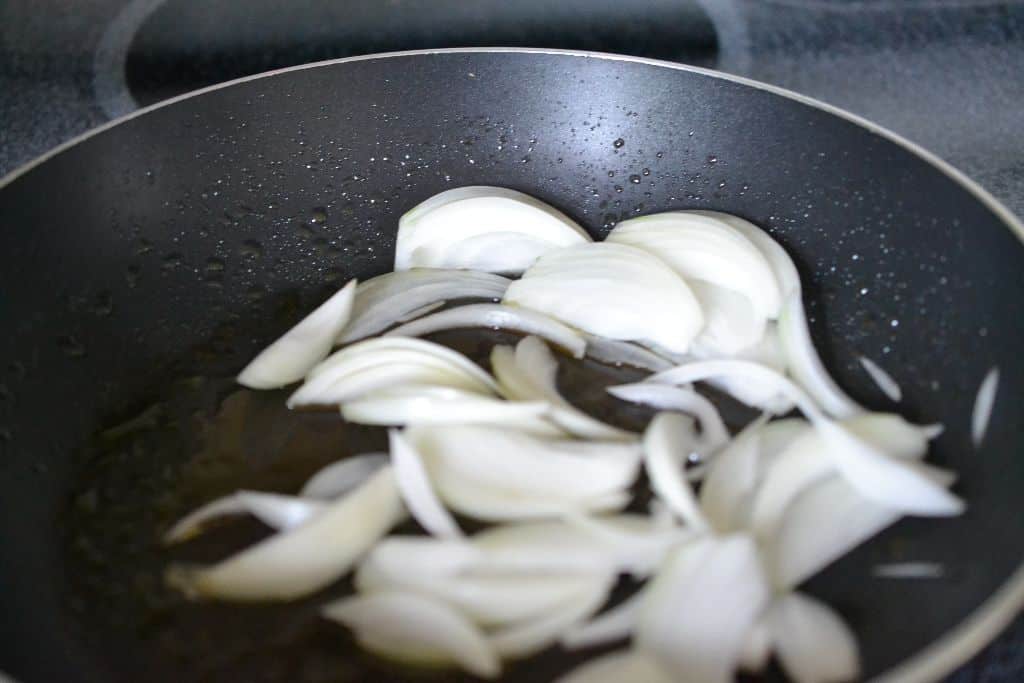 Cook the onion on low heat for a while and caramelize that puppy! It brings out all the sweetness and flavor and gives you time to work on your laundry.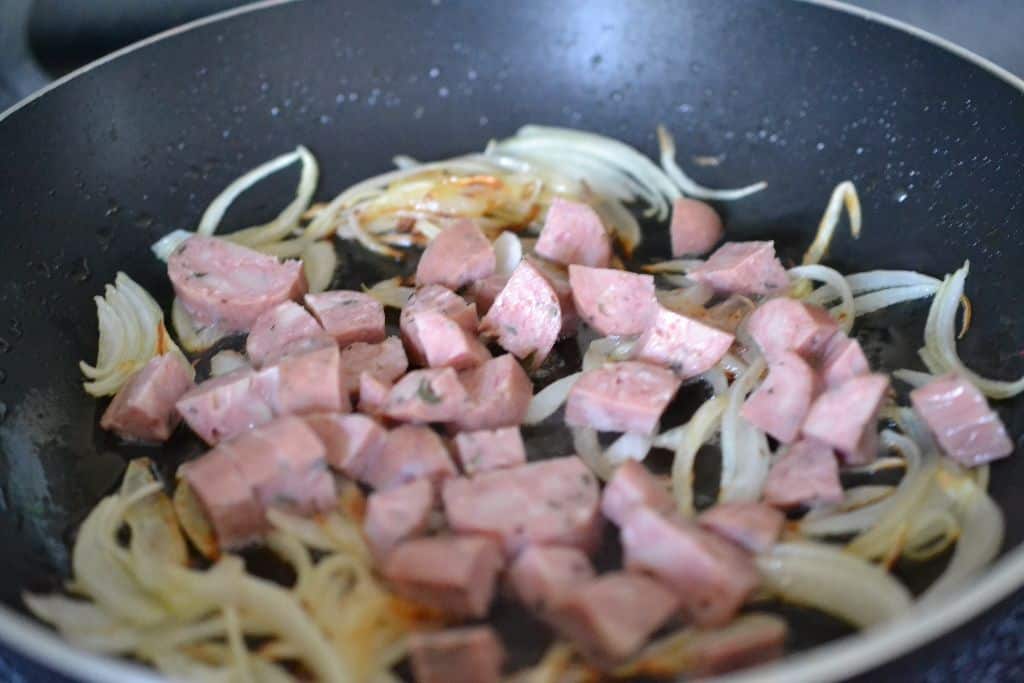 Turn the oven on 425 degrees. Throw the pizza stone in to preheat and then toss the sausage into the pan with the onion.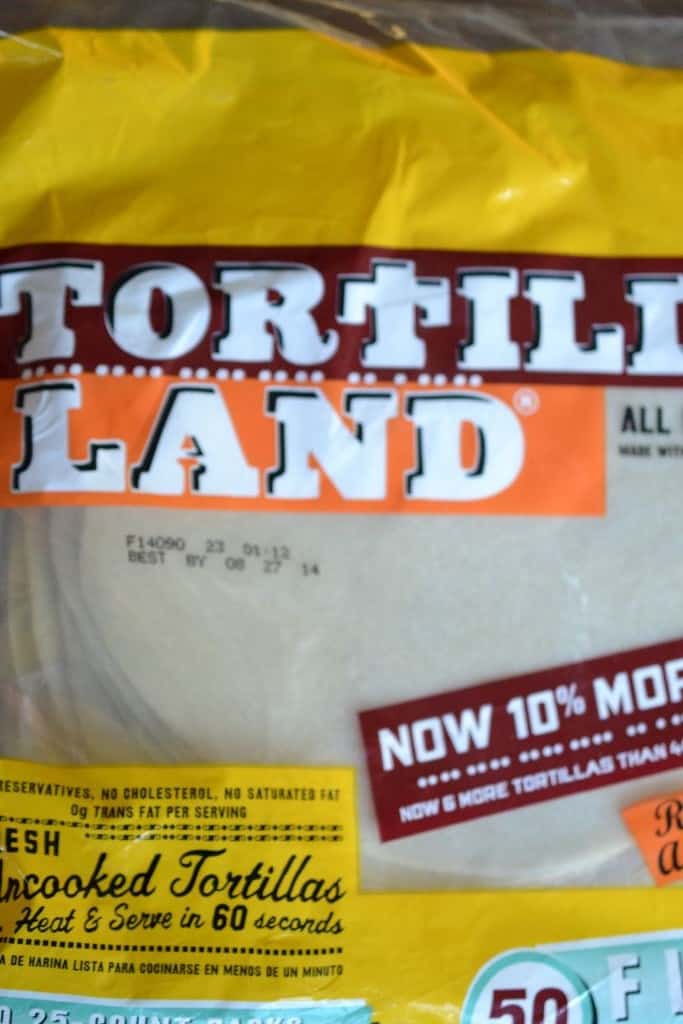 These are the most wonderful tortillas in the world. They are all natural and they make yummy thin crisp pizzas. Stack two together and throw them on the pizza stone for two minutes and then flip it and do two minutes on the other side. It may puff up like a pillow but just gently push on it with a spatula and it will flatten back out.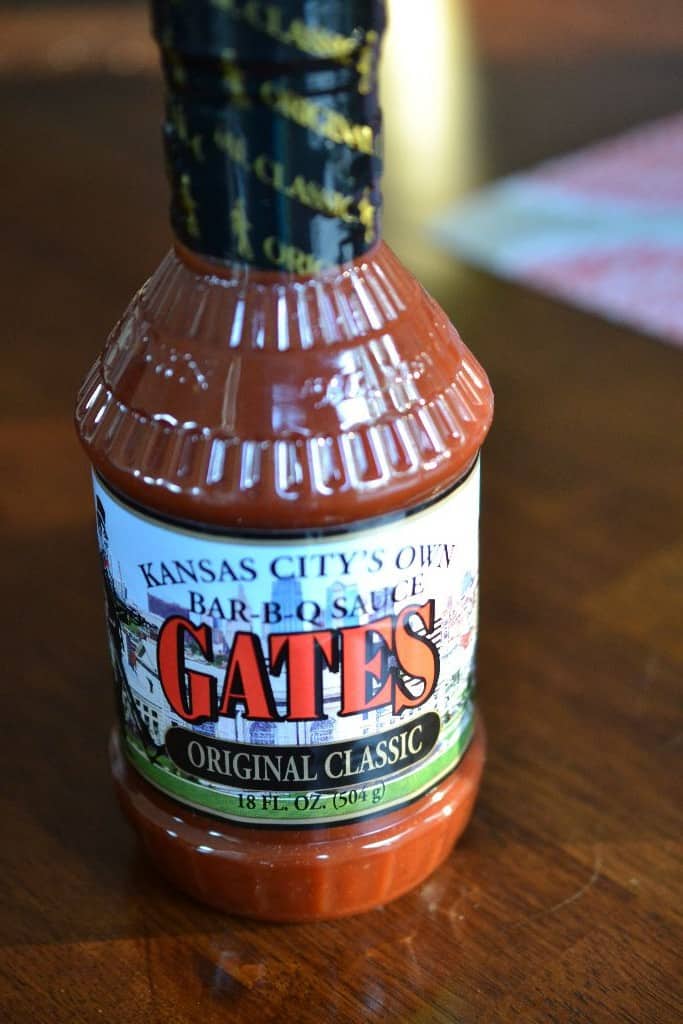 THIS IS THE MOST WONDERFUL BBQ SAUCE. I LOVE IT! I HOPE YOU CAN FIND IT IN YOUR FAVORITE STORE. YOU HAVE TO TRY IT! I HOPE I HAVE MADE MY POINT!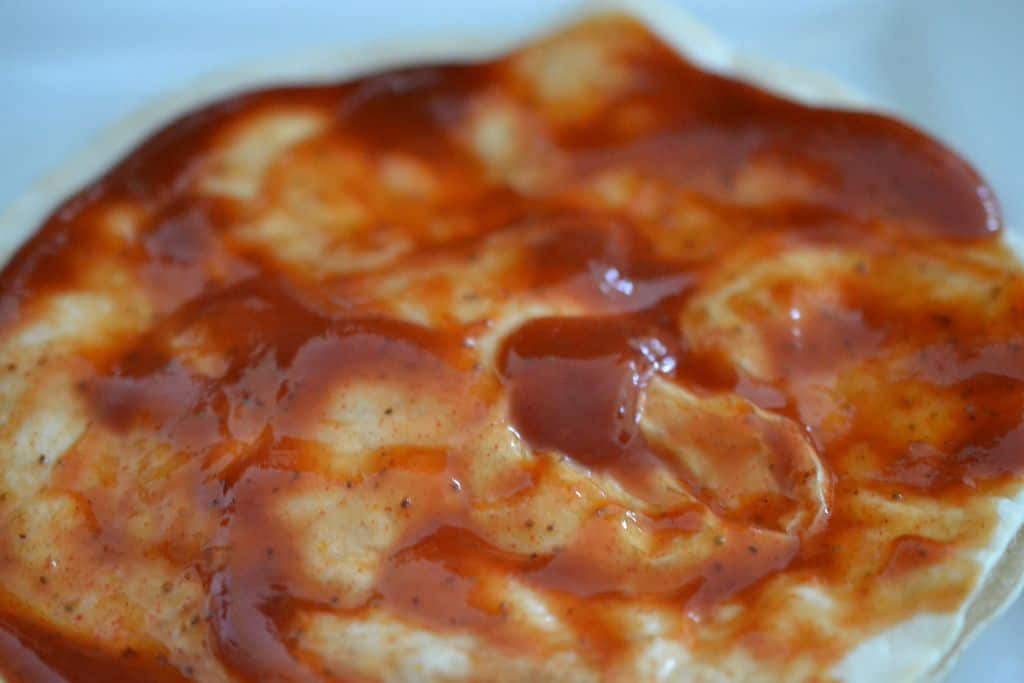 Spread some BBQ sauce on that pre-crisped crust!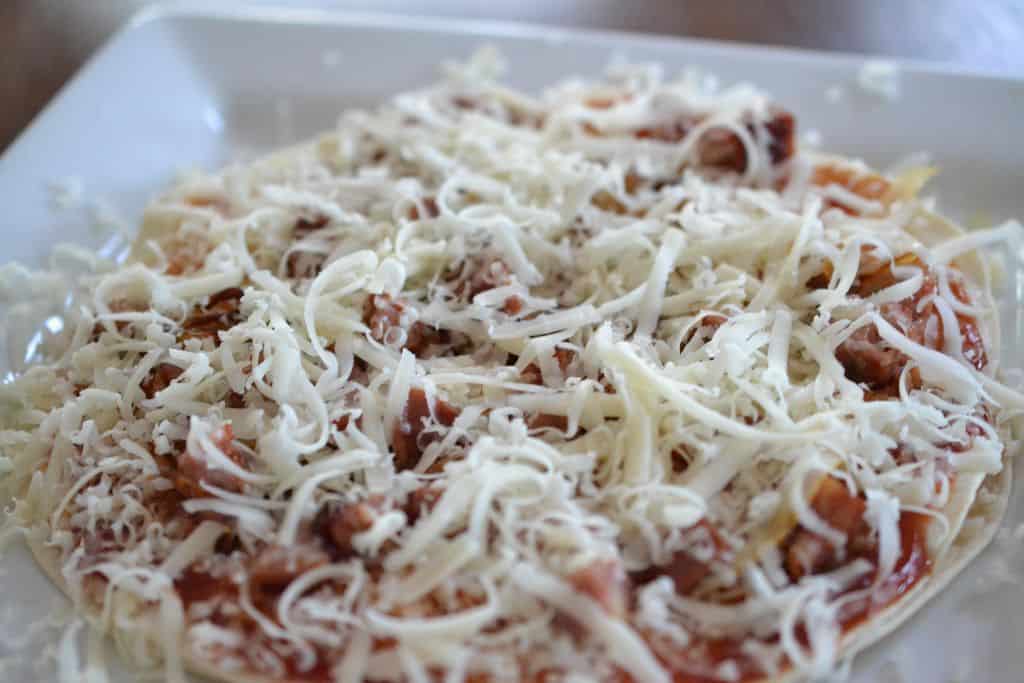 Grate some cheese over the top of that sauce. I used white cheddar on bottom because I think it goes great with caramelized onions.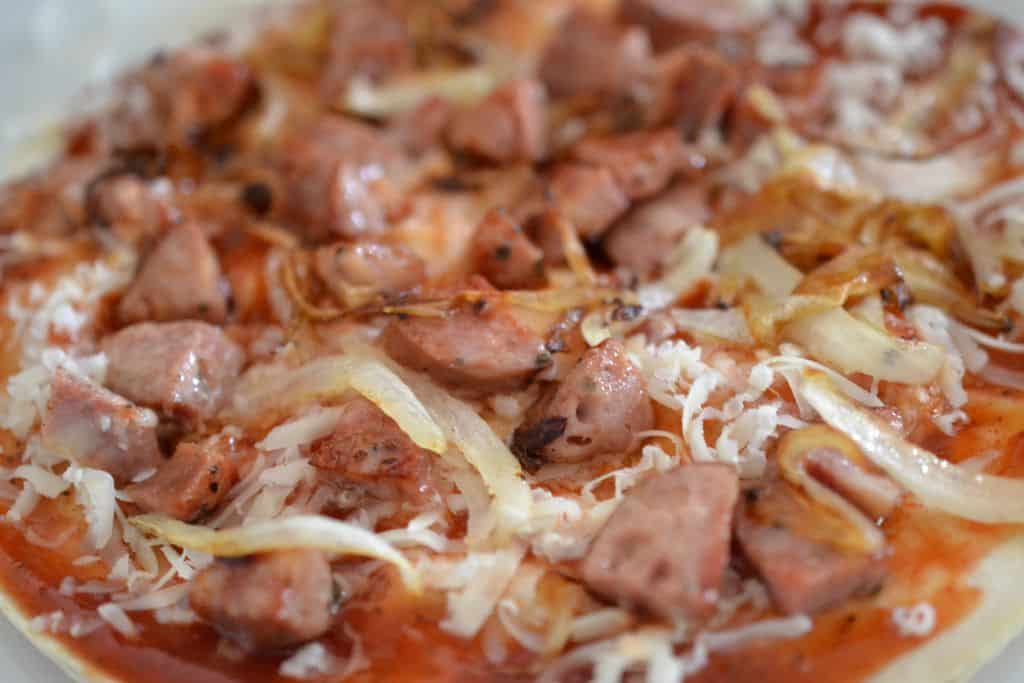 Add the onions and sausage. Shred another layer of cheese on top. I used mozzarella. Bake in the 425 degree oven for 8 minutes.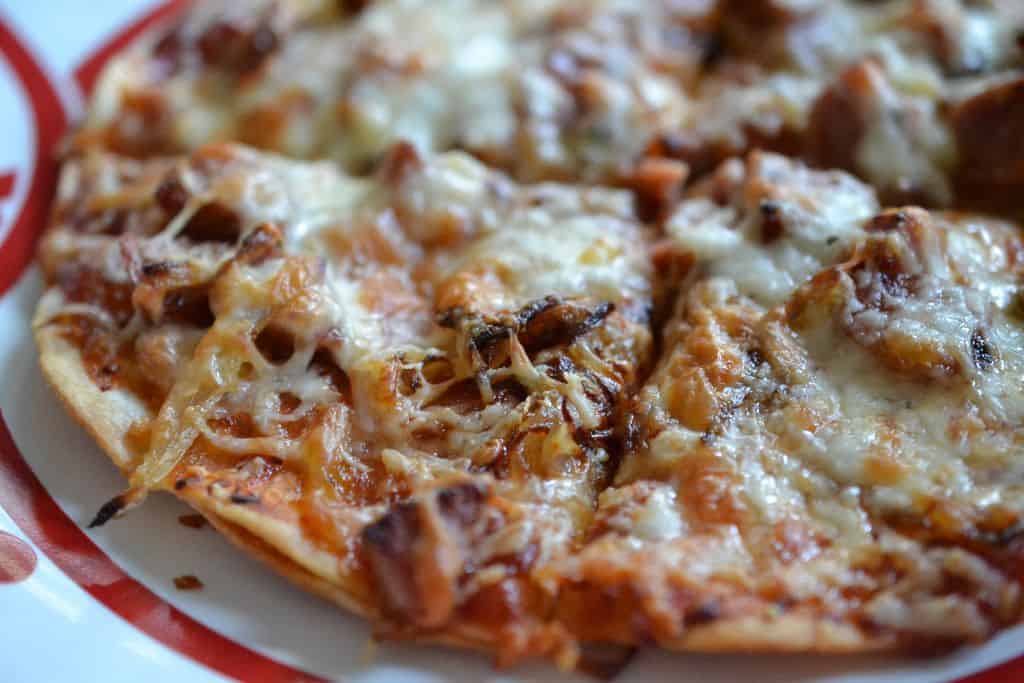 Print
BBQ Sausage Onion Pizza
Scale
Ingredients
1 small onion sliced
1 good quality smokehouse sausage link diced
4 tortillas
BBQ sauce
Cheddar cheese for grating
Mozzarella for grating
Instructions
Add a tablespoon of olive oil to saute pan. Cook the onion on low heat for about 20-25 minutes. Adjust the heat up a touch and add the diced sausage link and cook for another 5-7 minutes.
Preheat oven to 425 degrees and place pizza stone in the oven to preheat. Stack two tortillas on top of each other and place on top of the pizza stone. Cook two minutes on each side. Spread the BBQ sauce on top of the tortillas. Add a layer of white cheddar cheese. Add 1/2 the cooked onions and sausage. Add a layer of mozzarella cheese and bake on the pizza stone for 8 minutes in the 425 degree preheated oven.
Notes
This recipe makes two small pizzas so adjust if necessary.
You can use whatever cheese pleases your palate but this is a great combination.
https://www.smalltownwoman.com/wp-content/uploads/2019/05/Beth-1.pdf