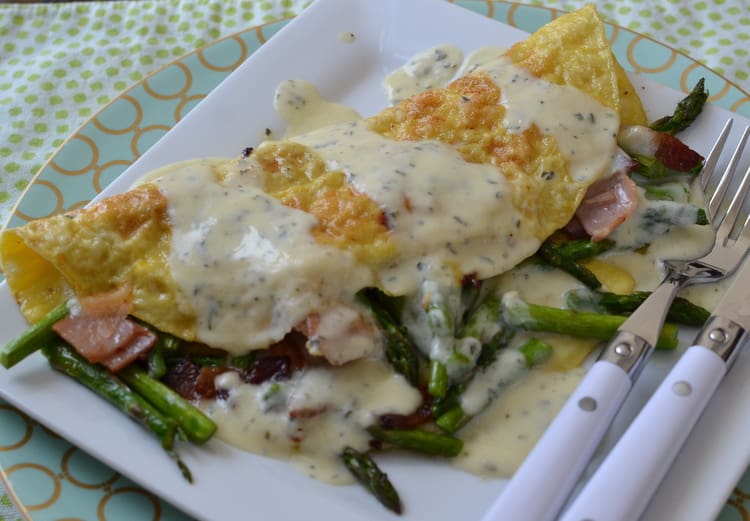 This omelette is perfectly delicious. The flavors blend together like a fine tuned instrument!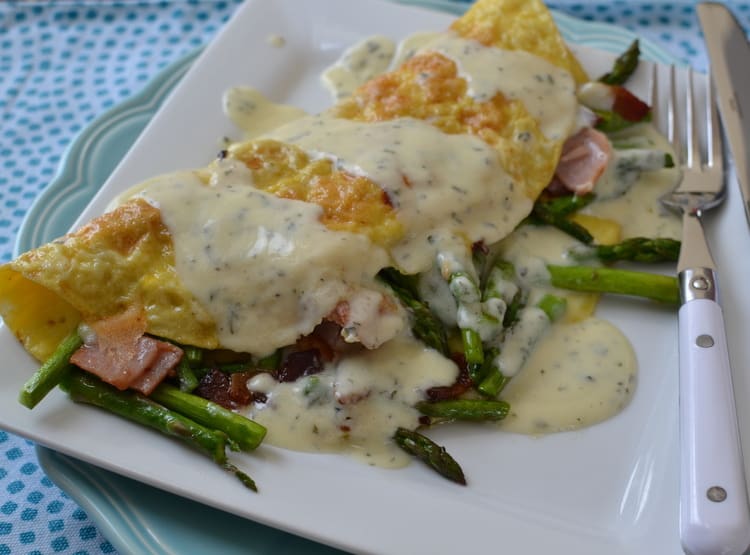 The buttermilk sauce gives it a magical melt in your mouth taste!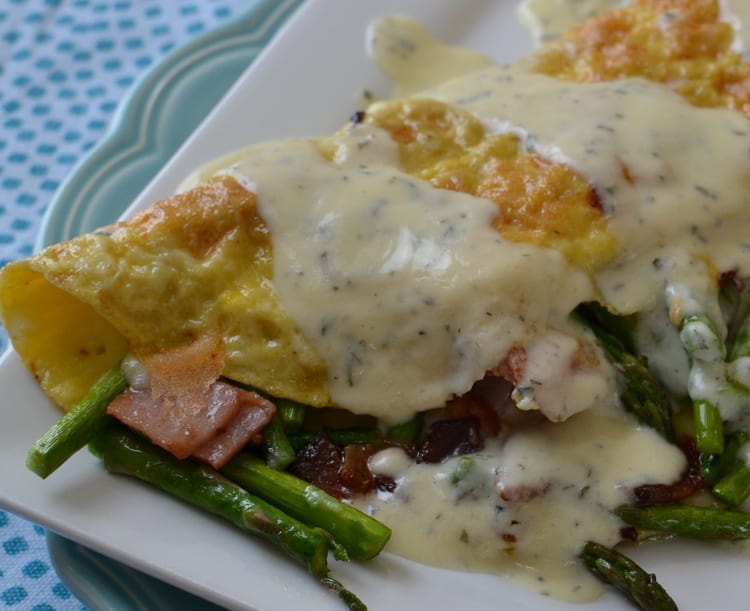 It is a little more work than your average omelette but worth all the effort ten times over.  It is perfect for that weekend breakfast with your kids or your honey buns!
Bon appetit my friends.
Print
Benedict Omelette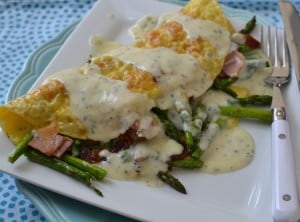 Scale
Ingredients
7 eggs
3/4 cup buttermilk
2 teaspoons cornstarch
1 tablespoon dried parsley
Salt & Pepper
1 tablespoon butter
1/2 lb asparagus washed, trimmed and cut into 1 inch pieces
3 pieces of bacon sliced in small bite size pieces.
3 slices good quality ham sliced in small bite size pieces
2/3 cup provel or provolone cheese
2 tablespoons cool water
Instructions
Whisk 1 egg, buttermilk, cornstarch, parsley in small saucepan over low heat until thickened. Remove from heat and add butter and salt & pepper to taste. Cover and keep warm.
Meanwhile add bacon to skillet. After 1-2 minutes add the ham & asparagus. Cook until the bacon is done and the asparagus is crisp tender. Remove from pan, cover and keep warm.
Whisk 6 eggs with two tablespoons of water. Coat 10 inch skillet with olive oil. Add 1/2 the egg mixture and cook over medium low heat until eggs are set. Sprinkle with 1/2 the provel cheese, 1/2 the asparagus/bacon mixture and fold omelette.
Remove from pan and drizzle with buttermilk sauce.
https://www.smalltownwoman.com/wp-content/uploads/2019/05/Beth-1.pdf