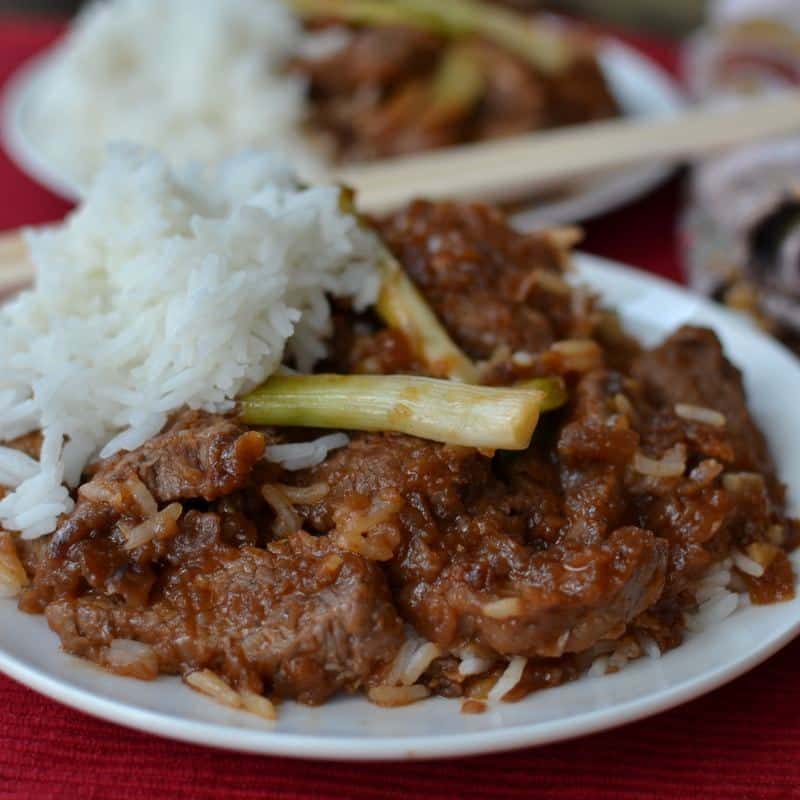 One of my favorite things to cook is Asian food.  I just love it.  It is always a hit over here.  Now this Better than Takeout Mongolian Beef is one of hubby's favorites.  Saturday nights are usually Asian food nights around here.  it gives me a little more time for experimentation.  I might be creating a brand new recipe from scratch, experimenting with a brand new cut on a vegetable or using a different meat or seafood.
 Mongolian Beef comes together real fast so it does require your full attention once the cooking starts.  It is one of those dishes that is best right after it is complete.  Some stir fry dishes will hold up well for 10-15 minutes or so after cooking but this one is best served right away.
Better than Takeout Mongolian Beef combines tender pieces of fried beef in a lightly sweetened garlic soy sauce based gravy.  The typical Mongolian Beef is served with scallions but red pepper, carrots and broccoli are nice additions as well.
My recipe includes one out of ordinary ingredient which is what makes cooking fun.  You can experiment and see what enhances the other foods in the recipe.  Have you tried any of my other Asian recipes?  Spicy Beef Pepper Stir-Fry, Sweet and Sour Chicken and Sweet Pork Fried Dumplings are just a few of my favorites.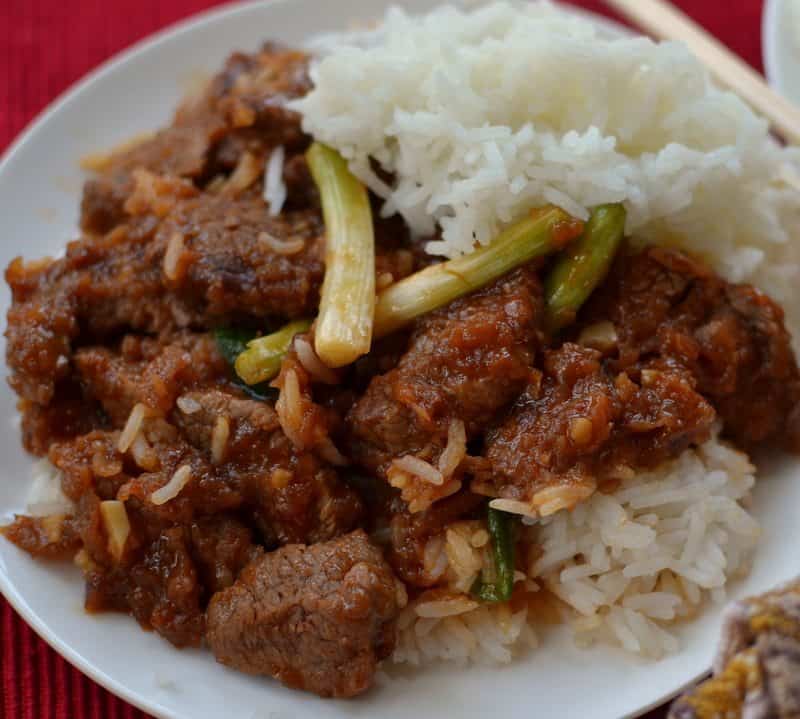 You and your loved ones are going to love this Better than Takeout Mongolian Beef.  It is delicious served over rice or Chinese noodles.  I sure hope your family enjoys it as much as we do!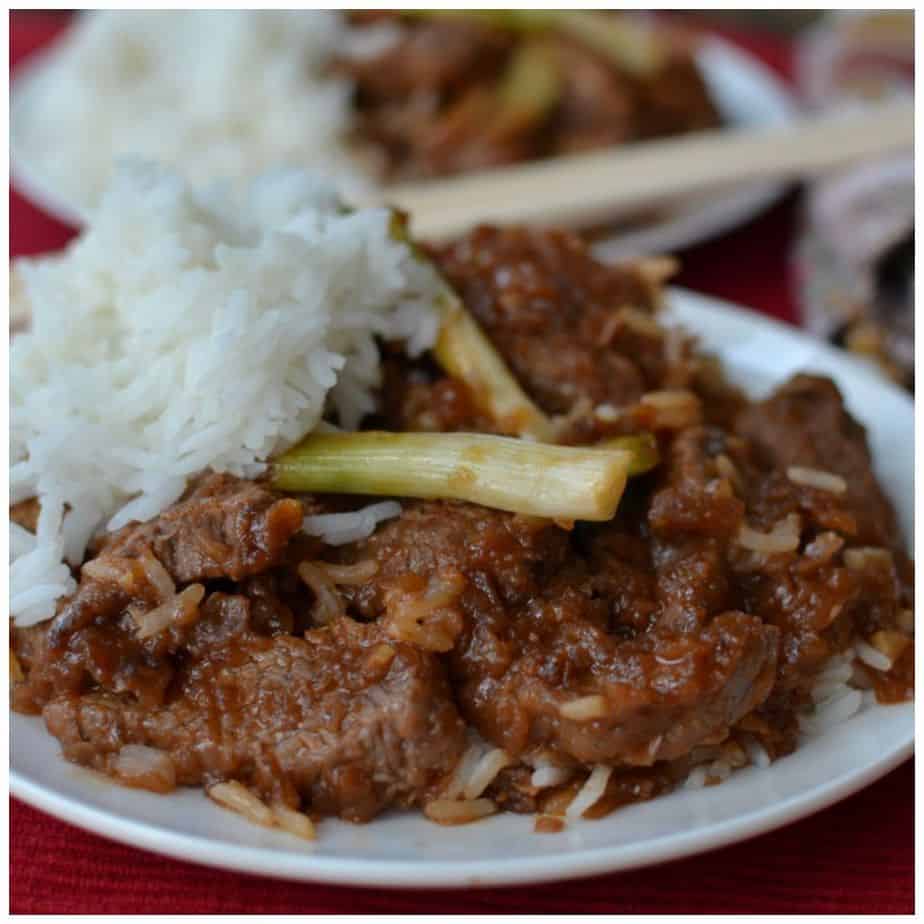 Print
Better than Takeout Homemade Mongolian Beef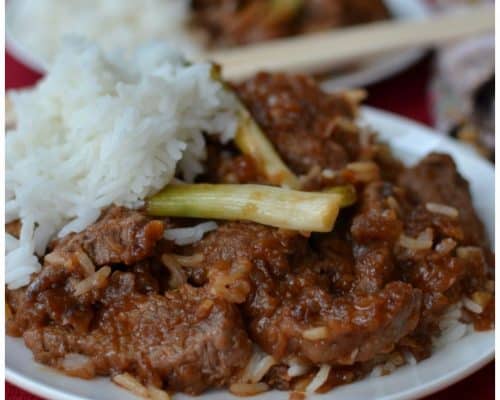 If you're trying to order less takeout, this homemade Mongolian beef recipe will do the trick! Packed with flavor, it makes for a perfect homemade dinner with the family.
Prep Time: 15 minutes
Cook Time: 10 minutes
Total Time: 25 minutes
Yield: 2 servings 1x
Category: Dinner
Method: Stovetop
Cuisine: Mongolian
Scale
Ingredients
1 1/4 lbs flank steak or petite shoulder cut in 1/4 inch thick bite size strips
1/4 cup cornstarch
1 teaspoon vegetable oil
1 teaspoon sesame oil
4 large cloves garlic minced
1 tablespoon grated fresh ginger
1/2 cup low sodium soy sauce
1/2 cup water
2 tablespoons ketchup
2 tablespoons brown sugar
1 cup vegetable oil
1 bag green onions (5.5 ounce) cut in 2 inch lengths
Cooked rice or Chinese noodles
Instructions
In large Ziploc bag combine steak and cornstarch. Shake to coat. Set aside for 10-15 minutes..
Combine 1 teaspoon vegetable oil and sesame oil in large skillet over low heat. When hot add garlic and ginger cook for 30 seconds stirring constantly. Add soy sauce, water, ketchup and brown sugar. Simmer while frying the meat.
Heat 1 cup oil in heavy saucepan or wok, Remove about 10 pieces of beef from bag shaking off excess cornstarch. Add to oil and fry each side for 1 minute. Remove from pan and place on paper towels to drain. Repeat until all the meat is cooked.
Add meat to skillet with simmering sauce. Add green onions and simmer for additional 2 minutes. Serve immediately over cooked rice or noodles.
Keywords: homemade Mongolian beef, Mongolian beef, homemade Mongolian beef
Other delicious recipes you will love!!