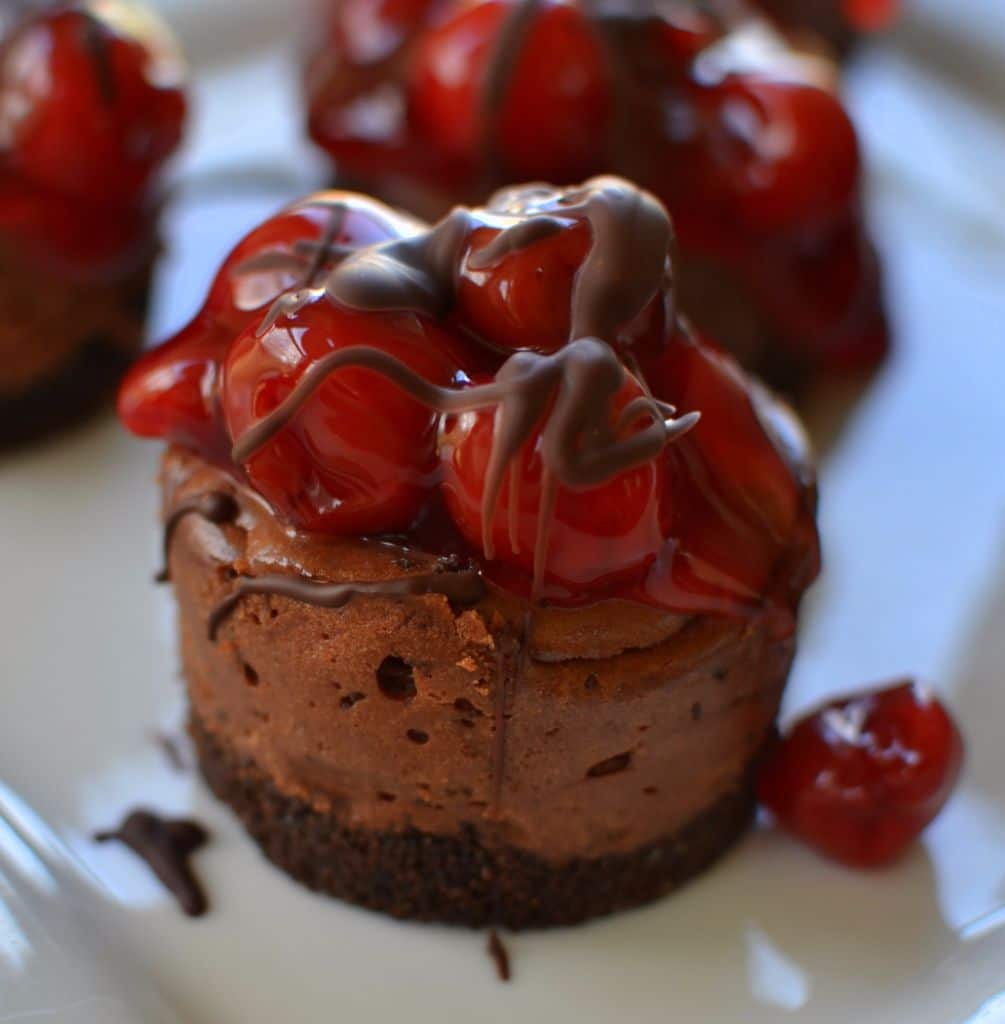 Black Forest Mini Cheesecakes!  Those of you who are familiar with my blog know that I love to bake mini cheesecakes.  Indeed I do!  They are perfect little treats that will keep your sweet tooth in check without having to spend hours and hours on the elliptical.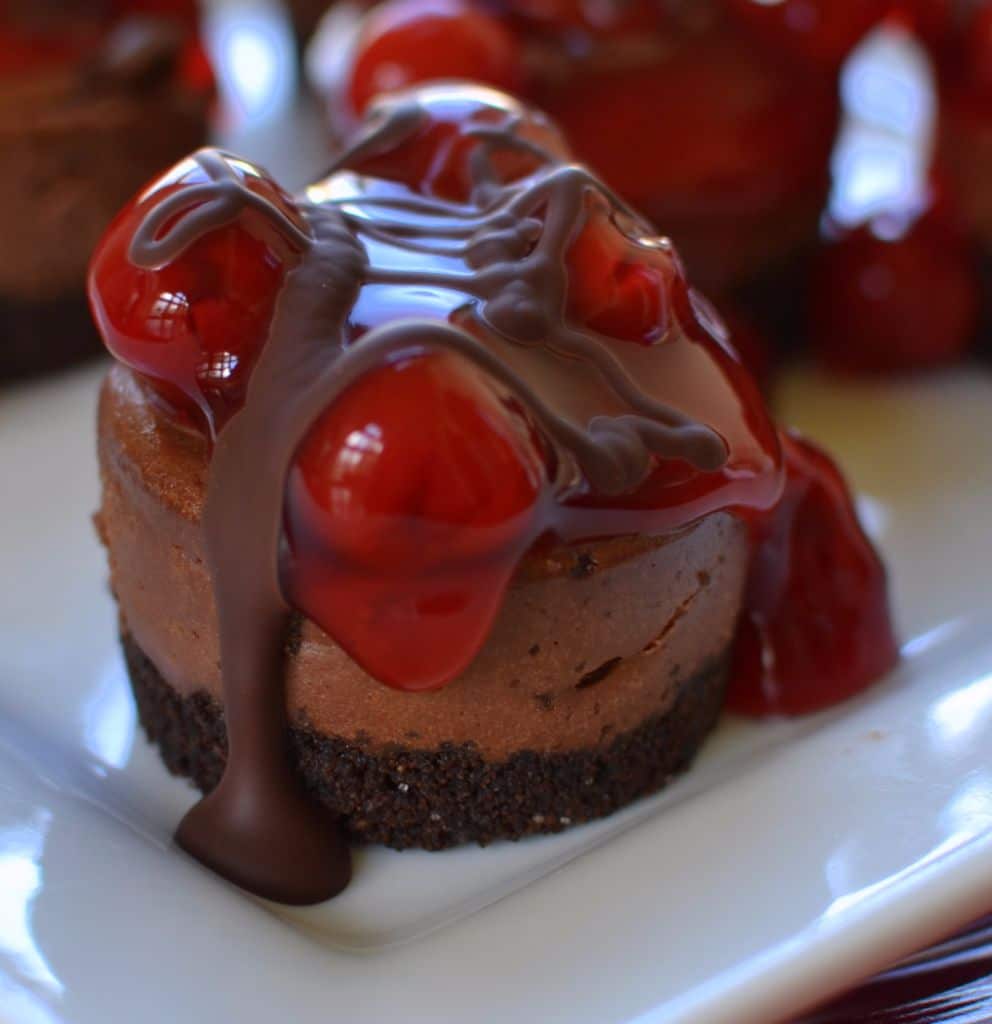 They are a cinch to make and it will look like you spent hours creating these gorgeous Black Forest Mini Cheesecakes.  I use my Chicago Metallic pan that has removable bottoms so you can gently push the cheesecakes up from the bottom after they chill for  a bit.  However if you don't have one like this and don't want to invest the money then just use your cupcake pan with cup liners.  They make the most beautiful liners these days!  You can always find some that will fit your occasion.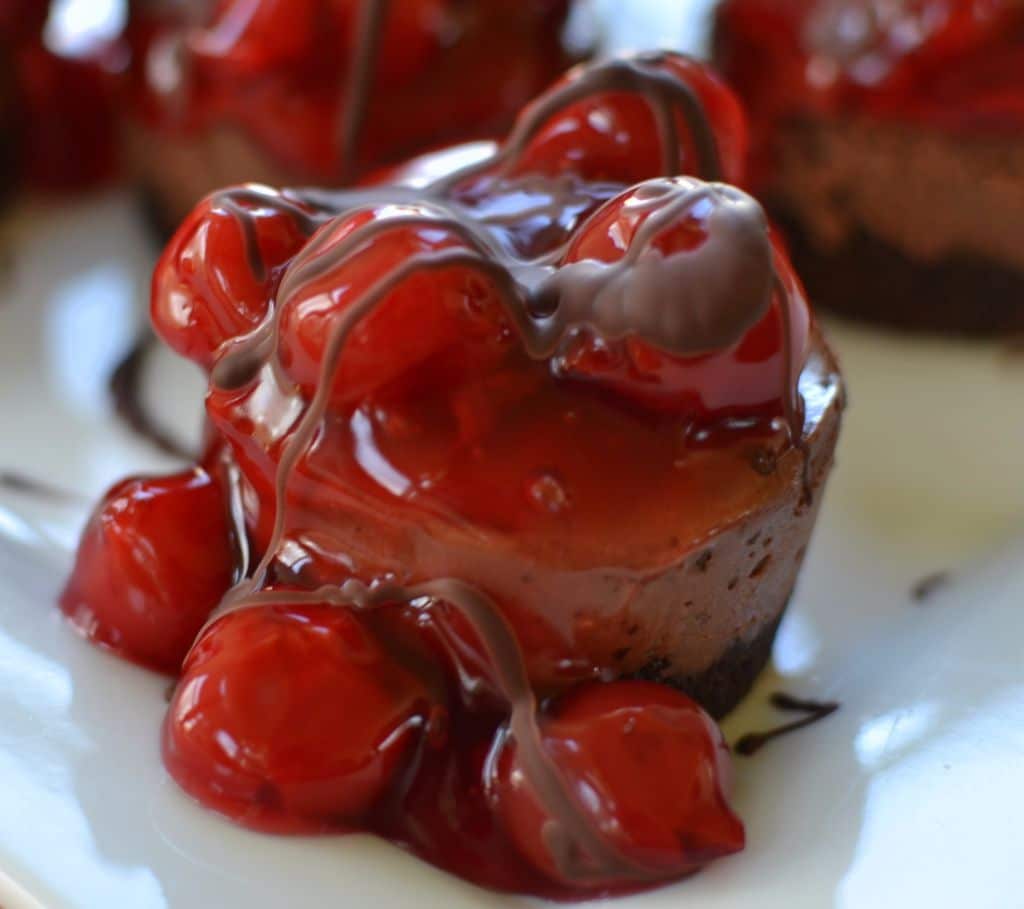 So whip up a batch for your next party or soiree.  Your guests will sing accolades!
Other cake recipes you will love!
Print
Black Forest Mini Cheesecakes
Pam nonstick baking spray
1 1/4 cup chocolate graham cracker crumbs
1 tablespoons sugar
4 tablespoons butter melted
2 tablespoons heavy cream
1/2 cup bittersweet chocolate chips
12 ounces of cream cheese softened (1 1/2 boxes)
1/4 cup sugar plus 2 tablespoons
2 tablespoons unsweetened cocoa
1 egg
1 can cherry pie filling (21 ounce)
Instructions
Preaheat oven to 325 degrees and spray mini cheesecake pan with Pam.
Combine graham crackers, sugar and butter. Divide in the mini cheesecake pan evenly. Press down gently with a spoon or clean fingers.
In microwave heat cream for 20 seconds to bring to a boil. Add 1/4 cup chocolate chips and stir until fully melted and smooth.
In a stand mixer blend cream cheese and sugar until smooth and creamy. Add the cocoa and blend well. Add the egg and mix just until incorporated on low. Stir in the melted chocolate mixture and mix just until incorporated. Spoon cream cheese mixture over the chocolate graham crackers; dividing evenly.
Bake for 25 minutes.
Remove from oven and chill for several hours or overnight before removing from pan.
Top with a spoonful of cherries. Melt 1/4 cup chocolate chips in microwave according to manufacturers instructions. Drizzle chocolate over cheesecakes.
On the hunt for more delicious recipes?  Follow Small Town Woman on Facebook, Pinterest, and Instagram
https://www.smalltownwoman.com/wp-content/uploads/2019/05/Beth-1.pdf