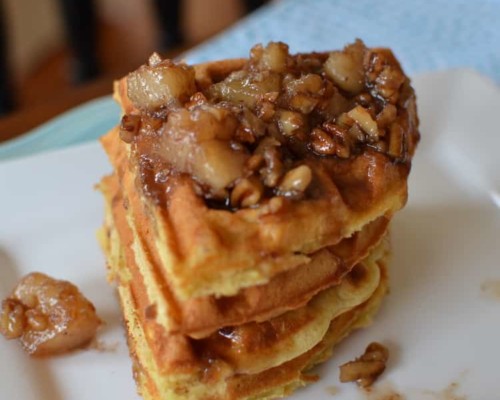 I love to spend my Sunday mornings cooking!  Waffles are always a great hit!  Buttermilk waffles are even better!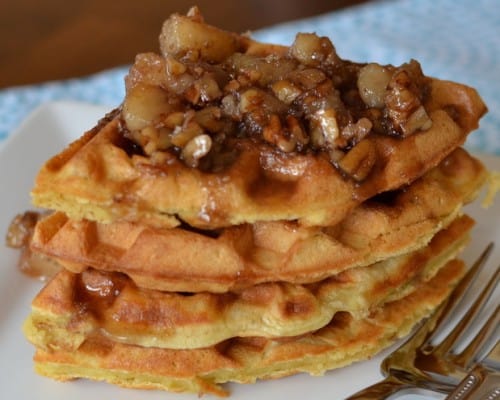 Now add a warm pecan pear sweet syrup and you have magic!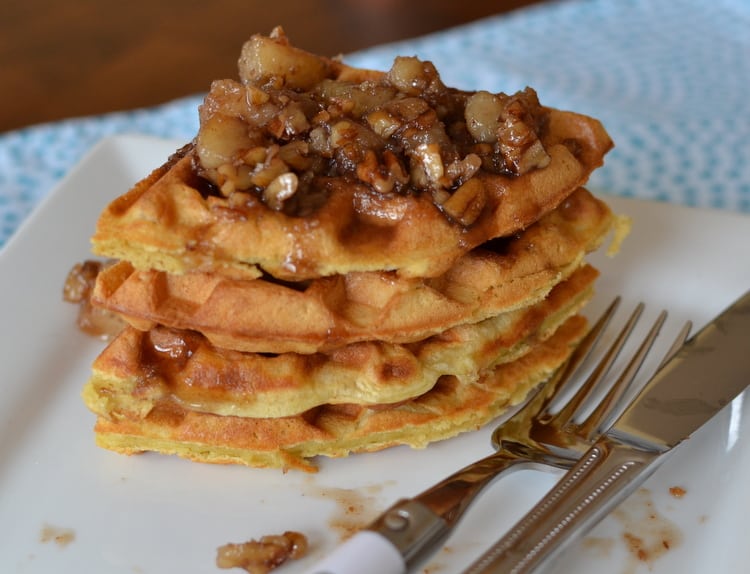 Or maybe a masterpiece!  I hope your Sunday is magical, sweet and full of treats!
Print
Buttermilk Waffles with Pecan Pear Sauce
Scale
Ingredients
2 tablespoons butter
1/2 cup chopped pecans
2 pears pealed and cut into small chunks
1/3 cup brown sugar
1/4 cup rum
2 cups all purpose flour
1 teaspoon baking soda
1 teaspoon baking powder
3/4 teaspoon salt
1 teaspoon cinnamon
4 large eggs
1 teaspoon vanilla
2 cups buttermilk
1/2 cup butter melted
Instructions
Preheat waffle iron and spray with non stick cooking spray.
Melt 2 tablespoons butter in small saucepan. Add pecans and cook for 1 minute. Add pears, brown sugar and rum and simmer for 10 minutes.
Sift flour, baking powder, baking soda, salt and cinnamon together in medium bowl.
Add eggs to large non metallic bowl and whisk until light and fluffy. Add vanilla to eggs and whisk in.
Add flour mixture to egg mixture 1/4 of it at a time alternating with 1/2 cup of buttermilk and mixing just until combined. Gently stir in melted butter just until combined.
Pour batter into preheated waffle iron and cook until golden brown, about 3 minutes. Top with pecan pear syrup.
https://www.smalltownwoman.com/wp-content/uploads/2019/05/Beth-1.pdf
Reader Interactions