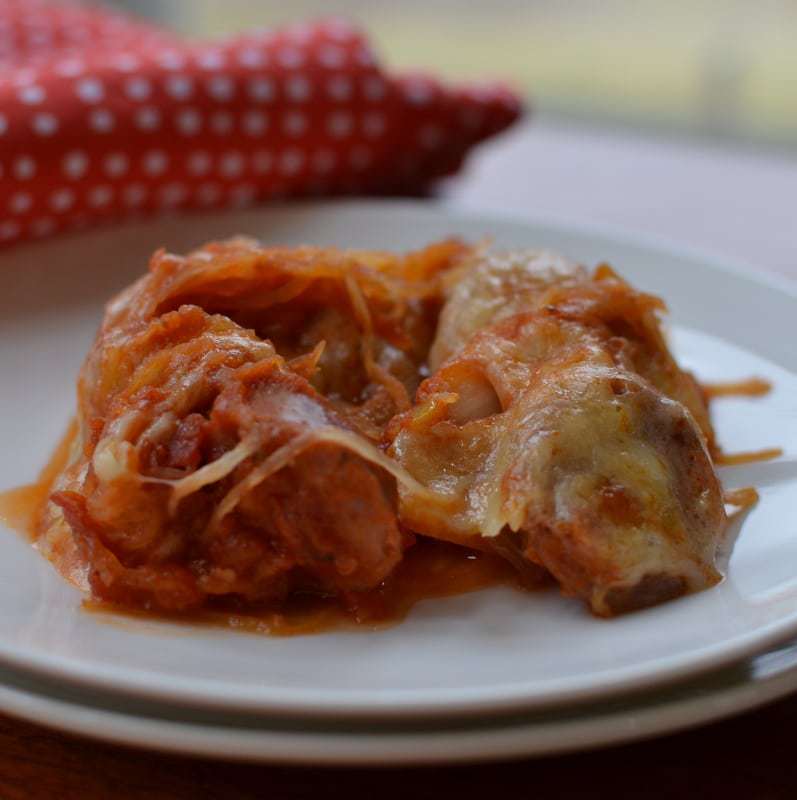 Are you enjoying the New Year? We are here. Lots to do, lots to learn and a little more concentration on healthy eating and exercise. Now couldn't we all use a little more of that after our Christmas extravaganza. I know, I know those cookies were so good. My goodness they were amazing but now it is time to pay the piper and make some better decisions. We are back to watching our carbs and sugars. It seems to be where we have the best luck on dropping pounds and improving our health fast enough to keep going that way.
Cheesy Chicken Sausage Spaghetti Squash Bake is a low carb dish designed to please. It is full of flavor and has plenty of protein to keep you satisfied for hours and hours!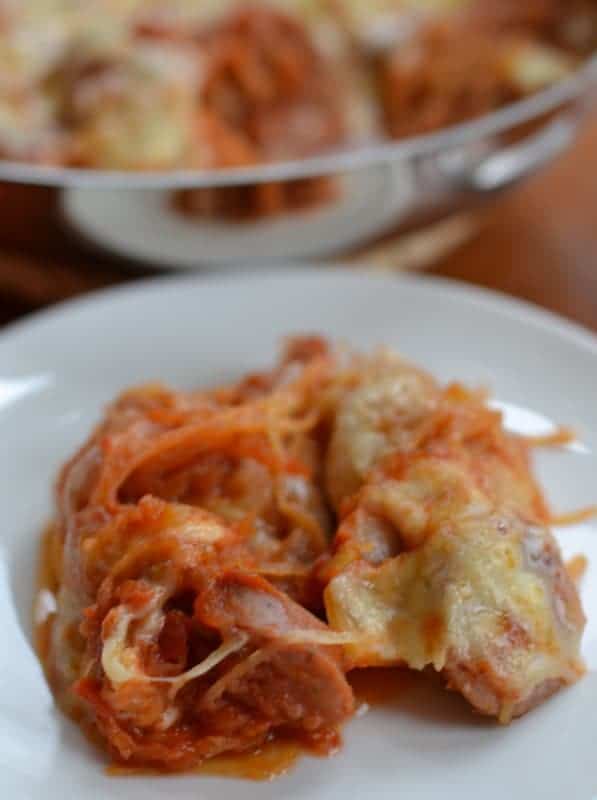 The prep work on this dish is minimal and you can even bake the spaghetti squash ahead of time. You can bake it in an ovenproof skillet or transfer it to a casserole dish. This Cheesy Chicken Sausage Spaghetti Squash Bake is full of chicken sausage, spaghetti squash, marinara, onions and a special blend of spices all topped with a blend of ooey gooey melted buttery cheese!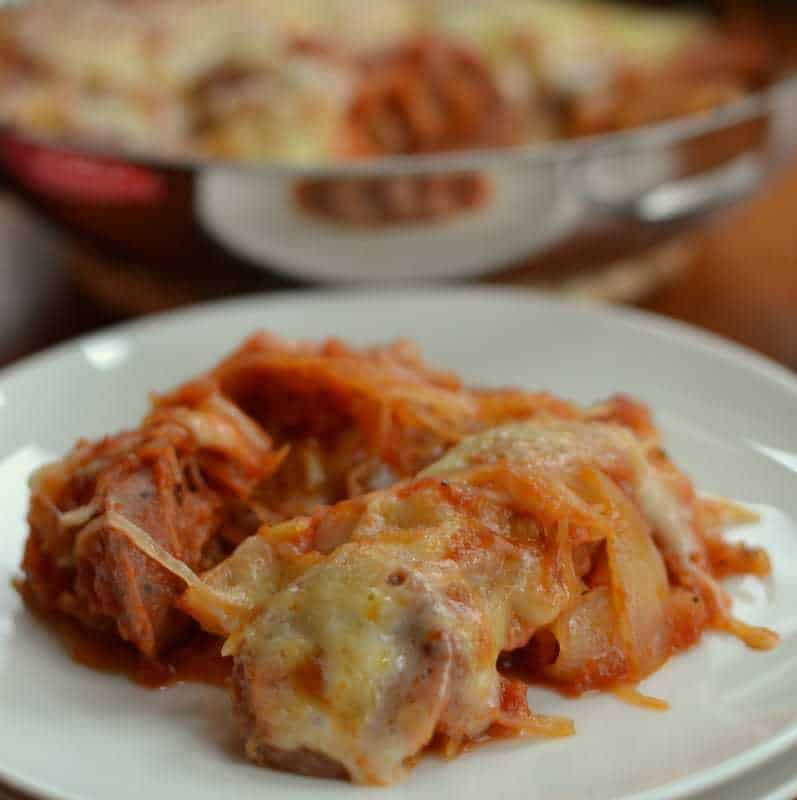 This Cheesy Chicken Sausage Spaghetti Squash Bake is the perfect blend of I want something that tastes good meets I need to try to behave a little better and watch my carbs! You are going to love this and just think you can feel good about it!!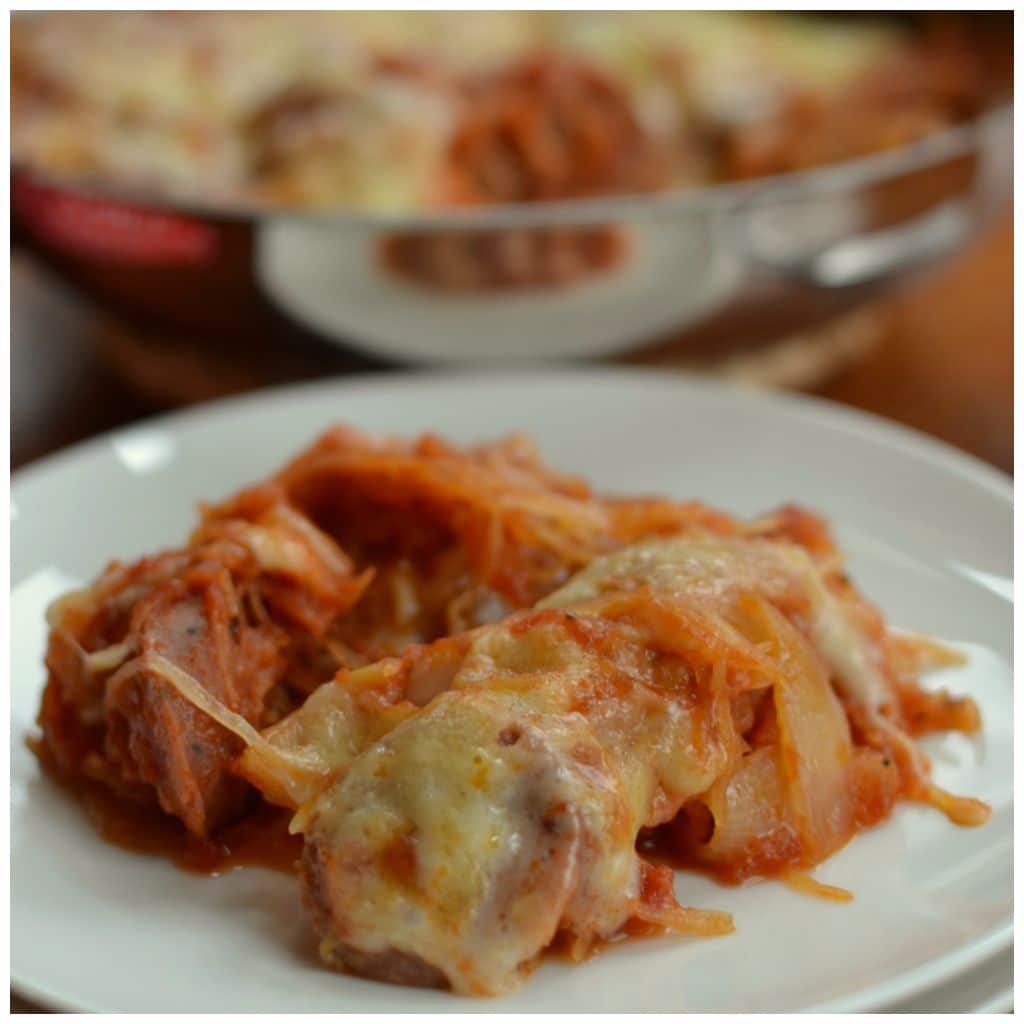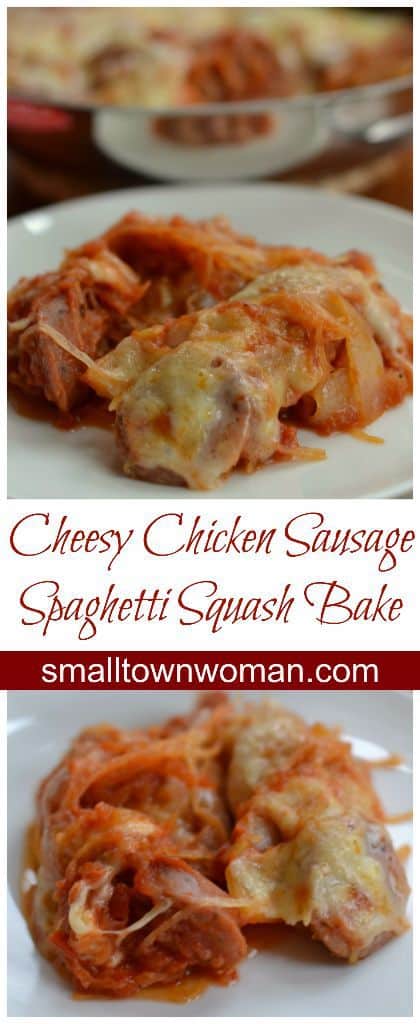 Cheesy Chicken Sausage Spaghetti Squash Bake
Ingredients
I medium spaghetti squash cut in half lengthwise and seeded
2 tablespoon olive oil
1/4 teaspoon salt
1/4 teaspoon fresh cracked pepper
4 links good quality chicken sausage links sliced in 1/3 inch rounds (I use Aidels)
1 small onion chopped
2 large cloves garlic minced
3 cups marinara
1/2 teaspoon oregano
1/2 teaspoon basil
1 cup shredded mozzarella
1 cup Provel ropes (substitute shredded provolone)
Instructions
Preheat oven to 400 degrees. In small bowl combine 1 tablespoon olive oil, salt and pepper. Brush inside the spaghetti squash. Place squash meat side down on aluminum foil covered cookie sheet. Bake for 40-45 minutes or until tender enough to easily pierce with a fork. Take out of the oven and allow to cool.
Meanwhile in large ovenproof skillet add 1 tablespoon olive oil over medium heat. Add sausage and onion; cook until sausage is lightly browned; approximately 5-7 minutes. Reduce heat to low; add garlic and cook for additional 1 minute. Add marinara, oregano and basil; simmer for 5 minutes. Using fork remove spaghetti squash from peel. It will shred as you remove it. Add spaghetti squash to the skillet. Top with mozzarella and provel. Bake for 30-35 minutes or until the top is melted and very lightly browned.
https://www.smalltownwoman.com/cheesy-chicken-sausage-spaghetti-squash-bake/
Other low carb recipes you will love!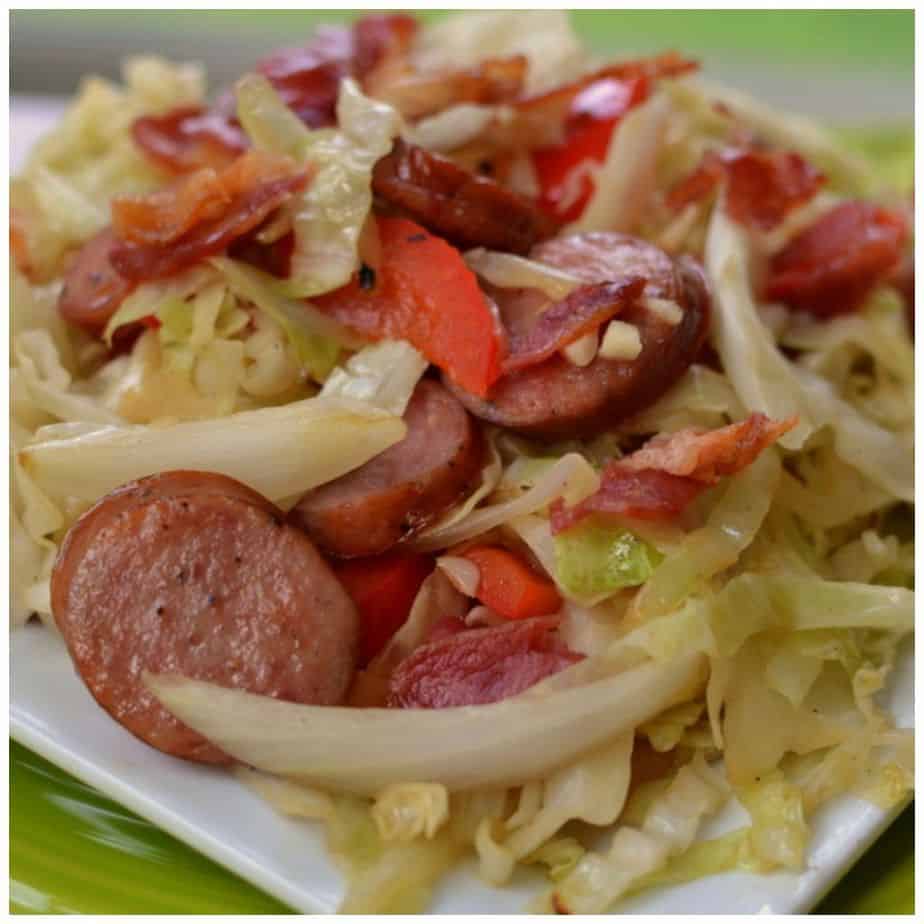 Cabbage Bacon Sausage Stir Fry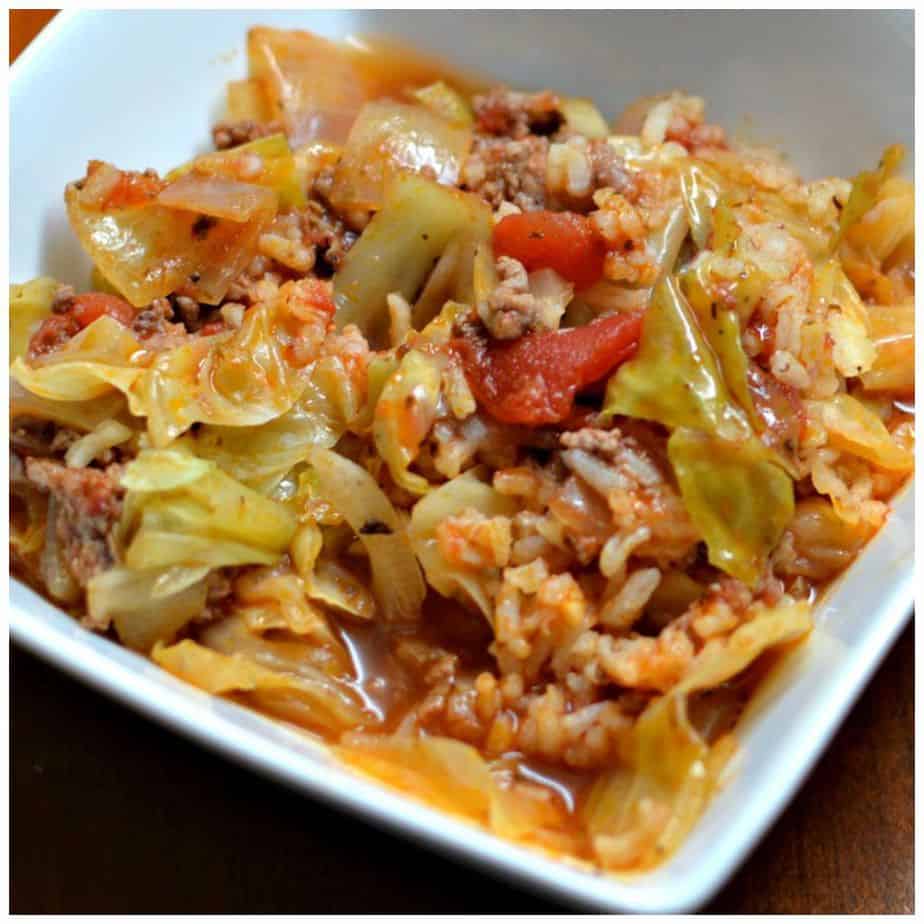 Easy Cabbage Roll Skillet