Chicken Alfredo Pasta brings golden brown chicken, fettuccine pasta and creamy Parmesan Alfredo sauce together in perfect harmony.  It is easy to pull together and kid friendly.  I love to serve it with Cheese Garlic Bread and Bacon Wrapped Asparagus.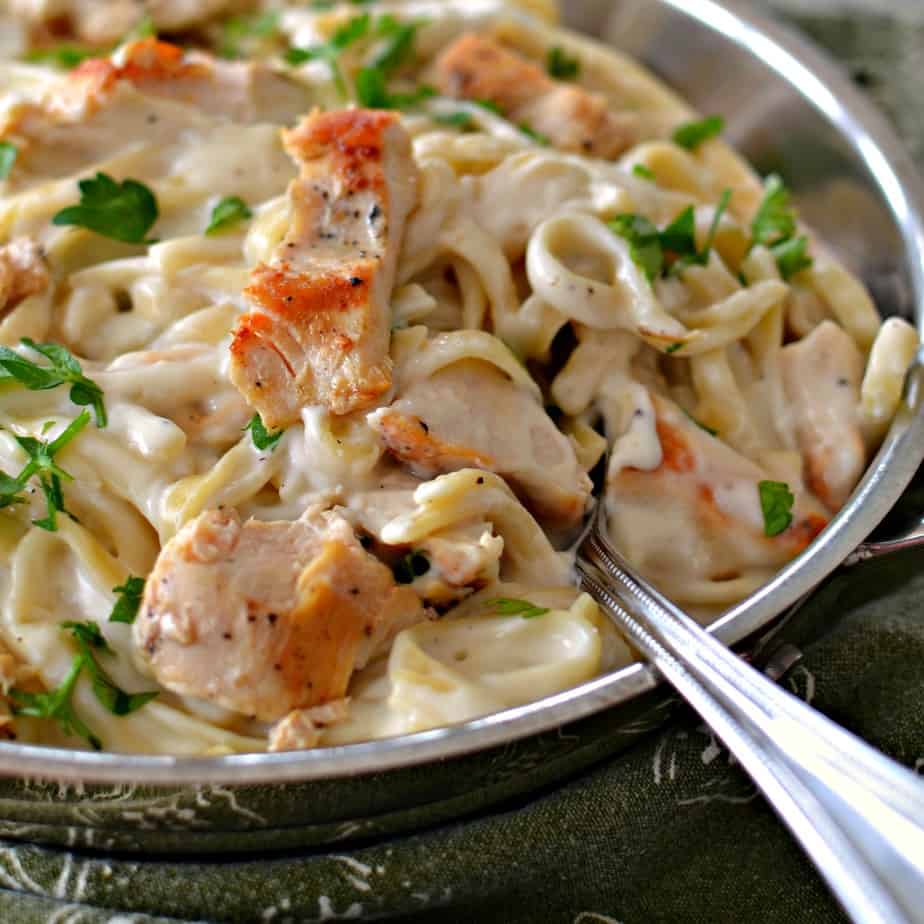 My son is absolutely in love with this pasta.  He says that I have one up on the Olive Garden.  Now I don't know about that but I do know that this Chicken Alfredo Pasta Recipe is absolutely delicious!!  My whole family loves it.  It is quick to come together and tastes like you spent hours preparing it.  My family just loves pasta.  We can't have it all the time but we when we do we make it lip smacking good.
How to make Chicken Alfredo Pasta.
Cook the pasta according to package directions and drain well. Cook the chicken in a little olive oil in a large skillet; plate and set aside.  Add butter to skillet over low heat, add garlic and cook for less than a minute, whisk in flour and cook for four to five minutes or until lightly browned.  Slowly whisk in half and half until smooth.  Whisk in Parmesan cheese until melted.  Cut chicken and add back to skillet with pasta.  It is so yummy and just that easy.  The important part of this recipe is the whisking; the sauce needs to be whisked almost continuously from start to finish.
How to make Alfredo Pasta.
Follow the same as above but just simply omit the chicken.  You can substitute golden browned mushrooms, sauteed asparagus,  fresh seamed broccoli, baby peas,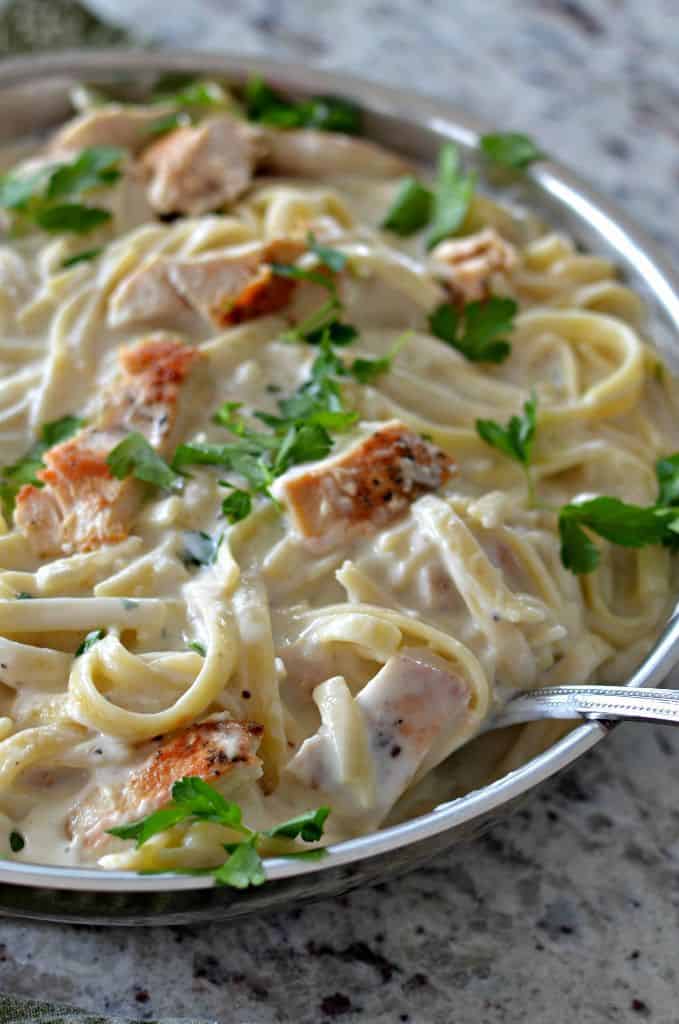 This Chicken Alfredo Pasta is a lightened up version using half and half instead of cream. Lighter on  the calories and fat but full of gusto and flavor.  It is the perfect supper served with a light Italian salad.  I served this up tonight and the family just could not get enough of it.  Be sure to read the helpful hints in the recipe as it tends to thicken pretty fast.  I always have some chicken broth to thin it out if it sits a little longer than anticipated. I am sure that there are interruptions in your kitchen too!  I also like to use fresh grated Parmesan as it melts and blends so much better than the powdered canister version.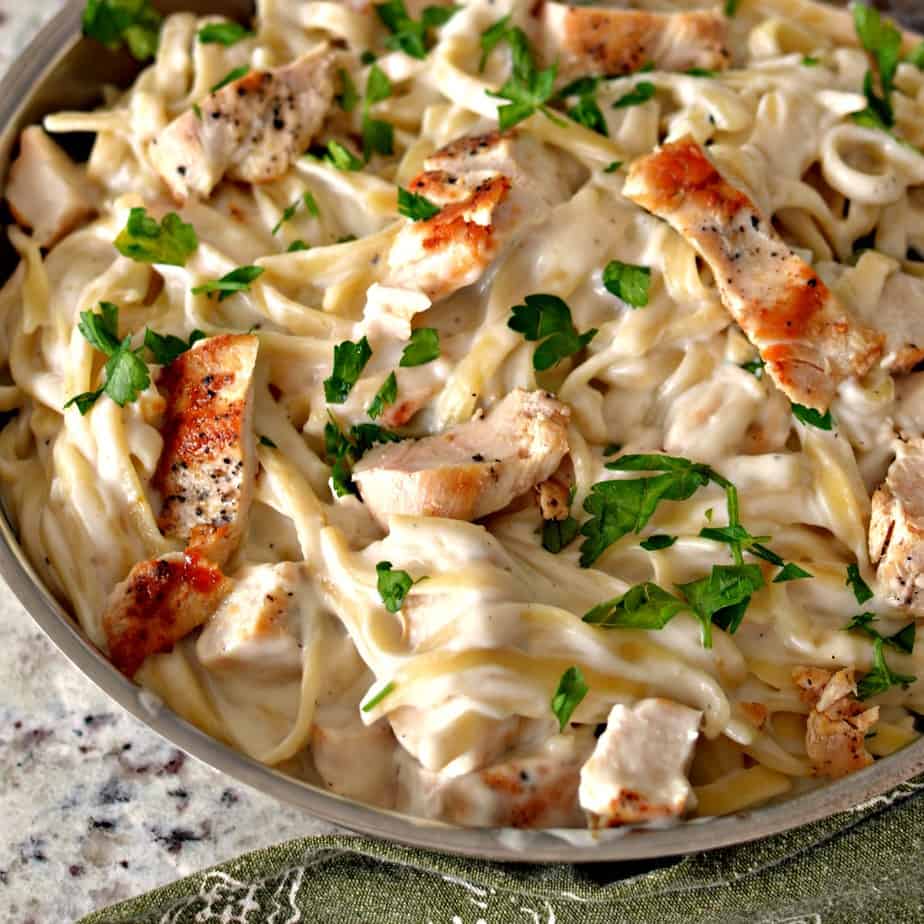 Helpful tips for making Chicken Alfredo Pasta Recipe.
Pasta tends to get gloppy when cooked to far in advance so time it where you get the best results.
Do not rinse the pasta as the sauce sticks a lot better if it is not rinsed.
Use small amounts of chicken broth at a time if the sauce or the pasta becomes too thick.
If you prefer grill the chicken breasts as it adds another dimension to a fabulous recipe.
Use fresh grated Parmesan cheese as it melts and tastes so much better.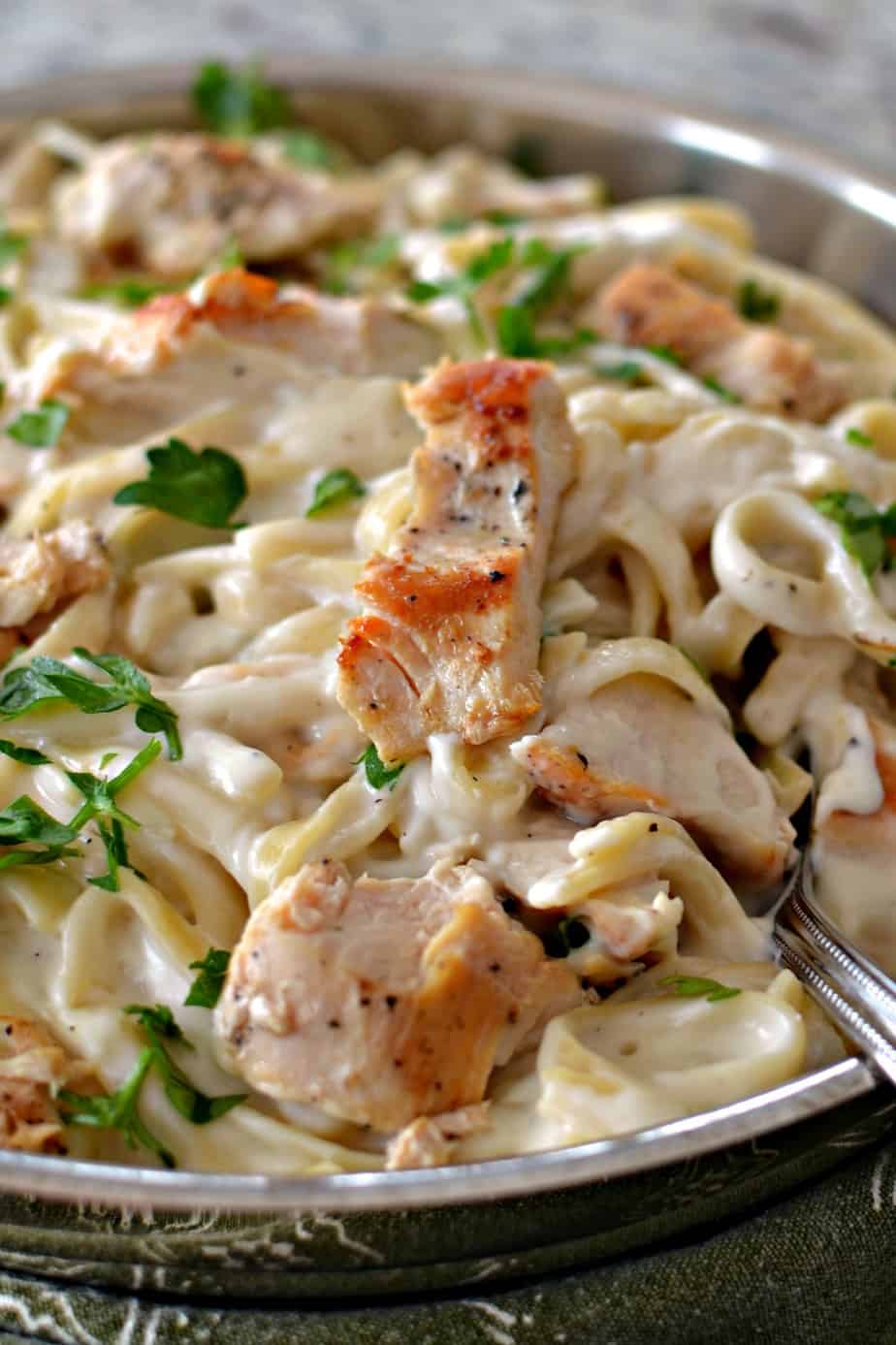 Are you hungry yet?  Put the ingredients for this Chicken Alfredo Pasta on your grocery list today and make yourself a delectable meal.  You will be tickled pink that you can cook better than the Italian restaurants at a fraction of the cost.
More pasta recipes you will love!
This post was originally published April 16, 2018 and was republished March 18, 2020 with new content.
Print
Chicken Alfredo Pasta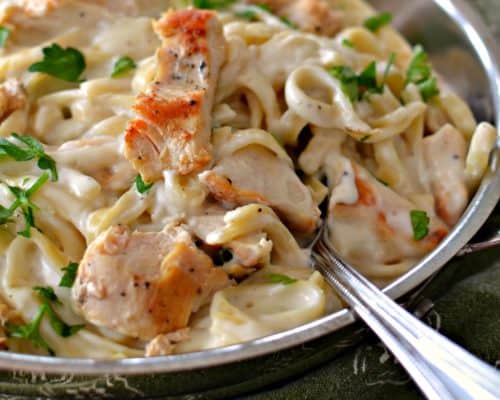 This lightened Chicken Alfredo Pasta is made with a roux and half n half.  The end result is a delectable meal it is a little lower in fat and calories.
Author:
Prep Time: 5 minutes
Cook Time: 30 minutes
Total Time: 35 minutes
Yield: 8 servings 1x
Category: main meal pasta
Method: stove top
Cuisine: Italian
Scale
Ingredients
1 box (16 ounce) fettuccine noodles
2 tablespoons olive oil
2 large chicken breasts split in half lengthwise
1/4 cup butter
3 cloves garlic minced
1/4 cup flour
2 cups half and half
3/4 cup grated Parmesan cheese (preferably fresh)
1/2 –1 cup low sodium chicken broth (see notes)
Salt & pepper to taste
3 tablespoons fresh chopped Italian parsley
Instructions
Cook fettuccine noodles according to package instructions and drain well.
Pat the chicken dry and season with salt and pepper. In large skillet over medium high heat add olive oil. Swirl to coat the pan and get it good and hot. Add chicken breasts and cook for 3-5 minutes without disturbing, flip and cook the other side 3-5 minutes without disturbing. The chicken should be a nice golden brown. Remove to plate.
Wipe out skillet with paper towel. Melt butter over low heat. Add garlic and cook for for 1 minute.  Whisk in flour and cook over low for about 5 minutes; whisking continually. The flour will have turned a very light brown. Slowly add half and half whisking constantly. Cook for 1-2 minutes Slowly whisk in Parmesan cheese. Add small amounts of chicken broth at a time until desired consistency.
Add pasta and chicken to the skillet and stir gently to combine. Salt and pepper to taste. Sprinkle with fresh parsley.
Notes
Use fresh grated Parmesan cheese as it melts and tastes so much better.
Use small amounts of chicken broth at a time if the sauce or the pasta becomes to thick.
Keywords: alfredo, alfredo pasta, chicken, chicken pasta, fettuccine noodles, lighter pasta, lighter fettuccine alfredo, pan seared chicken, Parmesan cream sauce, pasta, how to make chicken alfredo pasta
https://www.smalltownwoman.com/wp-content/uploads/2019/05/Beth-1.pdf