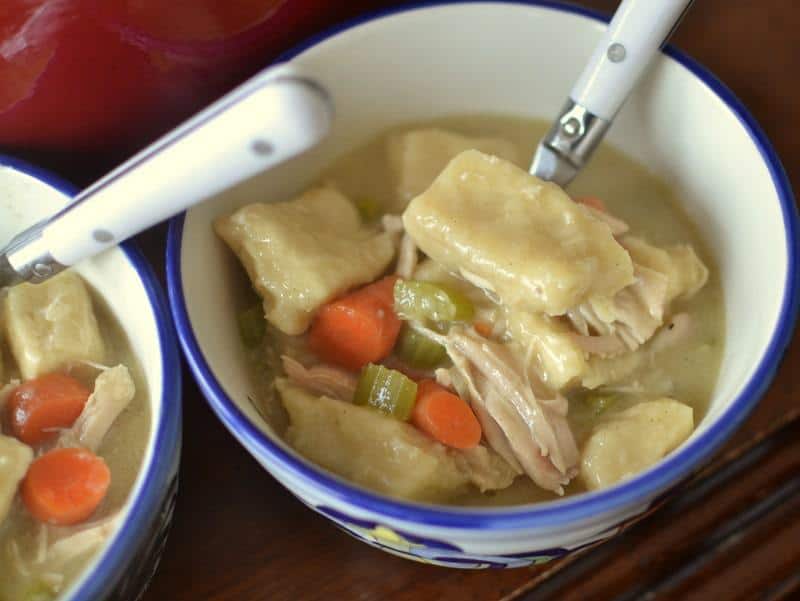 This Chicken & Cracker Barrel Style Doughy Dumplings is perfect anytime. Great comfort food is always welcome in our house.  It could be a super snowy cold winter day, a windy fall leaf flying day, a moist warm spring rainy day or a hot steamy cook an egg on a sidewalk day and these chicken & dumplings are more than welcome in our house.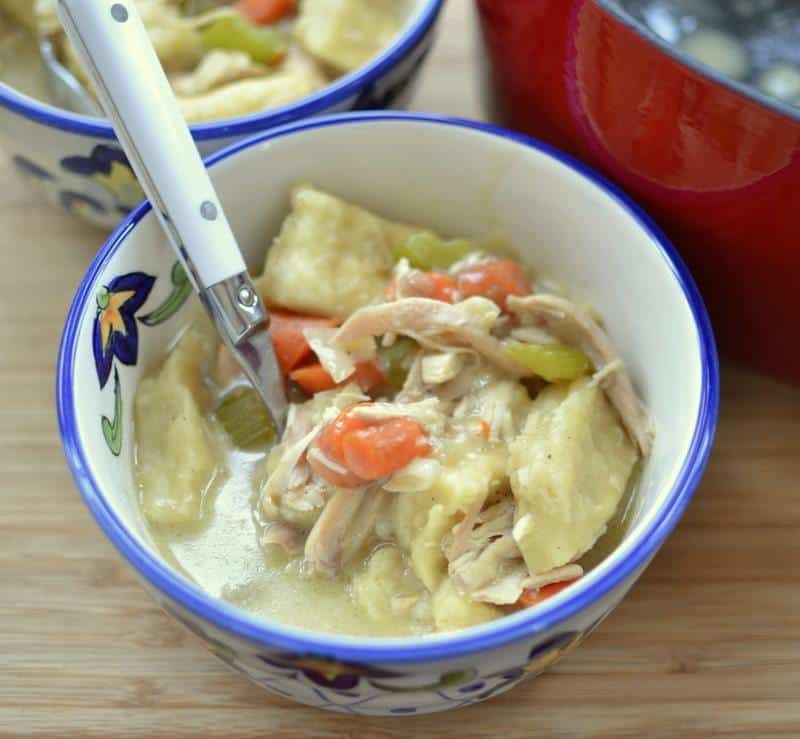 Now in this version of chicken & dumplings the dumplings are doughy like Cracker Barrel's dumplings. However Cracker Barrel rolls them out a little thinner.  Of course you can do that too.  These dumplings are different than the dumplings in my Chicken & Dumplings as those dumplings are sweet tender and little fluffier and so are the ones in my Southwest Chowder with Cornbread Dumplings.  The dumplings in this recipe are delicious but more doughy and dense almost like German Spaetzle.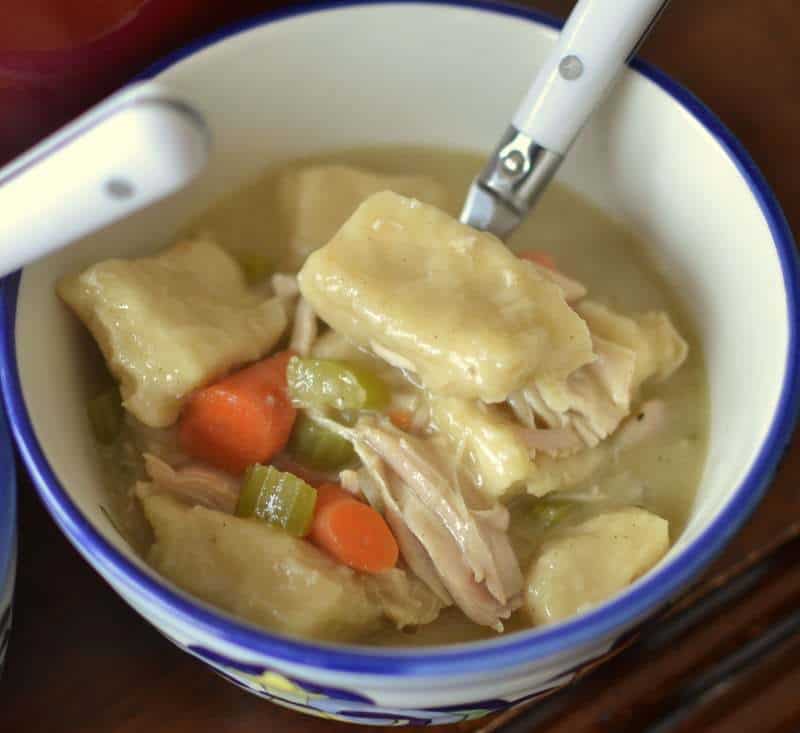 This recipe comes together pretty quick as it takes full advantage of precooked rotisserie chicken that is usually available at any club warehouse or grocery store.  I think the baked rotisserie chickens have more flavor than boiled chicken and it sure does speed up the process.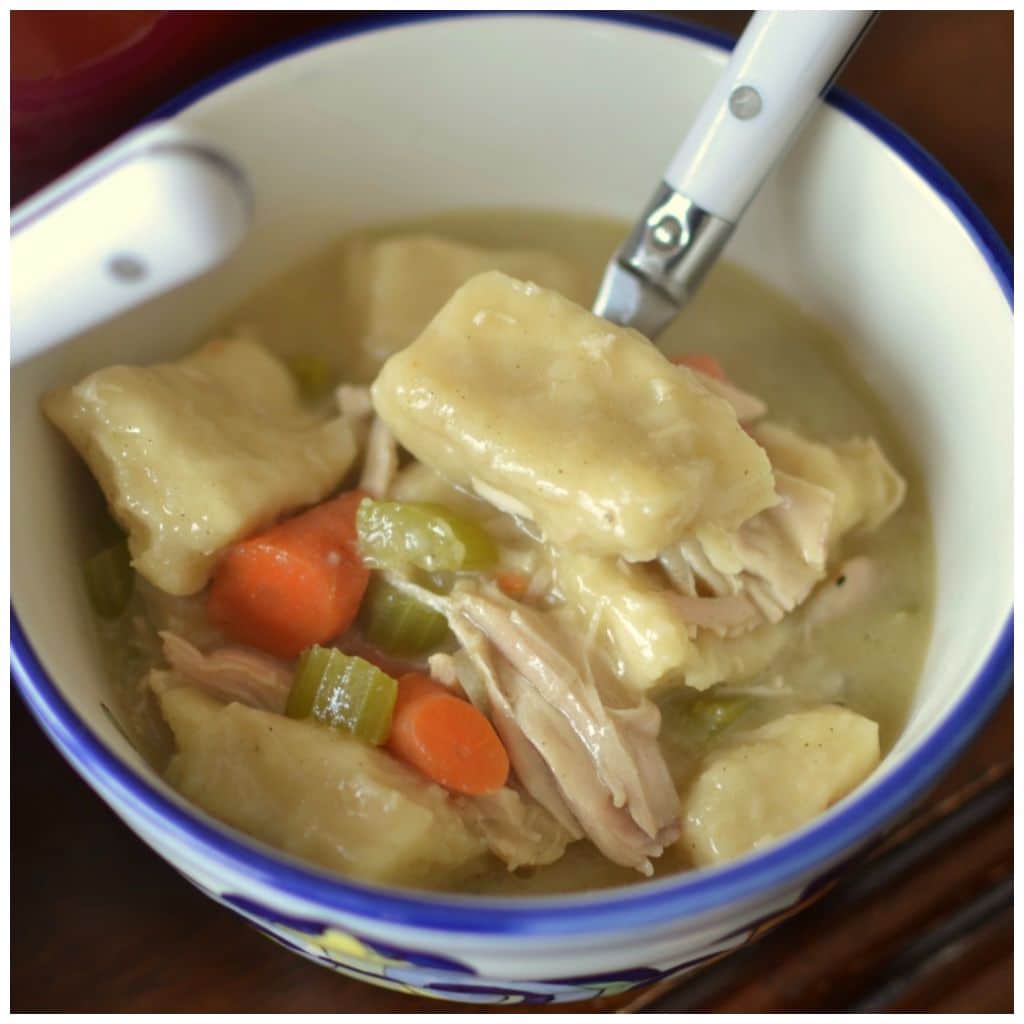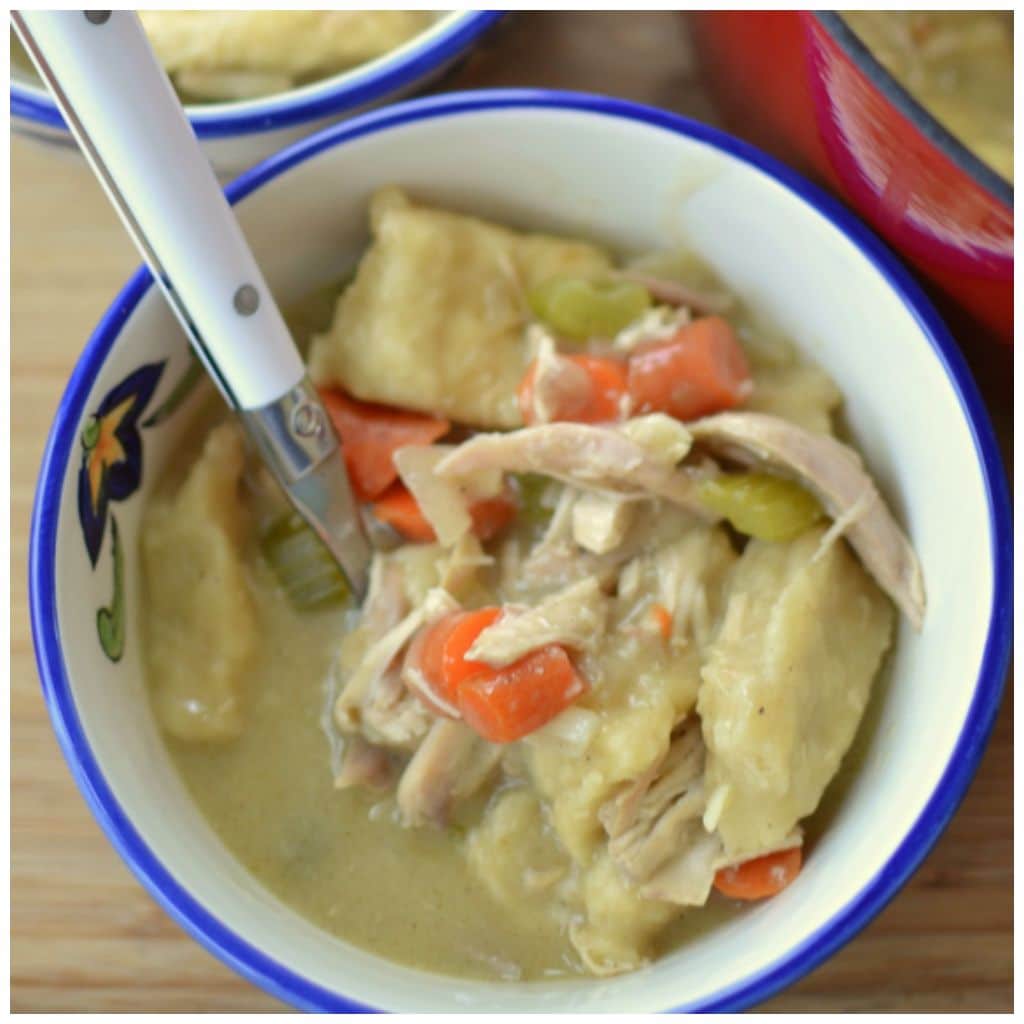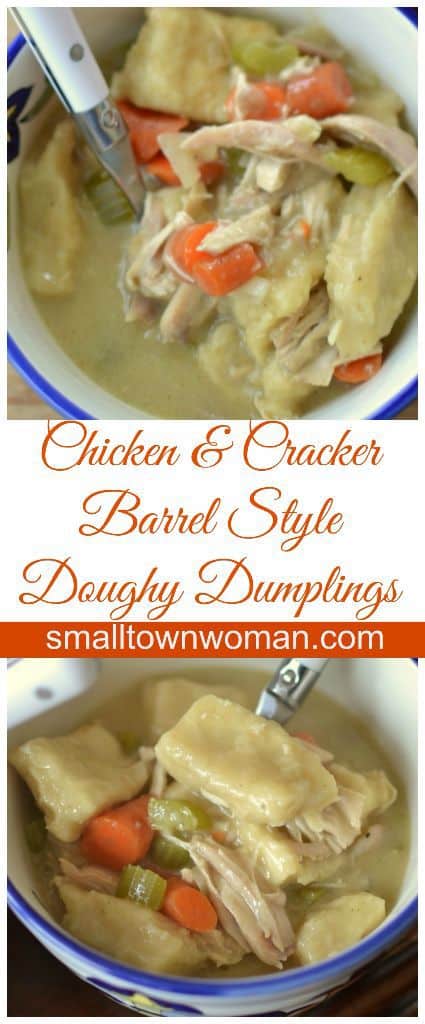 Print
Chicken & Cracker Barrel Style Doughy Dumplings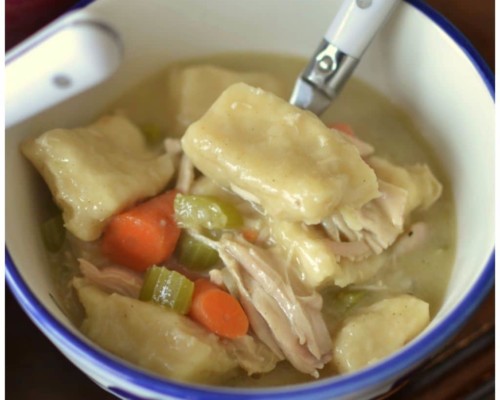 This copycat Cracker Barrel chicken and dumplings recipe is perfect for when you can't get the real deal. Tender, doughy dumplings in a hearty chicken soup makes this dish perfect for a warm, comforting dinner.
Author:
Prep Time: 15 minutes
Cook Time: 35 minutes
Total Time: 50 minutes
Category: Dinner
Method: Stove Top
Cuisine: American
Scale
Ingredients
Chicken Stew
1 tablespoon vegetable
1 medium onion finely chopped
2 stalks celery chopped
2 carrots sliced in 1/2 inch rounds
4 cups low sodium chicken broth
1/4 teaspoon ground thyme
1/4 teaspoon ground rosemary
Pinch of nutmeg
3 cups shredded or chopped cooked rotisserie chicken
2 tablespoons heavy cream
2 tablespoons of butter
3 tablespoons flour
Dumplings
2 cups all-purpose flour
1/2 teaspoon baking soda
1/2 teaspoon salt
3 tablespoons butter
3/4 cup buttermilk
Instructions
In dutch oven or heavy stock pot over medium heat add vegetable oil. Add onion, celery and carrots; cook 4-5 minutes or until the onions soften. Add chicken broth, thyme, rosemary and nutmeg; simmer for 15-20 minutes or until carrots are tender. Add chicken and cream. Melt 2 tablespoons of butter in microwavable bowl. Stir in 2 tablespoons flour creating smooth paste. Slowly whisk into stew.
Combine the flour, baking soda, and salt. Cut in the butter with pastry knife. Add the buttermilk, stirring with a fork until moistened. Place dough on floured surface and knead 4-5 times. Pat or roll out to 1/4-1/2 inch thickness. Using pizza cutter cut dough into 1/2 x 1 inch or smaller sections. Drop on to simmering stew. Cover and cook for 10 minutes undisturbed. Serve immediately.
Keywords: copycat cracker barrel chicken and dumplings, chicken and dumplings, cracker barrel dumplings, doughy dumplings, dumplings recipe, homemade dumplings, cracker barrel
https://www.smalltownwoman.com/wp-content/uploads/2019/05/Beth-1.pdf