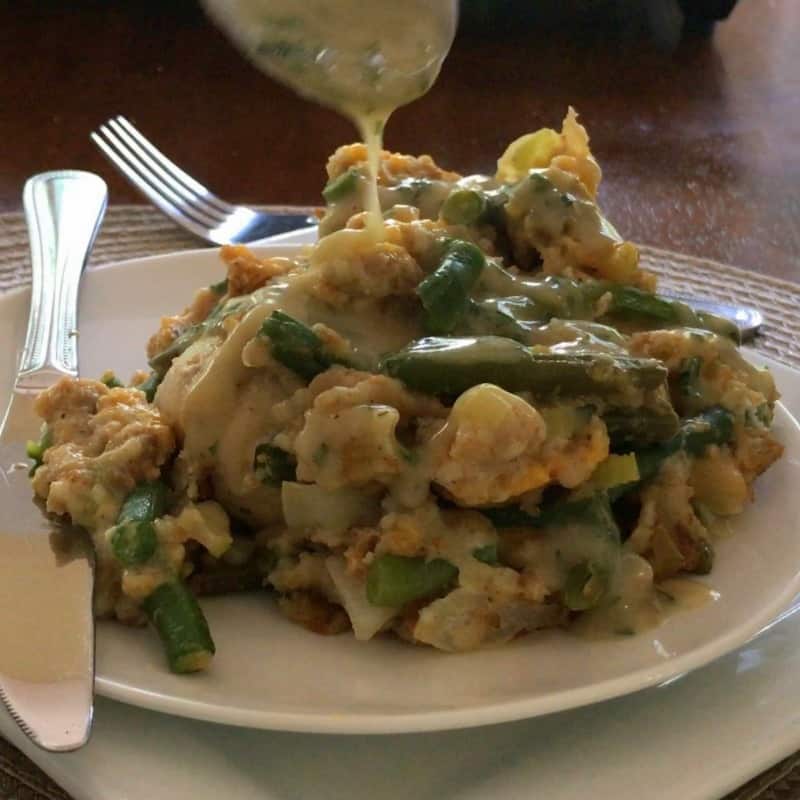 It is that time of the year for all kinds of great comfort food.  You know the kind of recipes that warm your heart and soul.  This Chicken Green Bean Stuffing Casserole will remind you of those terrific meals that Mom and Grandma used to make.  Do you remember when families used to sit down together at the close of the day and eat, laugh and talk about how their days went?  I am old enough to recall those simpler times and it makes me long for the days of my youth.  Now it just seems like there is more chaos and of course both parents are working now and usually longer hours.  It almost takes an act of God to get the children to step away from their electronics.
If you find yourself longing for some good old comfort meals than you should try a few of my favorites like Barbecue Pork Topped Gouda Mac N Cheese, One Skillet Savory Beef Tips and Gravy and Crock Pot Chuck Roast and Vegetables.  Perhaps you can entice the family to come together for some of these amazing meals!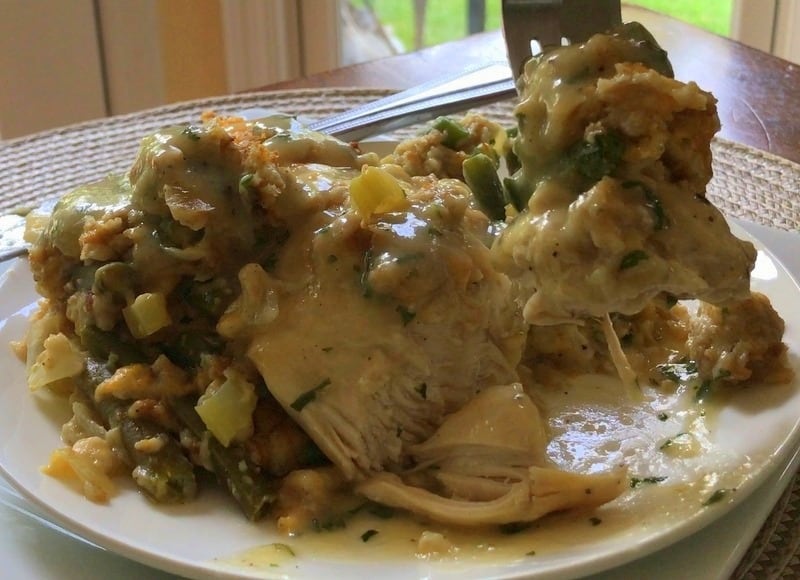 This amazing Chicken Green Bean Stuffing Casserole combines browned chicken breasts, blanched green beans, homemade stuffing, sour cream, cheddar cheese and a perfect blend of spices smothered in an easy pan gravy.  Life does not get much better than this my friends.  In a hurry?  You can blanch your beans ahead of time and make your pan gravy and store in the fridge.  When you are ready to serve just heat your pan gravy on reduced power in the microwave.  These days you really need flexibility just in case someone is running late for dinner because of work or after school activities.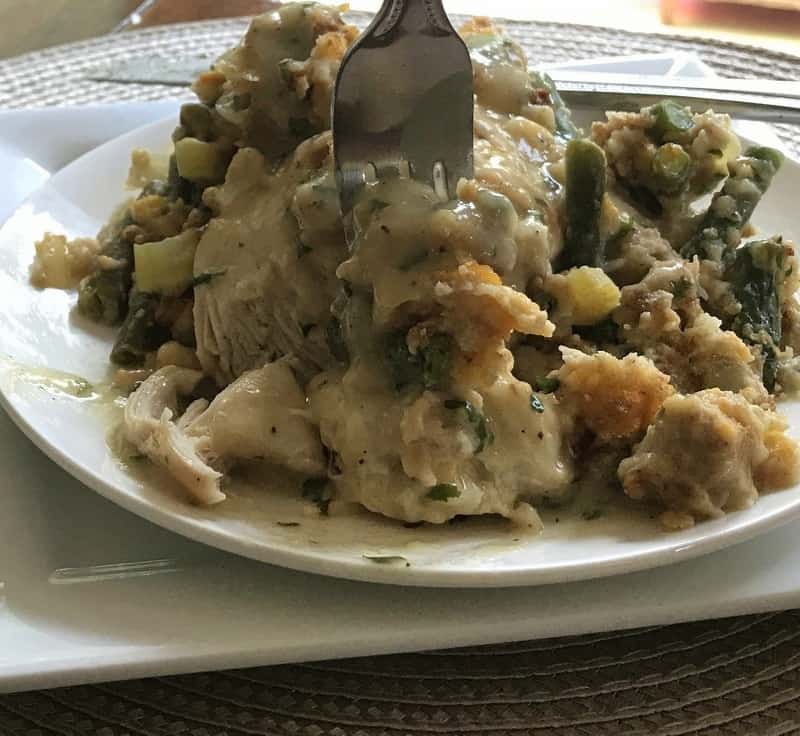 So if you love hearty home-style cooking then this Chicken Green Bean Stuffing Casserole is your baby.

Print
Chicken Green Bean Stuffing Casserole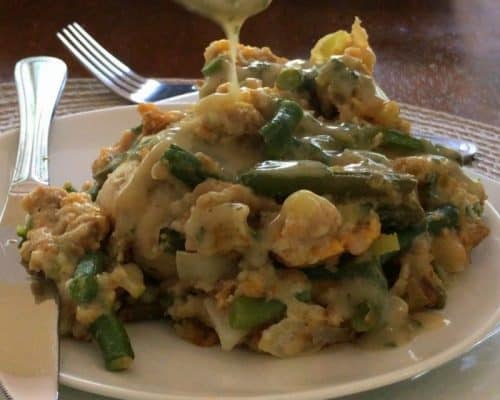 Green bean casserole is a classic holiday side dish! This recipe combines tender chicken, deliciously seasoned stuffing, and creamy green beans with fried onions. It's a delicious casserole that belongs on your holiday table.
Author:
Prep Time: 20 minutes
Cook Time: 45 minutes
Total Time: 1 hour 5 minutes
Yield: 8 servings 1x
Category: Side Dish
Method: Oven
Cuisine: American
1/2 lb green beans snapped and cut in bite size pieces
2–3 tablespoons olive oil
4 uncooked chicken breasts
Salt and pepper
1/2 medium onion finely chopped
2 stalks celery chopped
5 cups dry stuffing mix
1 1/2 cups low sodium chicken broth
1 cup sour cream
1 1/2 cups cheddar shredded
Pan Gravy
2 tablespoons butter
2 tablespoons flour
1 tablespoon dried parsley
1/2 teaspoon onion powder
1 1/2 – 2 cups low sodium chicken broth
Salt & Pepper to taste
Instructions
Bring large saucepan filled with water to boil. Boil beans for 3-4 minutes. Remove from heat and plunge into ice water to stop cooking process. When full cooled drain well.
Preheat oven to 350 degrees
In large skillet over medium heat add 1-2 tablespoons olive oil. Brown chicken on both sides while seasoning with salt & pepper. Place in casserole dish sprayed with nonstick cooking spray, Add another tablespoon of olive oil to skillet and cook onions and celery for 2-3 minutes. Combine cooked onions and celery, stuffing mix, chicken broth, blanched green beans, sour cream and cheddar. Spoon over chicken. Cover casserole and bake 25 minutes. Remove foil and bake an additional 20 minutes turning on the broiler the last 2-3 minutes of cooking to lightly brown the top. Stay close by as I have always found broilers unpredictable.
Meanwhile in same skillet over low heat melt butter. Whisk in flour; cooking for 90 seconds. Whisk in chicken broth and cook 3-4 minutes or until desired thickness. Stir in parsley and onion powder. If you like your gravy thicker use a little less chicken broth if you like it thinner use a little more. Salt & pepper to taste. Spoon gravy over casserole right before serving or at the table.
Keywords: green bean casserole, creamy green bean casserole, green bean casserole with chicken, green bean stuffing casserole, holiday side dish
https://www.smalltownwoman.com/wp-content/uploads/2019/05/Beth-1.pdf