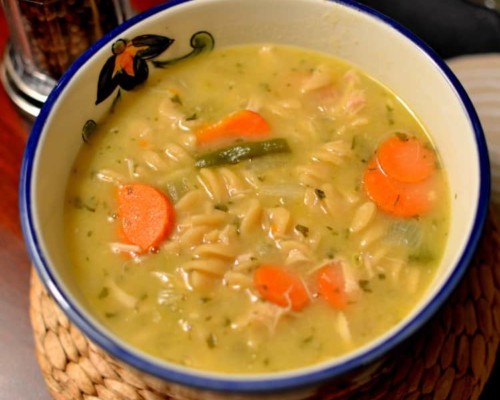 The evenings are getting a lot cooler and that calls for some soups and stews. Chicken noodle soup is great comfort food. It is definitely in the top ten comfort food recipes! This is a simple yet fantastically delicious recipe!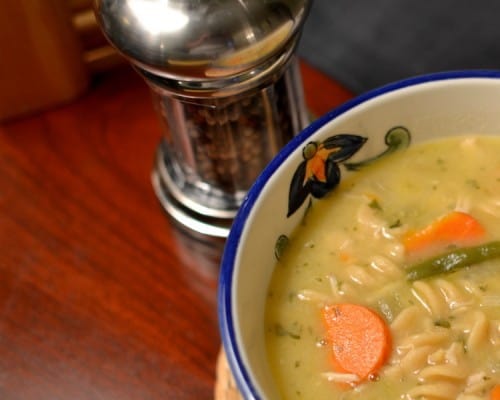 It calls for rotisserie chicken that you can pick up just about anywhere and that makes things a little easier.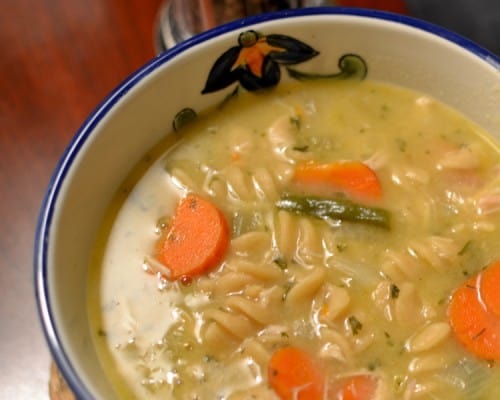 So whip yourself up some chicken soup and get comfortable. The farmers almanac says it is going to be a long cold winter.
Print
Chicken Noodle Soup
Scale
Ingredients
2 tablespoons butter
3/4 cup diced yellow onion
1/2 cup chopped celery
1 large clove garlic minced
1 carrot sliced
1 – 1 1/2 cups sliced green beans
1/2 teaspoon onion powder
1 tablespoon dried parsley
1/4 teaspoon pepper
6 cups chicken broth
1 1/2 rotisserie chicken diced
2 cups uncooked noodles
3 tablespoons melted butter
3 tablespoons all purpose flour
Salt to taste
Instructions
Melt butter in large saucepan over medium heat. Add onion and chopped celery. Cook until the onions start to become translucent. Add the carrots and green beans and cook for another 3-5 minutes. Add the garlic and cook for 1 minute. Add the onion powder, parsley and pepper and cook for 30 seconds or so. Add the chicken broth and turn to simmer. Cook about 25-30 minutes or until the carrots and green beans are tender.
Add the noodles and chicken and simmer for an additional 10-12 minutes or until noodles are tender.
Melt butter in microwave and blend in flour creating a roux. Slowly add this to the soup a little at a time whisking well each time. Keep whisking until it is all blended. Add salt to taste and serve.
Enjoy your soup!
https://www.smalltownwoman.com/wp-content/uploads/2019/05/Beth-1.pdf