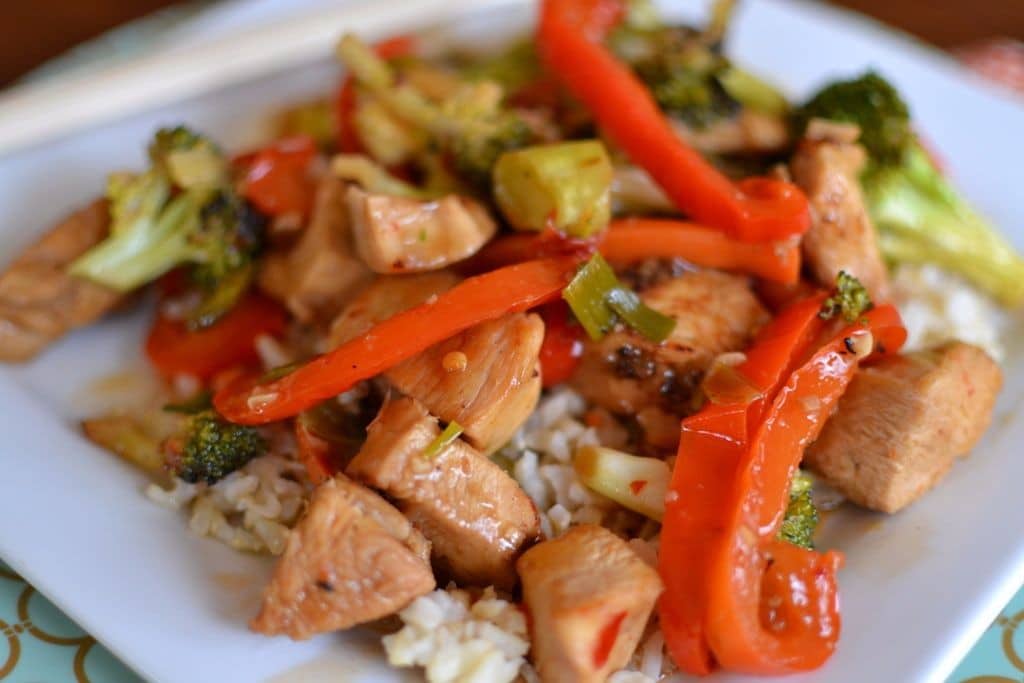 I love stir fry and it really is not all that difficult once you have the trick down!

MY LATEST VIDEOS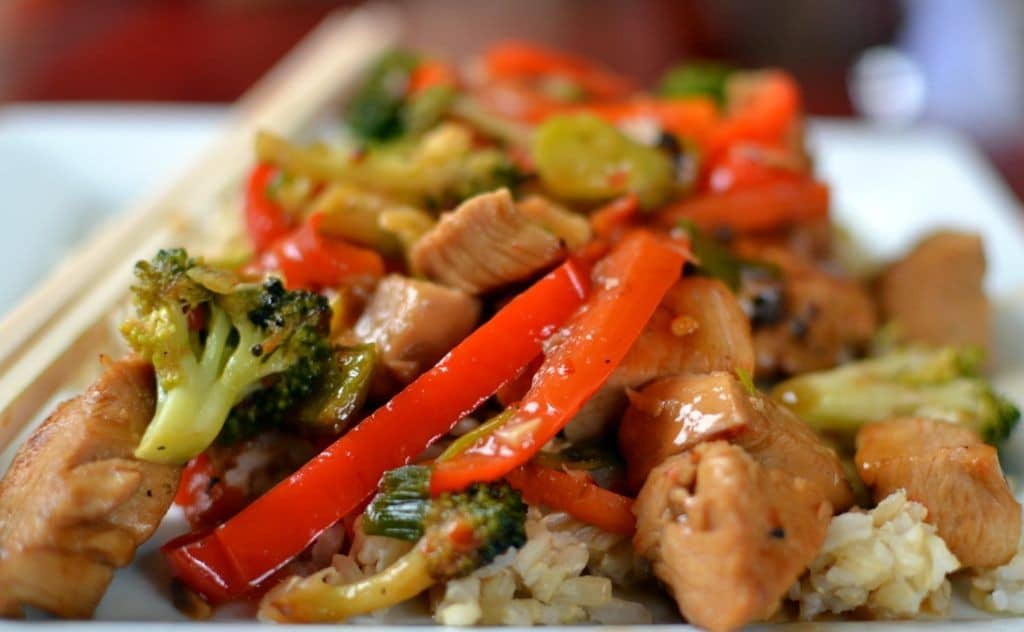 A real hot wok is the key. The oil should be smoking. Everything is cooked quickly! I cook in batches so there is not too much crowding in the wok. I add the sauce last so the veggies don't get soggy! Everything should be crispy! Hot and quick! Okay gentlemen settle down!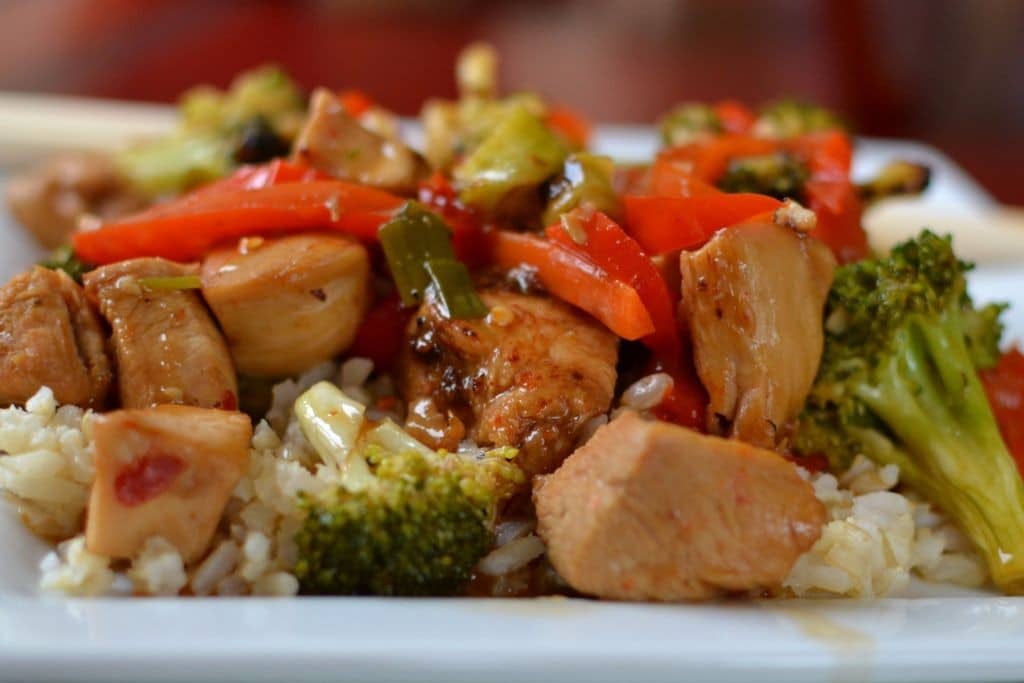 Now add a little spicy heat to all that chicken and crisp veggies and you got yourself a tantalizing treat! Bon appetit my dear friends!
Print
Chili Garlic Chicken Stir Fry
Ingredients
1 1/2 lbs boneless skinless chicken breasts cut into chunks
1 green pepper julienne
1 red pepper julienne
2 cups broccoli florets
1 large carrot cut in matchsticks
2 cloves garlic minced
6 green onions chopped in 1/2 pieces
1 tablespoon sesame oil
Canola oil
Marinade
3 tablespoons low sodium soy sauce
2 tablespoons white wine
2 tablespoons mirin
1 tablespoon ginger
1 tablespoon sesame oil
2 tablespoons cornstarch dissolved in 2 tablespoons cold water
Sauce
1/4 cup rice vinegar
2 tablespoons white wine
1 1/2 tablespoons hot chili garlic sauce
1/4 cup low sodium soy sauce
1/4 cup mirin
3 tablespoons brown sugar
1 tablespoon cornstarch dissolved in 1 tablespoon cold water
Instructions
Combine 3 tablespoons soy, 2 tablespoons white wine, 2 tablespoons mirin, 1 tablespoon ginger, 1 tablespoon sesame oil and 2 tablespoons of the cornstarch mixture in a large ziploc seal bag. Add chicken and stir to coat. Place in refrigerator and marinade for 30 minutes.
In a small saucepan combine 1/4 cup rice vinegar, 2 tablespoon white wine, hot chili garlic sauce, 1/4 cup soy, 1/4 cup mirin and brown sugar. Simmer over low heat for about 10 minutes. Add 1 tablespoon cornstarch mix to sauce and cook until thickened.
Add 1 tablespoon sesame oil and 1 tablespoon canola oil to wok. Heat on high till just starting to smoke. Add carrots and cook for 1-2 minutes stirring twice. Add peppers to the carrots and cook for an additional 2 minutes stirring about every 30 seconds. Remove veggies from wok and place on plate covered with foil. Add 1 tablespoon canola oil and heat to smoking. Add broccoli and stir fry for one minute with top on and stirring often. Add one tablespoon water and continue cooking with the top on and stirring often. Adjust heat down a little bit if broccoli is browning. Remove from wok, place on plate and cover with foil.
Remove chicken from marinade with slotted spoon. Discard marinade. If necessary add 1 more tablespoon canola oil to wok and heat to just smoking. Add the chicken and cook until meat is white and juices run clear approximately 3 minutes. Add garlic and green onions and cook for 30 seconds. Add veggies back to the wok. Add sauce and stir to combine.