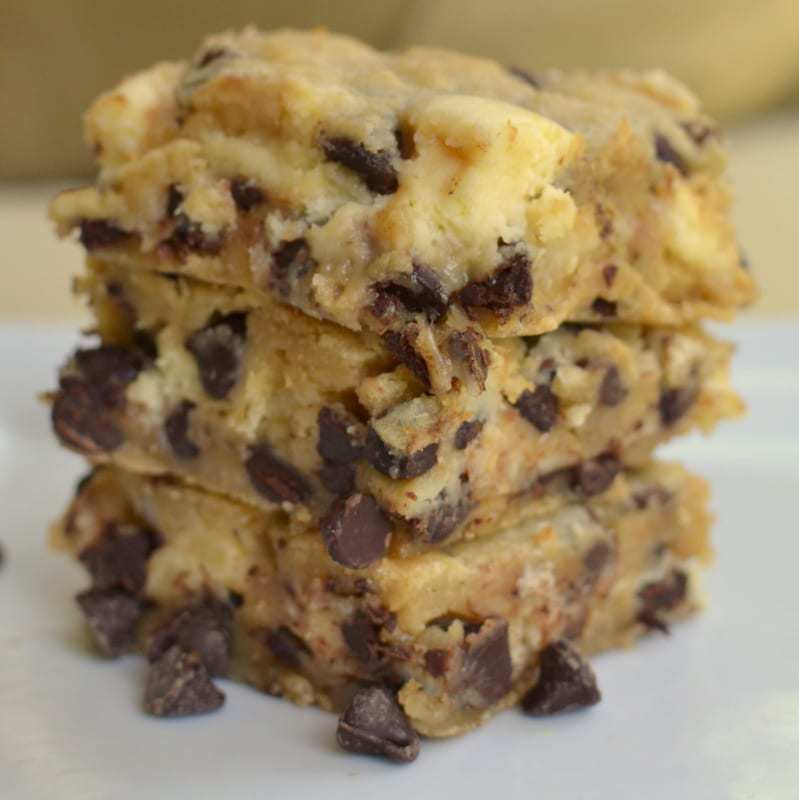 Cream cheese is such a yummy goodie.  Sometimes I just cut a small portion off and put it on a cracker and scarf it down.  Have you ever had pepper jelly with cream cheese over a cracker?  So darn good!! I guess my love of cream cheese goes all the way back to elementary school when my older sister would pack me lunch.  Cream cheese and jelly sandwiches were my favorite!!  It is no wonder that I love these Chocolate Chip Cream Cheese Bars!!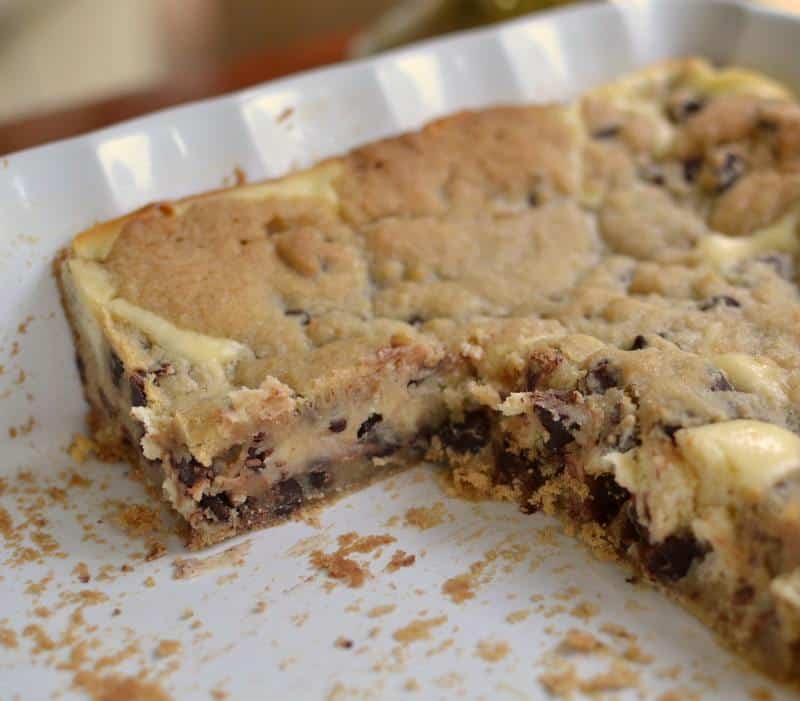 These decadent treats are not difficult at all.  They are a two step process but every single bite makes that seem like a blessing more than a chore. Delicious enough for company they can be sliced and frozen when wrapped in multiple layers.  They will need to be refrigerated for a bit in order to cut cleanly and of course with cream cheese the left overs need to be refrigerated as well.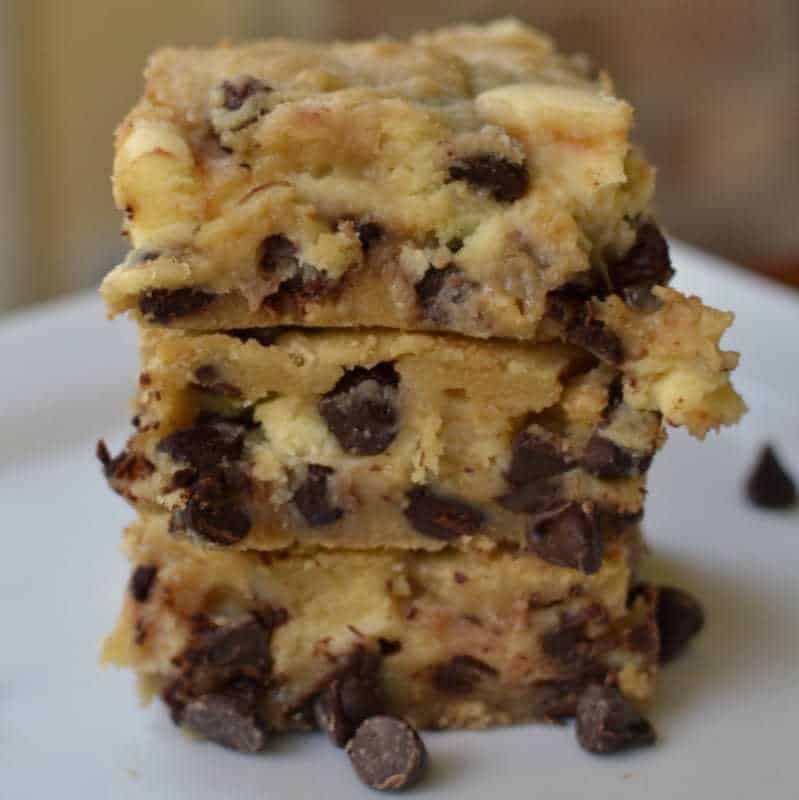 I sure hope cream cheese is on your list of favorite foods.  This recipe could be easily be altered a bit with the addition of nuts and white chocolate chips!!
Print
Chocolate Chip Cream Cheese Bars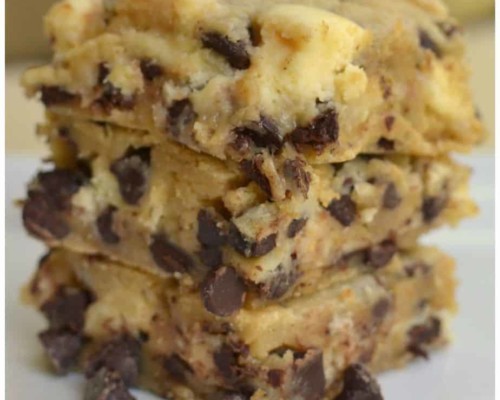 These sweet and gooey Chocolate Chip Cream Cheese bars are a simple, delectable snack. Perfect for a party, school bake sale, or a Saturday with the kids, this is a must-try recipe!
Prep Time: 10 minutes
Cook Time: 45 minutes
Total Time: 55 minutes
Yield: 1 dozen bars 1x
Category: Dessert
Method: Baking
Cuisine: American
Scale
Ingredients
Cookie Mix
2 1/4 cups flour
1 teaspoon baking soda
1/2 teaspoon salt
2 sticks of butter softened
3/4 cup sugar
3/4 cup brown sugar
1 teaspoon vanilla extract
2 eggs
2 cups chocolate chips
Cream Cheese Mixture
1 box (8 ounces) cream cheese
1/4 cup sugar
1/2 teaspoon vanilla extract
1 egg
Instructions
Preheat oven to 350 degrees. Grease 9 x 13 inch baking dish. Stir flour, baking soda and salt in bowl. Beat butter, 3/4 cup sugar and brown sugar at medium speed until creamy. Add 1 teaspoon vanilla extract and 2 eggs, one at a time on low speed; mixing just until incorporated.
Gradually add dry mixture to creamed mixture. Stir in chocolate chips. Set aside.
In small bowl beat cream cheese and 1/4 cup sugar until smooth and creamy. Add 1 egg and 1/2 teaspoon of vanilla extract and mix on low just until incorporated.
Pat 2/3's of the cookie dough evenly into the baking dish. Spread cheese cheese mixture over evenly. Drop the rest of the cookie dough by teaspoonfuls over the cream cheese mixture.
Bake for 40-45 minutes.
Keywords: chocolate chip cream cheese bars, cream cheese bars, chocolate chip cookie bars
https://www.smalltownwoman.com/wp-content/uploads/2019/05/Beth-1.pdf