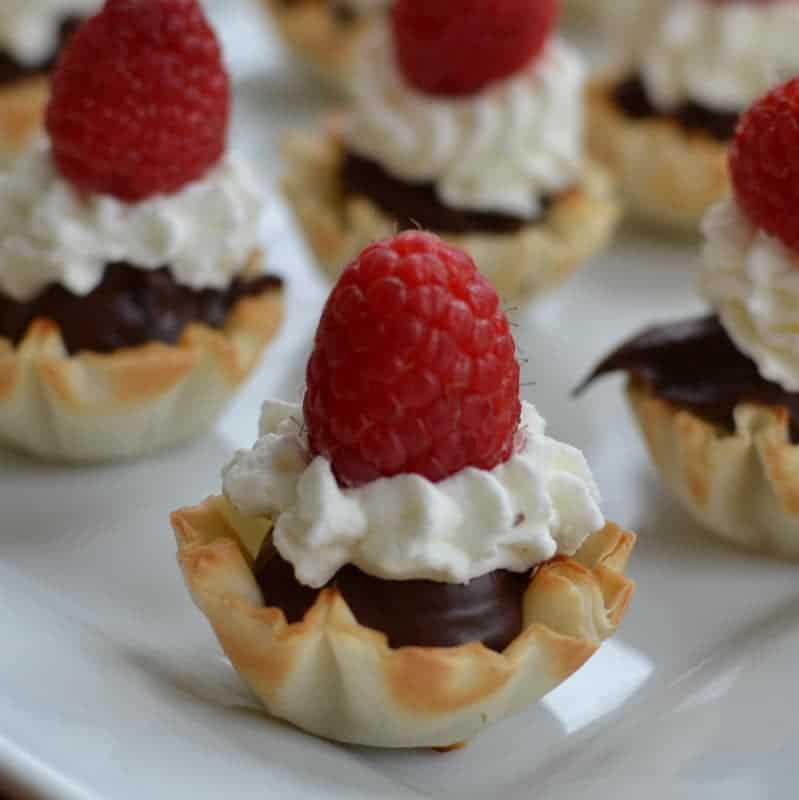 Are you a dog lover?  We have the sweetest little beagle but at this particular moment "Marshmallow" is driving me nuts!  One of her canine friends just ran through the backyard and you would think we were under siege!  She was so loud.  If you have never heard a beagle howl it is more of a "baroooooo" than a bark.  I have had more than one neighbor text me and tell me that they can hear my dog in the woods and something is wrong with her.  The only thing that is wrong with her is that she can not catch the rabbit that she is chasing.  LOL!!  Now she is back to sleep in front of the space heater.  Thank goodness!
These Chocolate Ganache Raspberry Mini Bites are so cute and tasty.  They are perfect for entertaining or for when you just want a little treat without jumping off the deep end.  Everyone likes a little treat every now and then!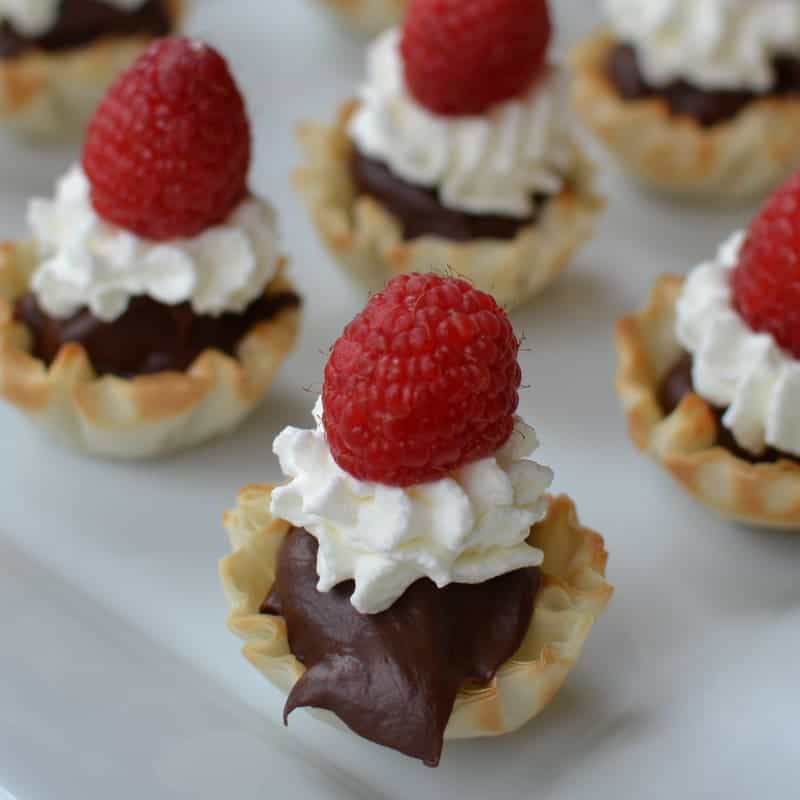 They are so easy to put together.  The recipe starts with mini fillo shells which can be found in the frozen section of your local grocery right next to the frozen pastry puff!  They are relatively low in calories, fat and sugar and they make this recipe a breeze!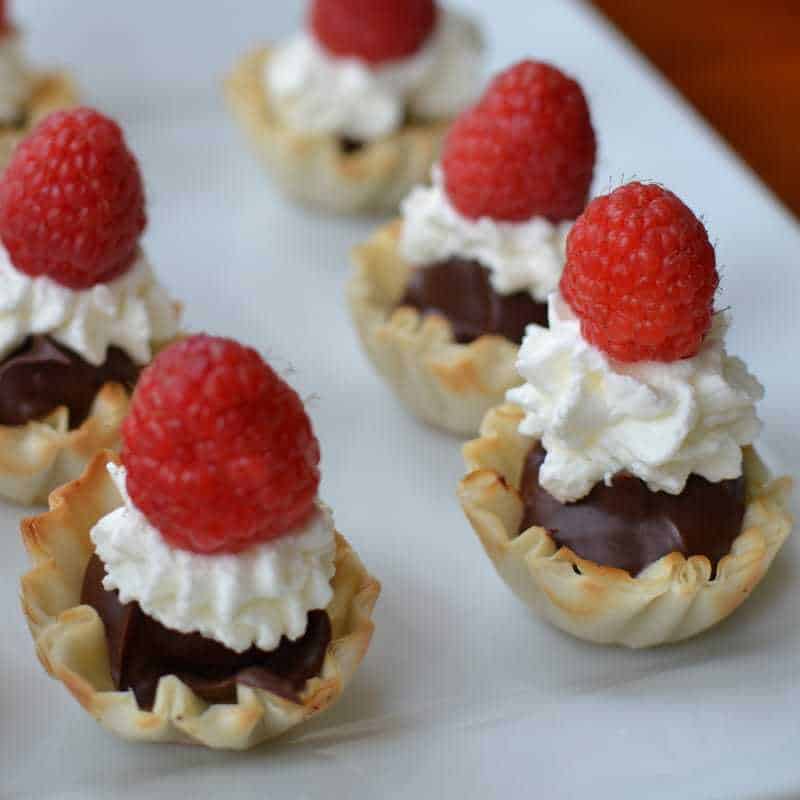 The super easy chocolate ganache is made in the microwave and come together in a matter of minutes.  For stabilization of the whipped cream I add just a touch of gelatin.  It really helps them hold up well and makes these perfect for entertaining.  You don't have to use the gelatin if you are going to add the whipped cream and serve right away.  But the serving time has to be quick or the whipped cream will start falling!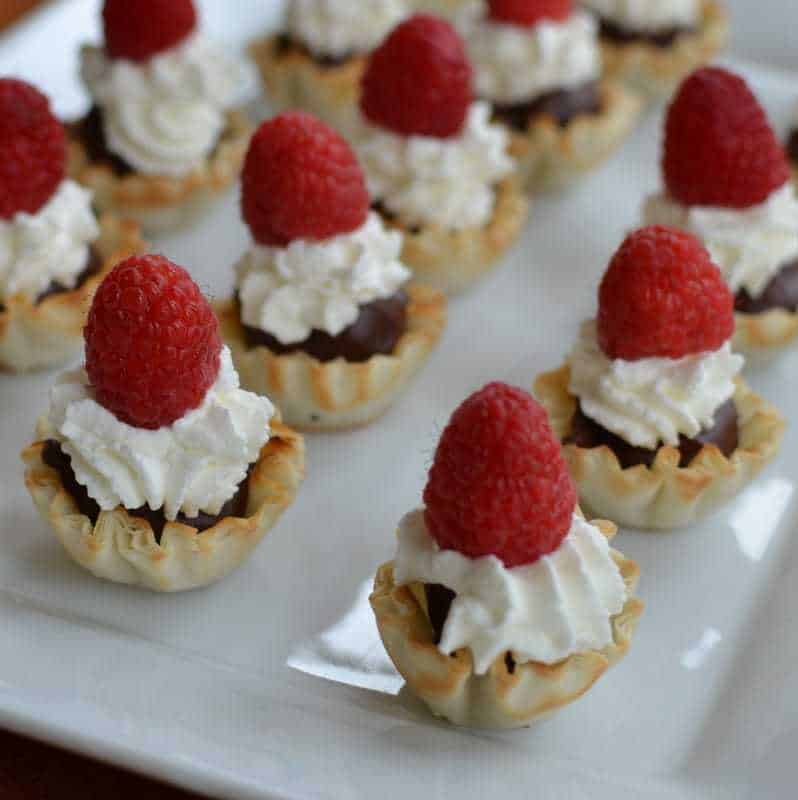 I love these adorable tasty Chocolate Ganache Raspberry Mini Bites and I am sure you will too!  Put them on the list for the next neighborhood soiree or family get together.  You haven't planned one?  You had better get on that!!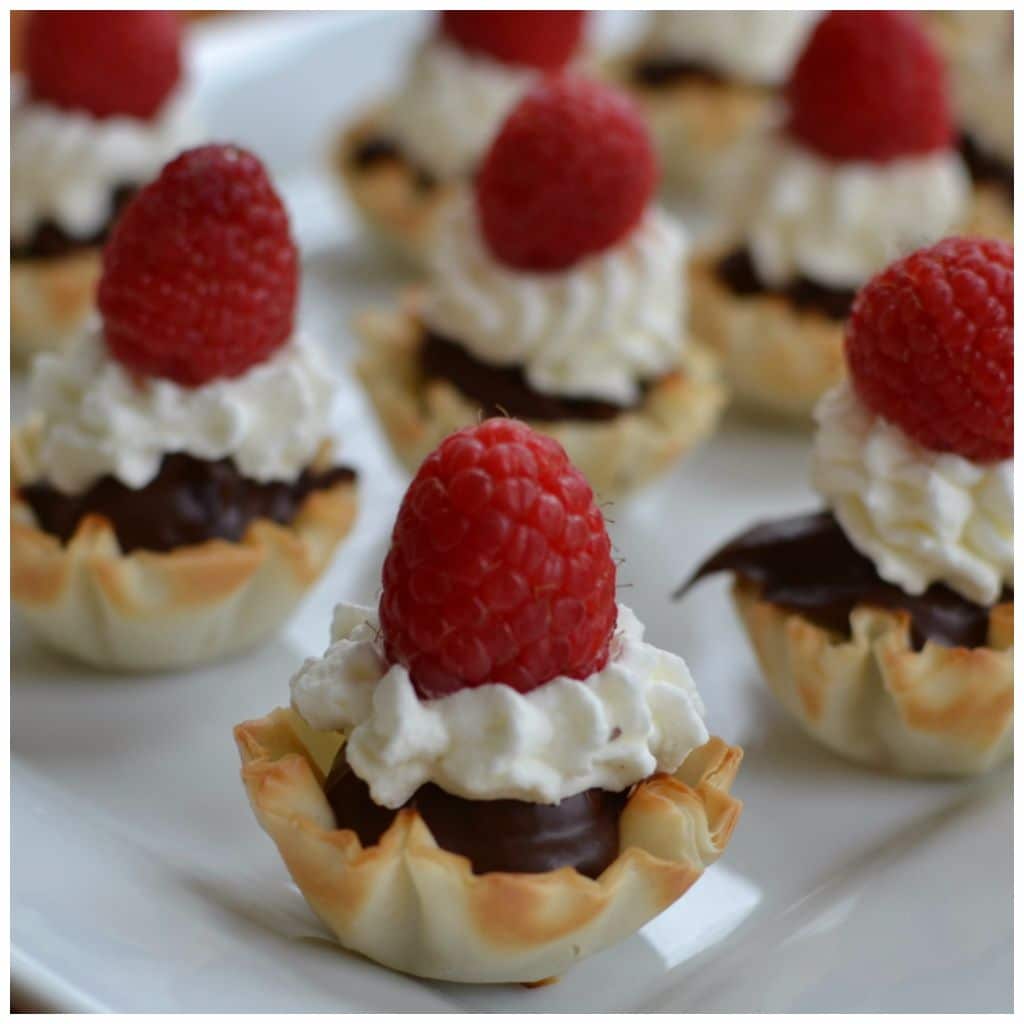 Print
Chocolate Ganache Raspberry Mini Bites
Scale
Ingredients
2 boxes (15 count) mini fillo shells (I used Athens brand)
Ganache
8 ounces dark chocolate chips
8 ounces. heavy cream
Whipped Cream
1 tablespoon cool water
1 teaspoon unflavored gelatin
3/4 cup heavy whipping cream
1 tablespoon powdered sugar
30 fresh raspberries
Instructions
In microwave safe bowl add chocolate chips. Pour cream over the chocolate chips. Microwave full power for 1 minute. Let stand for 5 minutes and whisk together.
In small bowl add cool water. Sprinkle gelatin of over water. Set aside for 5 minutes. Combine cream and powdered sugar in bowl of stand mixer with whisk attachment. Turn mixer on high. Microwave gelatin for 5 seconds to change back to liquid form. It should NOT be hot. When the whipped cream is starting to peak slowly add gelatin. Beating time for whipped cream can vary from a couple of minutes to several minutes depending on temperature of cream, bowl and whisk.
Spoon cooled ganache into the fillo shells. Pipe or spoon on the whipped cream and top each with a raspberry.
Notes
Place bowl and whipping attachment in freezer for 15 minutes prior to making whipped cream. it really helps it set up fast.
Once the whipped cream reaches stiff peaks turn off the mixer. You CAN over beat whipped cream.
Other recipes you will love!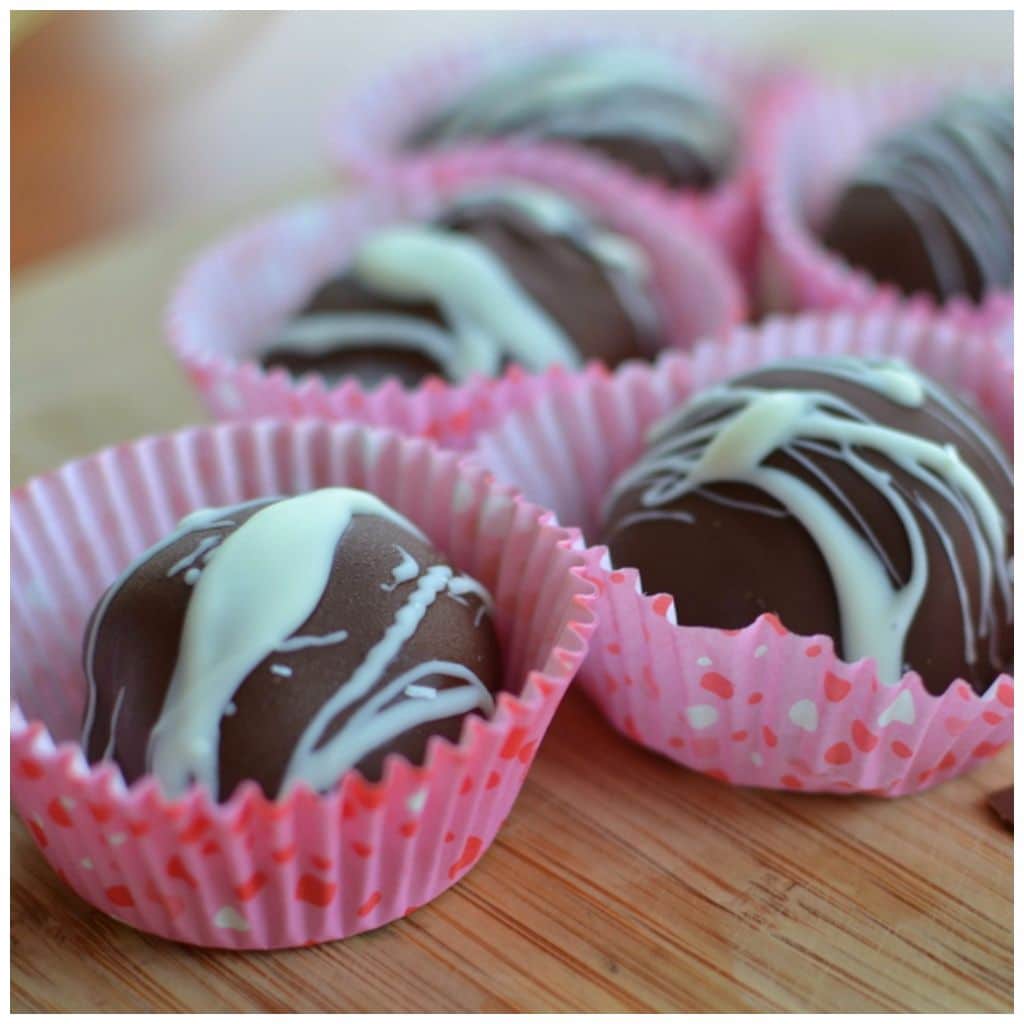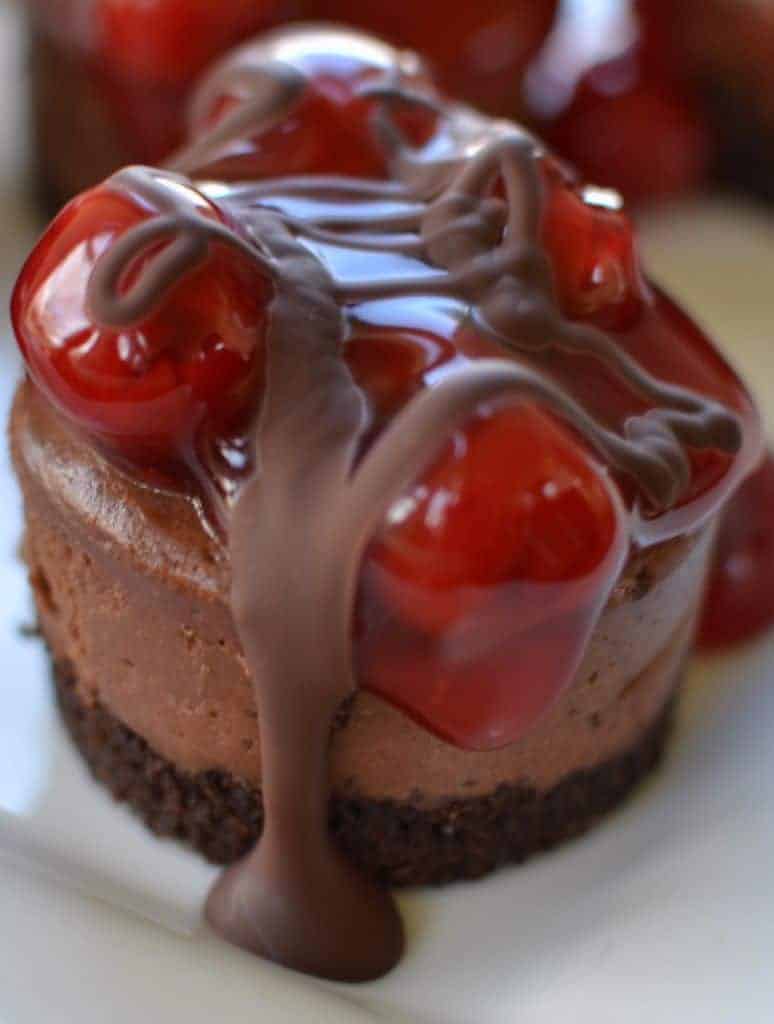 Black Forest Mini Cheesecakes
https://www.smalltownwoman.com/wp-content/uploads/2019/05/Beth-1.pdf