These Stuffed Poblano Peppers are stuffed with a highly seasoned ground pork sausage, red peppers, onion, garlic, jalapeno, rice, tomatoes and topped with Monterey Jack and cheddar cheese. They are so tasty and the heat can be adjusted.
These Chorizo Stuffed Poblano Peppers Recipe is so easy to make and it creates the most wonderful smell in your kitchen. You can adjust the heat to your preference by cutting back or omitting the jalapeno!
So you ask what is a Poblano Pepper?
A poblano pepper is a mild chili pepper. It is hotter than a green pepper but not as hot as a jalapeno. Their heat level is about half the heat of the mildest jalapeño pepper making them perfect for stuffing with goodies. The poblano has a deep darn green color very similar to a green bell pepper and is ready for picking when it is about 4 inches long and two inches wide.
These flavor packed beauties are best roasted prior to stuffing. I like to lightly roast mine and stuff with the skins on but some people roast them until the skins are black and blistered, then place in a plastic bag until cool enough to handle, peel off the skins and remove the seeds. I reserve the roasted skin peeling method for my poblano soup and chiles rellenos.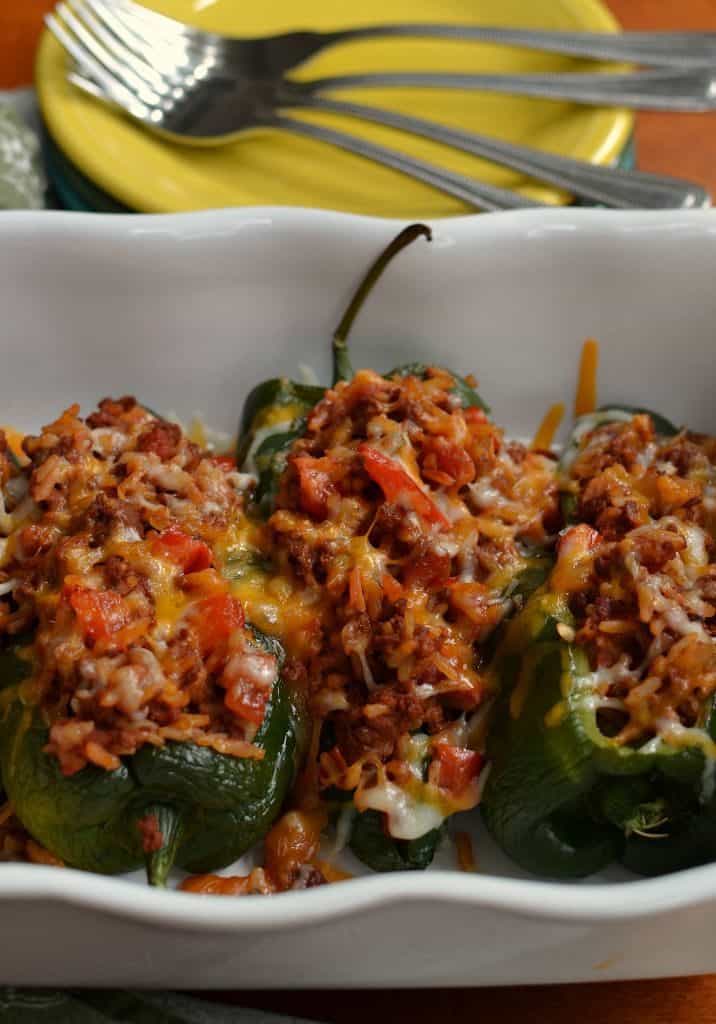 What is Chorizo?
There are two types of chorizo. Both are sausage and both are delicious although very different and not interchangeable when it comes to recipes. There is Mexican chorizo and Spanish chorizo. You want Mexican chorizo for these Stuffed Poblano Peppers.
Mexican chorizo is highly seasoned ground pork sausage usually uncooked. At least I have never found it cooked. It is typically seasoned with ground chilies, cumin, pepper and vinegar.
Spanish chorizo is usually cured or smoked and wrapped in a casing. It is typically seasoned with smoked paprika and salt.
How do you make Chorizo Stuffed Poblano Peppers?
In large skillet cook chorizo for about five minutes. Add peppers and onions; cook for five additional minutes. Add jalapeno and garlic cook for one more minute. Add rice, chicken broth, diced tomatoes and water. Cover and simmer for 20 minutes or until rice is tender.
Meanwhile roast poblanos in oven for about 20 minutes. Remove and cool enough to handle. Cut slit in top and remove seeds. Spoon in chorizo/rice mixture. Top with shredded cheese and bake for 10-15 minutes or until cheese is melted.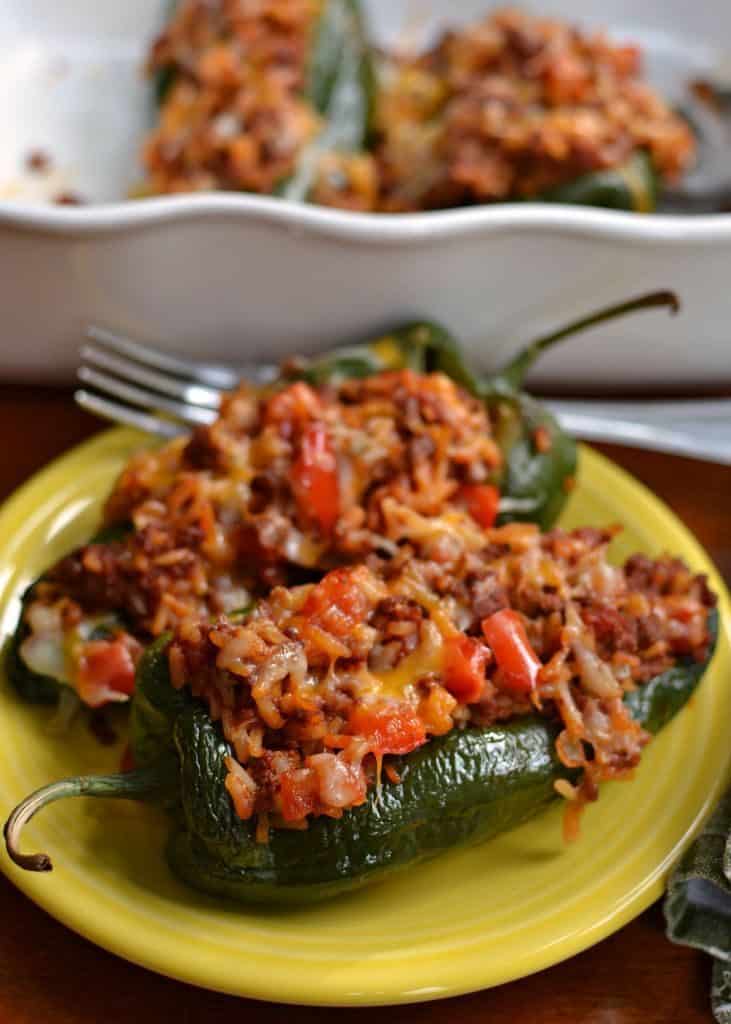 These Chorizo Stuffed Peppers are easy, dependable and amazingly delicious. Do you like peppers? We love them! Here are some more awesome pepper recipes.
This recipe was originally published July 11, 2014 and was republished June 26, 2018 with new pictures and new relevant information and slight modifications in recipe including reducing the amount of cheese.
Chorizo Stuffed Poblano Peppers
Ingredients
10 ounces Mexican style chorizo
1/2 red bell pepper diced
1 small onion diced
2 tablespoons minced jalapeno
2 tablespoons garlic minced
1 cup white rice uncooked
1 cup low sodium chicken broth
1 cup canned diced tomatoes with juice
1/2 cup water
4 large poblanos
1/2 cup shredded cheddar cheese
1/2 cup shredded Monterey Jack cheese
Instructions
In a medium saucepan cook chorizo for 5 minutes. Add the peppers and onions and cook for additional 5 minutes. Add jalapeno and garlic and cook for another 1 minute. Add the rice and blend in. Add all the liquids and bring to a boil. Cover and reduce heat to low. Cook for 20 minutes or until rice is done.
Preheat oven to 400 degrees. Place poblanos on a cookie sheet and bake for 20 minutes. Remove from oven and let cool. Cut a slit through the length of the top and remove seeds.
When rice is finished cooking fluff with a fork. Stuff poblanos and place on baking sheet. Reduce oven temp to 350 degrees and cook stuffed poblanos for 15 minutes. Top with cheese. Place under broiler for 1-2 minutes just to brown the tops a little.
Notes
If rice mixture gets too dry add another 1/4 -1/2 cup of water.
https://www.smalltownwoman.com/chorizo-stuffed-poblano-peppers/