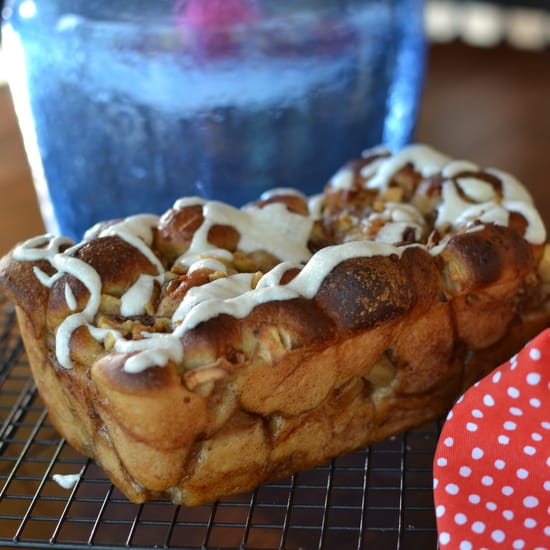 This is an easy and delicious sweet bread. Plump full of apples and pecans it is all about comfort food here.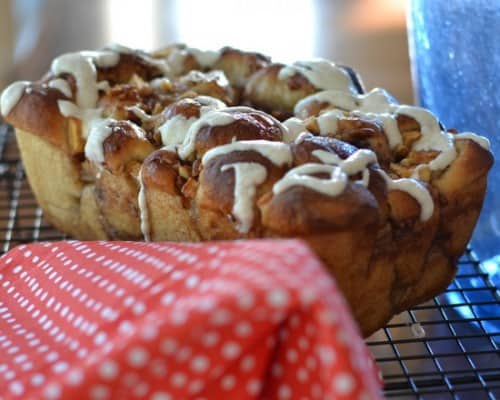 It makes the whole house smell absolutely breath taking! It is a tantalizing treat for your taste buds!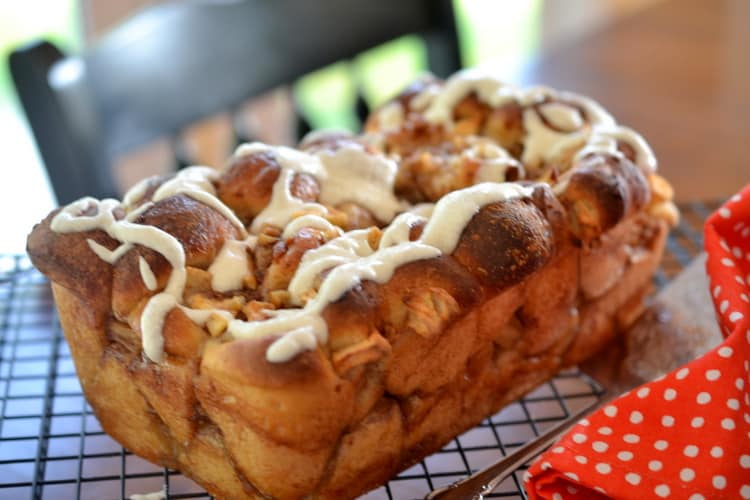 This recipe makes two loaves! One for and one for me. Just kidding. Spread the love!
Print
Cobblestone Bread
Scale
Ingredients
1 bag Rhodes frozen dinner rolls 36 count thawed but still cold
3/4 cup sugar
1 tablespoon cinnamon
2 Granny Smith apples peeled, cored and finely chopped
1 cup chopped pecan
1/2 cup butter
1/4 cup brown sugar
Optional Glaze
1/8 cup melted butter
1 cup sifted powdered sugar
2 tablespoons milk
1/4 teaspoon vanilla
Instructions
Grease two 9×5 inch bread loaf pans.
Cut bread rolls in 1/2 with kitchen scissors. Add sugar and cinnamon to large plastic ziploc bag. Place 1/3 cut bread rolls in bag and shake to coat. Add 1/2 of these to each pan. Sprinkle 1/6 of the pecans and apples on top of this layer in each pan. Repeat procedure until all three layers are done.
Melt butter and add brown sugar, Remove from heat. Drizzle 1/2 over the top of each bread. Cover with plastic and allow to rise until the bread comes to the bottom of the plastic wrap. This can take 3-5 hours depending upon your heat and humidity.
Bake at 350 degrees for 25-30 minutes or until a rich golden brown.
For the glaze: Add melted butter, milk and vanilla to powdered sugar. Beat until creamy. Drizzle over cooled cobblestone bread.
Notes
You can move this bread to a nice warm place to try to shorten rising time. I moved mine out to the garage to shorten the time.
https://www.smalltownwoman.com/wp-content/uploads/2019/05/Beth-1.pdf