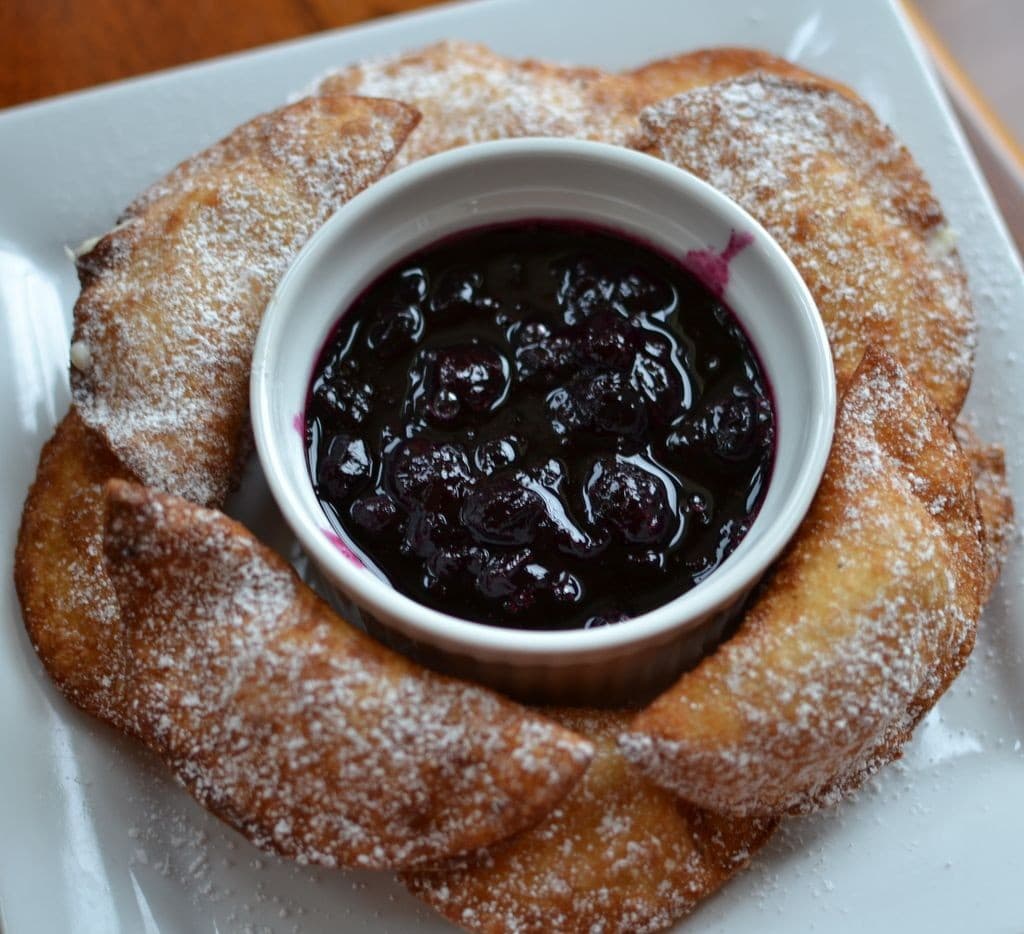 With just a handful of ingredients you can have these hot little cream cheese dumplings in your hands!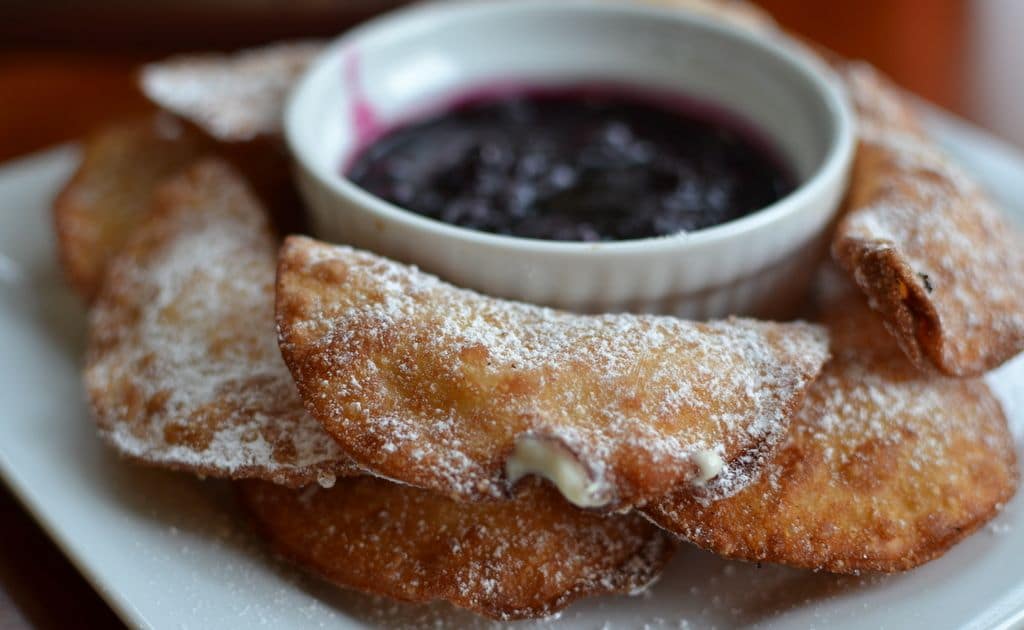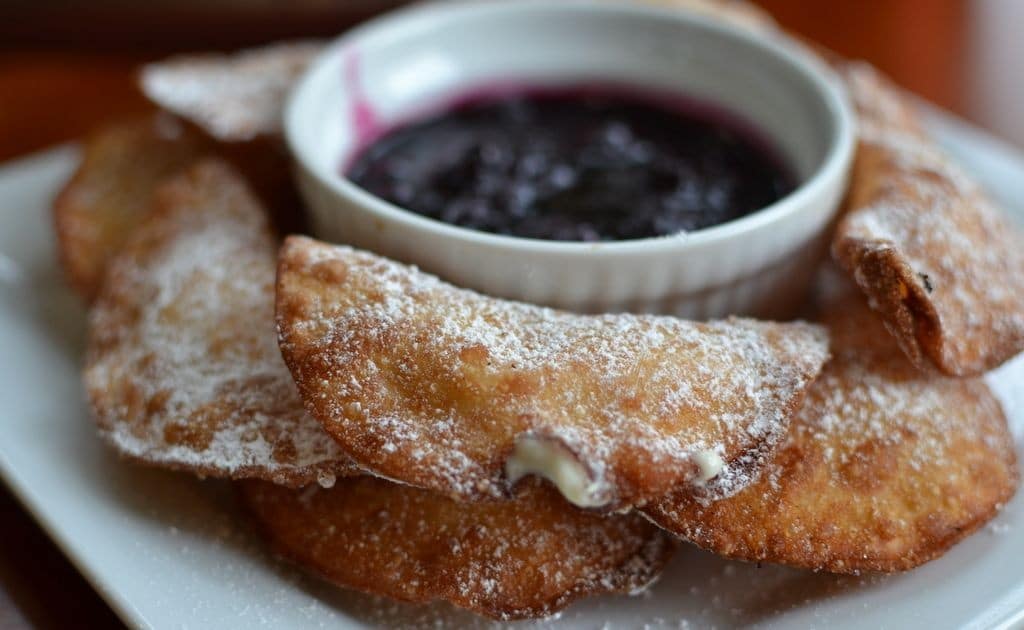 They go wonderfully with the fresh blueberry sauce.  You can whip these up in just a few minutes and your family will think you slaved all day!   The sauce has two ingredients and takes five minutes.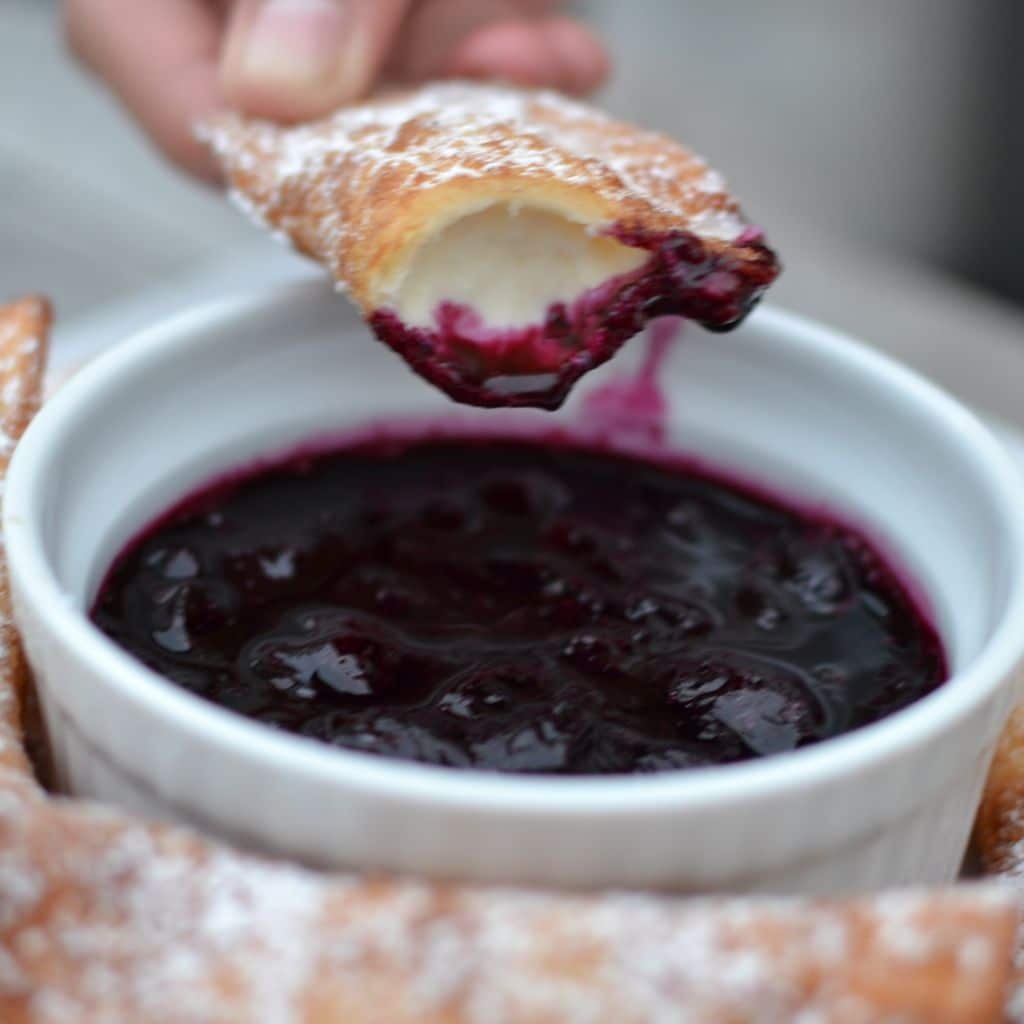 Look at that!  I promise it tastes as good as it looks!!
Print
Cream Cheese Dumplings with Blueberry Syrup
Scale
Ingredients
1 (8 ounce) box cream cheese softened
5 tablespoons sugar
1/2 teaspoon orange extract
20 pot sticker wraps
1 1/2 cups blueberries
Canola oil for frying
Powdered sugar
Instructions
Beat cream cheese, 2 tablespoons sugar and orange extract until smooth.
When working with the wraps cover non-stuffed and stuffed ones with cold wet paper towels to keep them from drying out. Holding the wrapper in one hand, dip your index finger on your free hand in cold water. Moisten 1/2 of the wrap with that finger making a 180 degree circle around the edge of the wrap that is furthest from you. Now place a rounded teaspoonful of the cream cheese mixture in the middle. Fold over and gently seal one end to the other; pressing the wrap together to close tightly. Repeat until cream cheese mixture is gone; placing them on a cutting board and covering with moistened paper towels.
Combine blueberries and 3 tablespoons of sugar in small saucepan. Cover and place on low heat. Simmer for 10-15 minutes and remove from heat.
Heat oil in heavy pot to 375 degrees. Working in batches cook stuffed dumplings for about 45-60 seconds turning halfway through. Drain on paper towels.
Sprinkle with powdered sugar and serve with blueberry sauce on the side or drizzle over the top.
https://www.smalltownwoman.com/wp-content/uploads/2019/05/Beth-1.pdf