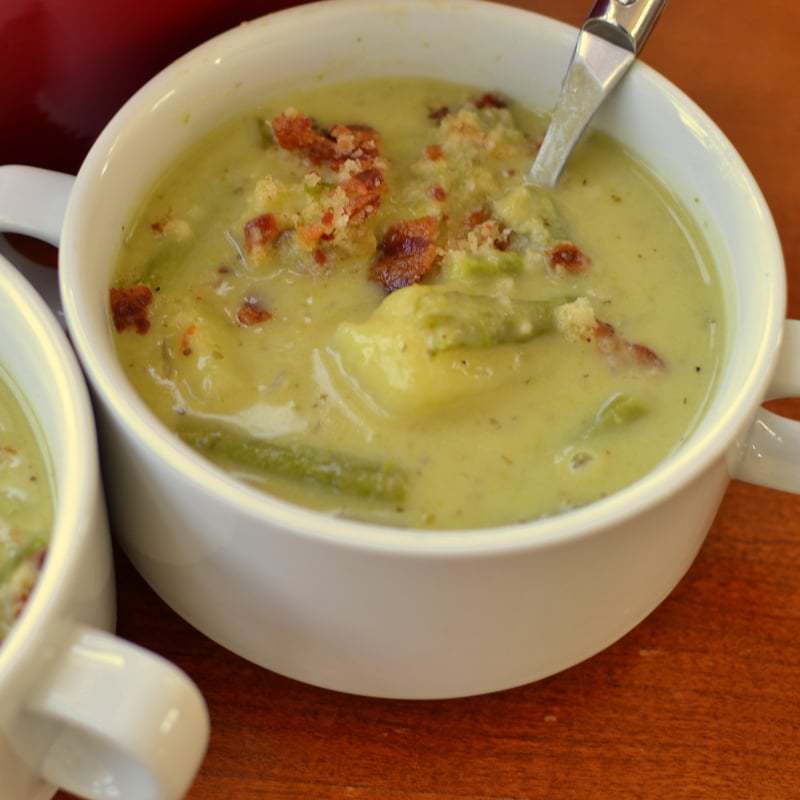 I am a true believer that one can never have enough good soup recipes.  There are so many great things to say about soup!  It warms the heart and soul! The older I get the more I really appreciate soup!  There are as many great soup quotes as there are great soup recipes!
"Soup is a lot like a family. Each ingredient enhances the others; each batch has its own characteristics; and it needs time to simmer to reach full flavor"  Marge Kennedy
This Creamy Asparagus Potato Soup is bursting with fresh asparagus, baked russet potatoes, cream and garlic.  It is topped with a three ingredient bacon crumb topping that is out of this world delicious.  The flavorful salty crunchy topping is the perfect complement to the smooth creamy rich soup.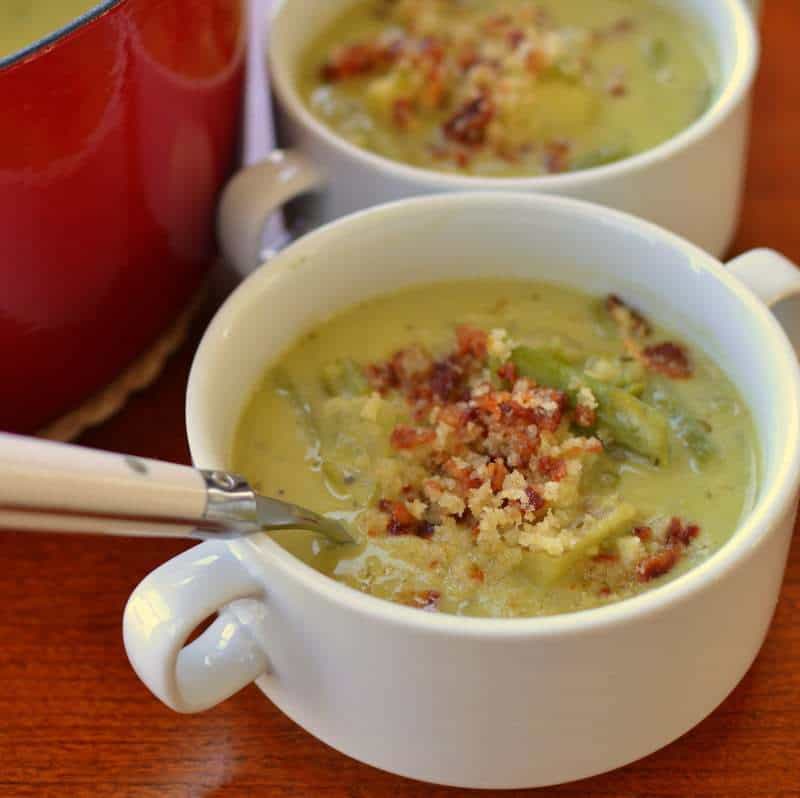 This Creamy Asparagus Potato Soup comes together quickly and easily. This soup is packed full of healthy good for you asparagus.   Not only is asparagus delicious it is packed full of nutrients. Asparagus is a  good source of fiber, folate, vitamins A, C, E and K.  It is also a source of chromium, a trace mineral that improves the ability of insulin to transport glucose from the bloodstream into cells.  This is a soup you can feel good about.
"Only the pure of heart can make good soup"
Beethoven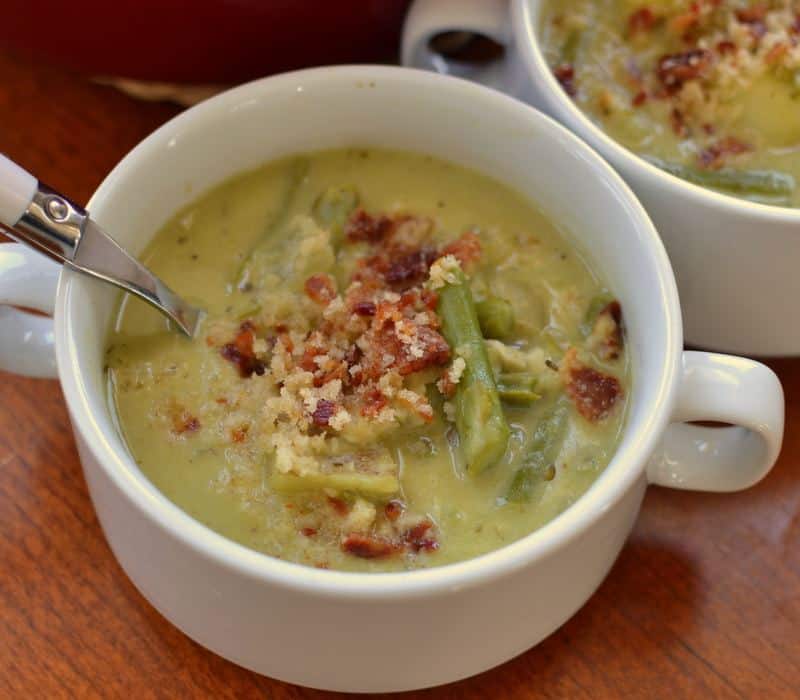 Of course all soup is simmered but this one really only needs to simmer for about 30 minutes to bring all the flavor to life.  The bacon crumb topping can be made ahead of time and stored in the fridge.
"Between soup and love, the first is better."
old Spanish saying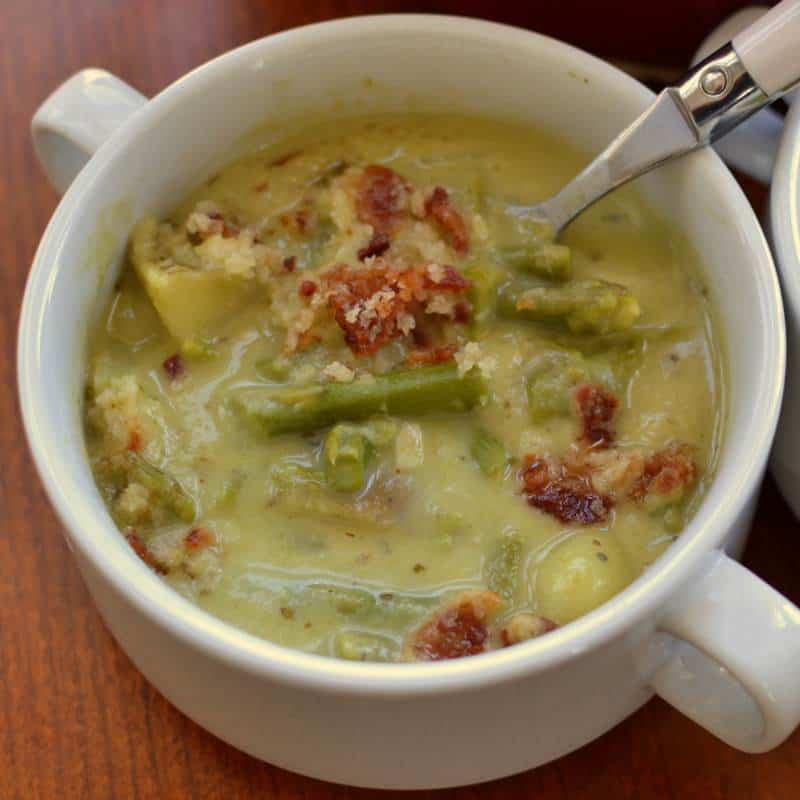 Put this on the list this weekend and make your family a healthy pot of soup that warms their hearts and souls!
"Of all the items on the menu, soup is that which exacts the most delicate perfection and the strictest attention."
Auguste Escoffier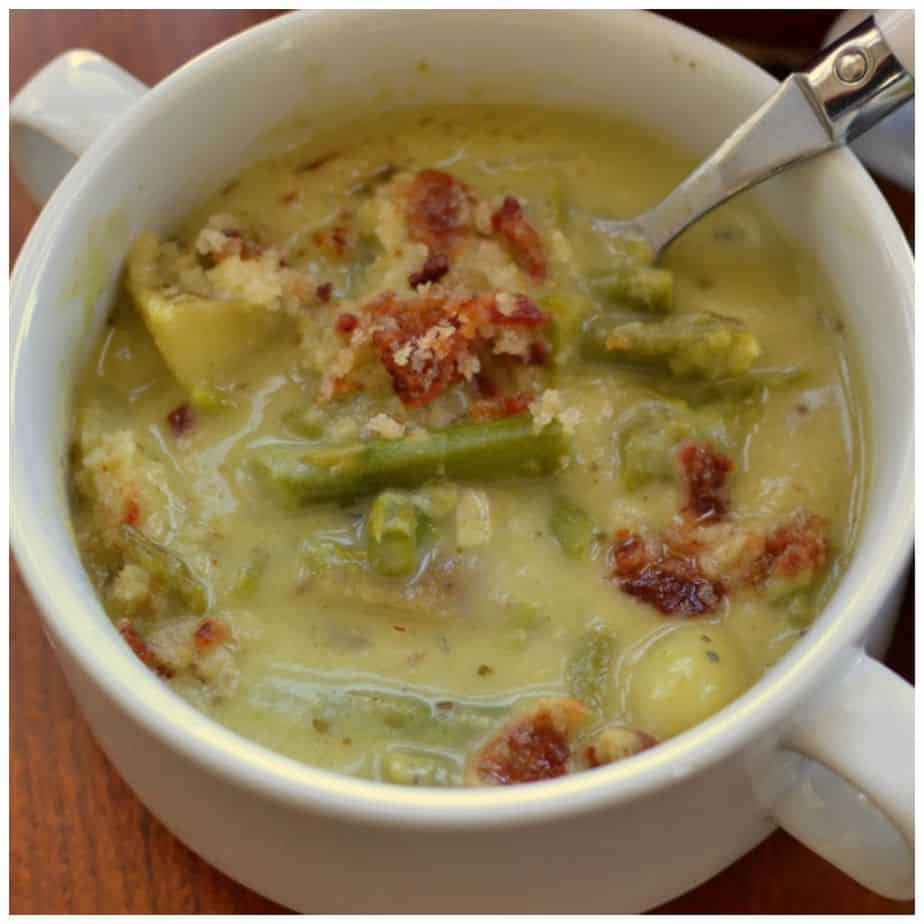 Creamy Asparagus Potato Soup
Scale
Ingredients
1 tablespoon olive oil
1 small onion chopped
1 1/4 lbs asparagus rough stems removed and cut in about two inch cuts
2 large cloves garlic minced
4 cups low sodium chicken broth
1 tablespoon dried parsley
1 teaspoon dried oregano
1/2 teaspoon onion powder
2 large potatoes baked cooled and cut in cubes
1/4 cup heavy cream
3 tablespoons butter
2 tablespoons flour
Salt & pepper to taste
3 tablespoons bread crumbs
3 slices crispy cooked bacon chopped
Instructions
In large stockpot heat oil over medium heat. Add onion and cook 4.-5 minutes. Add asparagus and cook for 2 additional minutes. Add garlic and cook for 1 additional minute. Add chicken broth, parsley, dried oregano and onion powder. Bring to low boil and simmer until the asparagus is tender; approximately 15 minutes. Add cubed baked potatoes and simmer for 2-3 minutes.
Remove 2 cups of the soup with slotted spoon (trying to capture mostly asparagus, potatoes and onions) and place in large deep bowl. Using immersion blender or mixer on high speed blend until smooth. Stir back into soup and slowly add cream. Melt 2 tablespoons of butter in microwave safe bowl. Stir in flour to slowly make smooth paste. Using slotted spoon or fork slowly stir this into the soup. Salt & pepper to taste.
In small saucepan melt 1 tablespoon butter over medium low heat, Add panko bread crumbs and cooked bacon. Cook for 1 minute stirring several times.
Notes
Cut time off this recipe by cooking your bacon and potatoes ahead of time. I like the texture and taste of using baked potatoes in this soup. You can bake them several days ahead of time and store in the refrigerator.
If you prefer you can add raw cubed potatoes at the same time you add the asparagus to the pot.
Other scrumptious soup recipes you will love!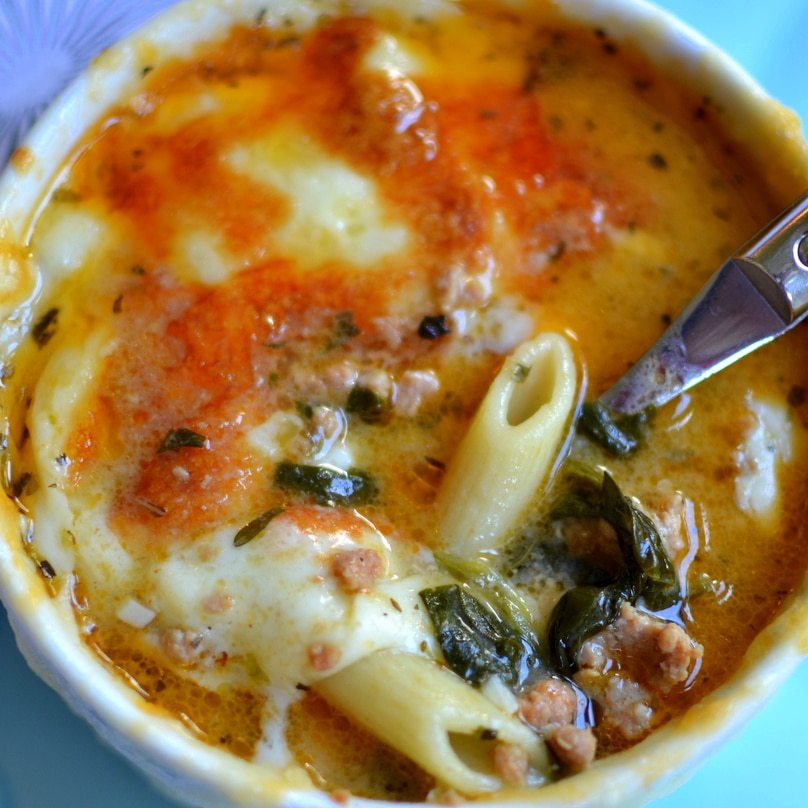 Sausage Penne Soup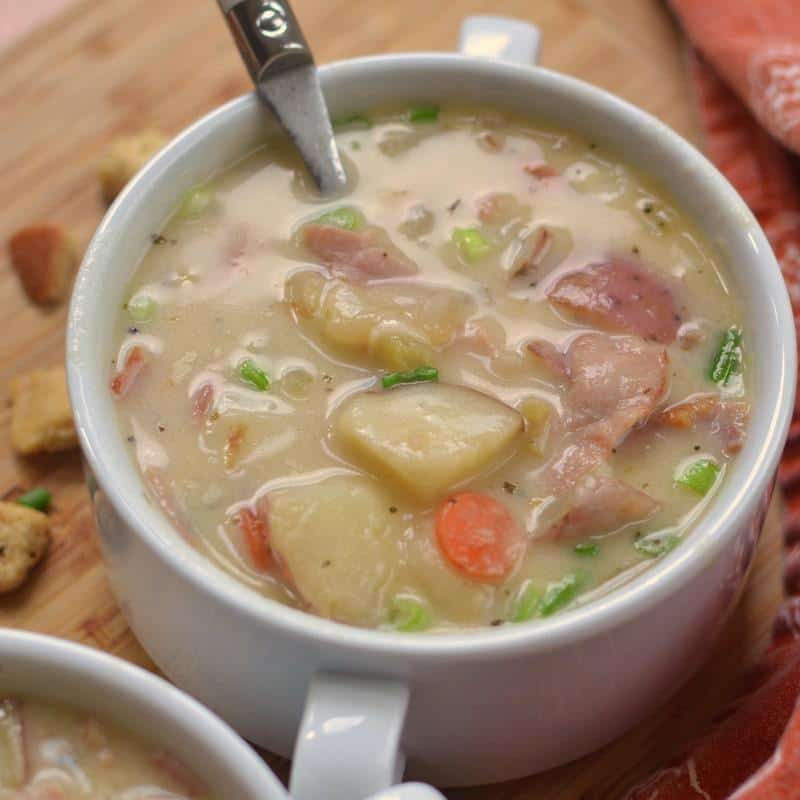 Creamy Potato Ham Soup
https://www.smalltownwoman.com/wp-content/uploads/2019/05/Beth-1.pdf