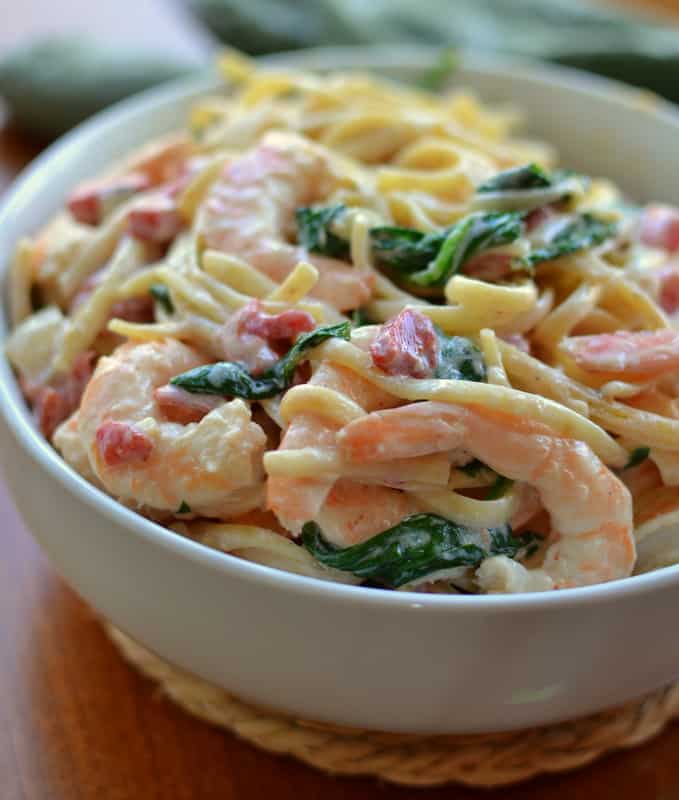 Wow things have been so busy lately. There is hardly anytime to cook. Darn it. I love to cook. These last three or so weeks have been nuts. First the kids got sick for about two weeks right before exams, then the washing machine broke, the refrigerator broke, the engine light came on in my car and a blood vessel in my eye burst. I won't even mention the other half dozen things that happened in between there because you would be saying "Oh cry me a river." It is time to get back to cooking!! This is what I love to do and that is why I got in this business. This Creamy Shrimp and Roasted Red Pepper Linguine is easy and delicious making it the perfect recipe for you and your loved ones. It is quick enough for a week night meal and fancy enough for company.
Have you tried any of my other shrimp recipes? Triple Cheese Shrimp Dip Wontons, Succulent Grilled Chili Lime Shrimp. Shrimp Poor Boy Sliders are just a few fun and delicious recipes! You need to try this awesome Honey Buffalo Shrimp from Dinner at the Zoo!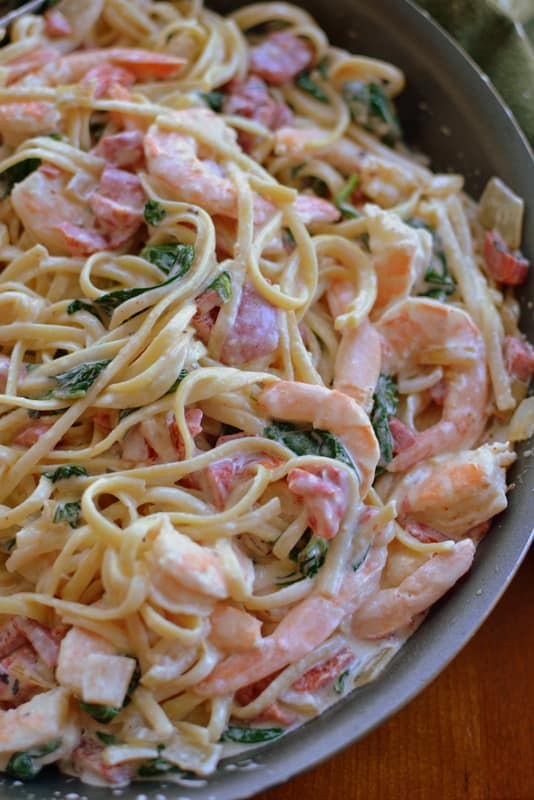 Creamy Shrimp and Roasted Red Pepper Linguine combines fresh shrimp, garlic, onion, spinach, and roasted red peppers in a rich creamy Alfredo sauce. Folks it does not get much better than this. It is a meal in itself but if you want an accompaniment then a nice piece of crusty artisan or french bread would be heavenly. Are in a really big hurry? I mean really who isn't? Buy your shrimp already cooked, deveined and peeled. We have this marvelous grocery store about fifteen minutes from here that will cook your seafood for free of charge and they do a great job. My sister was thoroughly disappointed when she moved to Florida and had to forgo this classy grocery store chain.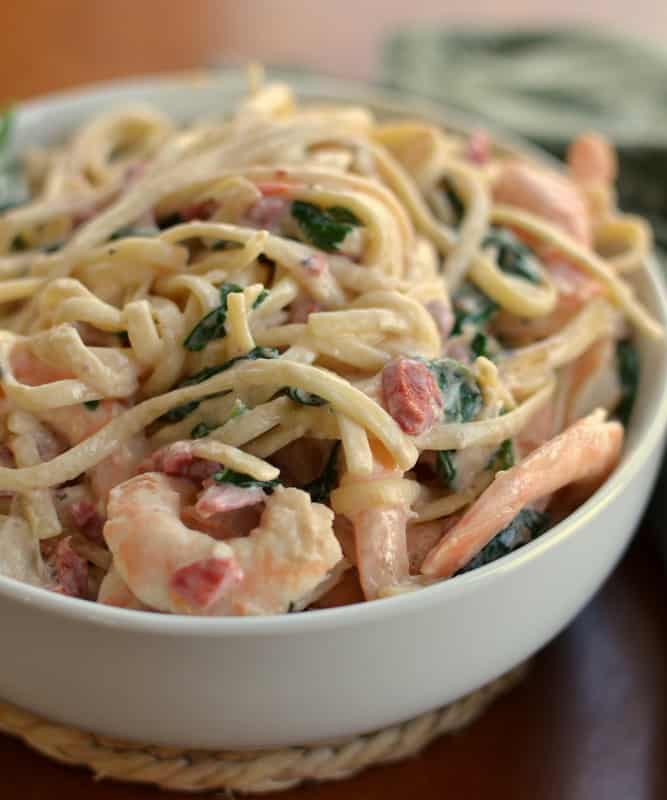 So if you love home cooked meals with good wholesome ingredients that you can feel good about eating and serving your family then put this Creamy Shrimp and Roasted Red Pepper Linguine on your rotation this week. You will love the flavor and ease!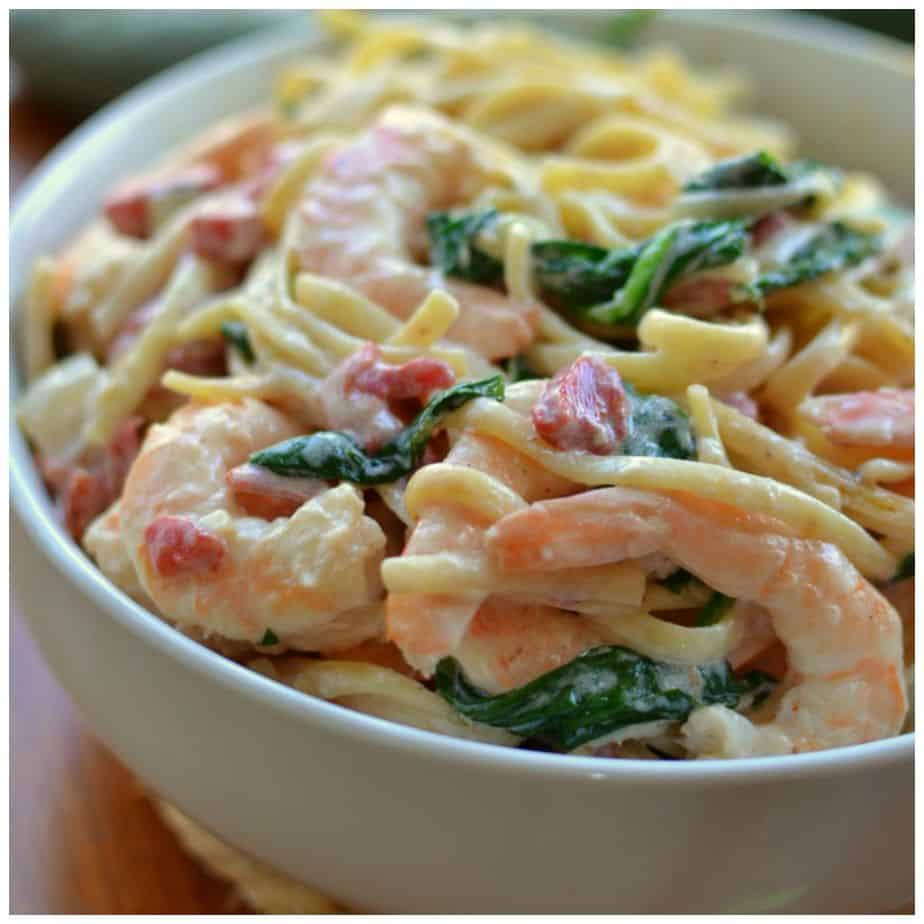 Print
Creamy Shrimp and Roasted Red Pepper Linguine
Scale
Ingredients
12 ounces linguine noodles
1 lb uncooked shrimp deveined and peeled
2–3 tablespoons olive oil
1/2 small onion finely diced
2 cloves garlic
6 cups baby spinach
2 tablespoons butter
2 tablespoons flour
1 1/4 cups half and half
1 1/4 cups grated fresh Parmesan cheese
1 jar (12 ounce) roasted red peppers diced
Red pepper flakes to taste
Salt and pepper to taste
Instructions
Cook linguine noodles according to package instructions. Drain the noodles well.
Meanwhile salt and pepper shrimp on both sides. In large skillet heat 1 tablespoon olive oil over medium high heat. Add shrimp and cook for 1 minute. Flip and cook for another 30-60 seconds. Do not overcrowd the pan so you may need to cook in batches. When cooked the exterior should be pink with red tails and the flesh is slightly opaque. If using large shrimp there may be additional cooking time. Remove shrimp from skillet and place on plate.
In same skillet heat tablespoon of olive oil over medium heat. Add onion and cook until slightly tender approximately 2-3 minutes. Reduce heat to low and add garlic and spinach and cook for additional 60 seconds. Remove from skillet and place on plate.
In same large skillet over medium low heat melt butter; whisk in flour. Cook 3-4 minutes whisking continuously until a light golden brown. Slowly add half and half; whisking constantly. Reduce heat to low and slowly stir in Parmesan. Add roasted red peppers, cooked shrimp and cooked vegetables. Toss to coat. Season with red pepper flakes and salt & pepper to taste
Notes
Straight shrimp are undercooked, shrimp that have just curled into a C-shape are perfectly cooked and shrimp that have twisted into an O-shape are terribly, irreparably overcooked.
Other delicious comfort food recipes you will love!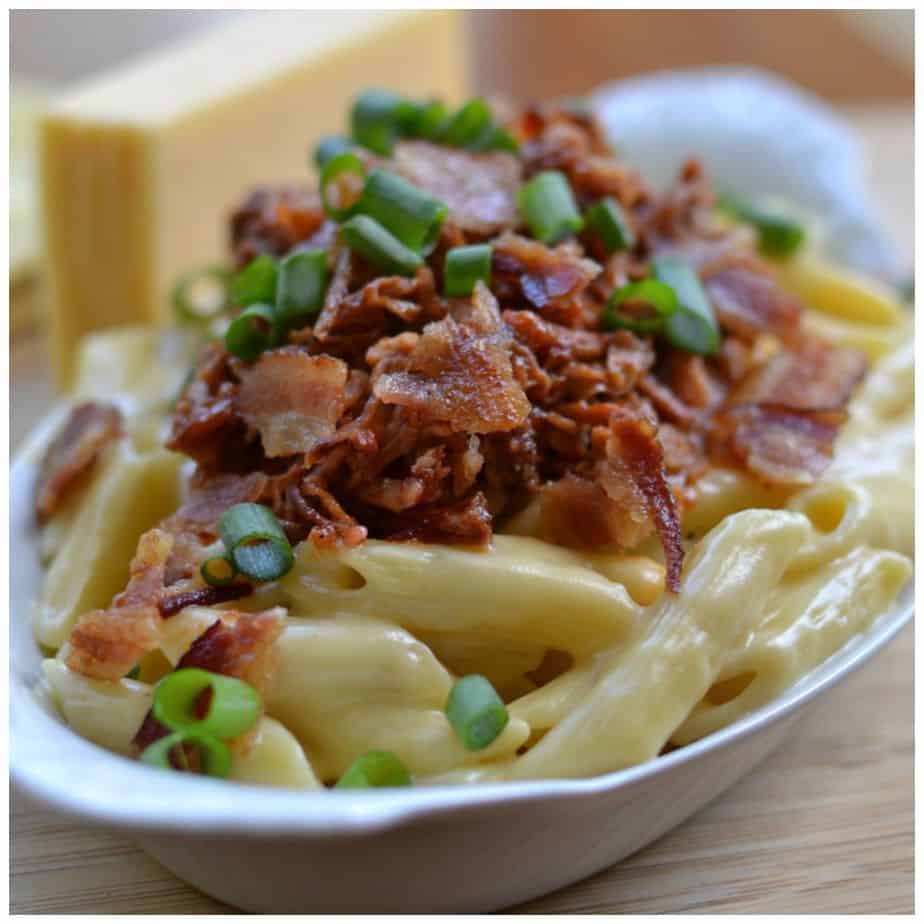 Barbecue Pork Topped Gouda Mac N Cheese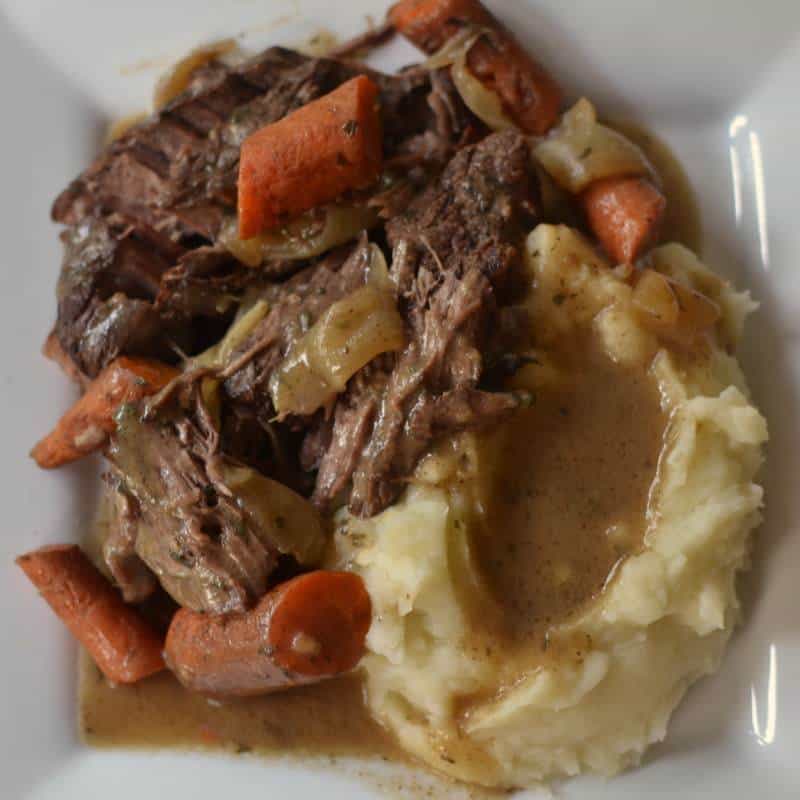 Crock Pot Chuck Roast and Vegetables
https://www.smalltownwoman.com/wp-content/uploads/2019/05/Beth-1.pdf