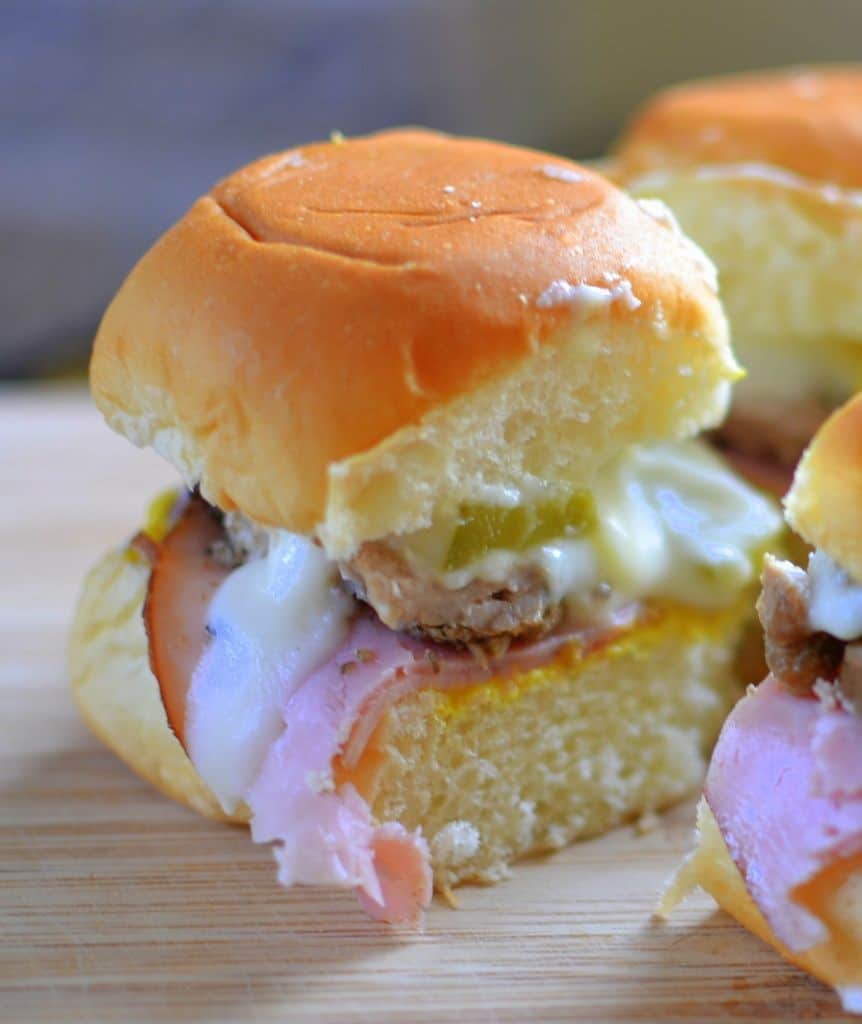 These little sliders are a special treat!  I just love them and they are so easy to prepare!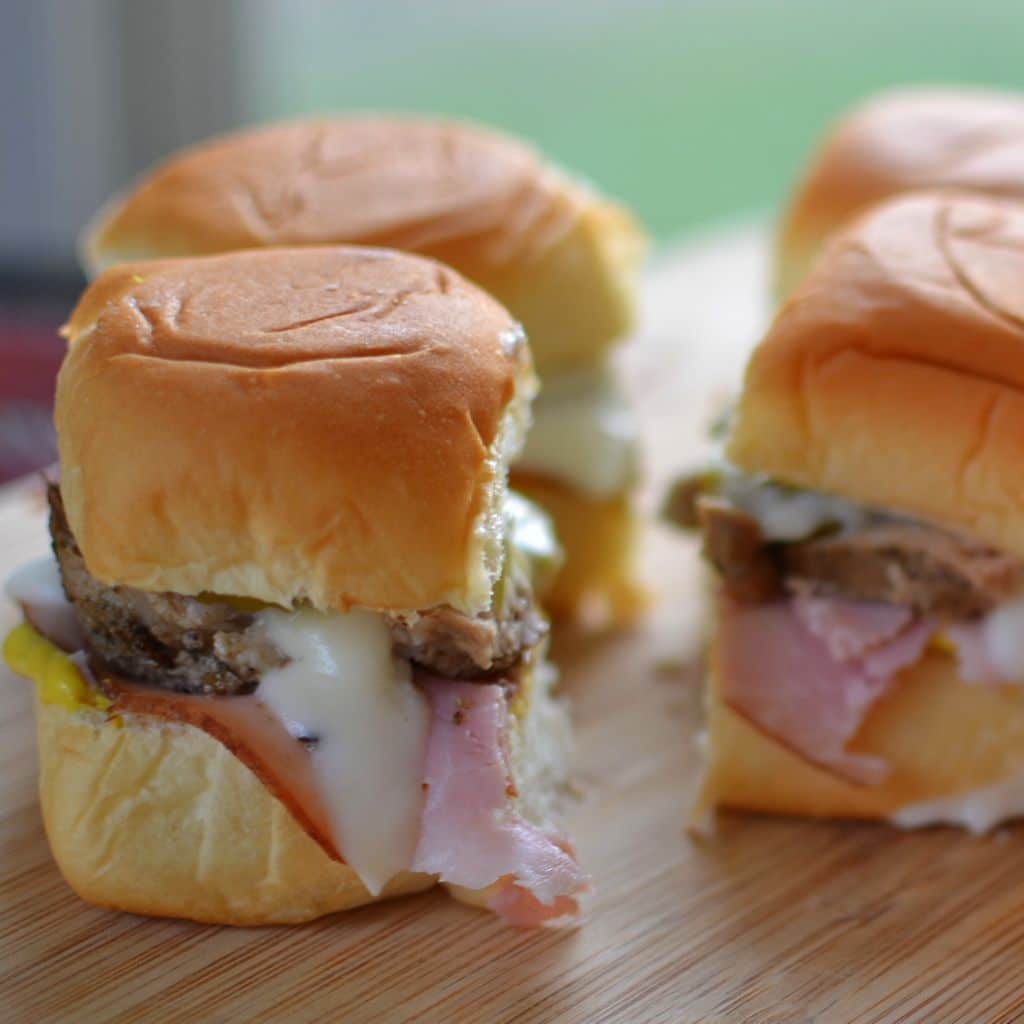 If you are having a party be prepared with backup because these are a hot commodity! Now I like to make mine with a cheesy cream sauce but if you are in hurry you can just use sweet & nutty Swiss cheese.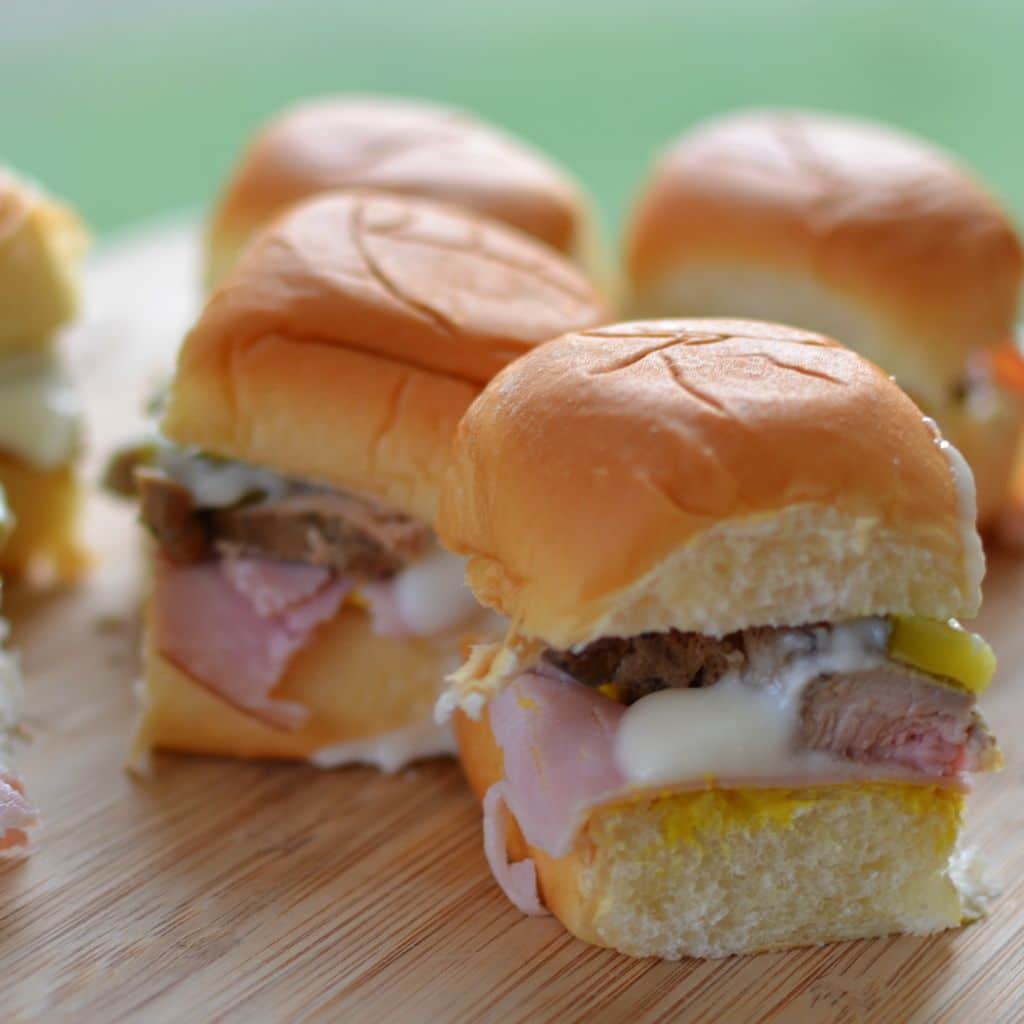 Some days I feel like I am a little sweet & nutty!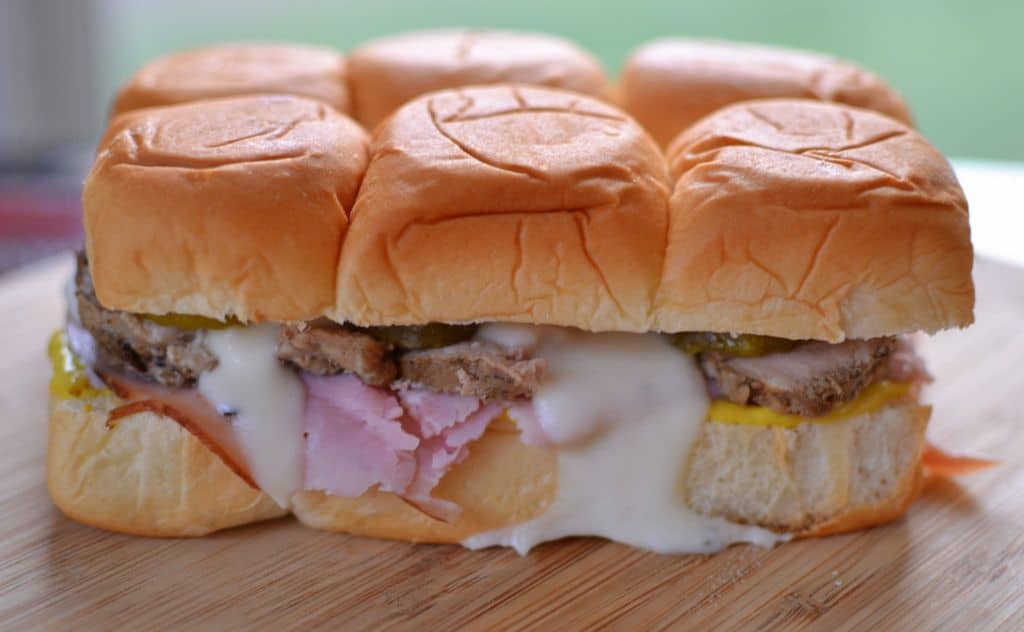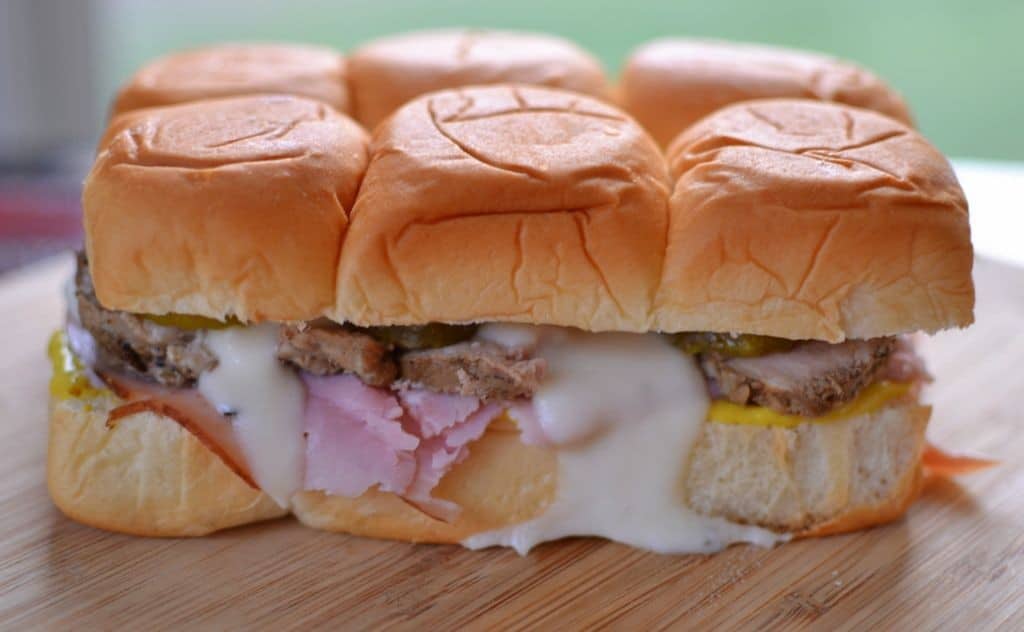 Don't split the rolls until you have completed them.  It makes the whole operation so much smoother. Now you are a smooth operator!  🙂
Print
Cuban Sliders
Scale
Ingredients
1– 1 1/4 lb pork tenderloin
3 cloves garlic
1 teaspoon cumin
1/4 teaspoon salt
1 pinch of black pepper
1 tablespoon orange juice
1 teaspoon cider vinegar
1 teaspoon olive oil
1 tablespoon sesame or olive oil
2 tablespoons prepared yellow mustard
1 tablespoon mayonnaise
1 tablespoon butter
1 tablespoon flour
1 cup milk
1/2 cup shredded Swiss cheese
1/2 lb thin sliced good quality deli ham
Dill chip pickles slices
1 12 count package Kings Hawaiian Sweet Rolls
Instructions
Trim fat and silver skin from tenderloin. Combine garlic, cumin, salt and black pepper in food processor. Pulse several times. Add orange juice, cider vinegar and olive oil. Pulse several more times. Rub mixture all over meat. Cover with plastic wrap, set out for 30 minutes.
Preheat oven to 375 degrees.
Add olive oil over medium high heat to ovenproof skillet. Sear tenderloin on all sides. Place in oven and cook uncovered for 12 minutes. Flip and cook an additional 12 minutes. Remove from oven and allow to rest for 15 minutes. Slice thin.
In small bowl combine mustard and mayo. Set aside.
In small saucepan over low heat melt butter. Whisk in flour until smooth. Continue cooking for one minute whisking constantly. Slowly whisk in milk. Cook until mixture is thickened; whisking continuously. Slowly add cheese; stirring until cheese is completely melted.
Leaving the Hawaiin Rolls attached to each other. Slice down the middle.Spread mustard/mayo mixture on the bottom half. Top with ham, pork tenderloin, pickle slices. Drizzle with the creamy cheese mixture. Using knife separate rolls and enjoy!
Notes
If you are a busy beaver bypass the cheese sauce step and add slices of Swiss to the sandwich. Place sandwich on cookie sheet, cover with foil and heat at 275 degrees for 10-15 minutes.
https://www.smalltownwoman.com/wp-content/uploads/2019/05/Beth-1.pdf