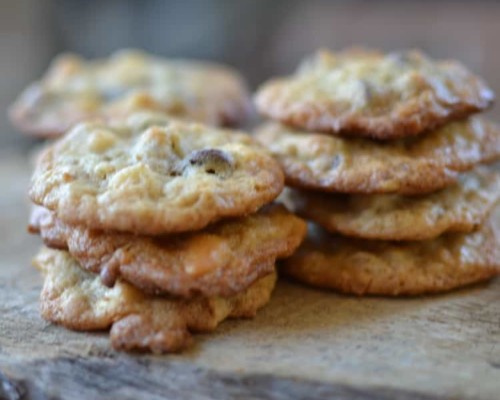 Delectable little treats filled with white and milk chocolate, oats, coconut & pecans!!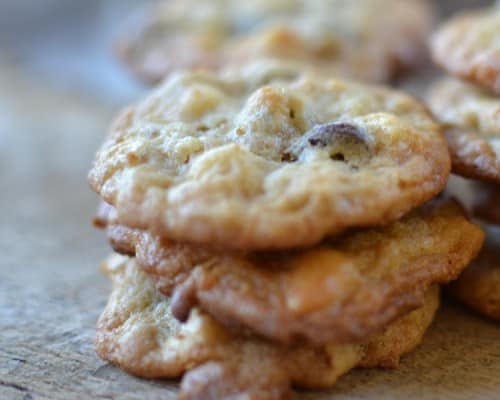 Guaranteed to satisfy your sweet tooth! Great with a warm cup of joe, a glass of milk or a mug of hot cocoa!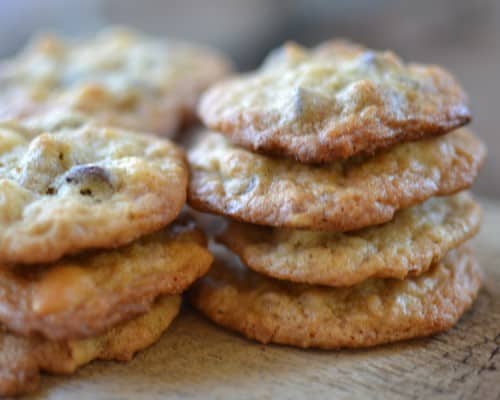 You can certainly add raisins, dried cherries or dried cranberries if you like!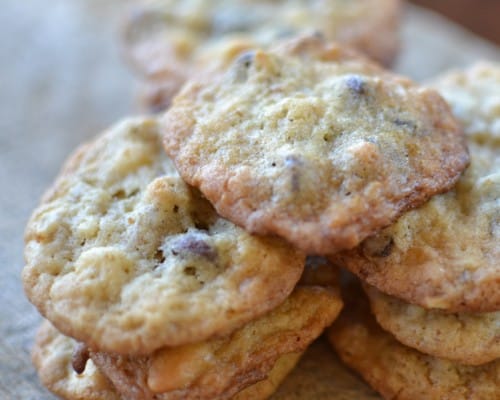 That's what is cool about dump cookies. You can adjust the ingredients to suit your taste!
Print
Dump Cookies
Scale
Ingredients
2 sticks butter softened
3/4 cup brown sugar
3/4 cup sugar
2 eggs
1 teaspoon vanilla
1 3/4 cups all purpose flour
3/4 cup old fashioned oats
1 tsp baking powder
1 tsp baking soda
1/2 teaspoon salt
1 cup chocolate chips
1 cup white chocolate chips
1 cup coconut
1 cup chopped pecans
1/2 cup raisins, dried cherries or dried cranberries (optional)
Instructions
Preheat oven to 350 degrees
Combine flour, oats, baking powder, baking soda and salt in medium bowl. Set aside.
Cream butter and sugars together in stand mixer. Add eggs in one at a time and cream ingredients together well, then add vanilla. Mix in vanilla.
Add flour mixture 1/2 cup at a time blending in each time and stopping to scrape the sides and bottom of the mixing bowl several times.
Remove bowl from mixer and fold in the chips, coconut, pecans and dried fruit (optional).
Using a small teaspoon drop small rounded teaspoonfuls of dough about two inches apart on a cookie sheet covered with parchment paper. Place in freezer for 10 minutes, remove and cook 9-11 minutes. Allow to cool for 5 minutes before removing to cooling racks.
Notes
Placing in the freezer helps the cookie dough from spreading so much. If you don't have the freezer space be sure to keep the dough in the refrigerator while you are cooking the other batches.
https://www.smalltownwoman.com/wp-content/uploads/2019/05/Beth-1.pdf