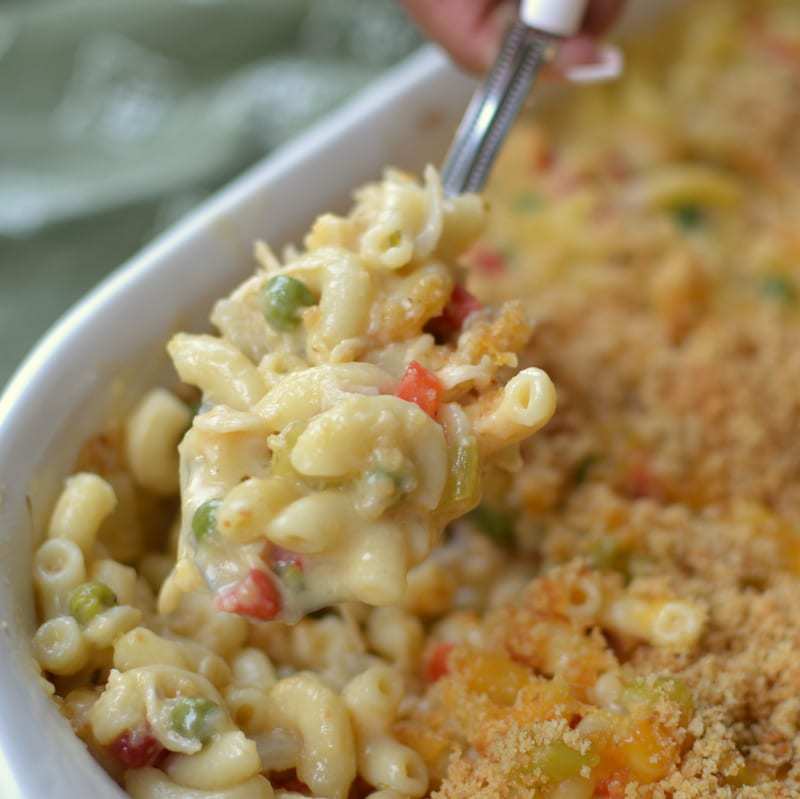 There is nothing like a good tasty cheesy chicken casserole. This Easy Cheesy Chicken Mac Casserole is the cats meow and the ultimate in comfort food. It combines chicken, macaroni noodles, onions, garlic, celery, peas and pimentos in the most delectable creamy cheese sauce ever. If you don't like peas substitute mushrooms. If you don't like mushrooms chop up some broccoli real fine!! My absolute favorite recipes are the ones that are easy to fix and leave us so satisfied.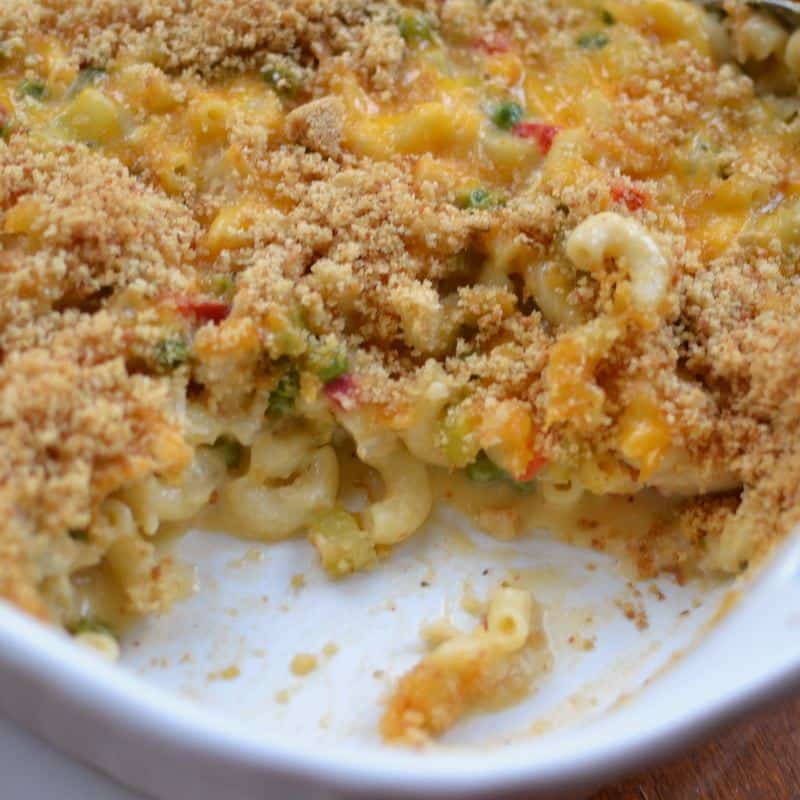 This Easy Cheesy Chicken Mac Casserole fits that bill. The recipe calls for canned chicken which has come a long way since the days of old. Costco's brand is wonderful and high quality. If you still feel like poaching some chicken by all means have at it. I created this recipe so that those of us on a busy schedule could still have a delectable tasting casserole without losing our minds or our patience!!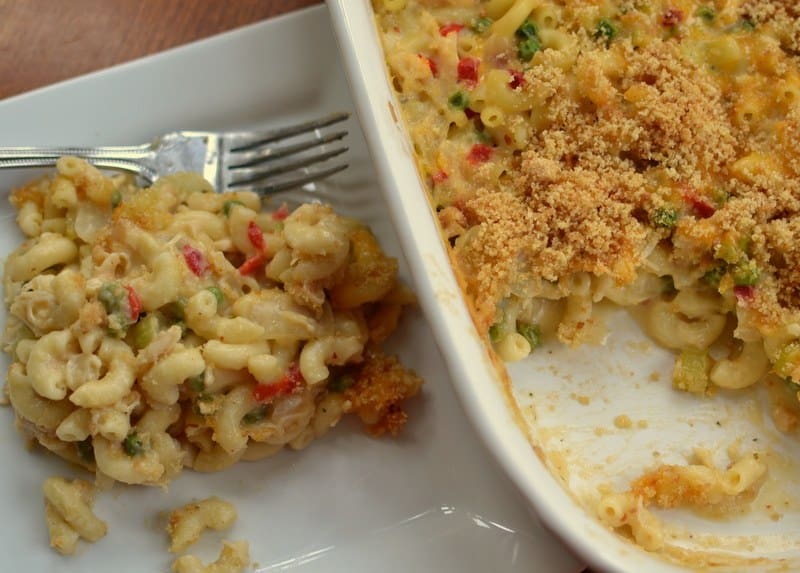 I love this casserole and I hope that you and your loved ones do as well.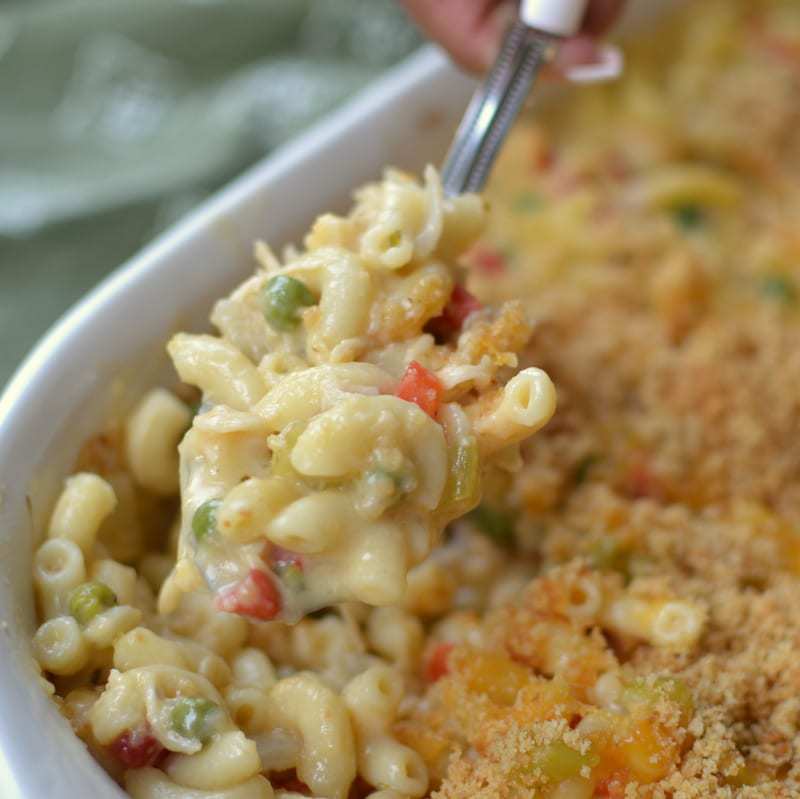 Easy Cheesy Chicken Mac Casserole
Scale
Ingredients
2 cups uncooked macaroni
1 tablespoon olive oil
1 small onion finely chopped
2 stalk of celery chopped
2 cloves garlic minced
1/4 cup flour
1 1/2 cups low sodium chicken broth
1 cup milk
1 teaspoon oregano
1/4–1/2 teaspoon crushed red pepper (depending on taste)
1 cup frozen baby peas
1 (4 ounce) jar diced pimentos drained
2 cups sharp cheddar shredded
1 1/2 cups freshly grated parmesan
1 (12.5 ounce)n can cooked chicken breast drained
1 1/2 cups salad croutons
Instructions
Cook macaroni according to instructions and drain well. Set aside.
Add olive oil to large skillet over medium heat. Cook onion and celery for 4-5 minutes. Add garlic and cook for additional minute. Turn heat to medium low and stir in flour. Cook for 1 minute stirring constantly. Slowly stir in chicken broth; stirring constantly. When smooth stir in milk, oregano crushed red pepper, frozen peas, and pimentos. Simmer for 10-15 minutes. Slowly add 1 /2 cups cheddar cheese and Parmesan; stirring until fully melted.
Spray 9 x 13 baking dish with nonstick cooking spray. Mix cooked macaroni, cheese sauce and drained chicken right in the casserole. Top with 1/2 cup remaining cheddar. Pulse croutons in food processor or crush with mallet: sprinkle over the top.
Bake at 350 degrees for 30 minutes. Serve warm.
Other recipes you will love!!
Jalapeno Popper Chicken Casserole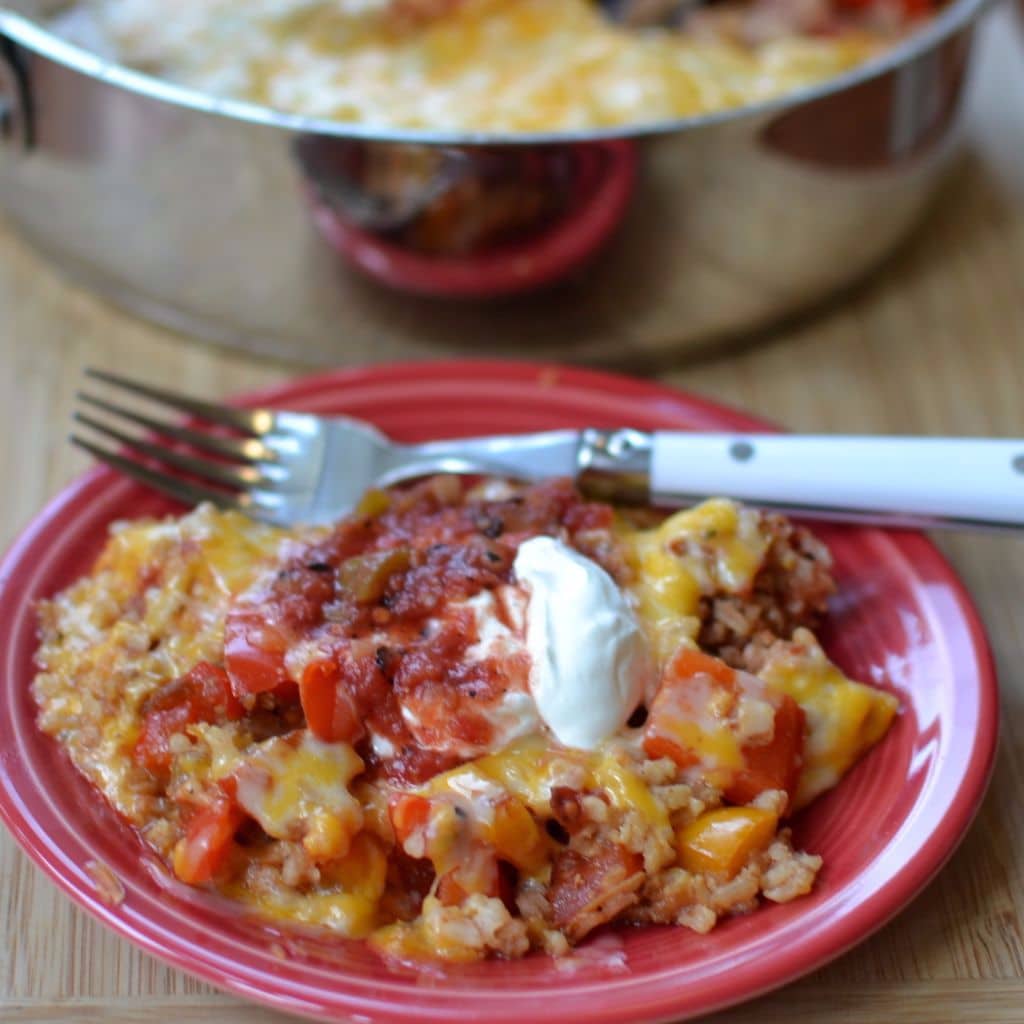 https://www.smalltownwoman.com/wp-content/uploads/2019/05/Beth-1.pdf