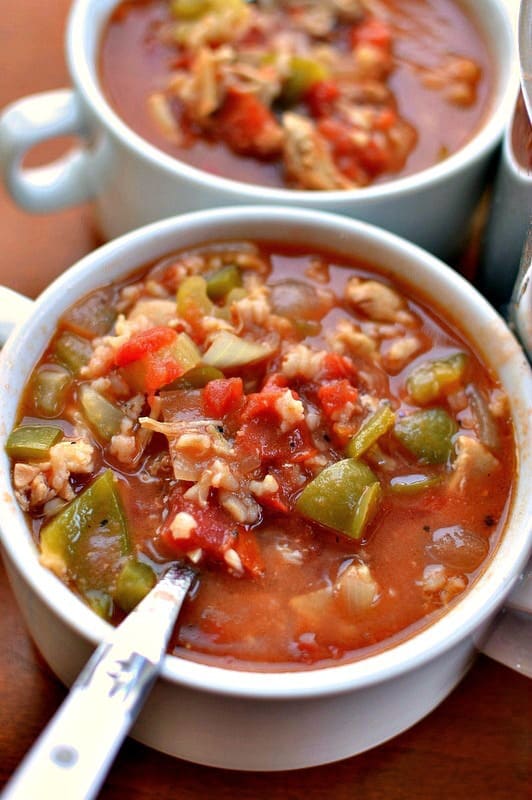 I love soup.  It is the perfect time of year for it. Although I adore soup anytime of the year. This amazing Easy Chicken Gumbo Soup comes together so fast. It really does not require a long simmer time but if you would like to simmer for a while feel free.  If simmering for a while I would not add the rice until fifteen minutes before serving time.  And if you are planning on storing leftovers I think I would pack those in the fridge and add the rice on the day I was serving it. Rice and pasta have a way of swelling even further when sunk in a big vat of soup.
This Easy Chicken Gumbo Soup combines chicken thighs, onions, celery, green peppers, tomatoes and rice in a spicy savory chicken broth.  No worries you can adjust the heat to your liking.  That is the best part of cooking.  You run the test kitchen.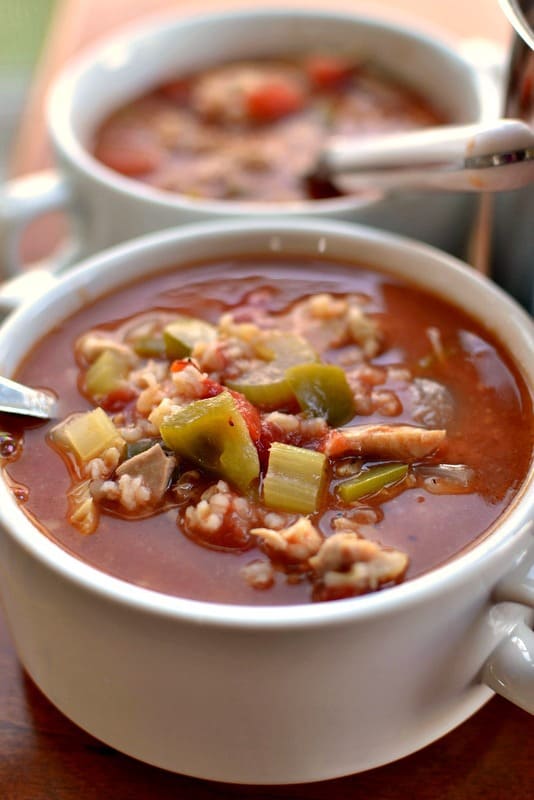 You can simmer this beauty for 20 minutes or an hour if you like your peppers and celery super soft.  I personally like them with just a bit of crunch (just a tiny little bit) so I don't simmer too long.  Add ins for this soup (if you wanted to take it to the next level) might be andouille sausage, okra, or shrimp.  I try to keep things simple as I know everyone has so much going on this time of year. By the way do you have your ornaments on your Christmas tree?  LOL! We do not have any yet.  We might be putting them up on Christmas Eve if we don't hurry up!
Have you tried any of my other soups?  Easy Beef and Barley Soup, Sausage Penne Soup and 30 Minute Stuffed Pepper Soup are just a few reader favorites.  What is your favorite kind of soup?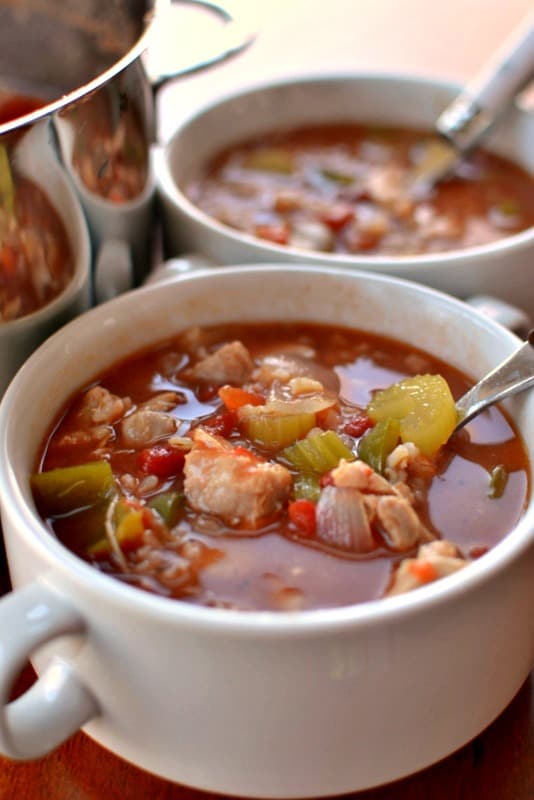 This Easy Chicken Gumbo Soup is delicious, easy and dependable.  You can adjust the heat to your taste and you can put your own twist on the soup with add ins.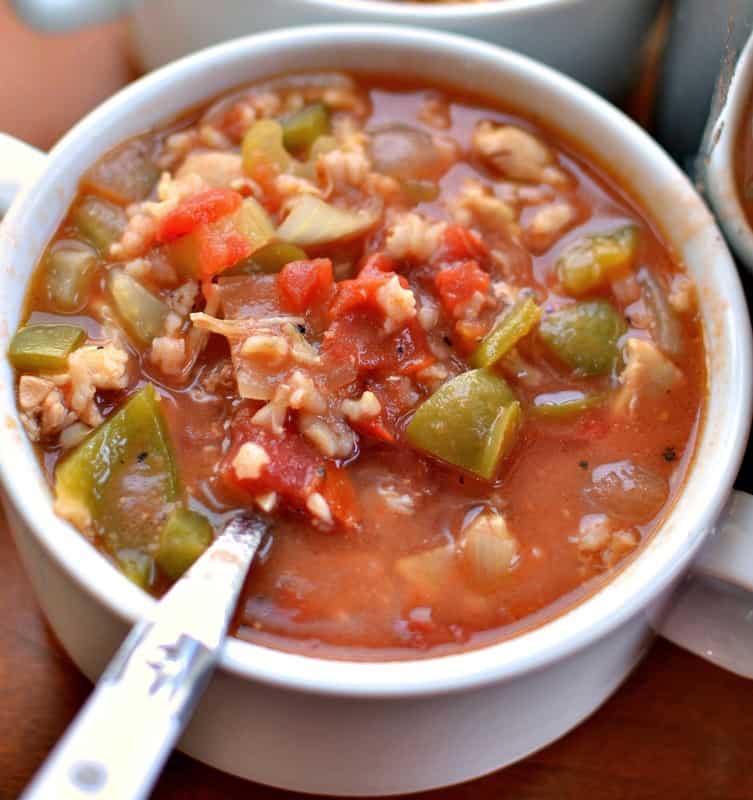 Print
Easy Chicken Gumbo Soup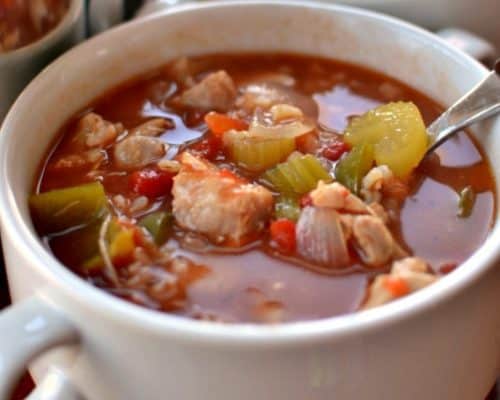 This Easy Chicken Gumbo Soup combine chicken thighs, onions, celery, green peppers, tomatoes and rice in a spicy savory chicken broth.
Author:
Prep Time: 15 minutes
Cook Time: 40 minutes
Total Time: 55 minutes
Yield: 6 1x
Category: Soup
Method: Stove top
Cuisine: Cajun
3 tablespoons canola oil
1 1/4 lb boneless skinless chicken thighs
1 small sweet onion chopped
2 stalks of celery trimmed and chopped
1 green pepper seeded and chopped
2 cloves of garlic minced
1 can (14.5 ounce) fire roasted tomatoes
1 can (8 ounce) tomato sauce
4 cups low sodium chicken broth
2–3 teaspoons Cajun seasoning to taste
2 tablespoons butter
1/4 cup flour
3/4 cup quick cooking white or brown rice
1–4 teaspoons Louisiana Hot Sauce (to taste)
Instructions
In large skillet over medium heat add 2 tablespoons canola oil. Lightly brown chicken on both sides. Remove from pan and cut into bite size pieces. Do not wash skillet.
Meanwhile in large stock pot or dutch oven over medium low heat add 1 tablespoon of canola oil. Add onion, celery and green pepper. Cook until veggies just start to soften; approximately 5 minutes. Add garlic and cook for 90 seconds. Turn to simmer and add fire roasted tomatoes, tomato sauce, chicken broth, Cajun seasoning and cut chicken. .
Melt butter over medium low heat in the skillet that the chicken thighs were cooked. There should be about two tablespoons of fat from the canola oil and chicken thighs. If not compensate by adding more butter. Whisk in flour. Continue whisking for 5-6 minutes or until the paste turns a golden brown color. Slowly whisk flour mixture into soup. Add rice, cover and simmer for 10 minutes. Add Louisiana Hot Sauce to taste.
Keywords: how to make chicken gumbo, easy chicken gumbo recipe, what is chicken gumbo
https://www.smalltownwoman.com/wp-content/uploads/2019/05/Beth-1.pdf