This Easy Lentil soup combines garden fresh vegetables with nutritionally power packed lentils.  It is quick to come together making it the perfect busy family meal.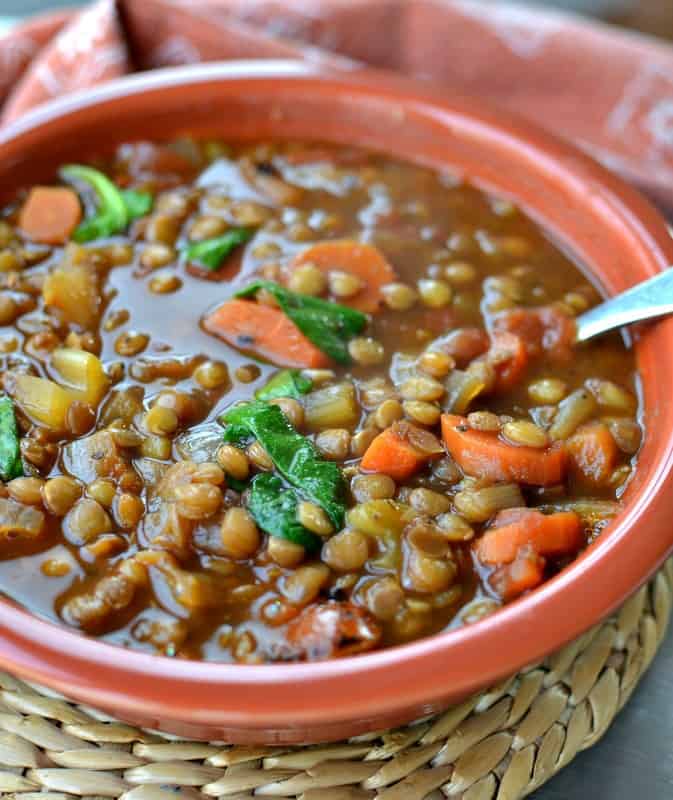 We are a huge soup loving family. There is just something really comforting and cozy about preparing a big pot of fresh veggies and meat or beans simmered in a perfectly seasoned warm broth. It always makes the house smell so darn good, tastes delicious and satisfies our hunger.   It has been a long cold winter here in Missouri so that has lead to a lot of great soups for lunches and dinners.  Of course we adore soup anytime of the year!  I mean honestly even in the hot weather we just crank down the air conditioner another notch or two.  It is such great comfort food. Are you a soup lover?  Do you eat it year round?
"Soup is the song of the hearth… and the home." — Louis P. De Gouy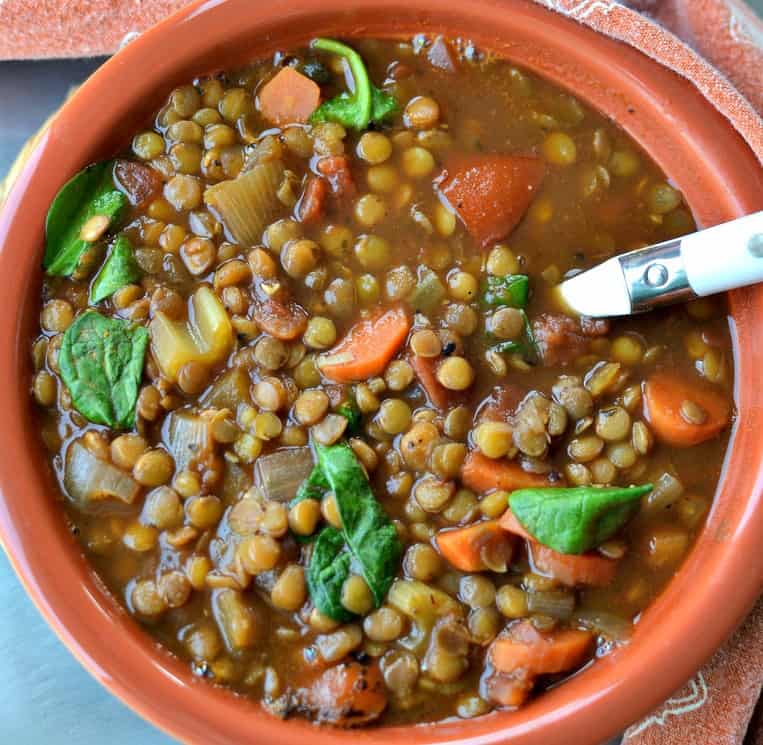 This amazing Easy Lentil Soup combines onions, celery, carrots, tomatoes, spinach and lentils in a perfectly seasoned vegetable tomato broth.  It simmers on the stove for about forty minutes and leftovers are just as amazing if not more so because all the flavors have had time to meld together.
Have you tried any of my other delectable soups? Easy Hamburger Vegetable Soup, Homemade Pork Stuffed Wonton Vegetable Soup and Easy Chicken Gumbo Soup are just a few family, friend and reader favorites.  This scrumptious Creamy Sausage Gnocchi Soup from Lemon Tree Dwelling is a fellow blogger family favorite.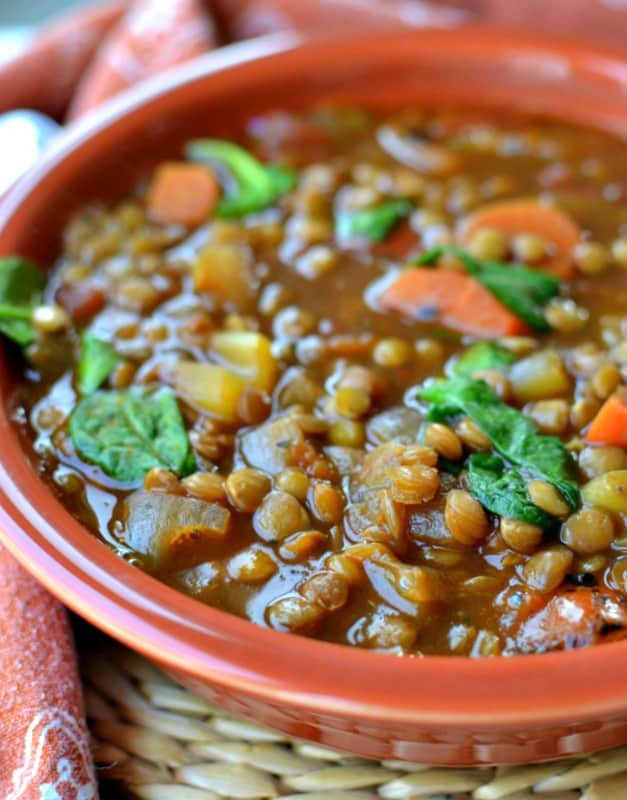 This Easy Lentil Soup is scrumptious, easy and oh so dependable.  If you are soup lovers like we are you need to put the ingredients for this delicious nutritious soup on your grocery list today.
Easy Lentil Soup
Scale
Ingredients
2 tablespoons olive oil
1 onion chopped
2 stalks of celery chopped
2 carrots chopped
2 cloves garlic minced
1 teaspoon dried oregano
1 teaspoon dried basil
1/2 teaspoon onion powder
1 can (14.5 ounce) fire roasted tomatoes
1 can (8 ounce) tomato sauce
4 cups vegetable stock
4 cups low sodium chicken broth
2 cups lentil rinsed and sorted
4 cups baby spinach
Instructions
Heat olive oil in dutch oven or large stockpot over medium heat. Add onion, celery and carrots. Cook until onion begins to soften and brown on the edges 5-7 minutes; stirring once or twice. Reduce heat to low and add garlic, oregano, basil and onion powder; cook for one minute. Add fire roasted tomatoes, tomato sauce, vegetable stock, chicken broth and lentils. Simmer until lentils are soft; approximately 40 minutes.
Right before serving add spinach and cook 1-2 minutes or until wilted.
Notes
For those of you who like a little extra kick add 1/2 teaspoon of Cajun seasoning.
Other recipes you will love!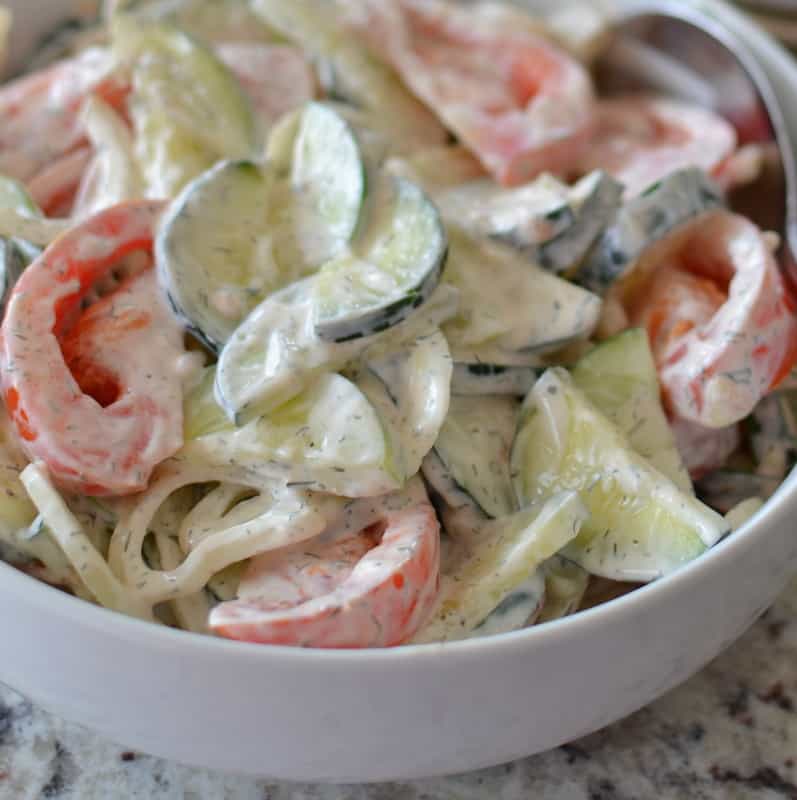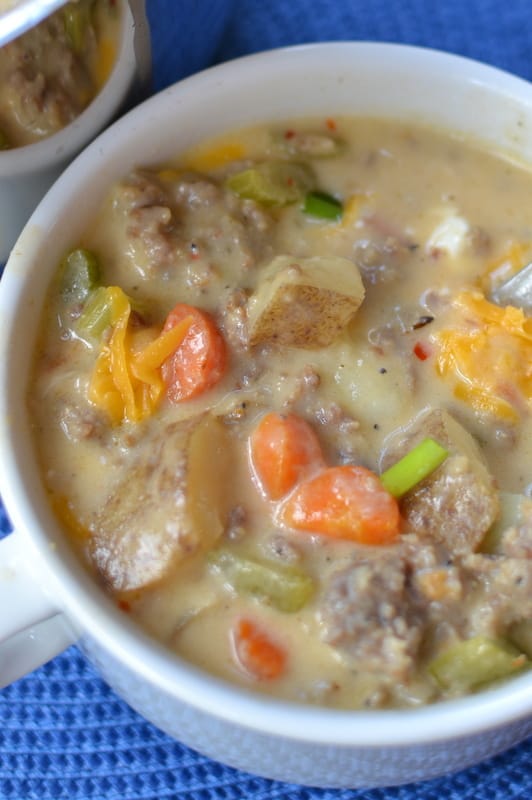 https://www.smalltownwoman.com/wp-content/uploads/2019/05/Beth-1.pdf