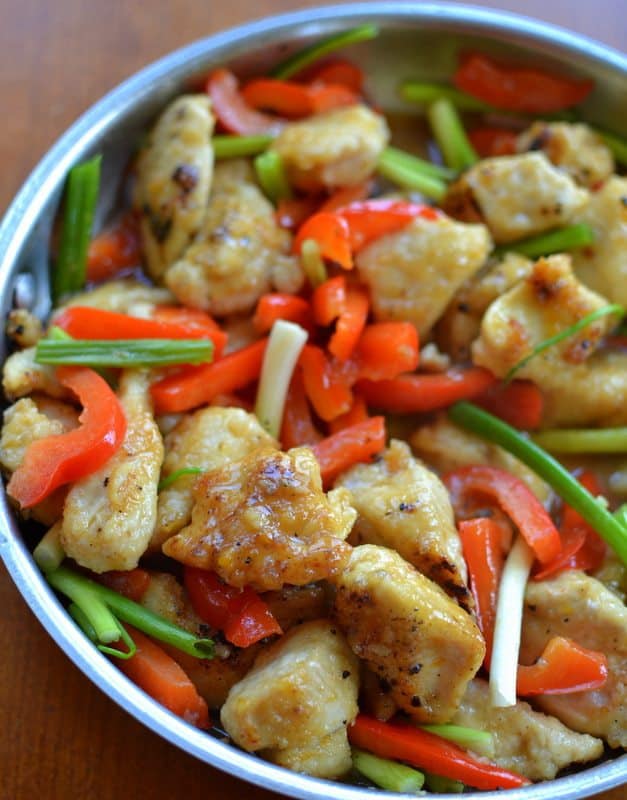 I just love orange chicken! There is just something wonderful about fresh orange sauce over crispy chicken with tender crisp red bell peppers and scallions (aka green onions). You can purchase the frozen orange chicken and some of it is pretty fair. You can purchase jarred orange sauce and some varieties are better than others but nothing equates to making the real McCoy. This way there are no preservatives and ingredients on the label that you can not pronounce much less know what they mean.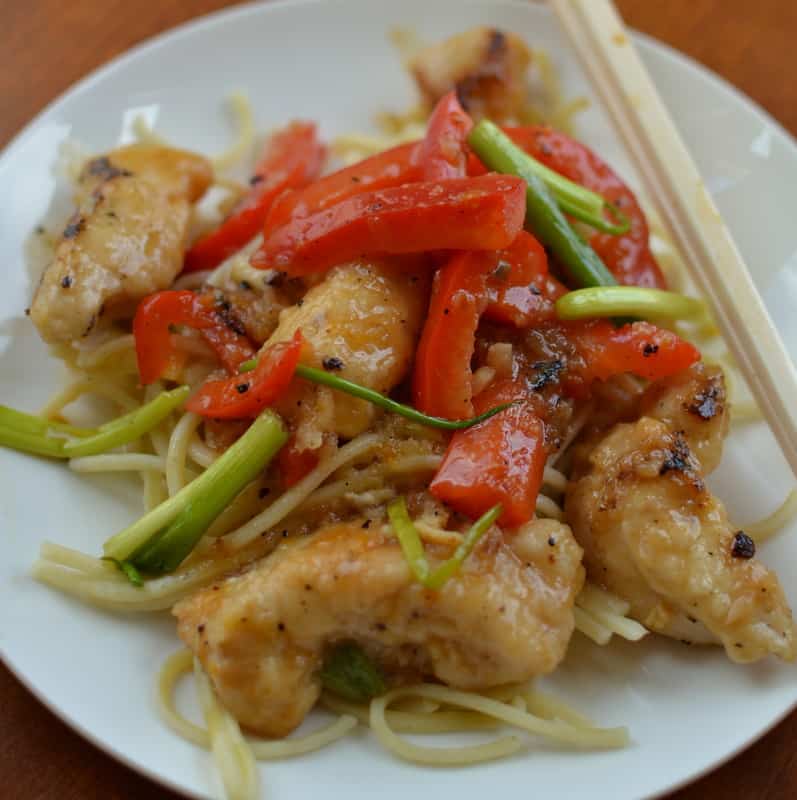 This Easy Orange Chicken and Red Bell Peppers is made in two skillets one for the sauce and for the stir fry.  The yummy orange sauce simmers while you are cooking the rest.  In a hurry cook the sauce ahead of time and store in an airtight container in the fridge and get out when needed and reheat in the microwave.  Presto you have delicious homemade orange sauce and you are ready to complete the rest in about fifteen to twenty minutes.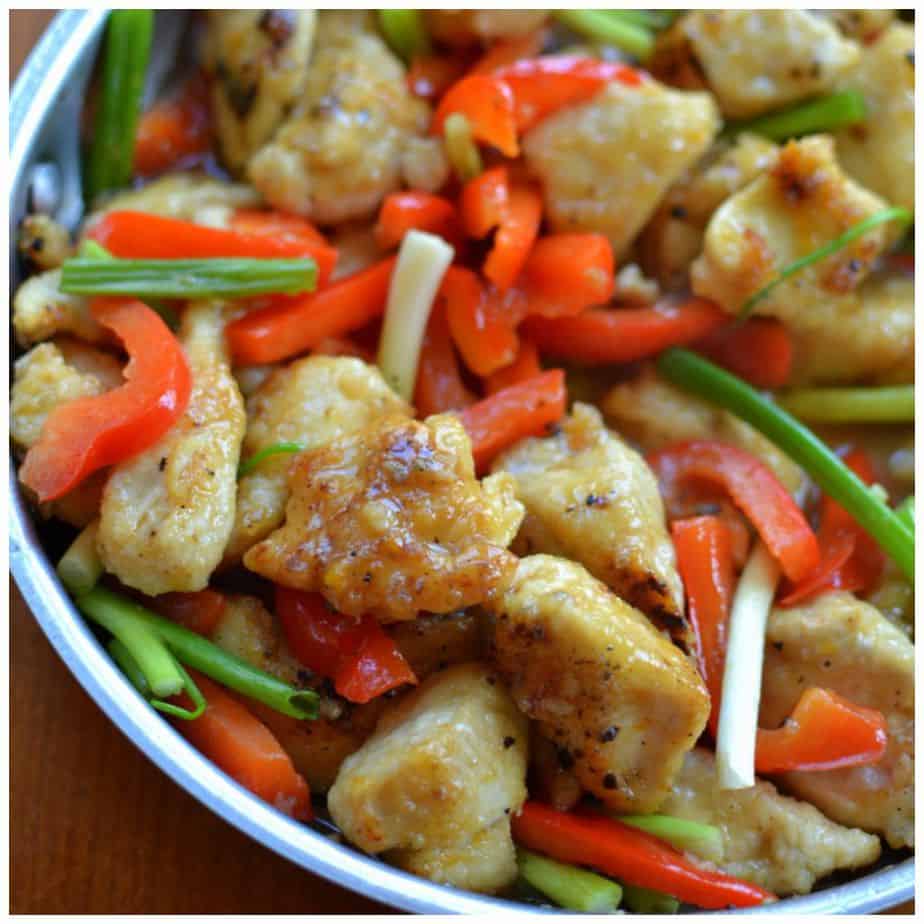 Other Asian recipes you will love!
Print
Easy Orange Chicken and Red Bell Peppers
If you love Chinese food, you'll LOVE this make-at-home recipe for classic Orange Chicken. Crisp peppers and lightly breaded chicken coated with a sweet orange glaze.
Author:
Prep Time: 15 minutes
Cook Time: 15 minutes
Total Time: 30 minutes
Yield: 4 servings 1x
Category: Dinner
Method: Stovetop
Cuisine: Chinese
Orange Sauce
1 teaspoon vegetable oil
1/2 teaspoon sesame oil
2 cloves garlic minced
1 tablespoon fresh ginger or ginger paste
2 tablespoons rice vinegar
2 tablespoons soy sauce
1 cup orange juice
1/2 cup apricot jam
1–2 teaspoons sambal oelek
Chicken & Peppers
1 1/4 lbs chicken breasts cut into bite size pieces
1/3 cup cornstarch
2 tablespoons vegetable oil
1 teaspoon sesame oil
1 red pepper cut julienne
6–8 scallions cut in in one inch strips
Instructions
In small skillet over low heat 1 teaspoon vegetable oil and 1/2 sesame oil. Add garlic and ginger and cook for 90 seconds stirring constantly to make sure it does not burn. Add rice vinegar and soy sauce and simmer for 1 minute. Add orange juice and whisk in apricot jam. Add 1-2 teaspoons sambal oelek to taste (see notes). Simmer sauce while you prepare the rest of the dish.
In large Ziploc bag combine chicken and 1/3 cup cornstarch. Shake until coated. Heat 1 tablespoon vegetable oil and sesame oil in large skillet over medium high heat. Add chicken; shaking any access cornstarch off the chicken. Work in small batches so you are not overcrowding the pan. Cook until nicely browned on all sides; about 4-7 minutes. Reduce heat if needed so chicken does not over brown or stick to the pan. Remove chicken to plate and place uncovered in 200 degree oven to keep crisp.
Add remaining tablespoon of vegetable oil to skillet over medium high heat. Add red peppers and cook until crisp tender 1-2 minutes. Add chicken back to the pan. Add sauce to the pan. Stir in scallions.
Serve over rice or stir fry noodles.
Notes
Sambel Oelek is ground fresh chili paste found in the Asian section of your grocery store. Refrigerate to keep fresh for 6-9 months.
The variation in cooking time on the chicken depends on the skillet. My nonstick skillets cook the chicken faster, crispier but they have a tendency to stick a little. A tad more oil can be added to help with this.
If you want a thicker sauce mix 1/2 tablespoon cornstarch with a tablespoon orange juice. Whisk into the sauce after about 10 minutes of simmering.
Keywords: orange chicken, orange chicken and peppers, red bell peppers, make at home chinese recipe, homemade orange chicken recipe
On the hunt for more delicious recipes?  Follow Small Town Woman on Facebook, Pinterest, and Instagram.
https://www.smalltownwoman.com/wp-content/uploads/2019/05/Beth-1.pdf