Easy Overnight French Toast Casserole is perfect for holidays, weekends and busy families that have no time to spare in the morning.  The leftovers heat up wonderfully in the microwave.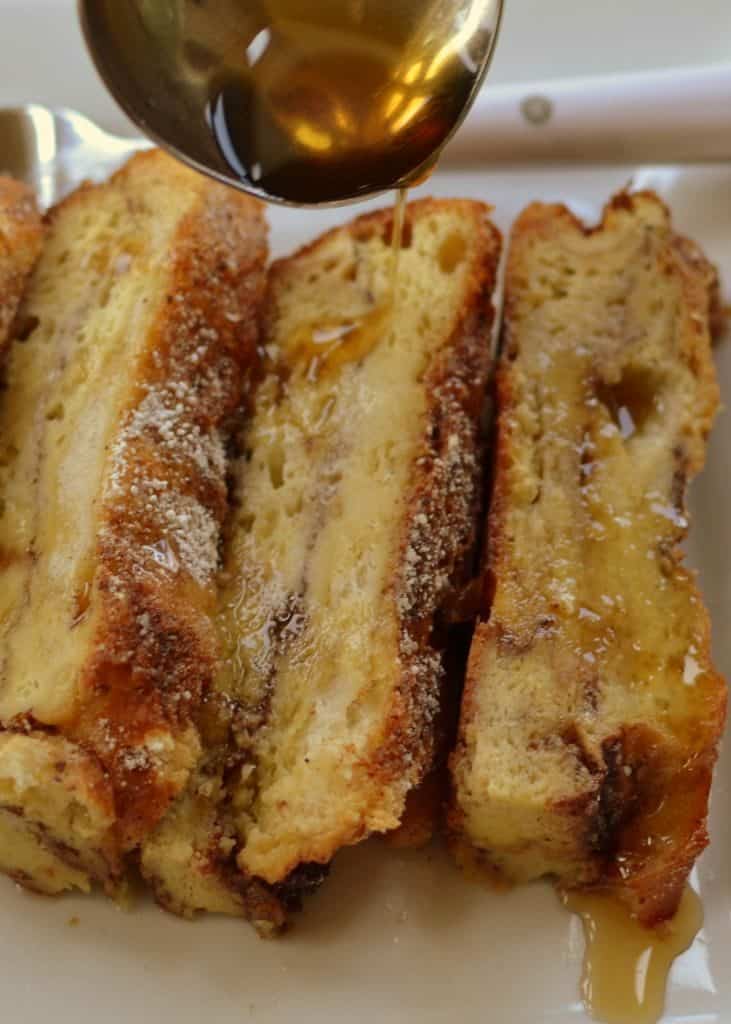 This Easy Overnight French Toast Casserole is delicious enough for company but easy enough for just your family.  You will need one big fat loaf of French bread.  I am not sure that it is really representative of the true French Bread but it works for this recipe.  You will also will need a little time in the evening to prep it.  After that it is a piece of cake or in this case a French toast casserole.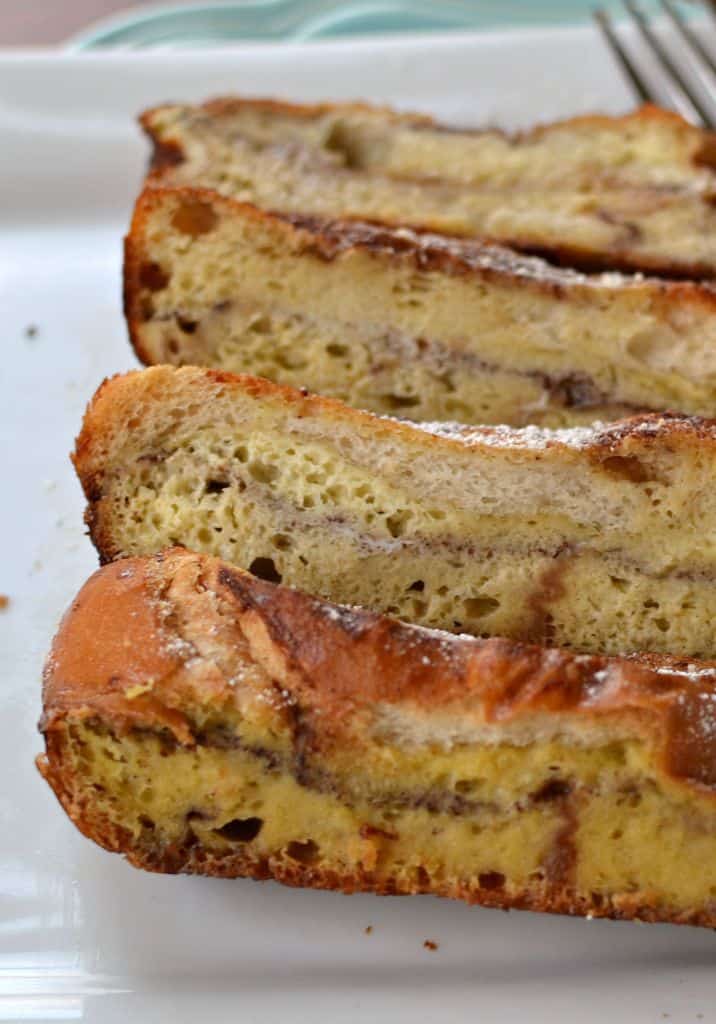 This Easy Overnight French Toast Casserole will feed a hungry crowd.  It combines soft French bread, brown sugar, butter, eggs, maple syrup and cinnamon into the most luscious scrumptious treat known to man.  It bakes for about 1 hour so you go get your walk in or start a load of laundry.
One of the earliest versions of French toast has been traced back to the Roman Empire.  The Roman Empire did not believe in wasting anything so the stale bread was soaked in eggs & milk and then fried hereby creating what we call nowadays French Toast. The British call it  "eggy bread" or "french-fried bread." And sometimes they serve it with ketchup.  I am sorry if you are British but that is just disgusting.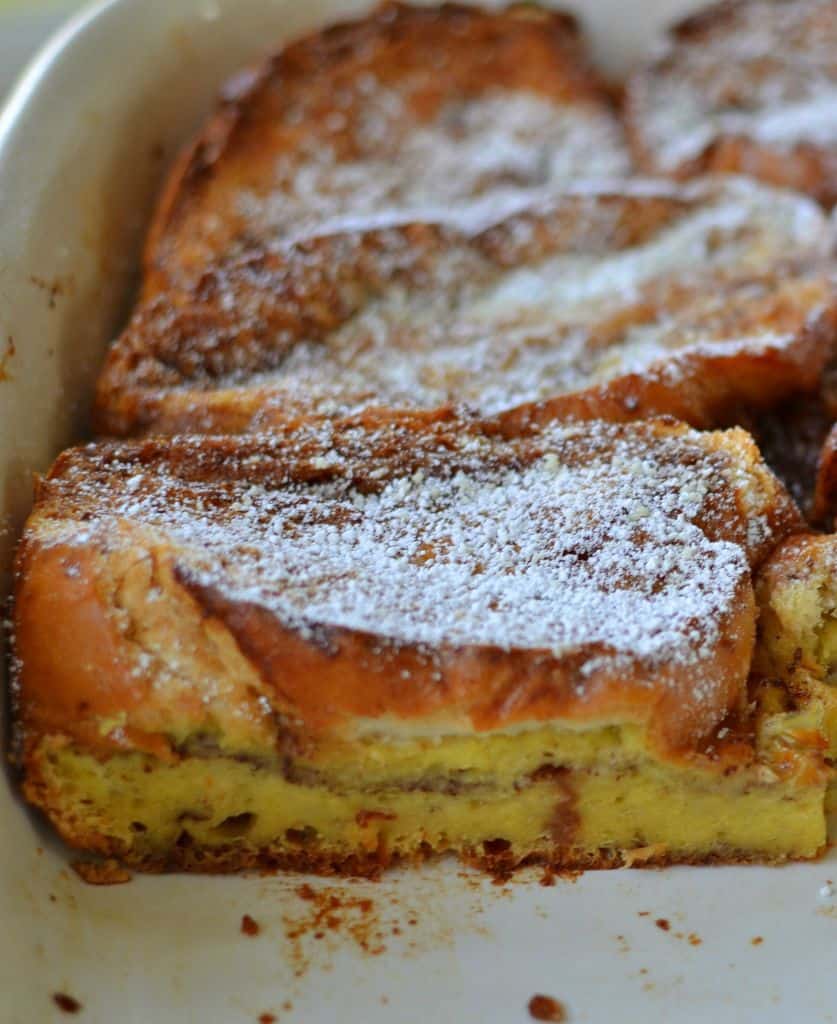 No ketchup around here for your French Toast.  Just powdered sugar and warm maple syrup.  Put this Easy Overnight French Toast Casserole on your list for the holidays, or for your birthday or Valentines Day.  Whatever works! Just do it because it is just that good.
Other delicious on the go breakfasts!
Print
Easy Overnight French Toast Casserole
This french toast casserole is so easy to prepare ahead of time and pop in the oven for a deliciously sweet family brunch!
Author:
Prep Time: 15 minutes
Cook Time: 65 minutes
Total Time: 1 hour 20 minutes
Yield: 6 servings 1x
Category: Breakfast
Method: Oven
Cuisine: American
4 tablespoons butter
1/3 cup brown sugar
10 eggs
1 1/2 cups half n half
1 teaspoon cinnamon
2 tablespoons maple syrup
1 teaspoon vanilla
3 tablespoons butter
2 tablespoons brown sugar
1 tablespoon cinnamon
1 tablespoon maple syrup
1 large fat round loaf French Bread (sliced in 1 inch wide slices)
Optional
Powdered Sugar
Maple Syrup
Instructions
In 9 x 13 casserole melt 4 tablespoons butter. Stir in 1/3 cup brown sugar.
In large bowl mix eggs, half n half, 1 teaspoon cinnamon, 2 tablespoons maple syrup and vanilla.
In small microwavable bowl melt 3 tablespoons butter. Stir in 2 tablespoons brown sugar, 1 tablespoon cinnamon and 1 tablespoon maple syrup.
Arrange 1/2 of the bread slices in casserole dish in single layer over butter/brown sugar mixture. Pour 1/2 of the egg mixture slowly over the bread slices; using a spoon to work it into the bread. Using the same spoon spread 1/2 of the butter/brown sugar paste over the bread. Top with remaining french bread slices, pour remaining egg mixture over slowly over the bread slices; using a spoon to work it into the bread. Spread with the remaining butter/brown sugar paste.
Cover with plastic wrap and leave in refrigerator overnight.
Remove from refrigerator 30 minutes prior to cooking. Bake covered at 350 degrees for 30 minutes. Remove cover and bake for 30-35 minutes or until the top is golden brown.
Allow to set 10-15 minutes before slicing.
Notes
Please make sure the bread is saturated all the way to the top by either making sure the egg mixture comes up over the top, working it in with a spoon or pressing the bread down. If needed you may add more eggs to the mixture.
Keywords: french toast casserole, overnight french toast casserole, french toast
On the hunt for more delicious recipes?  Follow Small Town Woman on Facebook, Pinterest, and Instagram.
https://www.smalltownwoman.com/wp-content/uploads/2019/05/Beth-1.pdf