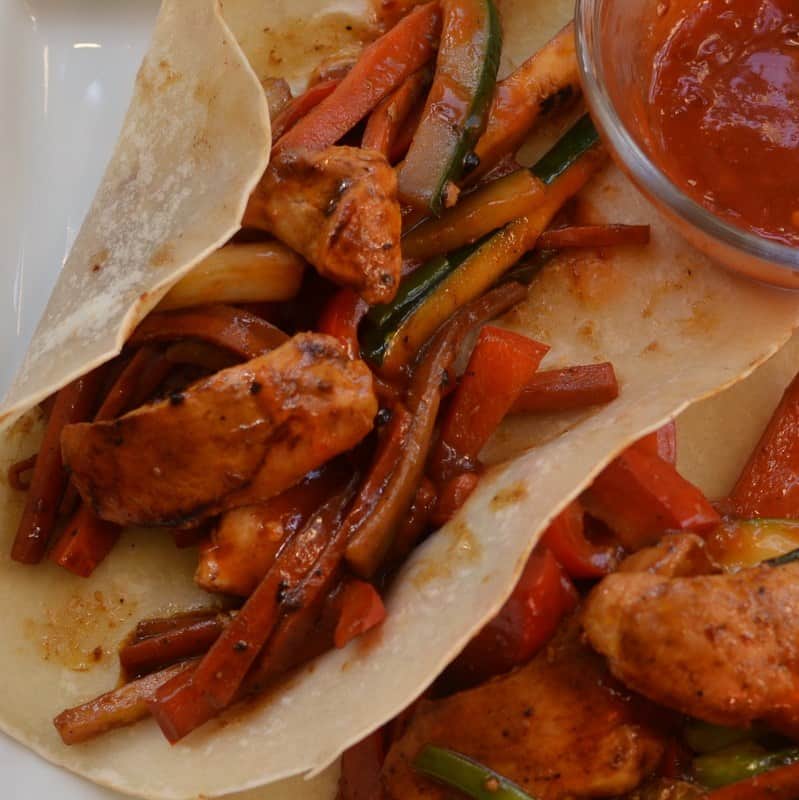 Today we set out to make a new recipe and video. It is always like a zoo when we do this. My daughter helps with set up, cameras and video. It always leads to a few snippy remarks between my daughter and I. The camera's need to be set up just right and the scenes always have to be broken down and set up again. A whole lot goes into shooting video and my daughter gets side tracked very easily.
Anyway despite all the chaos in the kitchen our Easy Skillet Thai Chicken Wraps turned out pretty doggone good. They are so incredibly tasty, easy and relatively healthy. I love chicken! It has got to be the most versatile meat on the face of the earth. Have you tried any of my other chicken recipes? Easy Pan Fried Chicken and Cream Gravy, Easy Creamy Chicken Mushroom Asparagus Skillet and One Skillet Savory Chicken and Orzo are just a few of my favorites.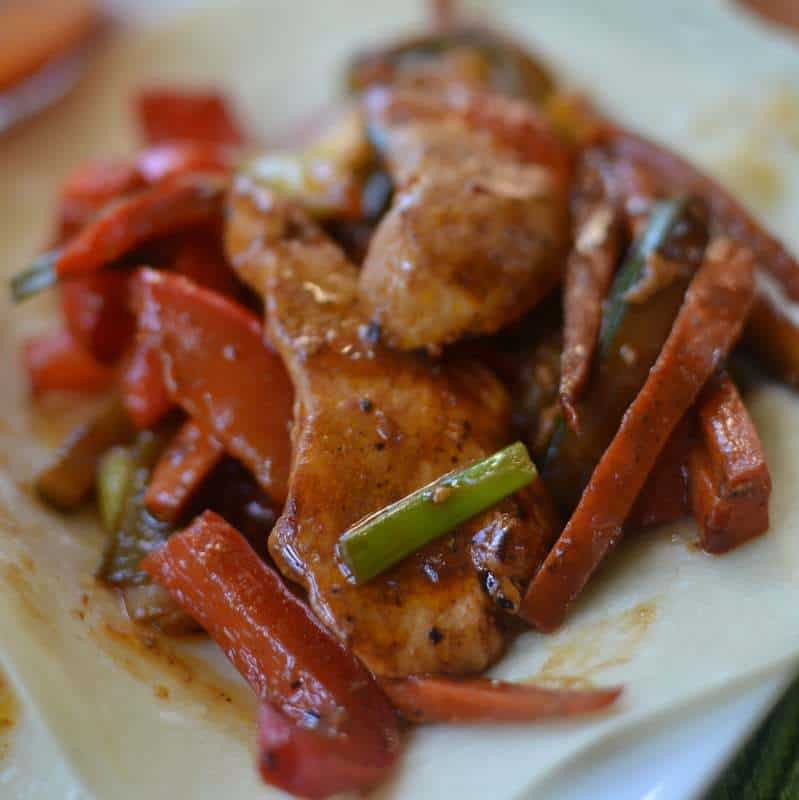 These Easy Skillet Thai Chicken Wraps combine chicken strips, red bell pepper, carrots, zucchini and scallions stir fried in a tasty Thai chili sauce and wrapped in warm tortillas. Folks life does not get much better than this. It is a deliciously filling meal that is easy enough to prepare during the week. You can even prepare the sauce ahead of time and reheat when needed. I would make a double batch because the sauce is good with so many things like potstickers, egg rolls and even grilled chicken. You are going to love it.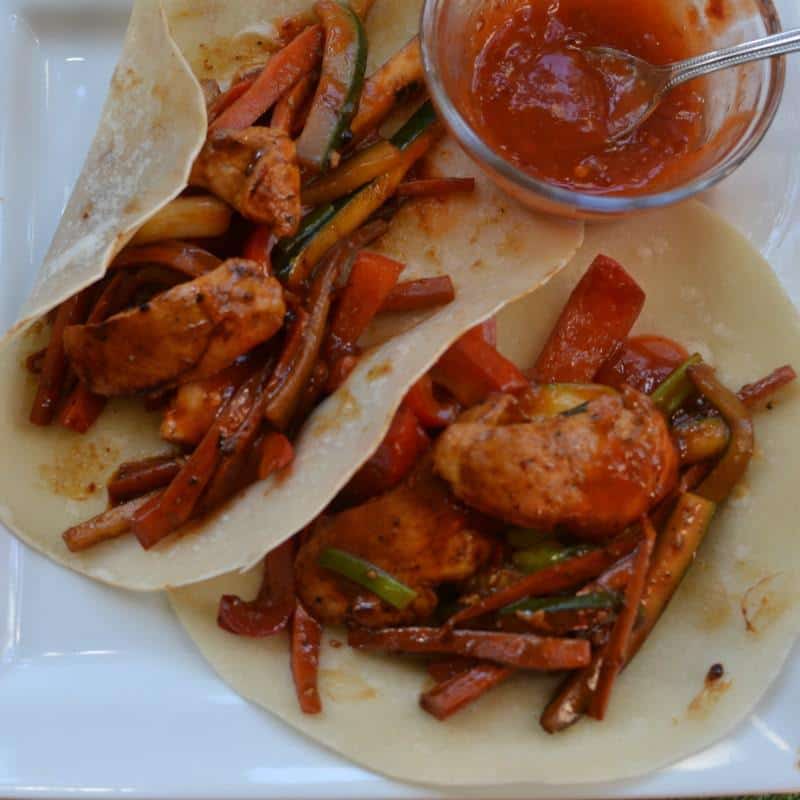 Easy Skillet Thai Chicken Wraps are fabulously tasty and relatively low carb. You can even purchase low carb wraps. They have some pretty tasty and healthy ones available at the store. Your family is going to love them and they will be singing your praises in short order.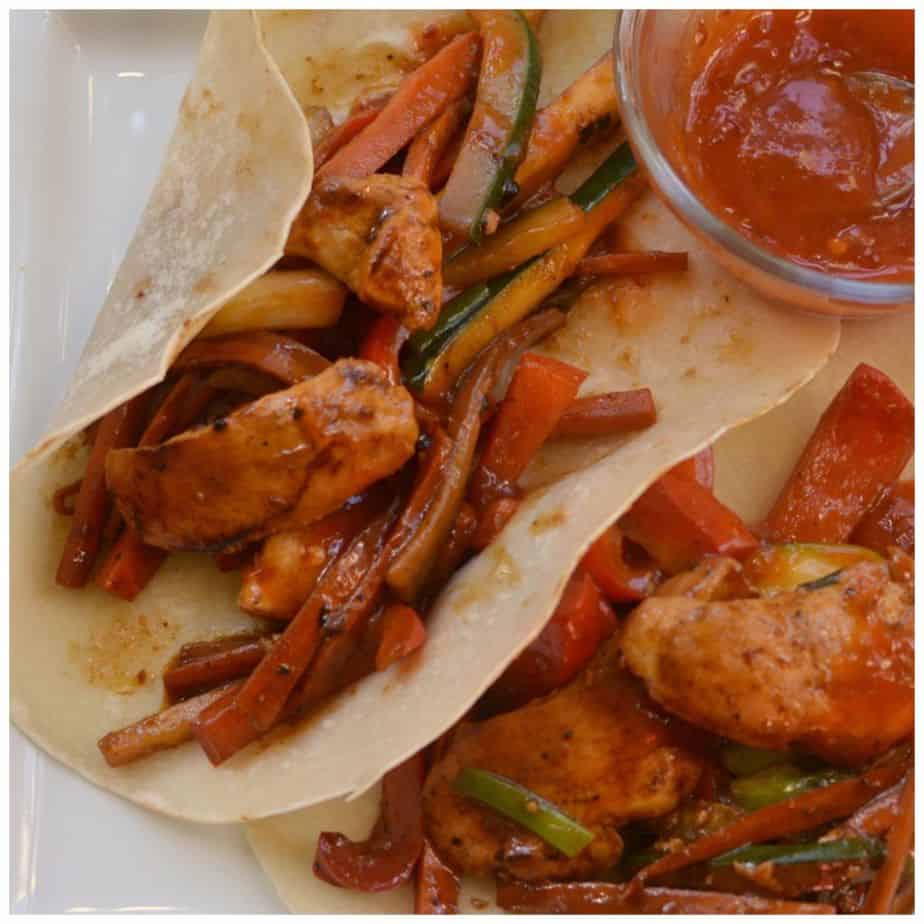 Easy Skillet Thai Chicken Wraps
Ingredients
1/2 cup rice vinegar
1/2 cup water
1 tablespoon fresh ginger or ginger paste
2 tablespoons chili paste
2 tablespoon ketchup
3 tablespoons honey
1 tablespoon water
1 tablespoon cornstarch
2 tablespoons olive oil
1 1/4 lbs chicken cut into bite size strips
1 large carrot cut into matchsticks
2 small zucchini cut into matchsticks
1 red pepper cut julienne
4 scallions chopped
8 (8 inch) flour tortillas
Instructions
In skillet whisk together rice vinegar, water, ginger, chili paste, ketchup and honey. Simmer for 10-15 minutes. Combine water and cornstarch and slowly whisk into the sauce. Simmer until slightly thickened approximately 2-3 minutes; whisking frequently. Remove to bowl; do not clean pan.
Heat 1 tablespoon olive oil in skillet over medium high heat. Add chicken and cook until starting to brown; turning to brown on all sides. Add 2 tablespoons of the Thai sauce and continue cooking for another 2 minutes or until chicken is cooked through. Remove chicken from pan and plate.
Heat 1 tablespoon olive oil over medium heat. Add carrots and cook for 2 minutes, add zucchini, red pepper and scallions and cook for 2-3 more minutes. Add chicken back to skillet with vegetables and stir to warm. Split chicken/vegetable mixture between the tortillas and drizzle with the sauce.
https://www.smalltownwoman.com/easy-skillet-thai-chicken-wraps/
Other recipes you will love!!