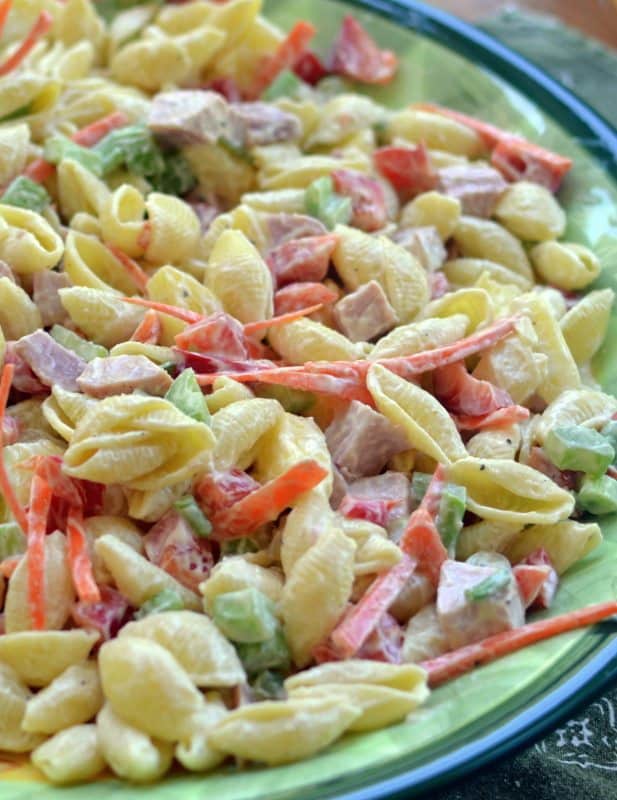 This spring and summer are turning out to be just beautiful.  Yesterday we went out on our fishing boat.  The weather was more like October than June but who is going to complain about that?  The temperature was about 80 degrees and the breeze that was blowing made it feel like it was in the 70's. It was just so beautiful and so needed.  For those of you who don't know anyone that blogs, blogging is a very busy and time consuming career. Most of us never take a day off.  We can't because there is just so much to do and we have to maintain a constant presence on social media, create new recipes, write up blog posts and make new videos.  Don't get me wrong I am not complaining as I love what I do even if I am the first one up and the last one to go to sleep. However an occasional trip up to river for a little rest and relaxation is like a piece of heaven.
 Easy Sweet Hawaiian Pasta Salad brings ham, pineapple, green onions, red bell pepper and carrots together in a lightly sweetened creamy base of mayo and Greek yogurt.  It is a perfect lunch or light dinner.  It can be prepared ahead of time and is even perfect for a patio or pool party.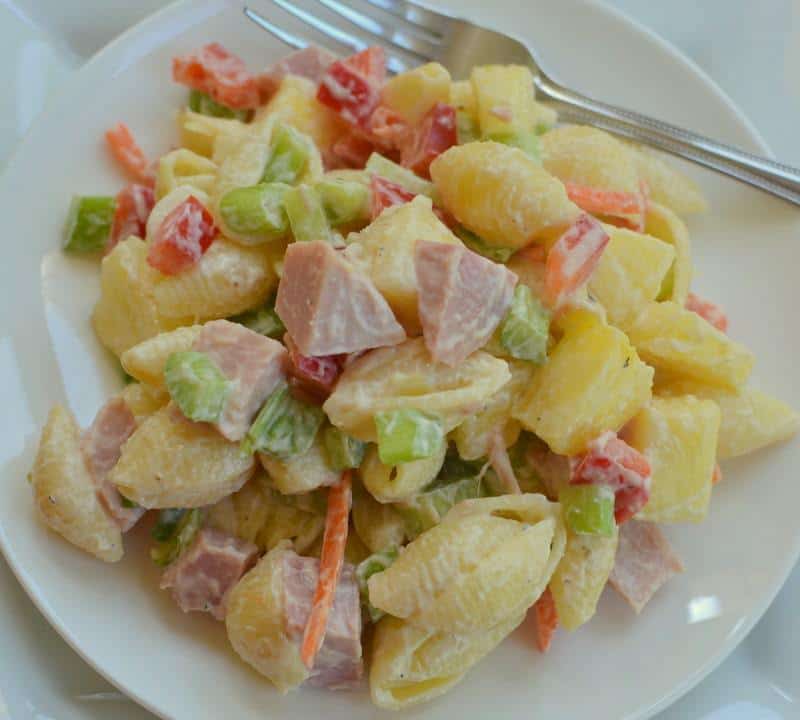 This delectable Easy Sweet Hawaiian Pasta Salad is loved by many of multiple generations so fix a batch up for the family for a light supper this evening.  They will be singing you praises.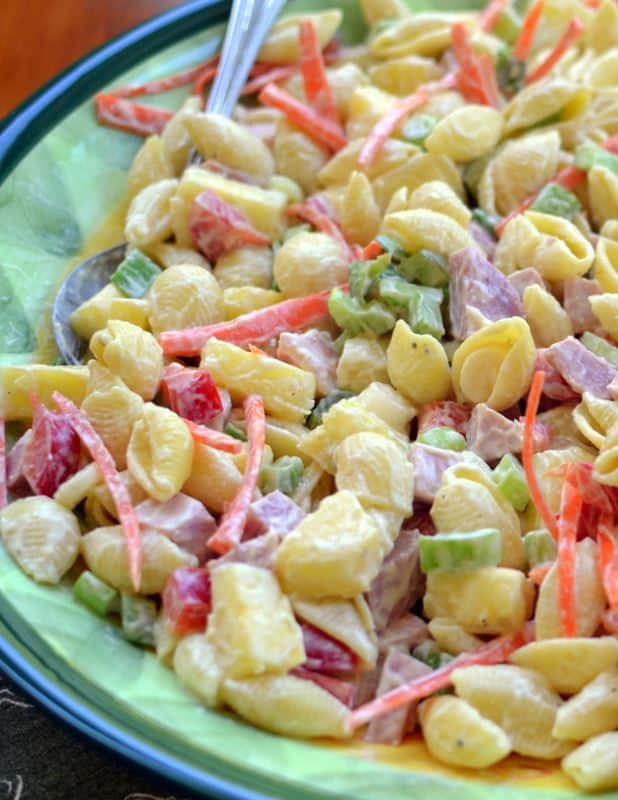 More pasta salads you will love!
Print
Easy Sweet Hawaiian Pasta Salad
8 ounces uncooked shell pasta
1/4 cup Greek yogurt
1/2 cup mayonnaise
1 tablespoon Dijon mustard
1/3 cup fresh pineapple juice
1 tablespoon cider vinegar
1/2 teaspoon onion powder
1/2 teaspoon garlic powder
1 tablespoon honey
2 cups honey ham cubes
1 red bell pepper finely chopped
3 green onions chopped
2 cups fresh pineapple bites
2 celery stalks chopped
1 carrot cut in matchsticks
Salt & Pepper to taste
Optional: 1/4 teaspoon red pepper flakes
Instructions
Cook pasta according to package instructions. Drain well.
In medium bowl whisk together Greek yogurt, mayo, Dijon mustard, pineapple juice. cider vinegar, onion powder, garlic powder and honey.
In large bowl combine ham, red pepper, onions, pineapple, celery and carrots. Add the Greek yogurt/mayo mixture and stir to coat. Add salt & pepper to taste.
Notes
This is absolutely delicious with crushed red pepper for those who like a little heat.
https://www.smalltownwoman.com/wp-content/uploads/2019/05/Beth-1.pdf