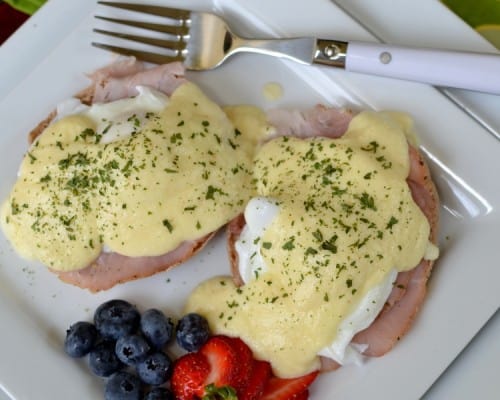 Breakfast is my favorite meal of the day. It is even better on holiday weekends when you have just a tad more time.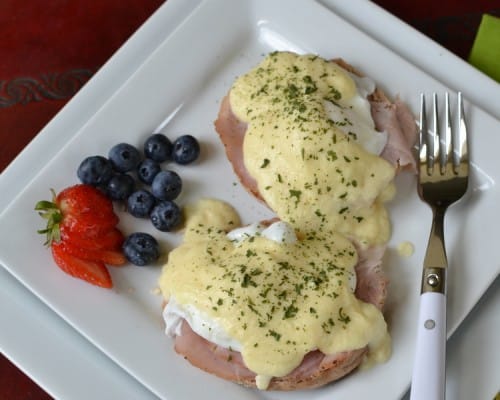 This recipe is so simple. You can whip it up real fast. That gives you plenty of time for arguing with kids about home work and chores.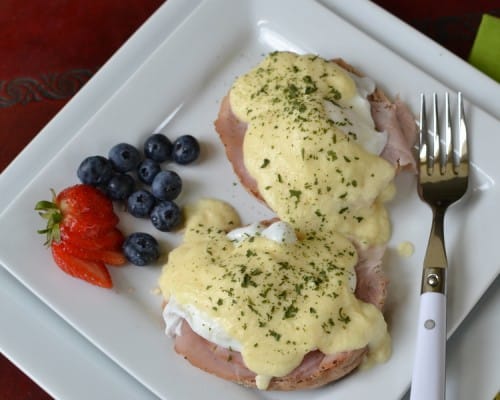 Well stop hanging with me and go create a bon appetit!
Print
Eggs Benedict
Scale
Ingredients
5 eggs
3/4 cup buttermilk
2 teaspoons cornstarch
Pinch of cayenne pepper
1 tablespoon butter
1 tablespoon lemon juice
2 English muffins
4 pieces lean ham or Canadian bacon
Dried Parsley
1 tablespoon vinegar
Instructions
Fill medium sized pot with water and place on stove to boil. Add vinegar to water.
Mix 1 egg, buttermilk, cornstarch and cayenne pepper in medium saucepan. Cook on low until thickened, mixing frequently with whisk. Turn off heat and add butter & lemon juice. Mix with whisk, cover and keep warm.
Add one egg to a small cup and gently add to the slightly boiling water. Repeat and add one more egg. Cook 3-5 minutes and gently remove with a slotted spoon. Remove to paper towels. Cook the other two eggs repeating the same procedure.
Toast English muffins, add the ham, top with poached eggs, spoon on the buttermilk mixture and a sprinkle of dried parsley.
https://www.smalltownwoman.com/wp-content/uploads/2019/05/Beth-1.pdf