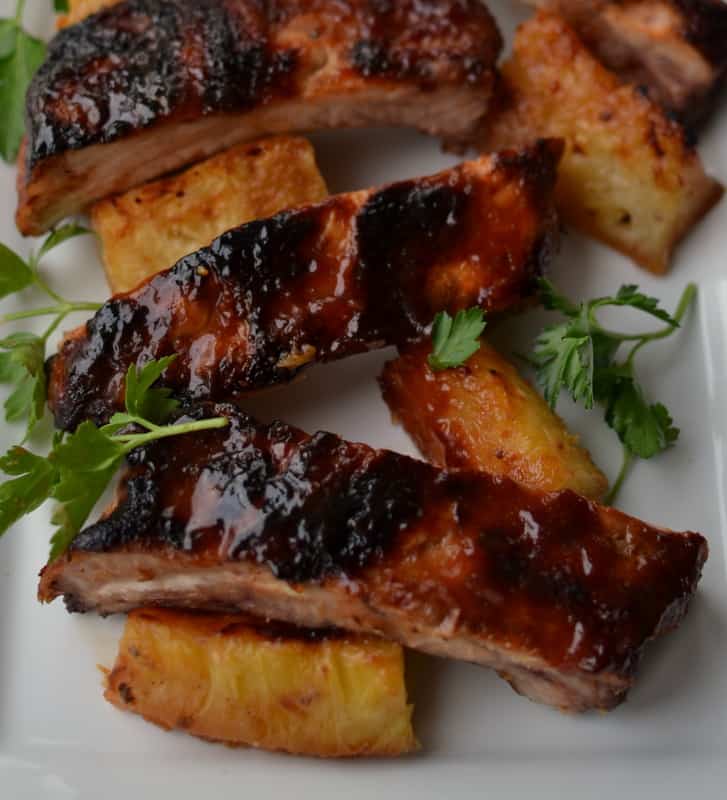 Do you like pork ribs?  I grew up in a family where ribs were the celebration food.  Mom would make sure that we had just what we wanted for our birthday dinner.  The choice for most of my siblings and I was barbecued ribs and believe it our not the side we wanted with it was beef ravioli.  I know you are thinking what a weird combo but that is what we liked and Mom would happily oblige.  These Finger Licking Good Huli Huli Ribs are a step up from the ribs that Mom used to fix.  Mom would either brush on Open Pit or Mauls barbecue sauce.  They were still delicious as Mom cooked them slowly over indirect heat until they would just fall off the bone.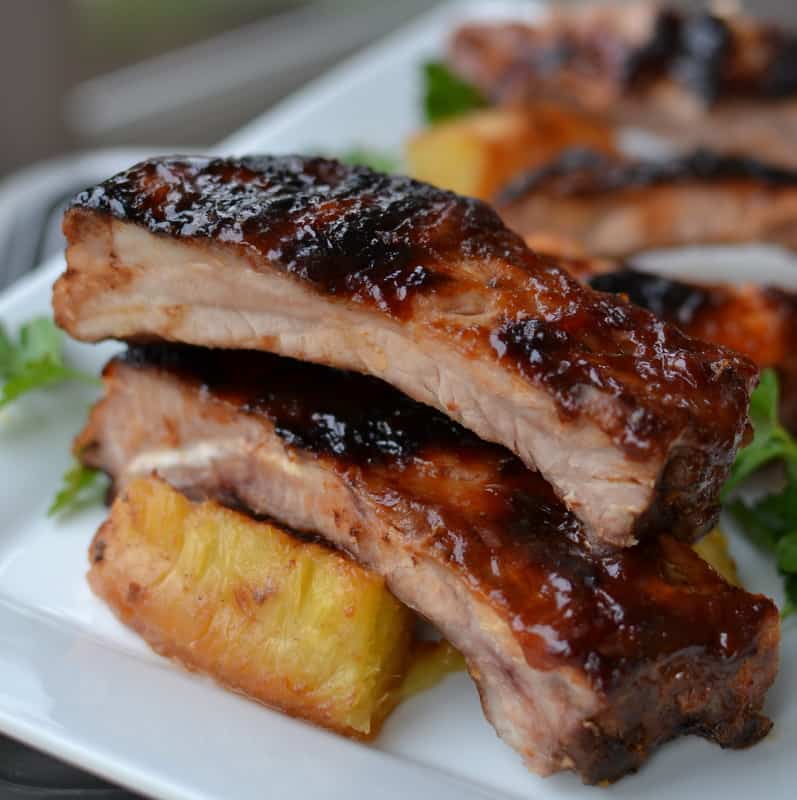 These Finger Licking Good Huli Huli Ribs are marinated and basted with a sweet pineapple ginger soy sauce.  The fabulous glaze is great on grilled chicken, pork and even fish.  Huli Huli orignated in Hawaii as a chicken dish.  Huli is the Hawaiian word for turn which you are going to do as you baste your ribs.  Have you tried any of my other rib recipes?  Balsamic Vinegar Barbecue Pork Ribs, Dry Rub Baked Ribs and Chinese Five Spice Ribs are all fabulous.  These Oven Barbecued Ribs from Spend with Pennies are a fellow blogger family favorite.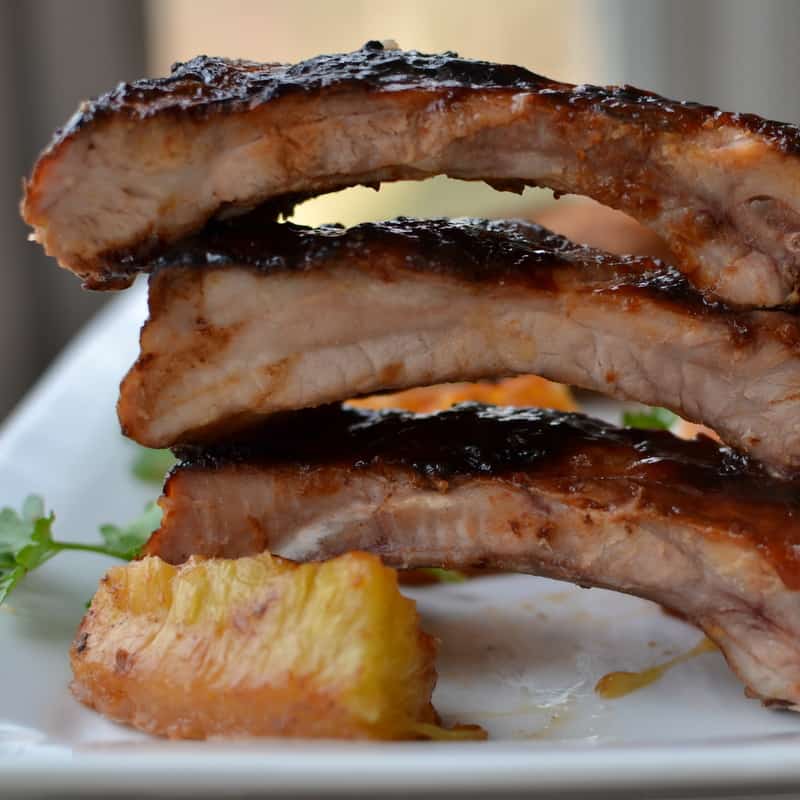 So if you are a rib fan and love lip smacking glazed slow cooked fall off the bone meats then these  Finger Licking Good Huli Huli Ribs are perfect for you and your loved ones.  If you like your ribs pretty lean spend a little extra and get Baby Back Ribs!

Print
Finger Licking Good Huli Huli Ribs
Scale
Ingredients
1 full slab pork ribs thin membrane removed
1/2 cup ketchup
1/2 cup soy sauce
1 cup pineapple juice
1/2 brown sugar
1 tablespoon ginger or ginger paste
2 cloves garlic crushed
1 fresh pineapple chunked
Instructions
In medium saucepan whisk together ketchup, soy sauce, pineapple juice, brown sugar, ginger and garlic. Cut the slab in half. Pour 1/2 of the mixture in a large Ziploc bag and add the split slab. Reserve the remainder of the sauce for basting. Place the Ziploc Bag in the refrigerator to marinate for 2 hours. Turn every 1/2 hour to ensure that all the ribs get marinated.
Preheat grill to 225 degrees. Cook ribs over indirect heat for 2-3 hours. Baste, flip and rotate the slab every 20-30 minutes.
Place the pineapple over the direct heat. Grill pineapple for 2 to 3 minutes per side, or until heated through and grill marks appear.
Other amazing grilled recipes you will love!!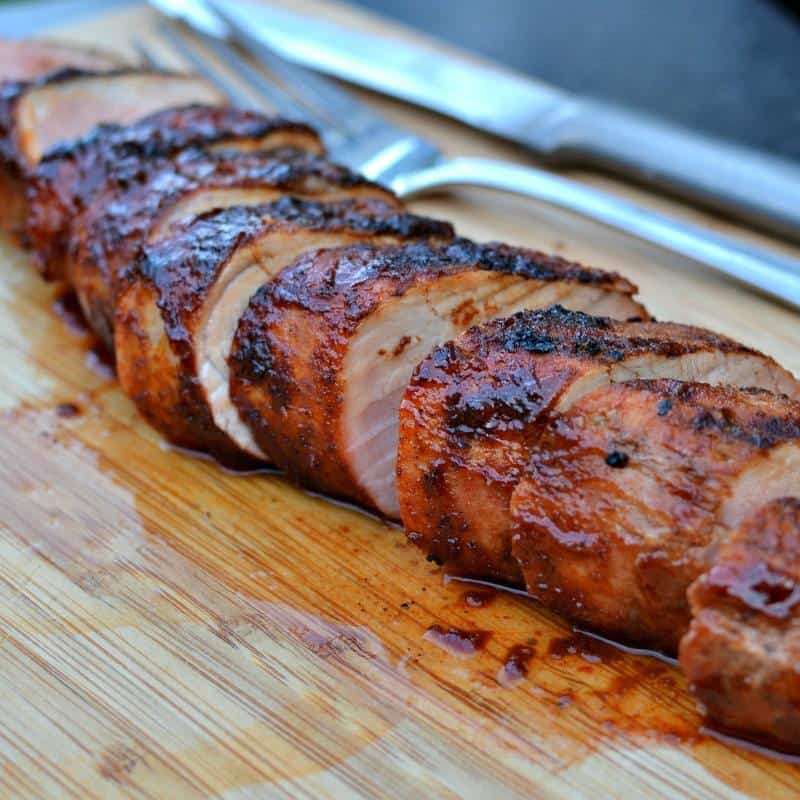 Dry Rub Sweet Barbecue Pork Tenderloin