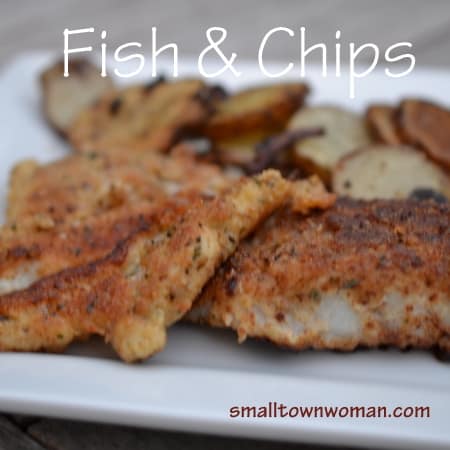 Do you like fish? Do you like cod? I have been reading up on how much better fresh water fish is for us than farm raised fish. Costco carries both kinds so I have been trying to purchase the fresh water fish. This particular time around I purchased cod.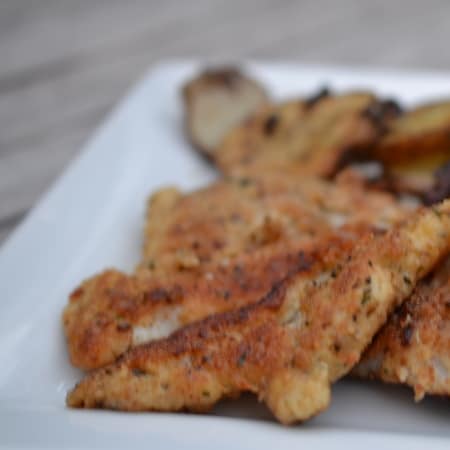 It is really quite delicious without doing a whole lot of fancy things to it.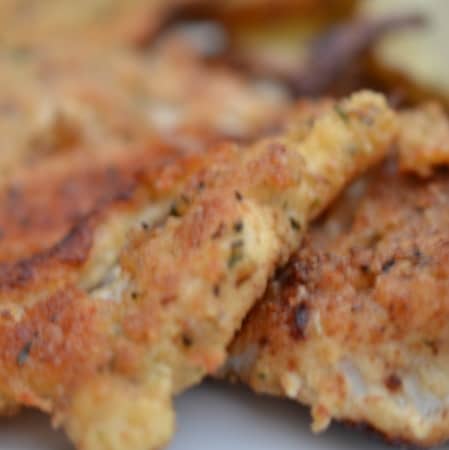 It really goes back to that old philosophy to keep it simple and it will be great!
Print
Fish & Chips
Scale
Ingredients
2 large pieces of fresh water cod cut in half
1 1/4 cups breadcrumbs
1 teaspoon dried basil
1 teaspoon dried oregano
1 tablespoon parsley
2 tablespoons parmesan cheese
1 large egg plus 1 egg white
Olive oil and Sesame Oil
Salt & Pepper
2 large potatoes sliced
I onion diced
1/2 teaspoon basil
1/2 teaspoon oregano
1/2 teaspoon garlic powder
1/2 teaspoon onion powder
2 tablespoons olive oil
Salt & Pepper
Instructions
Place the potatoes in a large plastic ziploc bag. Add the 2 tablespoons olive oil, 1/2 teaspoon basil, 1/2 teaspoon oregano, 1/2 teaspoon garlic powder and 1/2 teaspoon onion powder. Shake to combine all ingredients and to get the potatoes coated. Preheat your skillet. Place in skillet on medium high heat. Turn after every seven minutes or so. Add the onions after 10 minutes. Check to see if potatoes are done after 20-25 minutes. Season with salt & pepper to taste.
Combine the breadcrumbs, 1 teaspoon dried basil, 1 teaspoon dried oregano, 1 tablespoon parsley and 2 tablespoons parmesan cheese in shallow bowl or plate. Mix the egg and egg white in a wide bowl. Dip a piece of fish in the egg and then in the breadcrumb mixture then back in the egg mixture and in the breadcrumb mixture again. Repeat until all the fish is coated. Heat a tablespoon of olive oil and 1 teaspoon sesame oil in a large saute pan. Cook the fish for four minutes on each side on medium heat. Season with salt & pepper to taste.
https://www.smalltownwoman.com/wp-content/uploads/2019/05/Beth-1.pdf