Grandma's Pickled Eggs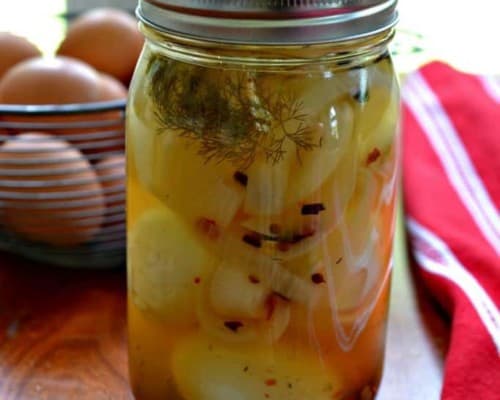 Calling all pickle lovers!  Grandma's Pickled Eggs are a cinch to make. Simply heat the liquid mixture, pour over hard boiled eggs, cover and refrigerate.
Scale
Ingredients
12

large eggs hard boiled and peeled

2 cups

white vinegar

1 cup

rice vinegar

1 cup

water

2 tablespoons

pickling spices

1 teaspoon

dill seed

1 teaspoon

coarse salt

10

black peppercorns

1

sweet onion thinly sliced

3

sprigs fresh dill

2

garlic cloves
Place the peeled eggs in mason jars or tall cover-able container.
Add both vinegars, water, pickling spices, dill seed, salt, black peppercorns and onions in a sauce pan and bring to a low boil. Simmer for 5 minutes. Pour the hot liquid over the eggs.
Put the garlic and dill sprigs in the jar with the eggs.  Close the jars, cool to room temperature, refrigerate for 3-4 days.
Notes
Follow my tips for hard boiling eggs with the most important tip being purchasing eggs that are close to expiration.
For whiter eggs remove most of the cloves from the pickling spice.
Pickled eggs are best after several days however I have enjoyed them after twenty four hours.
Keep pickled eggs refrigerated at all times.
Enjoy the pickled onions in the jar as well.  They are delicious.
Keywords: how to make pickled eggs, how to pickle eggs, spicy pickled eggs