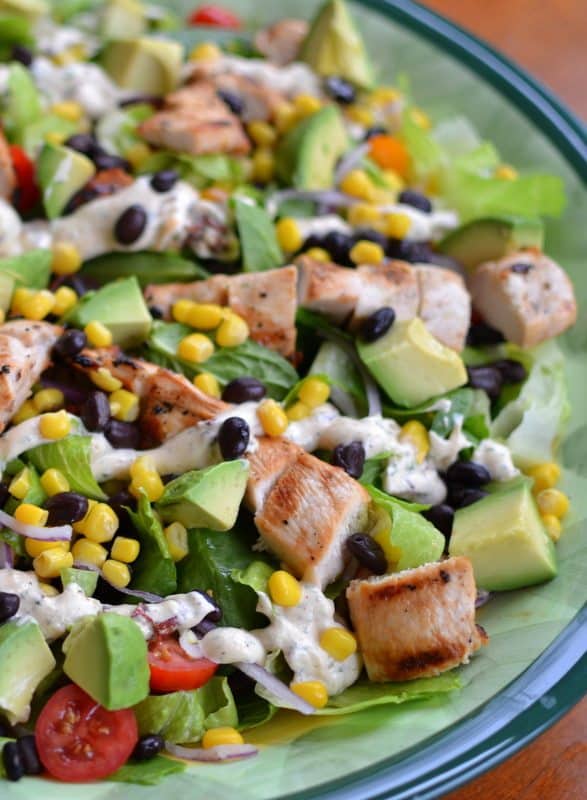 Sometimes life calls for a good healthy salad full of fantastic flavors that tantalize every one of your taste buds!! This Grilled Chicken Southwest Chopped Salad is one of those salads. The new year is full of new beginnings and a healthier refreshed style of eating and living!! After all those cookies and candies perhaps we need to re-energize and refuel or bodies with good nutrition that can keep us going for hours and hours. This tasty combo provides fiber, protein, plenty of vitamins, minerals and even good fat.
Your body needs fat for energy and to support cell growth. Fats also help protect your organs and help keep your body warm. Fats help you absorb some nutrients and produce important hormones!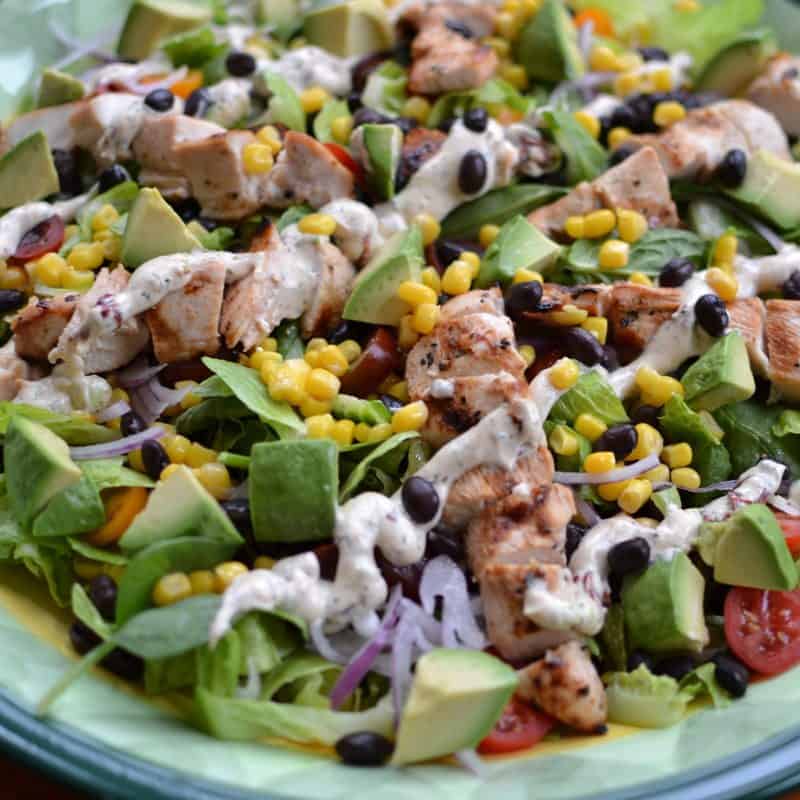 This beautiful Grilled Chicken Southwest Chopped Salad is loaded full of protein and veggies. It combines chicken, romaine and spinach, black beans, tomatoes, corn, avocado and chipotle ranch into a flavor packed treat that your body can appreciate. Way more bang than an order of French fries, considerably more nutrients and less fat!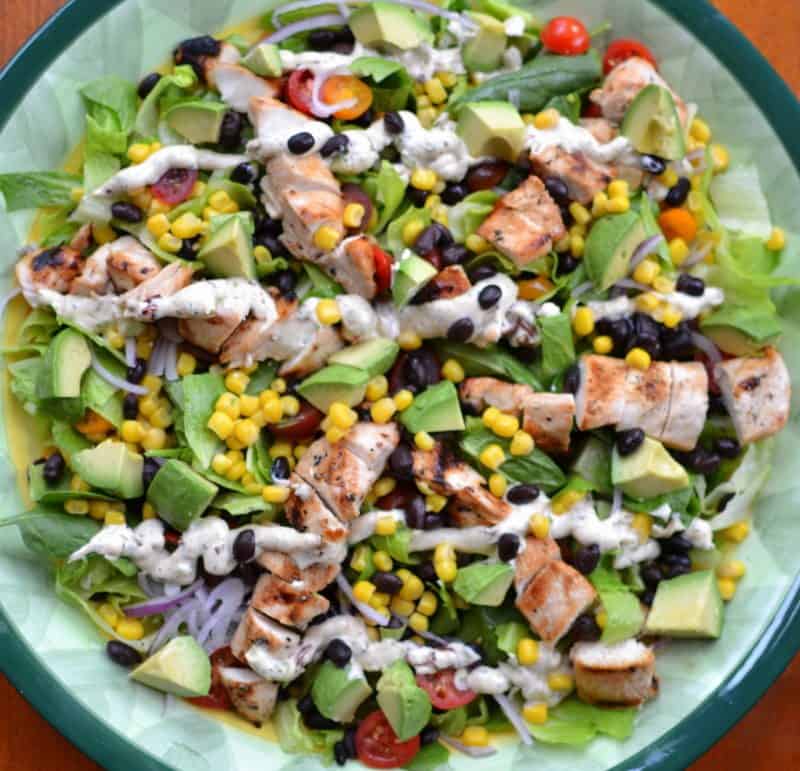 You can prepare the chipotle ranch dressing ahead of time and that will cut the prep time down to about twenty minutes!! This salad serves a full meal healthy portion for four to six people so you may need to cut back a bit if you are just making it for you and your lover!
Of course the New Year is a great time to feed your body good nutrition but anytime of the year is a great time to have a taste treat and this Grilled Chicken Southwest Chopped Salad definitely fits that bill.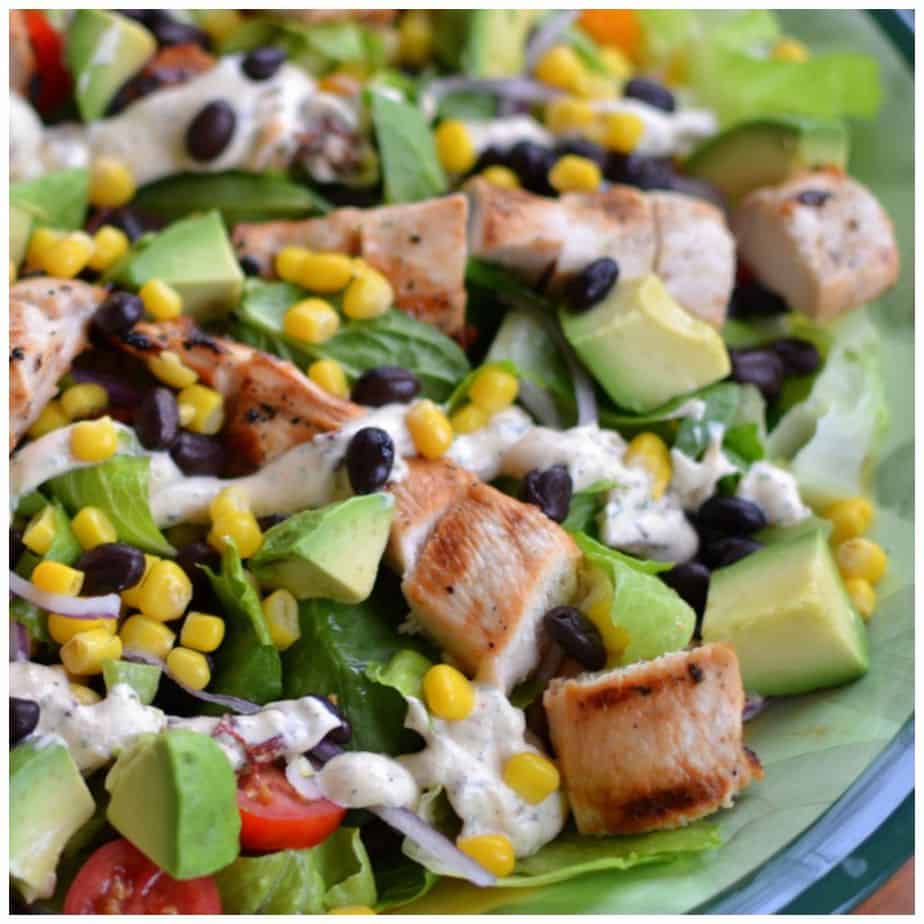 More salad recipes you will love!
Print
Grilled Chicken Southwest Chopped Salad
A mouthwatering good Southwest Chopped Salad made with grilled chicken, black beans, corn, tomatoes, and avocado all in creamy chipotle ranch dressing.
Author:
Prep Time: 20 minutes
Total Time: 20 minutes
Yield: 6 servings
Category: salad
Method: bowl and spoon
Cuisine: Southwest
Chipotle Ranch Dressing
1 cup sour cream
1 cup mayo
2 chopped green onions
Juice from one small lime
2 chipotle peppers in adobo sauce finely chopped
1 tablespoon adobo sauce
1 packet (1 ounce) ranch dressing mix
Grilled Chicken
1 1/4 lb chicken breasts cut in tenders
1/2 cup Italian dressing (your favorite)
Southwest Chopped Salad
2 small heads romaine lettuce chopped ine bite size pieces
6–8 cups baby spinach
1 can (15.25 ounce) sweet kernel corn drained
1 can (15.5 ounce) black beans drained
1 1/2 cups grape tomatoes sliced (I use the heirloom ones)
1/4 cup thinly sliced red onions
1 large avocado peeled seeded and diced
Instructions
In small bowl combine sour cream, mayo, green onions, lime juice, chipotle peppers, adobo sauce and ranch dressing mix. Stir to combine and refrigerate for 1 hour.
In large seal bag combine raw chicken and Italian dressing. Marinade for 30 minutes. Heat grill to about 450 degrees. Grill chicken until done; approximately 5 minutes each side. Tenders do not take long. Remove from grill, plate and cover loosely with foil.
In large bowl combine romaine and spinach. Top with corn, black beans, tomatoes, red onions and avocado. Slice chicken tenders and lay on top. Add desired amount of dressing and toss.
Notes
There will probably be more dressing than you need but those are the best tasting proportions for the ranch seasoning packet. Leftover dressing is great with raw broccoli, celery and carrots.
Keywords: grilled chicken salad, Mexican salad with chicken, southwest salad
On the hunt for more delicious recipes?  Follow Small Town Woman on Facebook, Pinterest, and Instagram.
https://www.smalltownwoman.com/wp-content/uploads/2019/05/Beth-1.pdf