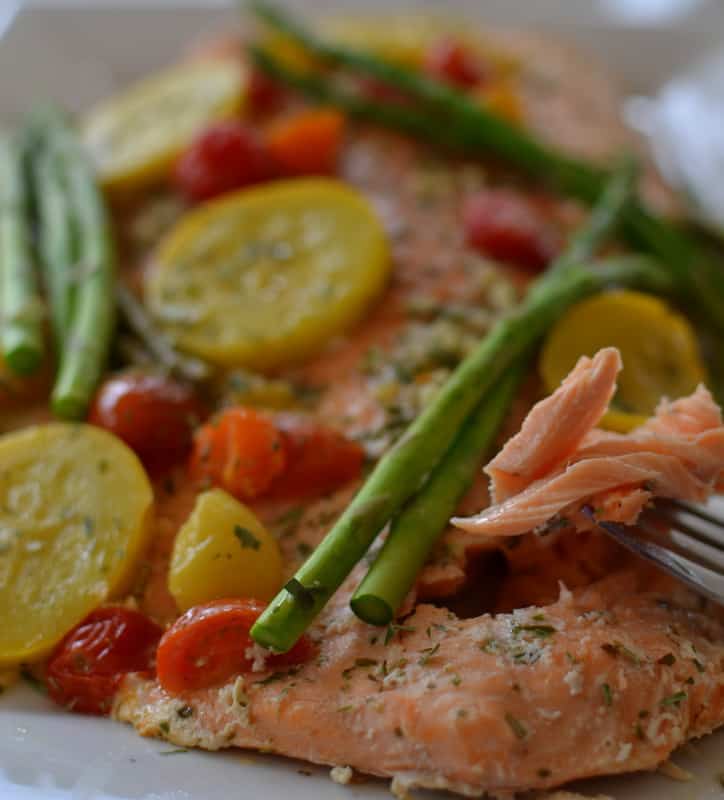 Do you like salmon?  I love it.  This is a great time of the year for lots of amazing seafood dishes and seafood sales.  Lent started yesterday and Costco had salmon on sale just in time for me to make this amazing Grilled Garlic Tarragon Lemon Salmon.  This beauty is grilled to perfections and is so succulent a and a true taste of seafood at its finest.  Salmon is rich in high-quality protein and high in omega-3 fatty acids. It is also high in B vitamins and is a good source of potassium.
Have you tried any of my other seafood recipes?  Fish and Chips, Creamy Shrimp and Roasted Red Pepper Linguine and Succulent Grilled Chili Lime Shrimp are just a few family and friend favorites.  Do you have a favorite fish or shrimp dish?  Do you like clam, crabs or mussels?  This Beer Battered Cod is a fellow blogger favorite from Baking Beauty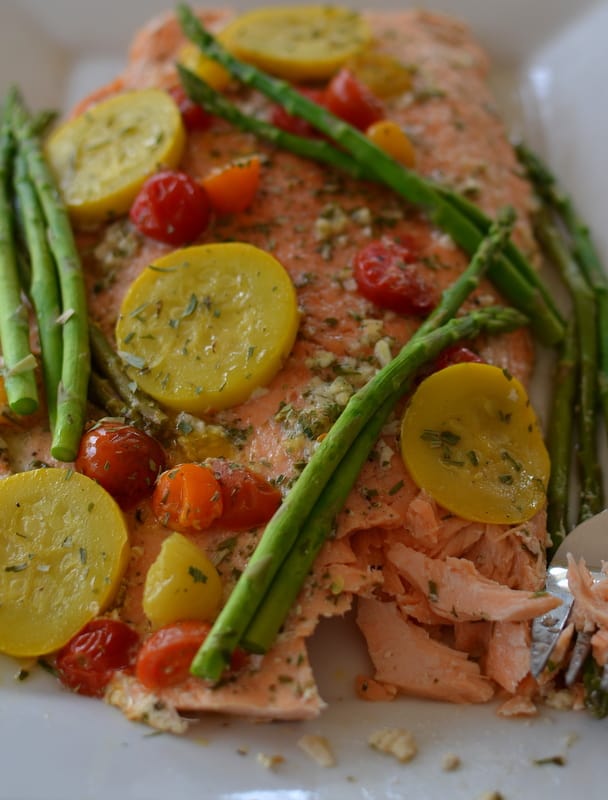 This Grilled Garlic Tarragon Lemon Salmon is brushed with garlic tarragon butter, layered in a foil pouch with yellow squash, asparagus, grape tomatoes and lemon slices.  It is placed over indirect heat and grilled just until it starts to flake at its thickest part.   When salmon flakes easily with a fork, it's ready.  The cold leftovers are terrific on a salad or with just a bit of sweet dill mustard.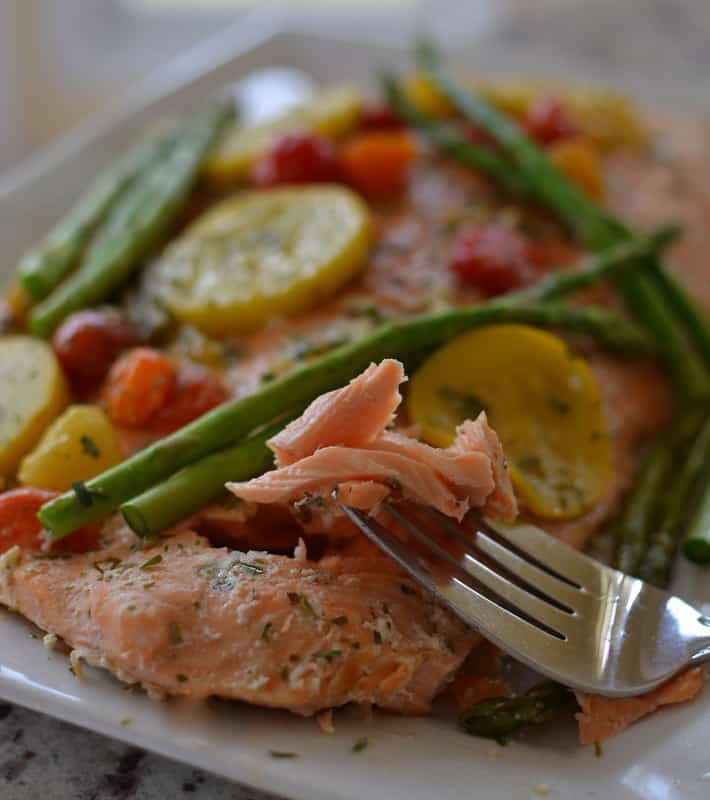 You are going to love this good for you healthy Grilled Garlic Tarragon Lemon Salmon.  It is quick to come together, amazingly fresh, flaky, flavorful and quite dependable.  So if you find yourself in the middle of lent or you just want to have a healthy delectable meal put the ingredients for this beauty on your shopping list today.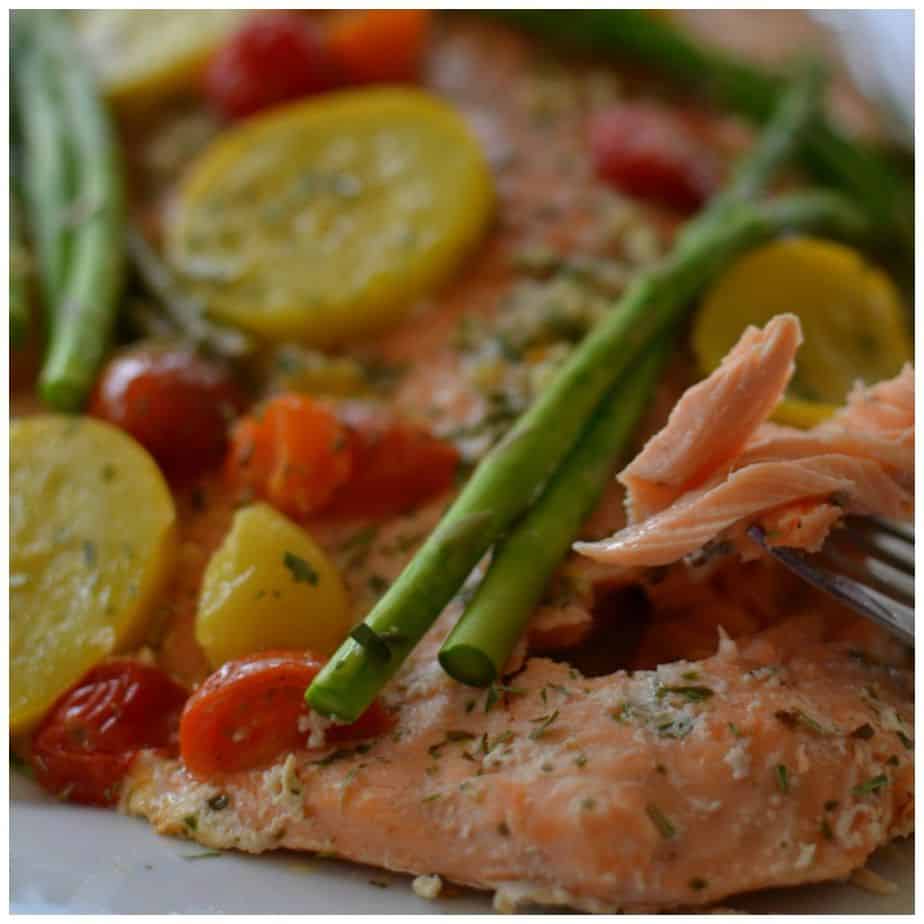 Print
Grilled Garlic Tarragon Lemon Salmon
Scale
Ingredients
1 salmon fillet 1 1/2 – 2 pounds
2 tablespoons butter
1 1/2 teaspoons tarragon
2 cloves garlic finely minced
1 yellow squash thinly sliced
1/2 lb asparagus trimmed
1 cup grape tomatoes sliced in half
1 lemon very thinly sliced
Instructions
Preheat grill to 400 degrees. You are going to place this over indirect heat so heat the gas or charcoal grill with that in mind.
Line a sheet pan with foil and coat the foil with cooking spray. If salmon still has skin on it place skin side down.
In small bowl melt butter; stir in tarragon and garlic. Brush salmon with butter mixture. Top fish with lemon slices, squash, asparagus and grape tomatoes. Cover with another large piece of aluminum foil and roll bottom foil and top foil to seal. Place on pit over indirect heat and cook for approximately 25-30 minutes or until salmon flakes easily when tested with a fork. A meat thermometer should register an internal temperature of 140 degrees. Remove from foil and discard lemon slices. Spoon off any fat that has cooked to the surface. Sprinkle with a touch of tarragon.
Other meatless recipes you will love!