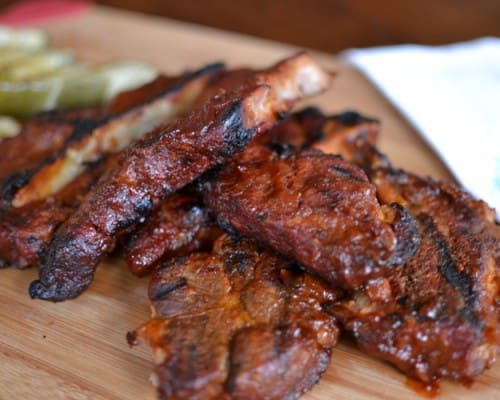 So it is getting a little cooler now and the sun is going down a little earlier but grilling is still one of the best and tastiest ways of cooking! I use my grill all year round. Sometimes I even knock the snow off it and fire it up.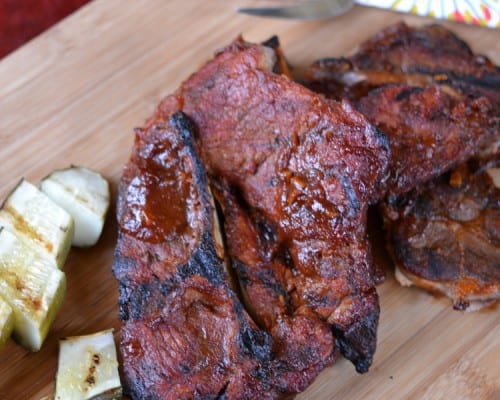 You ask what is a pork steak. Well we here in the Midwest we know exactly what they are. They are cut from the shoulder of the pig. They are not as lean as a pork chop and not as fatty as bacon. Because of the small amount of fat on them they can be cooked very tender. They will simply fall off the small bone in the middle. If you do not have them readily available ask your butcher.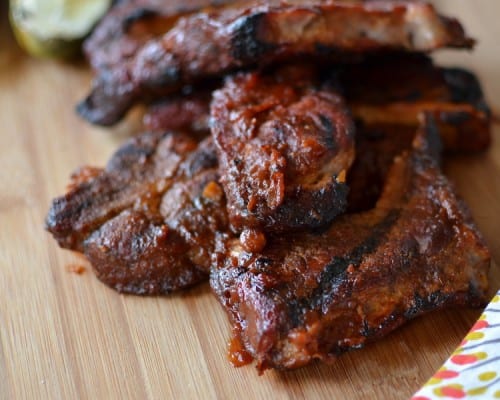 Then brush the snow off your grill if you must to get to it!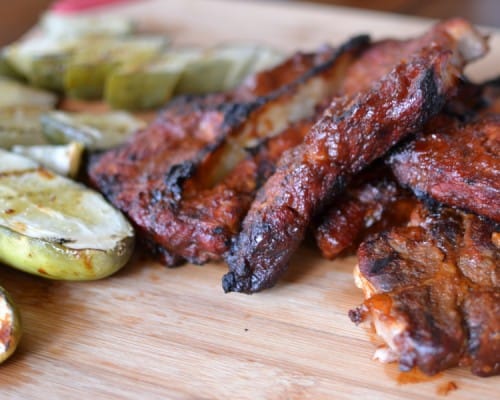 Don't forget the pickles! They grill up nicely as well and go great with the steaks!
Print
Grilled Pickles & Pork Steaks
Scale
Ingredients
2 large center cut pork steaks
2 large dill pickles
2 large cloves garlic minced
2 tablespoons sherry
1/2 cup soy sauce
2 tablespoons Mirin
1 tablespoon sriracha hot chili sauce
2 tablespoons Worcestershire sauce
1 tablespoon fresh ginger
2/3 cup ketchup
1/4 bottle of beer
1/2 cup water
olive oil
Instructions
Heat grill and brown pork steaks on both sides for approximately 5 minutes each side.
Mix garlic, sherry, soy sauce, Mirin, sriracha, Worcestershire sauce, ginger, ketchup beer and water in a small bowl.
Place pork steaks flat in a large casserole dish and cover with ketchup mixture. Cover tightly with aluminum foil and bake for 1 1/2 hours. Remove from oven and place bake on heated grill for 5-7 minutes turning 1/2 through.
Cut pickles in half, spray with olive oil and grill for 2-3 minutes each side.
Notes
Slice pickles and serve with pork steaks
https://www.smalltownwoman.com/wp-content/uploads/2019/05/Beth-1.pdf