I just love to entertain. There is just something perfect about good food, great friends, jazzy music and fantastic wine. The planning is so much fun…from the menu to the food styling. I could do it all day long if time would permit. These Ham Onion Cheddar Puffs will definitely be on the menu for my next soiree! I mean look at these beauties! How could you go wrong with sauteed onions, garlic, cheddar and ham baked on top of flaky buttery pastry. Gosh I am making myself hungry. They are pretty simple as the recipe takes full advantage of frozen puff pastry.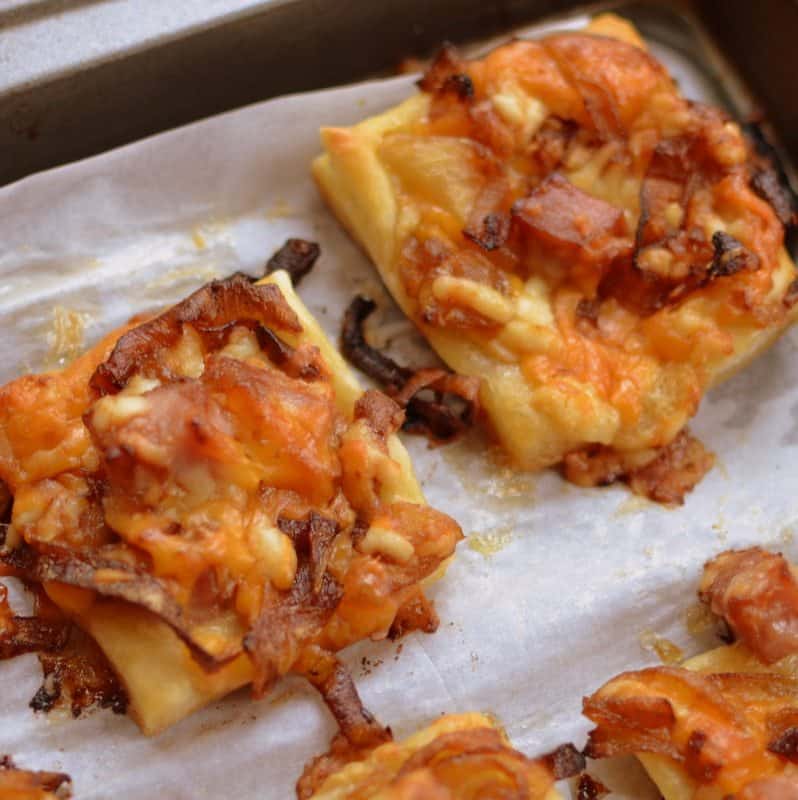 Frozen pastry puff is very easy to work with. The most important part is following the instructions for defrosting and making sure you don't past the allotted 40 minutes defrost time. If you do it might not rise properly. You also need to make sure that you bake these until they are golden brown…golden brown. Don't remove from the oven to check or they might not finish rising when you put them back in. Just peek inside the door. The very specific instructions for defrosting will be on the package. I suggest you read carefully and set yourself a timer because if your house is anything like mine there are twenty things going on at once.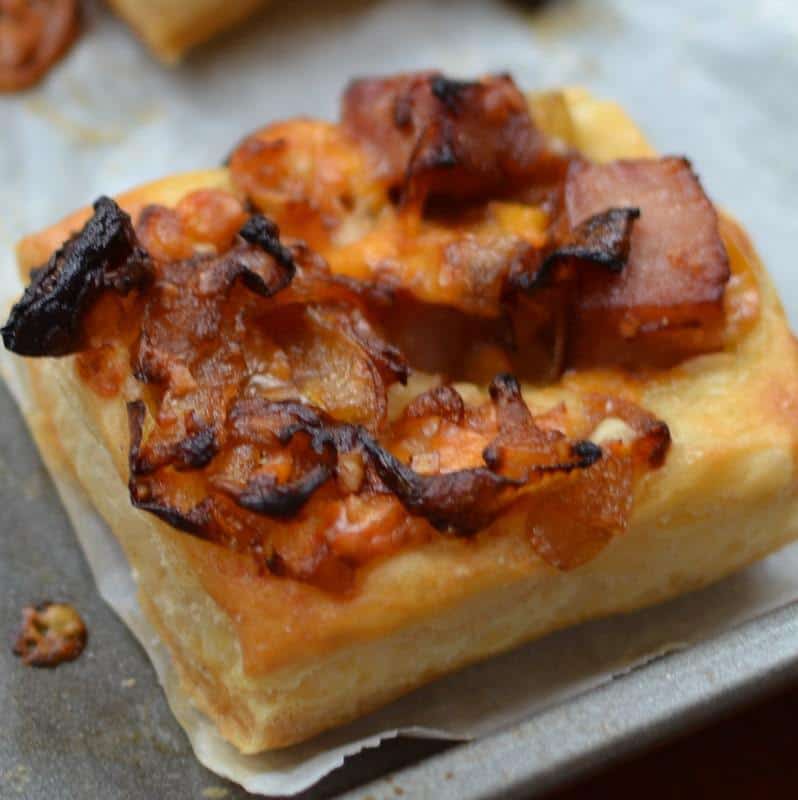 You can prepare the toppings ahead of time and store in the refrigerator. About 30 minutes prior to making the Ham Onion Cheddar Puffs take the topping out of the fridge and let it warm up a bit. This could be a time saver if you are preparing for a party.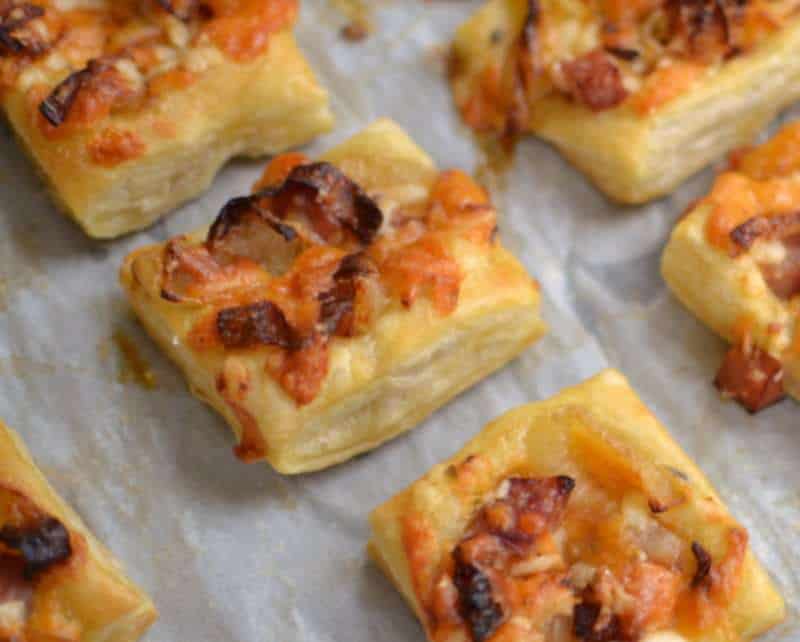 Maybe you and family just want a great Saturday lunch or a movie night snack!! I am sure that you can come up a suitable excuse to make these. I know I did!! LOL!!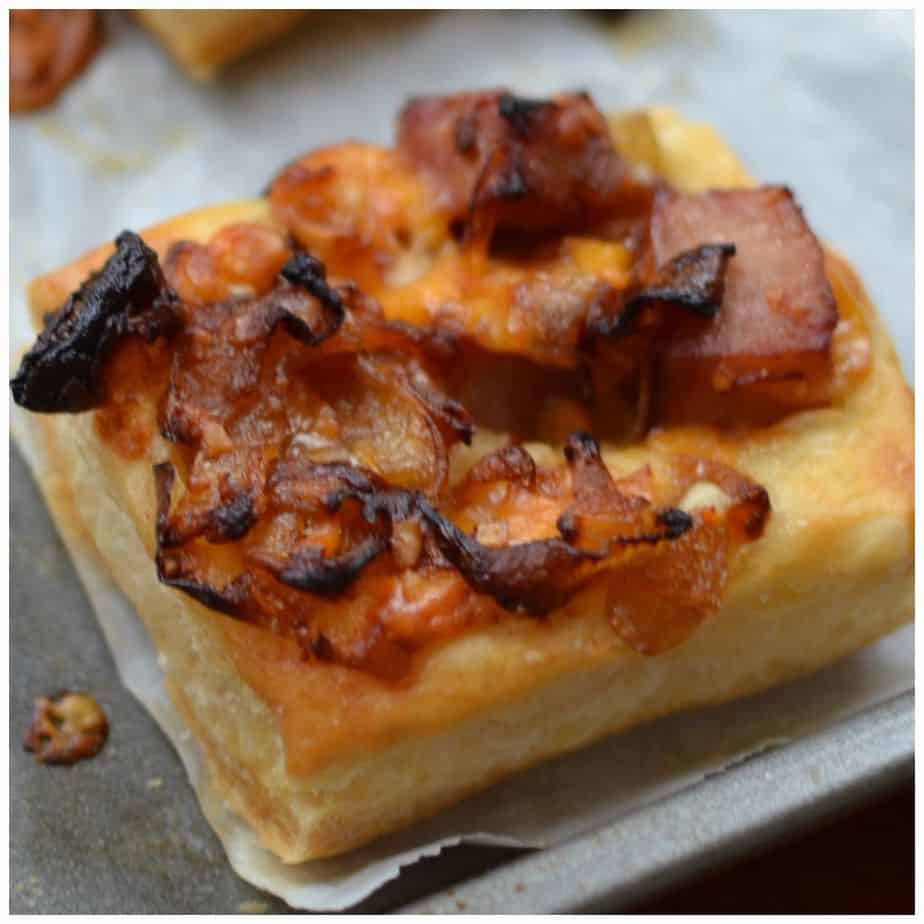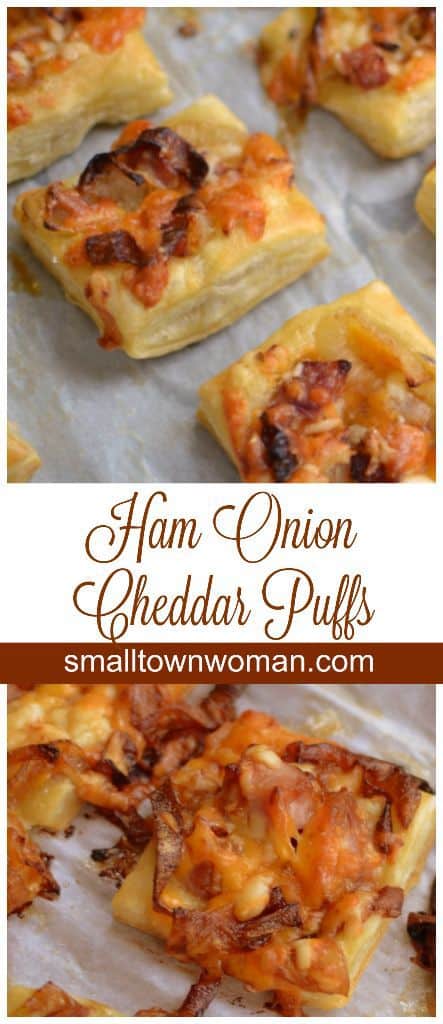 Ham Onion Cheddar Puffs
Scale
Ingredients
2 sheets frozen puff pastry (Pepperidge Farms)
2 tablespoons butter
3 medium onions peeled, sliced in half and cut in thin half moon shapes
3 large cloves of garlic minced
2 cups small diced cooked ham
1 1/2 cups sharp cheddar shredded
1 1/2 cups white cheddar shredded
1/2 cup fresh Parmesan grated
1/2 teaspoon dried oregano
Salt & pepper to taste
1 egg white
1 teaspoon water
Instructions
Defrost puff pasty according to box instructions.
While the pastry is defrosting melt 2 tablespoons butter in large skillet over medium heat. Add onions and cook until tender about 5-7 minutes stirring frequently. Lower heat and add garlic and ham; cook for 1 minute. Remove from heat and allow to cool 10 minutes. Add cheddars, Parmesan, oregano and salt & pepper.
Preheat oven to 375 degrees. Cover two large baking sheets with parchment paper. Using ruler and pizza cutter; roughly cut each piece of dough into 16 pieces; each will be approximately 2 x 2. So you will have 32 of them. In small bowl beat egg white and water. Brush egg white mixture over the puff pastry.
Place heaping tablespoon onto each pasty section. Bake for 22-25 minutes or until golden brown. Puff Pastry is sensitive to heat fluctuations so resist the urge to take them out and check them. Instead peek in.
Other party recipes you will love!!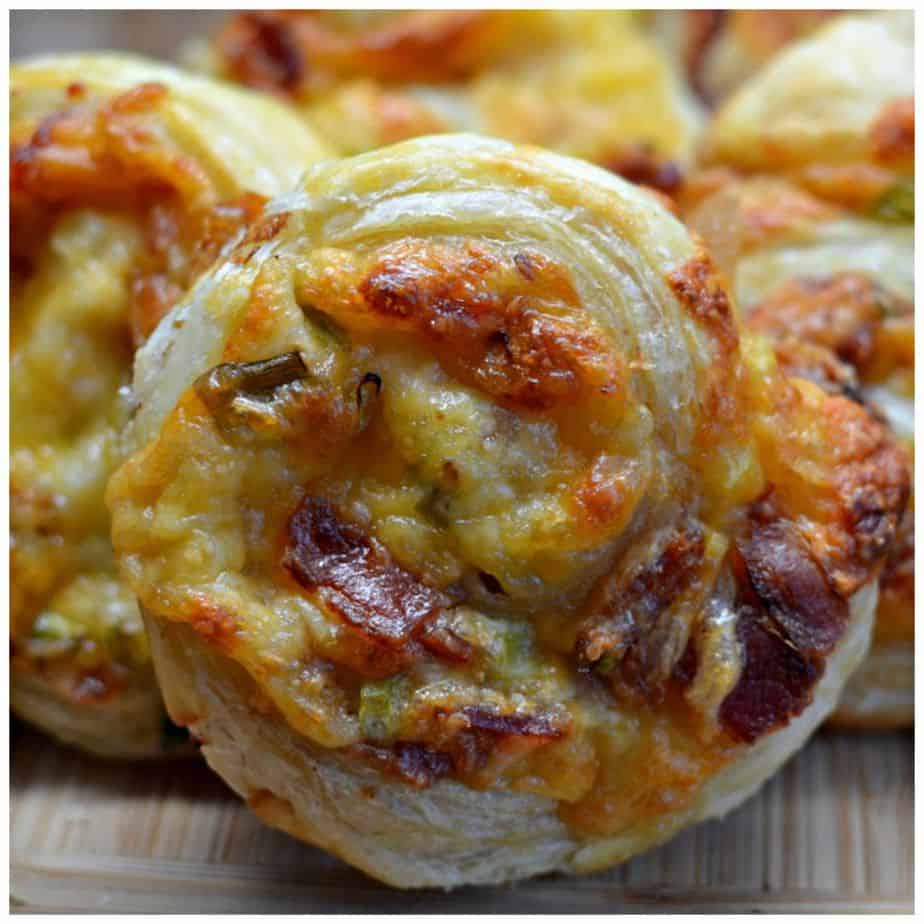 Triple Cheese & Bacon Pinwheels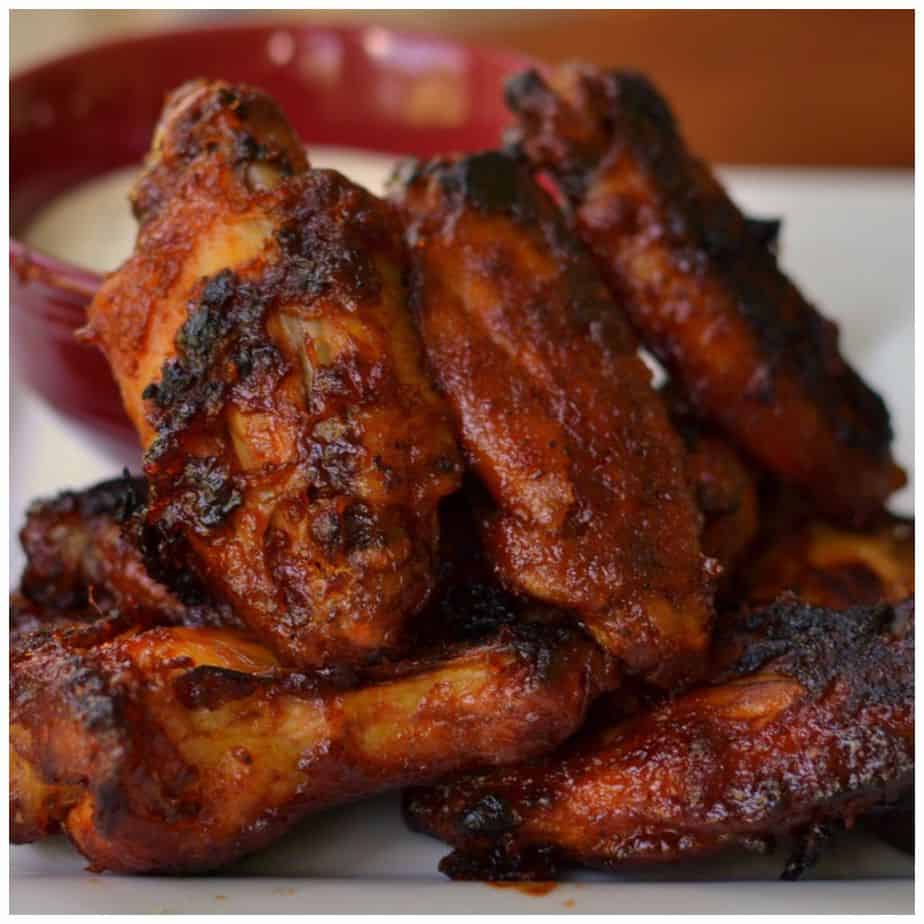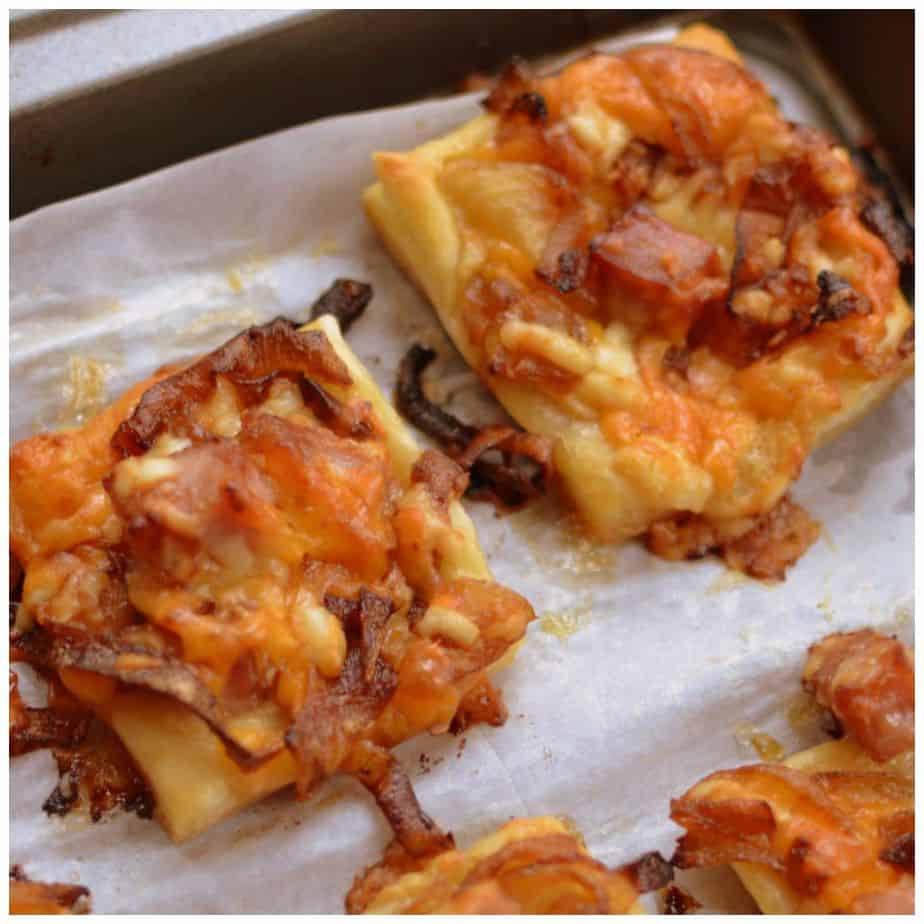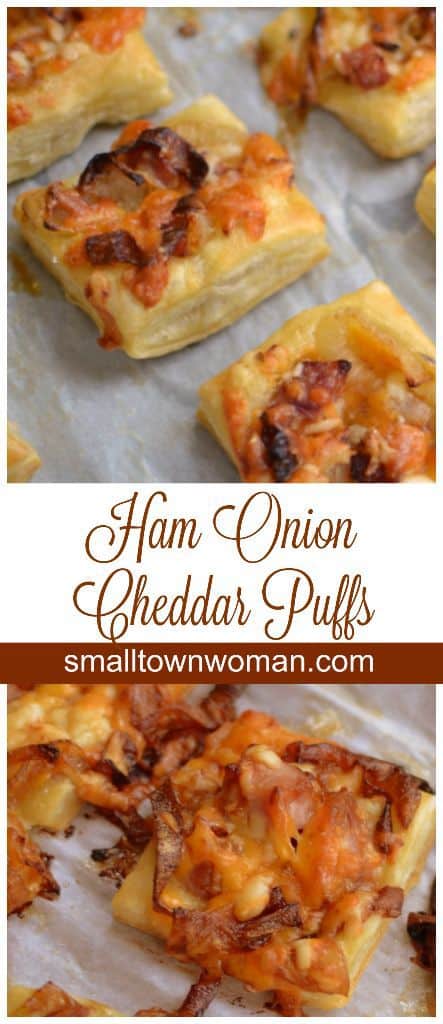 https://www.smalltownwoman.com/wp-content/uploads/2019/05/Beth-1.pdf