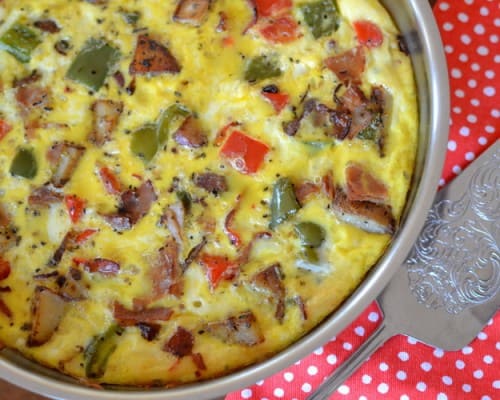 Looking for a good easy weekend breakfast recipe? I got you covered!!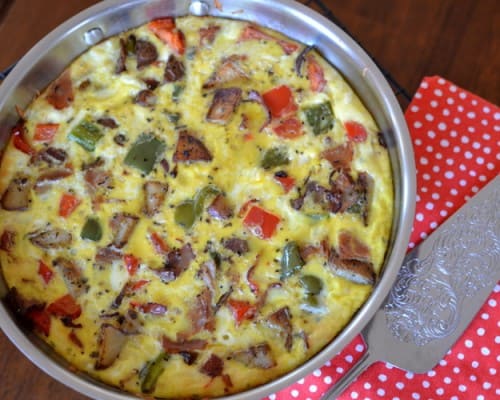 Prep work is so easy. It cooks all in one pan and it is delectable and dependable! Sounds like the perfect companion doesn't it?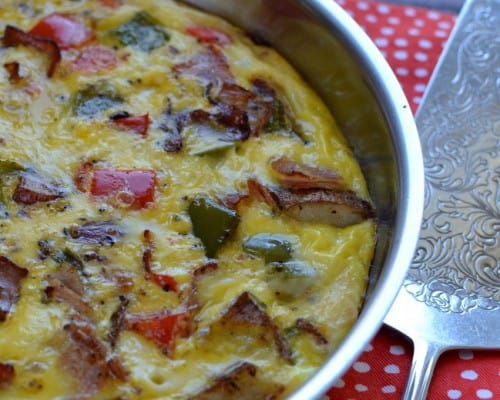 Add a warm cup of coffee or tea and you are off to the races!
Print
Ham & Pepper Jack Frittata
Scale
Ingredients
2 small red potatoes cubed in 1/2 inches cubes
2 tablespoons olive oil
1/2 teaspoon basil
1/2 teaspoon oregano
1/2 red pepper chopped
1/2 green pepper chopped
3 lean slices deli ham diced
4 whole eggs
4 egg whites
1/2 cup milk
1 teaspoon dijon mustard
1 1/2 cups pepper jack cheese shredded
Instructions
Combine potatoes, olive oil, basil and oregano in small ziploc bag. Seal and shake to coat potatoes.
Heat 10 inch oven proof skillet over medium heat. Add potatoes and cook for 10 minutes stirring once or twice. Add ham and cook for another 3 minutes. Add peppers and cook for another 3-5 minutes or until peppers start to soften. Remove from heat.
Combine eggs, egg whites, milk and dijon mustard. Fold cheese into egg mixture. Pour over potatoes and peppers.
Bake at 340 for 20-25 minutes or until eggs are set.
Allow to cool for 10 minutes.
Notes
If you don't have an ovenproof skillet completely cover handle with aluminum foil.
https://www.smalltownwoman.com/wp-content/uploads/2019/05/Beth-1.pdf