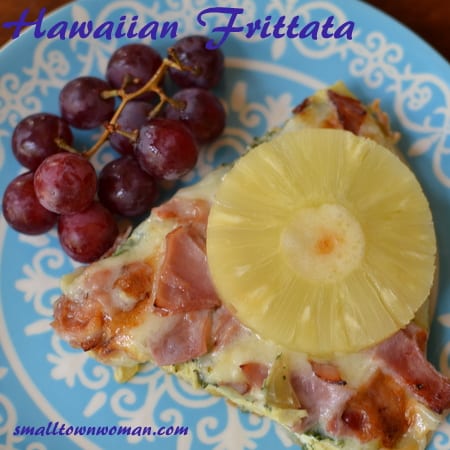 Breakfast is my favorite meal of the day. There are so many delicious variations of breakfast.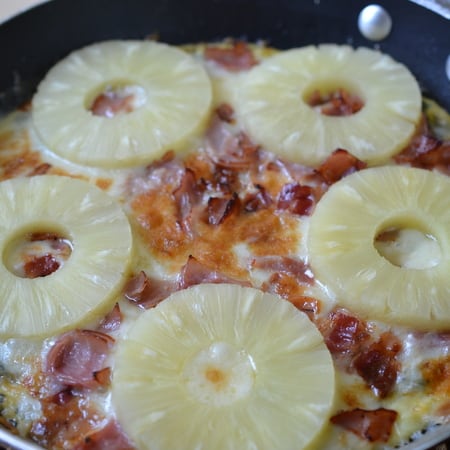 This one is a special treat and almost tastes like a bit of pizza for breakfast.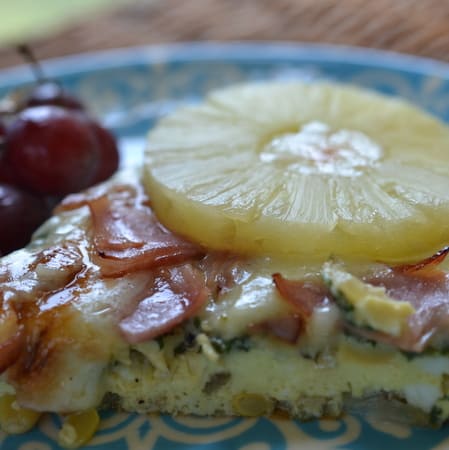 This can be put together real fast and it is classy enough for company!
Print
Hawaiian Frittata
Scale
Ingredients
4 large eggs
4 egg whites
1/3 cup milk
1/2 green pepper finely diced
1 small onion finely diced
1 large clove garlic minced
1/2 cup corn
1 tablespoon dried parsley
1 teaspoon dried basil
1/2 teaspoon dill
1/2 cup freshly grated mozzarella
1/2 cup provel ropes or provolone cheese
1/4 cup asiago cheese
2 pieces lean deli ham
2 crispy pieces of bacon
5 slices of pineapple canned or fresh
Olive and sesame oil
Instructions
Preheat oven to 350 degrees.
Mix eggs, eggs whites, and milk in a small bowl.
Spray saute pan with olive oil and sesame oil or add 1 tablespoon of each to the pan. Cook the pepper and onion until lightly browned on edges. Add the corn and garlic and cook for 1-2 minutes. Remove from heat, allow to cool and add the parsley, basil and dill. Pour the egg mixture over the top. If you do not have an ovenproof skillet cover the entire pan handle with aluminum foil.
Bake for 15 minutes and remove from the oven. Top with cheese, ham, bacon and pineapple. Bake for another 5 minutes turning on the broiler for the last 2-3 minutes. Keep a close eye on it when it is under the broiler.
Notes
If you can not find provel ropes you can substitute provolone cheese
https://www.smalltownwoman.com/wp-content/uploads/2019/05/Beth-1.pdf