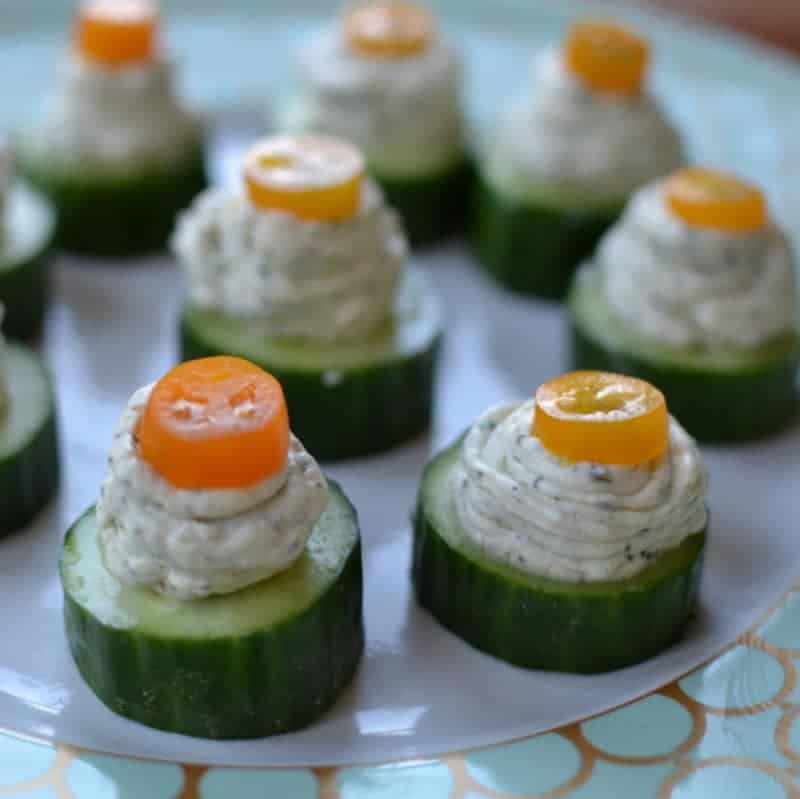 Are you trying to improve your diet a bit? Are you concentrating on real nutrition that your body needs to function at it's best? It is that time of year again that we start to take a look at how we much we are consuming and how it affects our general health. These Herb Cream Cheese Cucumber Bites are absolutely delicious and they are a treat that you can feel good about. Cucumbers are great sources of vitamin K & B, copper, potassium, vitamin C, and manganese. Cucumbers also contain unique polyphenols and other compounds that may help reduce your risk of chronic diseases such as cancer.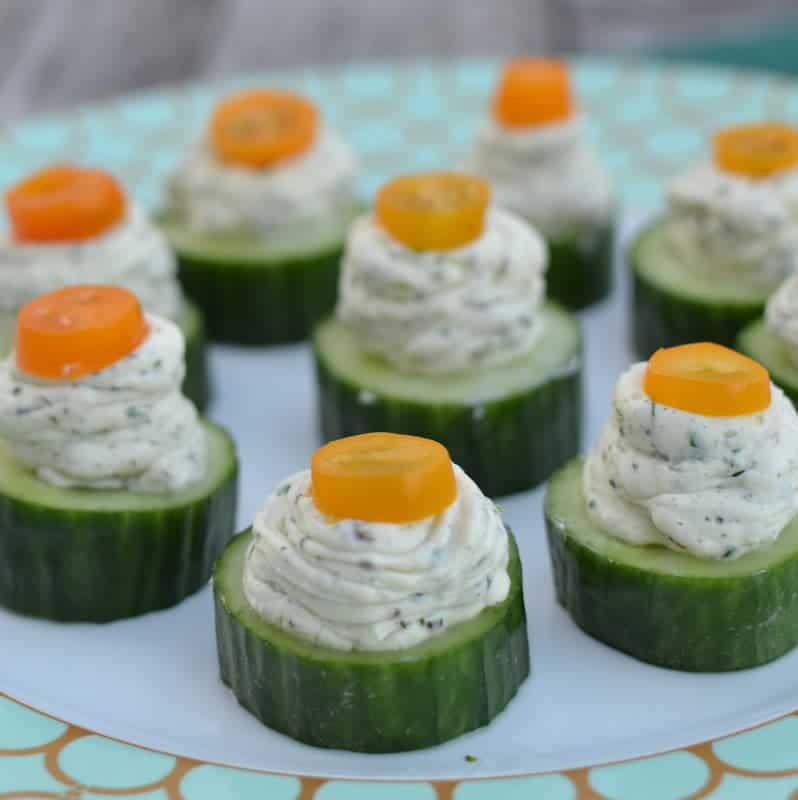 Not only are these little numbers healthy but they are absolutely delicious. The cream cheese is the perfect blend of fresh garlic, fresh parsley, fresh chives and dill. Now I know what you are thinking…how healthy is cream cheese. We know that cream cheese is a high fat food but we need fat in our diet. Our body uses the fat we eat, and fats we make from other nutrients in our bodies, to provide the energy for most of our life-functions. We also know that fat makes us feel full and helps keep us from overeating. Besides that this herb cream cheese tastes divine!!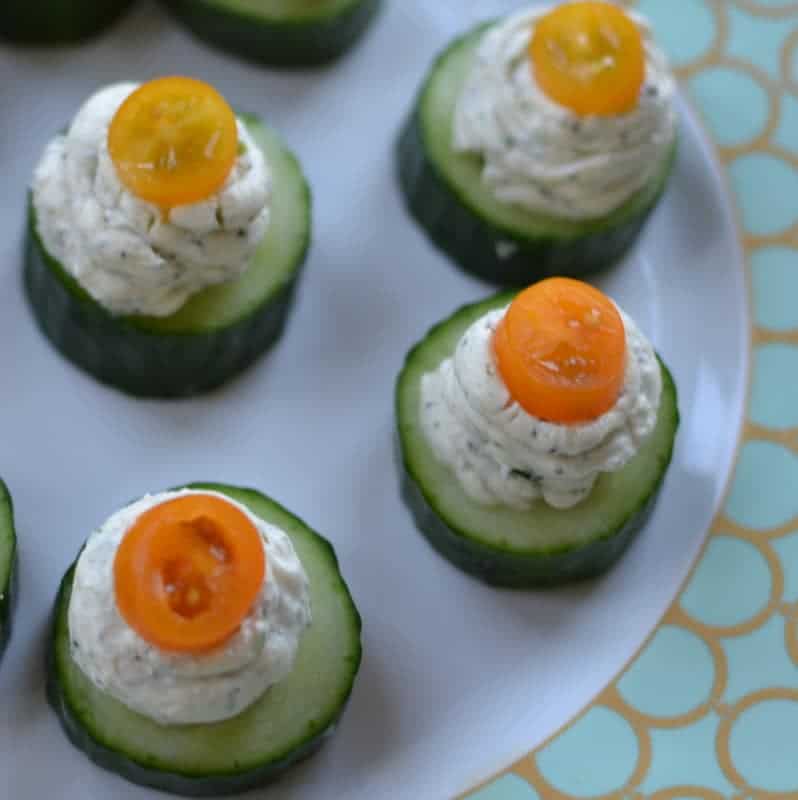 Herb Cream Cheese Cucumber Bites are so quick to whip up and your family and friends will love them. Whip up a batch for a game day or a light lunch! This is snack that you can feel good about and that tastes amazing!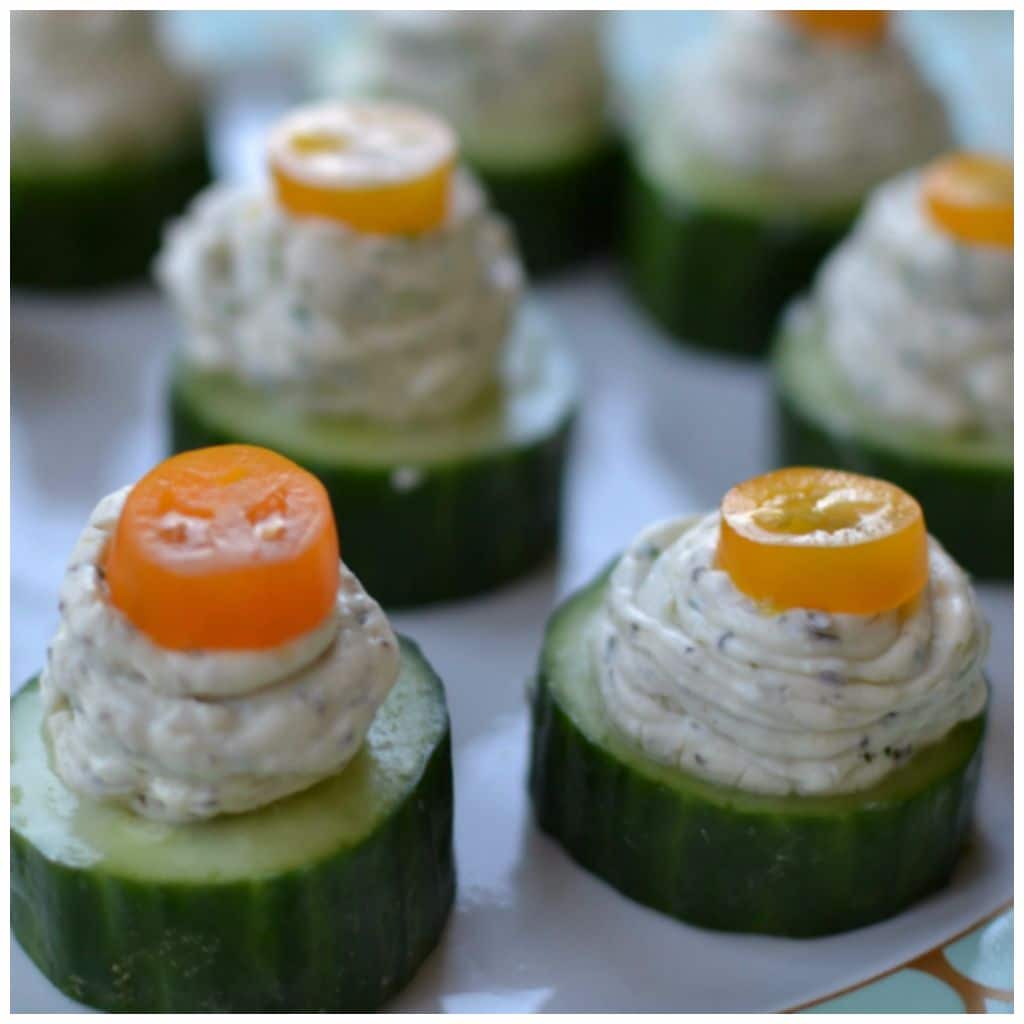 Print
Herb Cream Cheese Cucumber Bites
These refreshing herb cream cheese cucumber bites are the perfect party appetizer. These fresh, poppable bites are super easy to throw together for a party or as a healthy snack!
Author:
Prep Time: 10 minutes
Total Time: 10 minutes
Yield: 24 bites
Category: Appetizer, Snack
Cuisine: American
1 English cucumber cut into 1/2 inch rounds
1 (8 ounce) package cream cheese softened
1/2 teaspoon onion powder
1/4 teaspoon dried thyme
1/4 teaspoon dried basil
1/2 teaspoon dried dill weed
1/4 teaspoon fresh ground black pepper
1 clove garlic very finely minced
1 tablespoon fresh chopped parsley
1 tablespoon fresh chopped chives
Thinly sliced grape tomatoes or black olives
Instructions
Using mixer combine cream cheese, onion powder, dried thyme, dried basil, dill weed, black pepper, garlic, parsley and chives. Beat until well mixed and creamy. Pipe or spoon onto cucumber rounds. Top with sliced grape tomatoes or black olives.
Keywords: cucumber bites, cream cheese cucumber bites, herb cream cheese cucumber bites, herb cream cheese, fresh cucumber bites, party appetizers
https://www.smalltownwoman.com/wp-content/uploads/2019/05/Beth-1.pdf