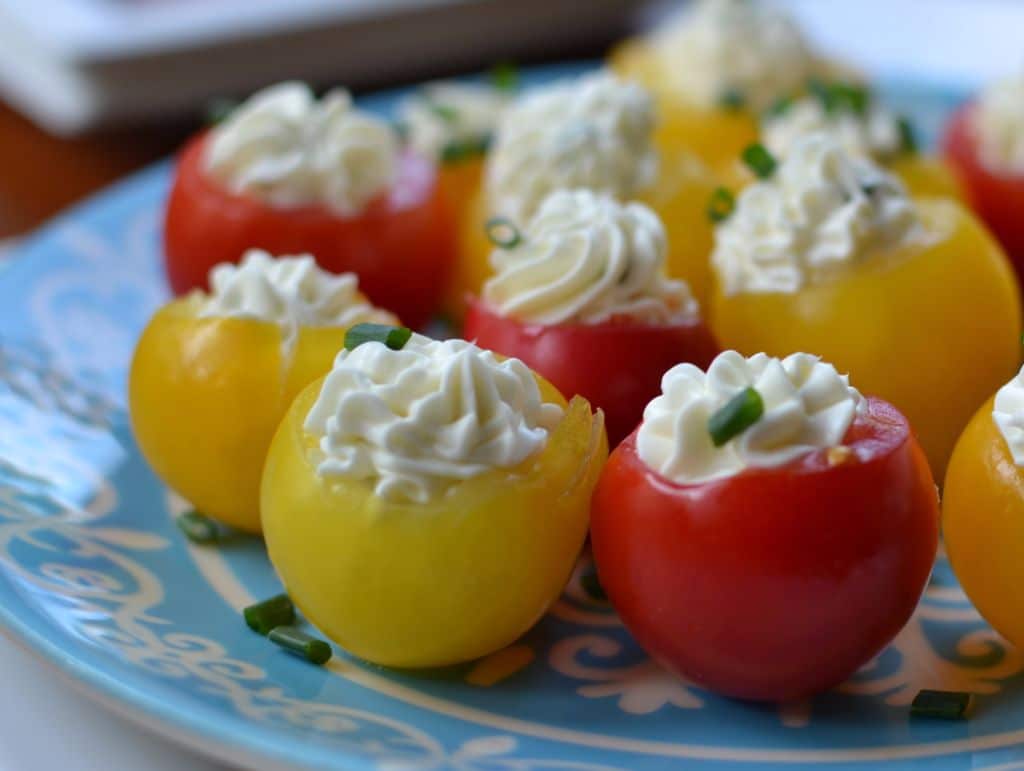 These Herb Cream Cheese Stuffed Tomatoes are perfect for the long lazy days of summer.  Cherry tomatoes are that their peak of flavor and the timing could not be better.  Tomatoes are definitely good for you.  They have an impressive amount of vitamins A, C, and K, as well as significant amounts of vitamin B6, folate, and thiamin.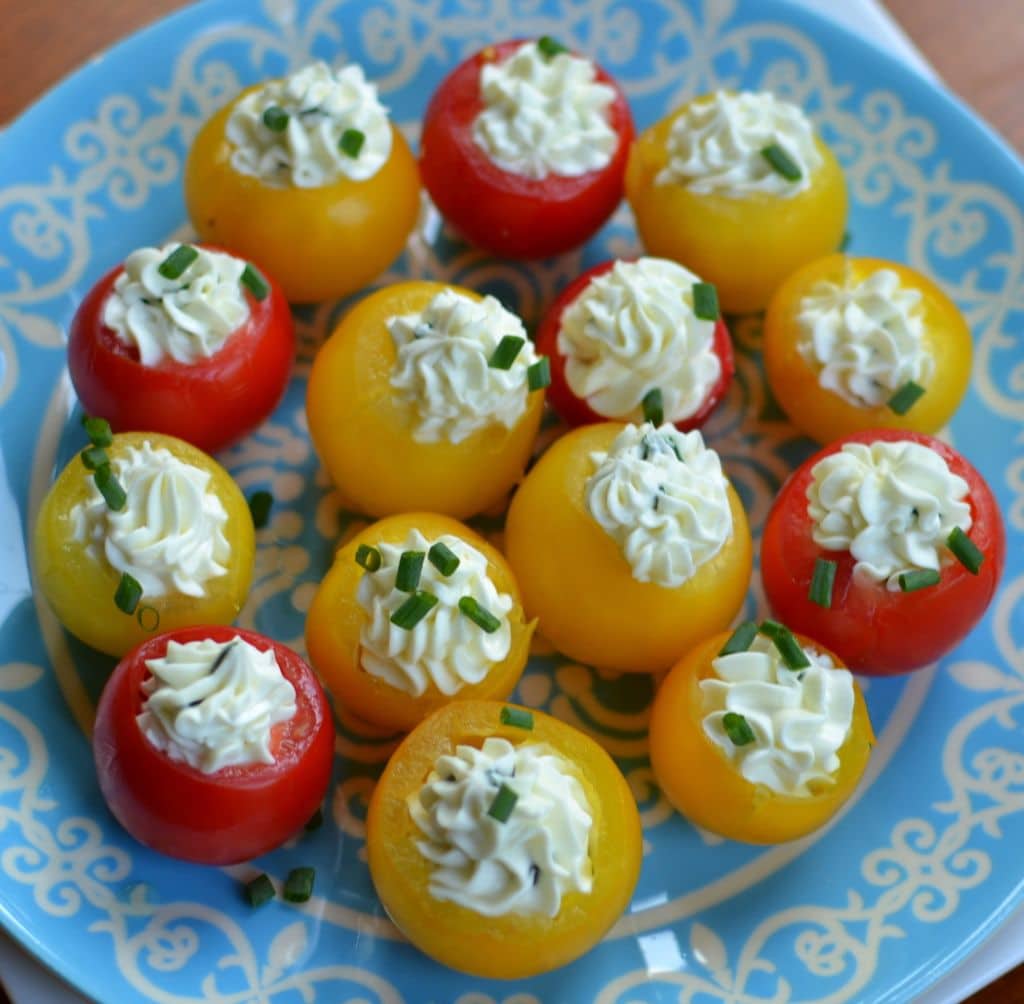 Using large cherry tomatoes and a melon baller makes it easy to hallow them out and prepare them for the cream cheese.  The cream cheese takes about five minutes to whip up and by all means if you have fresh herbs in the yard use them.  These Herb Cream Cheese Stuffed Tomatoes would go perfect with a light Chenin Blanc or a Sauvignon Blanc.  Both are white light crisp wines and two of my favorite kinds.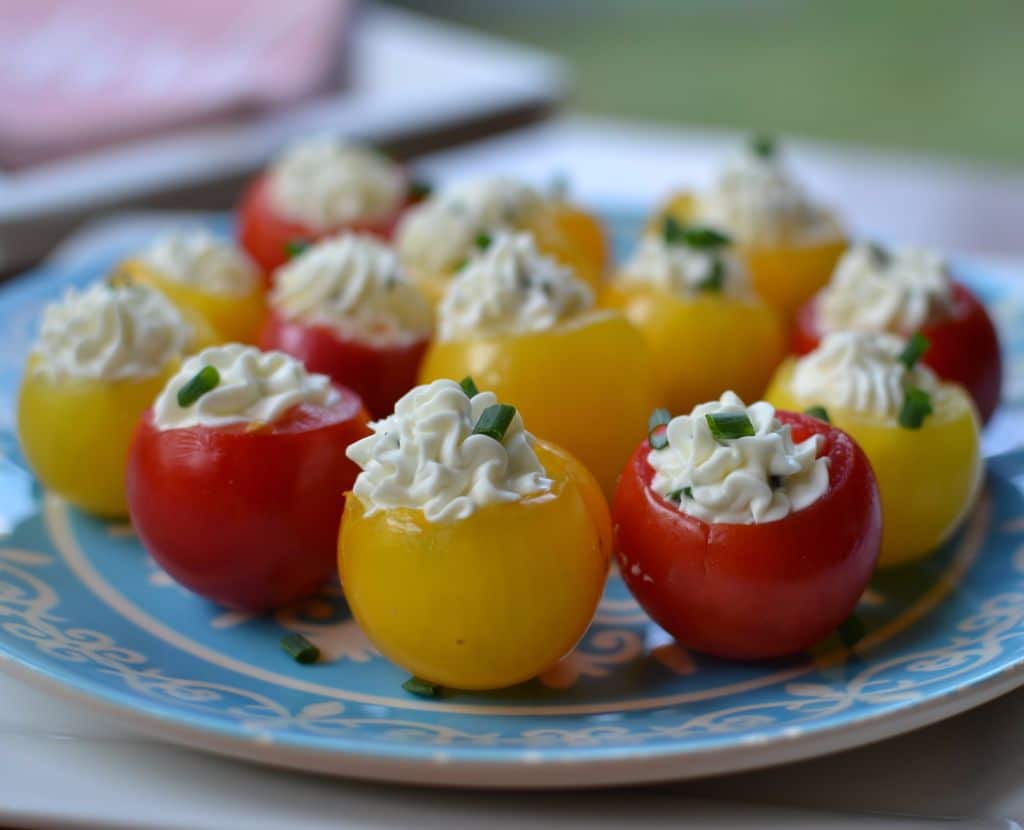 Sometimes during the blazing hot summer months you just need something cool,  juicy and full of natures bounty.  This recipe fits that to a tee.  Hope you enjoy this mini tantalizing taste bud treats!
Other party appetizers you will love!
Print
Herb Cream Cheese Stuffed Tomatoes
These cream cheese stuffed cherry tomatoes are a simple, juicy, poppable party appetizer. Easy to make, they'll be gone in a flash!
Author:
Prep Time: 10 minutes
Total Time: 10 minutes
Category: Appetizer
Cuisine: American
20–24 large cherry tomatoes
8 ounces cream cheese softened
1 large clove garlic finely minced
2 tablespoons fresh chopped chives (reserve 1 heaping teaspoon for garnish)
8–10 basil leaves cut into small pieces
Salt & Pepper to taste
Instructions
Slice a very thin slice of tomato off the top of each tomato. Using a small melon baller gently remove the guts from the tomato.
In stand mixer beat cream cheese until smooth. Turn mixer down to lo and add garlic, chives and basil. Add salt to taste. Using spoon or piping bag add cream cheese mixture to tomatoes. Top with reserved chives.
Keywords: herb cream cheese stuffed cherry tomatoes, stuffed cherry tomatoes, cream cheese stuffed tomatoes, party appetizers
On the hunt for more delicious recipes?  Follow Small Town Woman on Facebook, Pinterest, and Instagram.
https://www.smalltownwoman.com/wp-content/uploads/2019/05/Beth-1.pdf