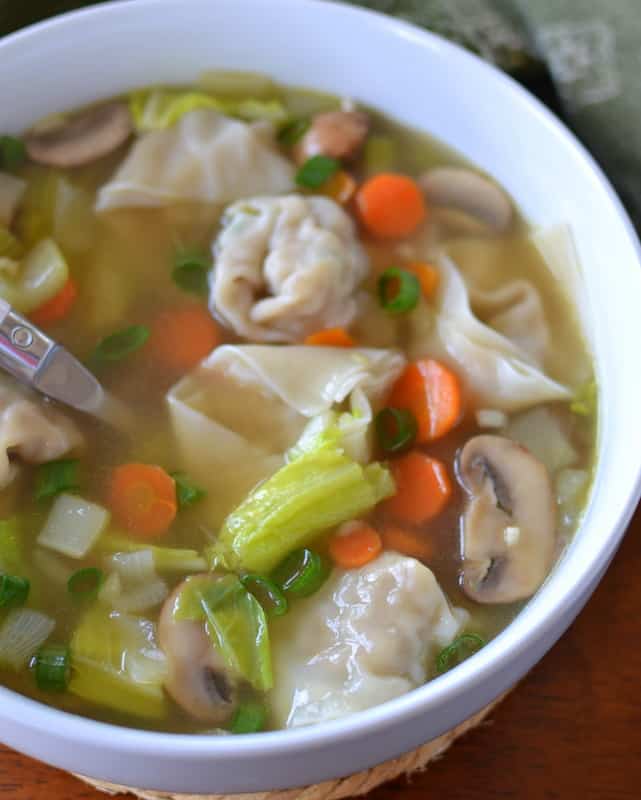 Oh my heavens it is cold here. This is the second dose of extremely cold air that we have had in Missouri. The first one lasted about fourteen days and this one is lasting about seven days. You know it is cold when you have to coax the dog out with treats. Gosh knows Marshmallow does not need any more treats. She is beginning to look a lot like me! LOL This cold winter, soup has quickly moved up to one of my most popular categories on the blog. This delicious Homemade Pork Stuffed Wonton Vegetable Soup is the latest soup recipe and boy is it AMAZING!
This Homemade Pork Stuffed Wonton Vegetable Soup is plump full of scrumptious pork stuffed wontons, onions, mushrooms, carrots, celery and Napa Cabbage in a perfectly seasoned vegetable broth! We love love love this soup and it is the perfect treat for a cold winter weekend!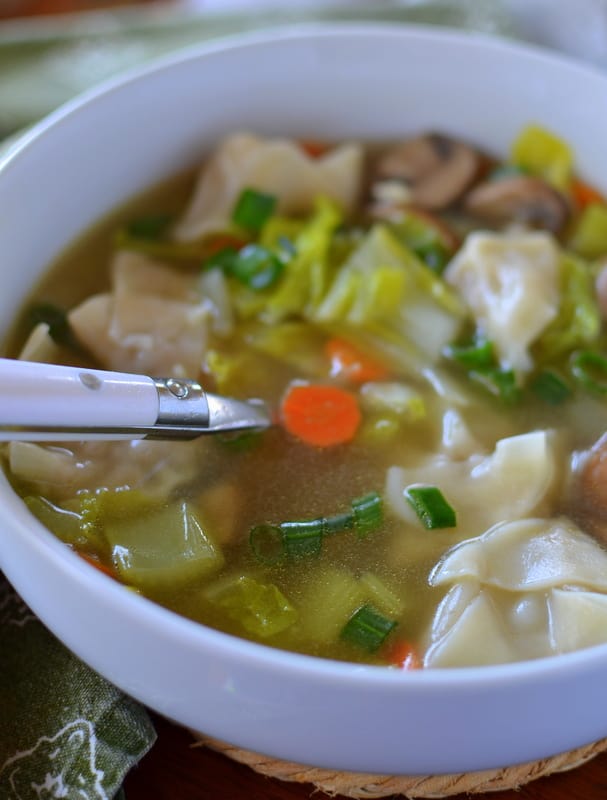 Have you tried any of my other soups? Sausage Potato Cheddar Soup, 30 Minute Stuffed Pepper Soup and Creamy Potato Ham Soup are a few reader favorites. Cajun Bean Turkey Soup from Spend with Pennies is a fellow blogger family favorite.
"It is impossible to think of any good meal, no matter how plain or elegant, without soup or bread in it." M.F.K Fisher
In a hurry the pork mixture can be mixed together early in the day. The fantastic wontons take a little time to put together but they are well worth the effort as they are the stars of the soup!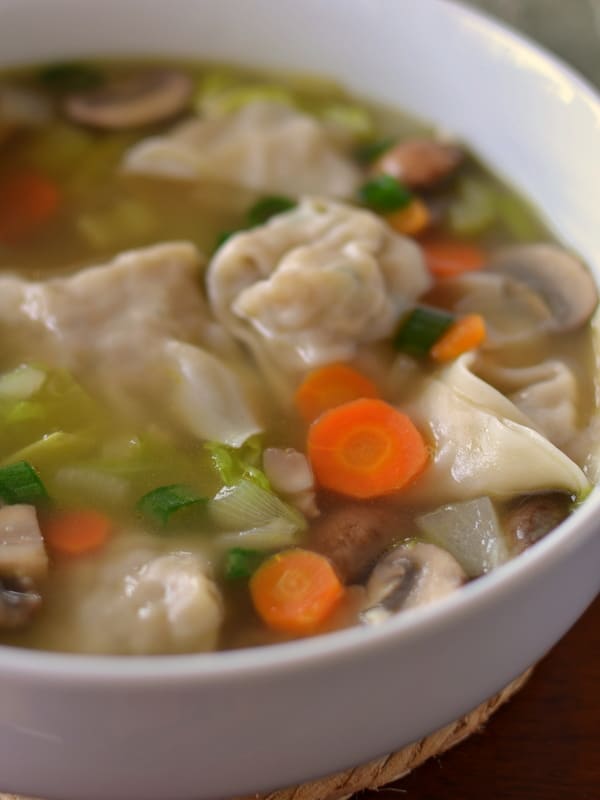 So if winter is still in full force in your neck of the woods or if you just adore soup like I do then make yourself this amazing Homemade Pork Stuffed Wonton Vegetable Soup! It will make you the center of attention with your friends and family!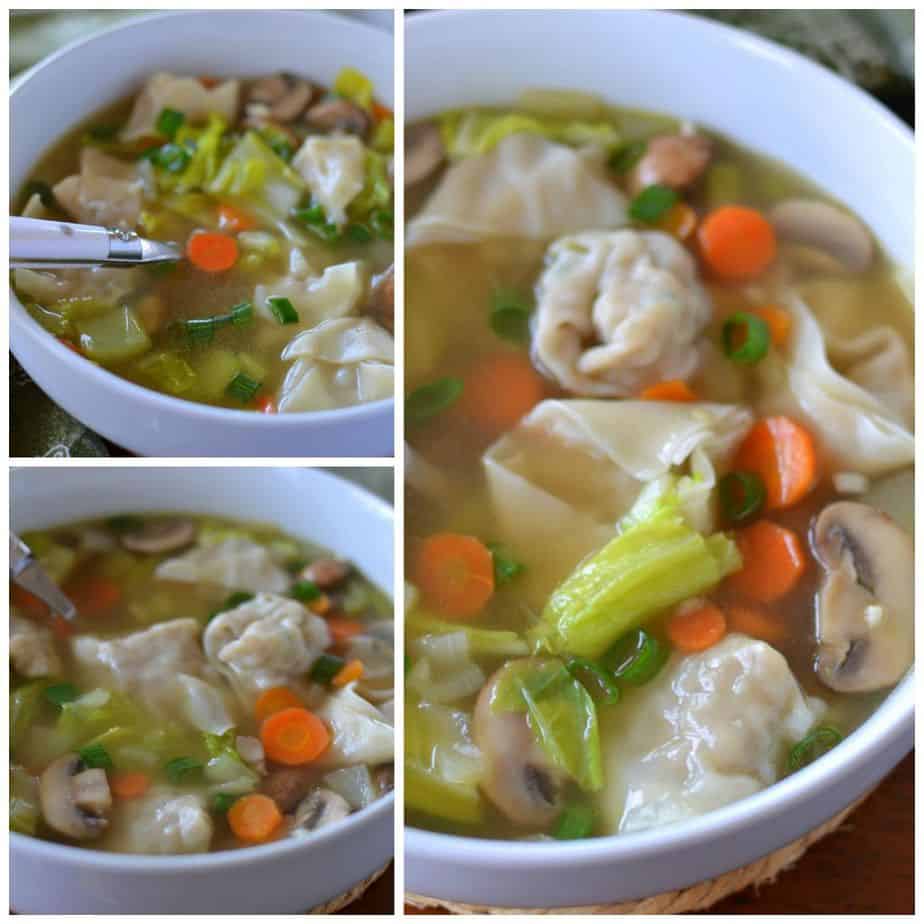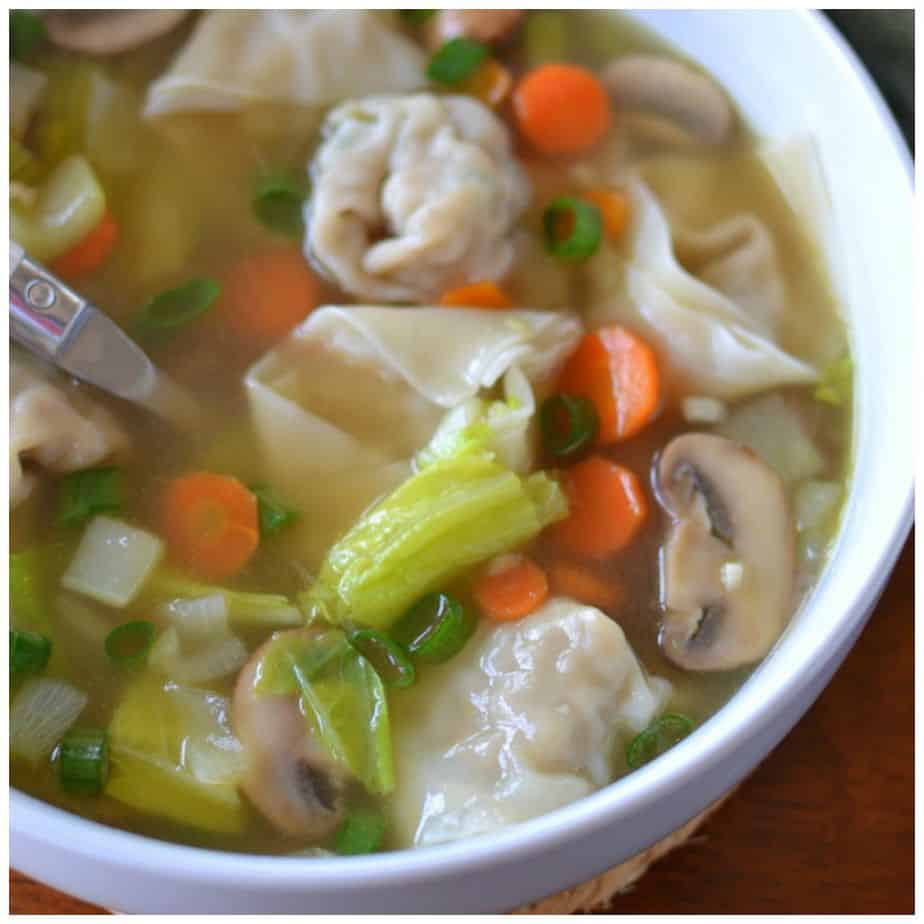 Homemade Pork Stuffed Wonton Vegetable Soup
Ingredients
Pork Wontons

1/2 lb ground pork sausage
1 tablespoon fresh grated ginger or ginger paste
1 tablespoon soy sauce
2 green onions chopped (Set aside two tablespoons for garnish)
3 tablespoons panko bread crumbs
1 egg
Wonton skins (about 36-46)

Soup

1 tablespoon canola oil
1 teaspoon sesame oil
1 small onion chopped
8 ounces baby Bella Mushrooms thickly sliced
3 large carrots thinly sliced
3 stalks of celery chopped
2 cloves garlic minced
1 tablespoon grated ginger or ginger paste
6 cups vegetable broth
4-5 cups Napa Cabbage chopped
Instructions
In small bowl mix together pork, ginger, soy sauce, green onions, bread crumbs and egg. Cover and place in the refrigerator.
In large stockpot or dutch oven over medium heat canola oil and sesame oil. Cook onion, mushrooms, carrots and celery for 5-6 minutes; stirring frequently. Reduce heat to low add garlic and ginger and cook for additional 1 minute. Add vegetable broth and simmer until carrots are tender; approximately 20-30 minutes.
While soup is simmering bring large pot of water to boil. Place a wonton wrapper in front of you so that it looks like a diamond. Dip your finger in cool water and moisten all around the edges of the wrapper. Place 1 teaspoon of the pork mixture in the center of the wrapper and fold in half over the filling to make a triangle. Press firmly along the sides to seal. Moisten the left and right corners of the triangle and pinch them together firmly. While working with the wontons keep the extra skins and stuffed wontons covered with lightly water moistened paper towels.
Working in batches place wontons in lightly boiling water. You do not want them touching. Boil for about three minutes. They should be floating. Remove with slotted spoon and place in soup bowls.
Add Napa Cabbage to soup and simmer for 3 minutes. Spoon soup over cooked wontons, garnish with green onions and serve.
https://www.smalltownwoman.com/homemade-pork-stuffed-wonton-vegetable-soup/
Other Asian inspired recipes you will love!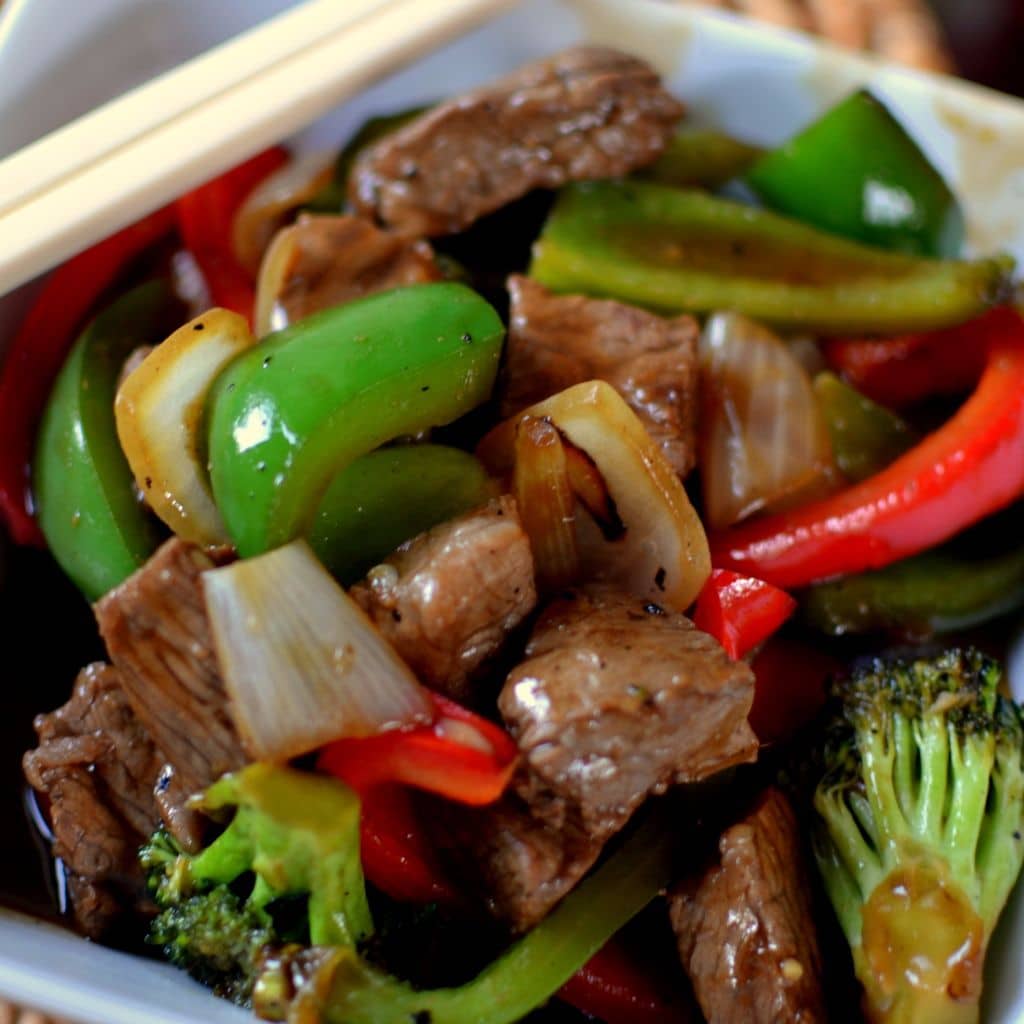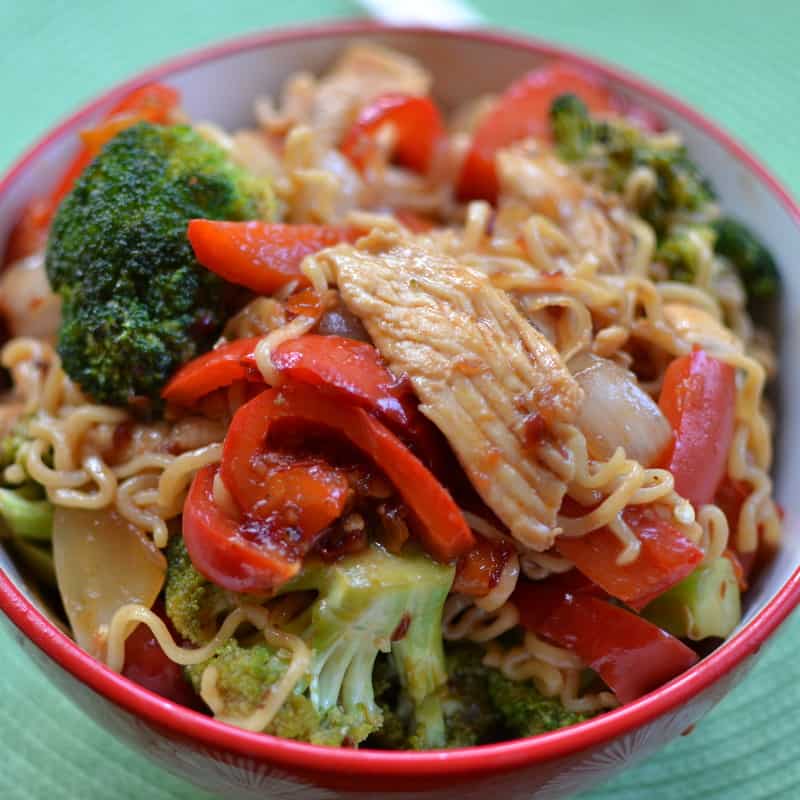 Sweet Chili Chicken Ramen Stir Fry