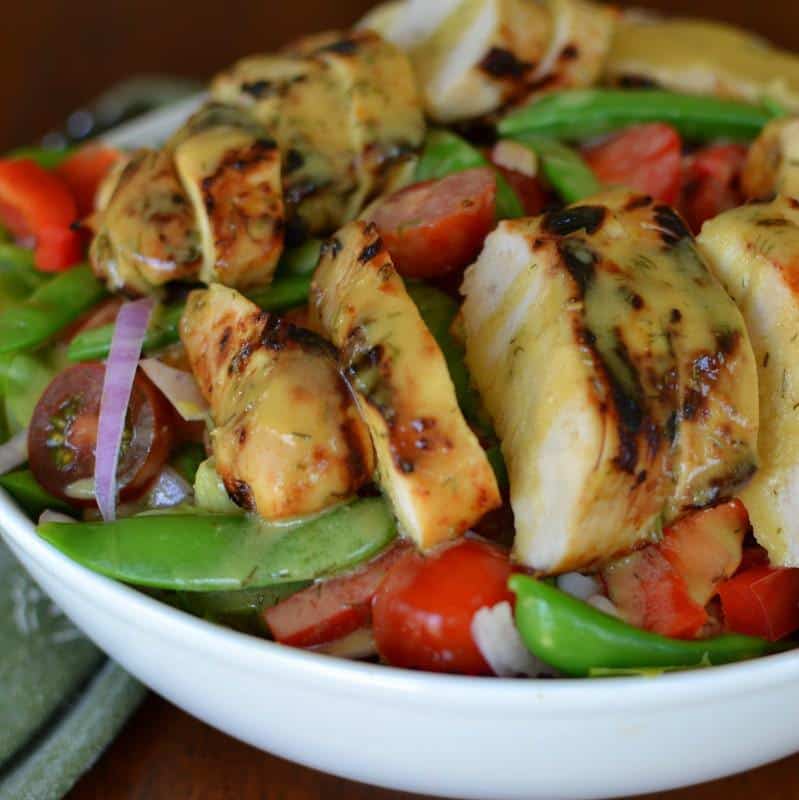 Spring is here.  The red buds, daffodils and dogwoods are all in full bloom here.  The grass needs to be mowed and hubby is working in the yard shoring up soil on east side of the house.  He is  building a brand new flower bed around the house rimmed by natural stone.  We live out here in the farmland surrounded by trees so prefabricated concrete stones won't cut the mustard.  The change of seasons are what it is all about and here in Missouri they are pretty distinct.  I love all that Spring has to offer both in the yard and in the kitchen.
Speaking of mustard.  Wait till you try my newest recipe.  Do you love salad?  I do!  I really love it when it is prepared tastefully and simple. This Honey Mustard Chicken Snap Pea Salad is one of my favorites.  It is so full of flavor that you won't even know all the nutrition that you are consuming.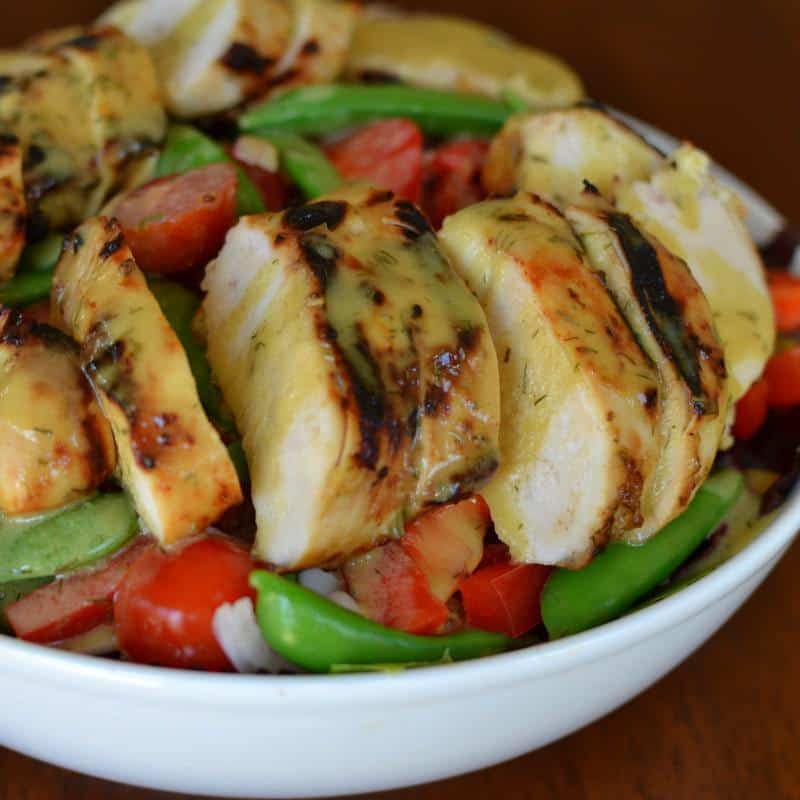 This Honey Mustard Chicken Snap Pea Salad is plump full of grilled chicken, red peppers, red onions, sugar snap peas, grape tomatoes and drizzled in a perfectly seasoned not too sweet honey mustard dressing that is to die for. This my friends is as good as it gets.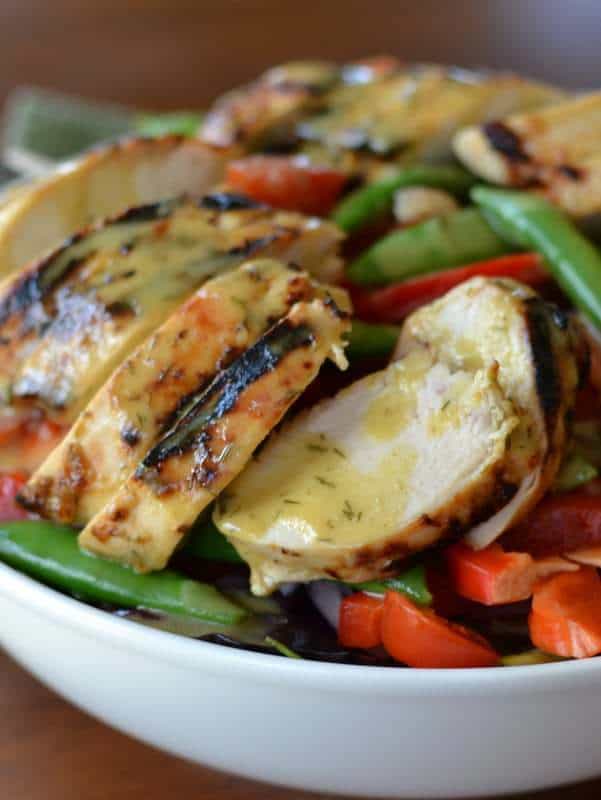 So if you love spring as much as I do and you love trying to find nutritious foods that will satisfy you than this Honey Mustard Chicken Snap Pea Salad is for you.  Put the ingredients on the grocery list and give this beauty a whirl.  Leave me a comment and let me know what you and your loved ones think of this!!
Print
Honey Mustard Chicken Snap Pea Salad
1/3 cup cider vinegar
1/3 cup Dijon mustard
1/4 cup honey
1 teaspoon sea salt
1/2 teaspoon garlic powder
1 1/2 teaspoons dry dill
1/4 cup olive oil
2 uncooked chicken breasts
10 cups mixed greens
1 1/2 cups sliced grape tomatoes
1/4 cup thin sliced red onion
1 red pepper julienned
1/3 lb sugar snap peas
Instructions
Bring small pot of water to a low boil. Add sugar snaps to pot. Cook for 1 1/2 minutes. Plunge into ice bath to stop the cooking process.
In small bowl whisk cider vinegar, Dijon mustard, honey, salt, garlic powder and dill. Slowly whisk in olive oil. Place chicken breasts in large Ziploc bag. Pour 1/2 cup of the honey mustard dressing over the chicken breasts. Marinate for 30 minutes.
Heat grill to approximately 500 degrees. Cook chicken approximately 5 minutes each side; to an Internal temperature of 160° to 165° F. Remove and let rest for 10 minutes.
Place greens in large bowl. Sprinkle with grape tomatoes, red onion, red pepper and sugar snap peas. Place chicken on top and drizzle with remaining dressing.
Other delicious recipes you will love!