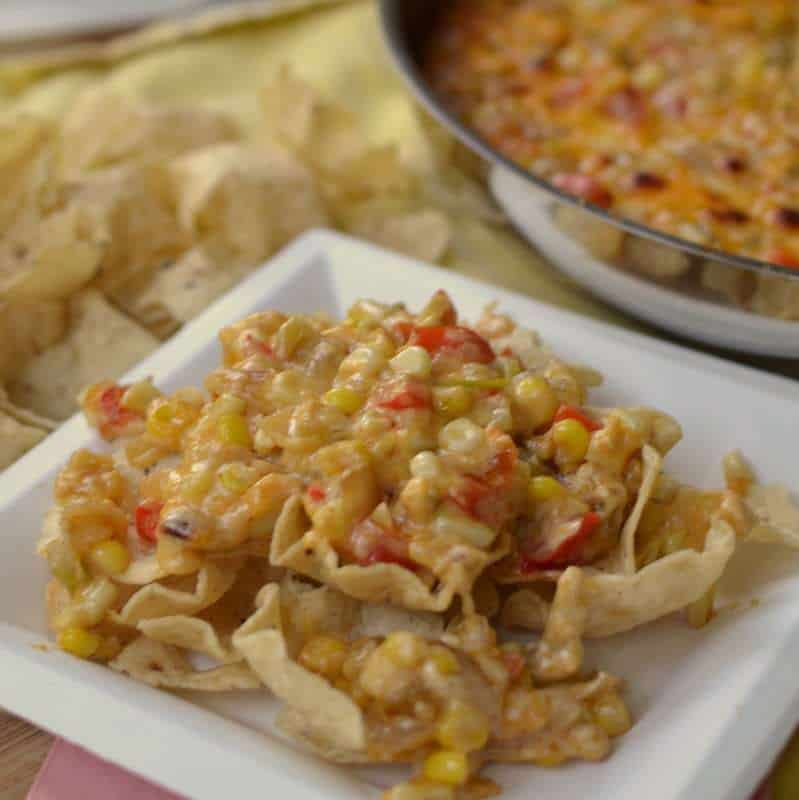 You must indulge yourself in this Hot Corn Dip! It is just that good. This recipe starts off with good sweet corn…straight off the cob. I managed to get some this time that was absolutely wonderful! Cooked in a little butter until the whole house smells so sweet. Then a few key ingredients are cooked and tossed in like onions, red peppers and garlic. Can't miss the fresh garlic.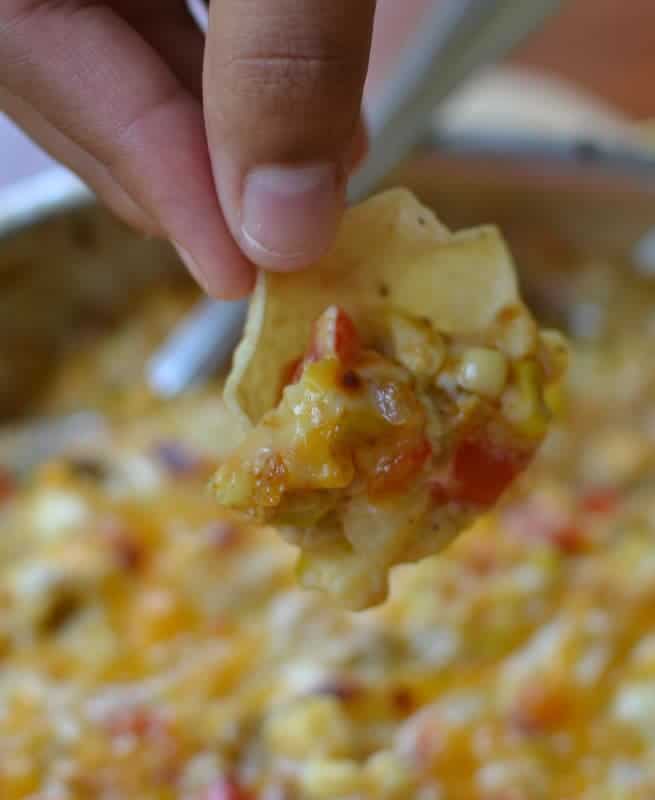 It all ends up tossed in a bowl with finely minced jalapenos , mayo, green chiles and the perfect combination of spices. This can be prepped in just a few minutes or mix it up ahead of time and pop it in the oven about 30 minutes before chow time!!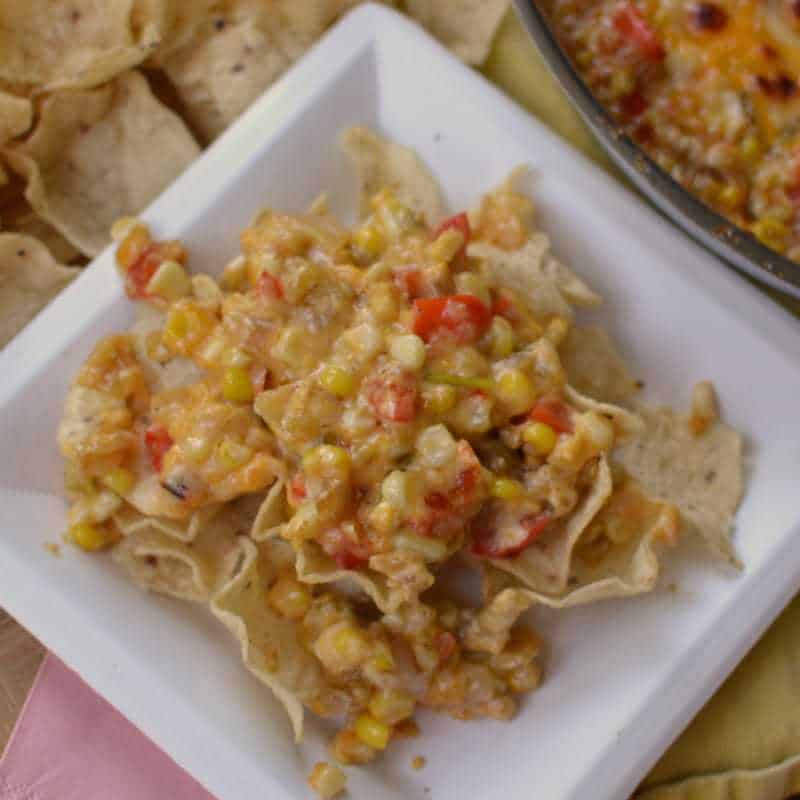 If jalapenos are not your thing leave them out. It is equally delicious yet much milder without them. As we say here at Small Town Woman…do whatever makes your heart go pitter patter!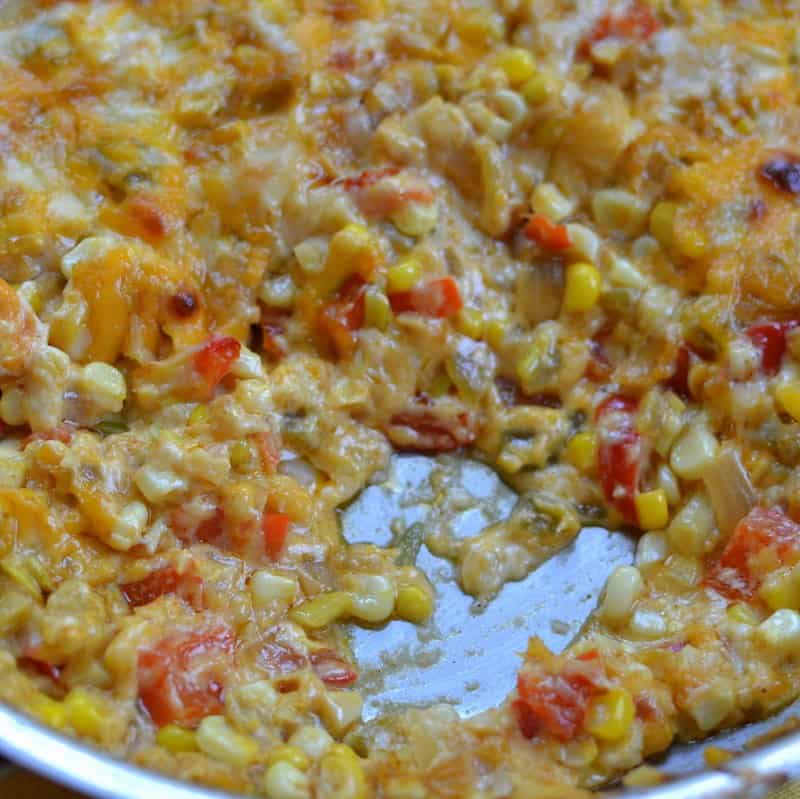 This beauty can be served with fresh tortilla chips, scoops, crustinis or crackers. Use the leftovers on baked potatoes! That is if you have any. I have to kind of sneak them off.
Hot Corn Dip
3 cups fresh corn (approximately 3 ears)
2 tablespoons butter
1/4 teaspoon salt
1/4 teaspoon pepper
1 small onion finely chopped
1 red pepper finely chopped
2 cloves garlic minced
1/2 cup mayo
3 greens onions chopped (green and white parts)
1/2 small jalapeno seeded,veins removed and finely minced
1 (4 ounce) can green chiles drained
1/2 teaspoon chili powder
1/4 teaspoon ground cayenne pepper
1/4 teaspoon paprika
1 cup cheddar shredded
1 cup Mexican melting cheese or white American shredded
Instructions
Add 1 tablespoon butter to large ovenproof skillet over medium heat. Add corn, salt and pepper. Cook until fragrant and lightly browned 5-7 minutes; stirring frequently. Remove from pan and place in large bowl.
Add 1 tablespoon butter to same large skillet over medium heat. Add onion and pepper; cook until onion starts to lightly brown on edges 3-4 minutes. Turn to low and add garlic. Cook for additional 1 minute. Remove from pan and add to bowl with corn.
To bowl add mayo, green onions, jalapeno, green chiles, chili powder, cayenne, paprika, 3/4 cup of cheddar and 3/4 cup Mexican melting cheese. Stir to combine. Place back in ovenproof skillet or small casserole dish. Top with remaining cheese.
Bake for 25-30 minutes at 375 degrees. Serve with tortilla chips.
Other dips you will love!!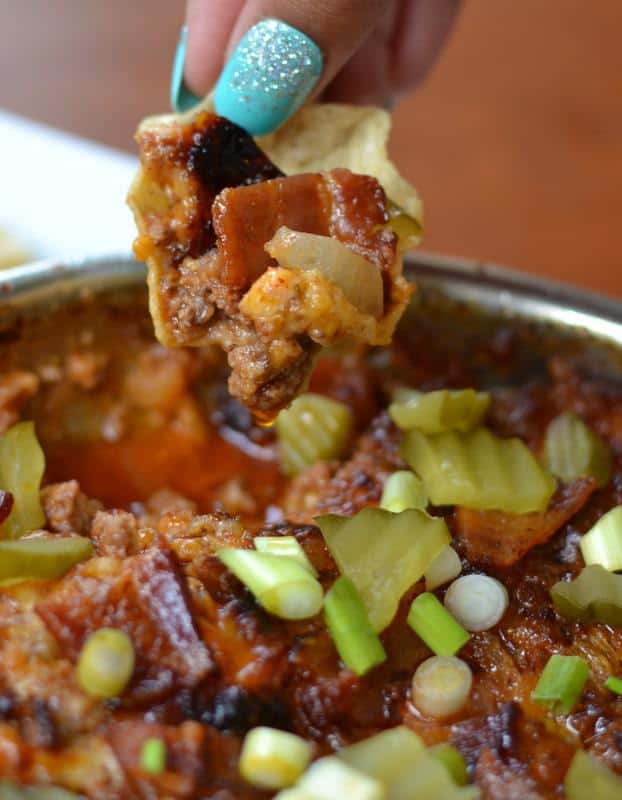 Barbecue Bacon Cheeseburger Dip
https://www.smalltownwoman.com/wp-content/uploads/2019/05/Beth-1.pdf